Abstract
Introduction
The reported rate of postoperative bile leak is variable between 3 and 33%. Recent data would suggest a minimally invasive approach to liver surgery has decreased this incidence.
Methods
This multi-institutional case–control study utilized databases from three high-volume surgeons. All consecutive open and minimally invasive liver resection cases were analyzed in a propensity score-adjusted multivariable regression. A p value < 0.05 was considered significant.
Results
In 1388 consecutive liver resections, the average age was 56.9 ± 14.0 years, 730 (52.59%) were male gender, and 599 (43.16%) underwent minimally invasive liver resection. Thirty-nine (2.81%) in the series were identified with post-resection bile duct leaks. Leaks were associated with major resections and increased blood loss (p < 0.05). Propensity score-adjusted multivariable regression identified minimally invasive liver resection significantly and independently reduced the odds of bile duct leak (OR 0.48, p = 0.046) even controlling for BMI, ASA, cirrhosis, major resection, and resection year.
Conclusions
Our data suggest the incidence of bile leaks in a large-volume center series is far less than previously reported and that a minimally invasive approach to liver resection reduces the incidence of postoperative bile leak.
This is a preview of subscription content, log in to check access.
Access options
Buy single article
Instant unlimited access to the full article PDF.
US$ 39.95
Price includes VAT for USA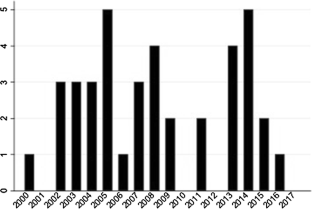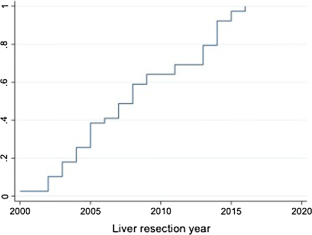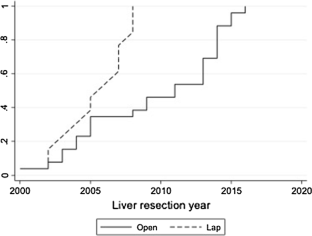 References
1.

Yamashita Y, Hamatshu T, Rikimaru T, Tanaka S, Shirabe K, Shimada M, Sugimachi K (2001) Bile leakage after hepatic resection. Ann Surg 233:45–50

2.

Erdogan D, Busch OR, van Delden OM, Rauws EA, Gouma DJ, van Gulik TM (2008) Incidence and management of bile leakage after partial liver resection. Dig Surg 25:60–66

3.

Tanaka S, Hirohashi K, Tanaka H, Shuto T, Lee SH, Kubo S et al (2002) Incidence and management of bile leakage after hepatic resection for malignant hepatic tumors. J Am Coll Surg 195:484–489

4.

Capussotti L, Ferrero A, Vigano L, Sgotto E, Muratore A, Polastri R (2006) Bile leakage and liver resection: where is the risk? Arch Surg 141:690–694

5.

Panaro F, Hancina L, Bouyabrine H, Hashimi AW, Herrao A, Navarro F (2016) Risk factors for postoperative bile leakage: a retrospective single center analysis of 411 hepatectomies. Hepatobiliary Pancreat Dis Int 15:81–86

6.

Cauchy F, Fuks D, Nomi T, Schwartz L, Belgaumkar A, Scatton O, Soubrane O, Incidence GB, Factors R (2016) Incidence, risk factors and consequensces of bile leakage following laparoscopic major. Hepatectomy Surg Endosc 30:3709–3719

7.

Hong J, Zhang X, Luo R, Cai X (2016) The clinical risk factors associated with postoperative bile leakage after hepatectomy: a meta-analysis. Miner Med 107:39–53

8.

Yamashita Y, Hamatsu T, Rikimaru T, Tanaka S, Shirabe K, Shimada M, Sugimachi K (2001) Bile leakage after hepatic resection. Ann Surg 233:45–50

9.

Donadon M, Costa G, Cimino M, Procopio F, Del Fabbro D, Palmisano A, Torzilli G (2016) Diagnosis and managament of bile leaks after hepatectomy: results of a prospective analysis of 475 hepatectomies. World J Surg 40:172–181

10.

Osawa T, Sano T, Senda Y, Natsume S, Shimizu Y ( 2016) Bile leakage after hepatectomy for liver tumors. Int Surg 101:338–346

11.

Koch M, Garden OJ, Padbury R, Rahbari NN, Adam R, Capussotti L, Fan ST, Yokoyama Y Crawford M, Makuuchi M, Christophi C, Banting S, Brooke-Smith M, Usatoff V, Nagino M, Maddern G, Hugh TJ, Vauthey JN, Greig P, Rees M, Nimura Y, Figueras J, DeMatteo RP, Büchler MW, Weitz J (2011) Bile leakage after hepatobiliary and pancreatic surgery: a definition and grading of severity by the International Study Group of Liver Surgery. Surgery 149:680–688

12.

Kajirwara T, Midorikawa Y, Yamazaka S, Higaki T, Nakayama H, Moriguchi M, Tsuji S, Takayam T (2016) Clinical score to predict the risk of bile leakage after liver resection. BMC Sur 16:30

13.

Martin AN, Naryanan S, Turrentine FE, Bauer TW, Adams RB, Stkenborg GJ, Zaydfudim VM (2018) Clinical factors and postoperative impact of bile leak after liver resection. J Gastrointest Surg 22:661–667

14.

Nakagawa K, Tanaka K, Sawada Y, Kumamoto T, Ueda M, Minami Y, Mochizuki Y, Morioka D, Kunota T, Kamiya N, Yoshida K, Yomemoto N, Endo I (2017) Predictive factors for bile leakgae after hepatectomy for hepatic tumors: a retrospective multicenter study with 631 cases at Yokohoma Clinical Oncology Group. J Hepatobiliary Pancreat Sci 24:33–41

15.

Lo CM, Fan ST, Liu CL, Lai EC, Wong J ( 1998) Biliary complications after hepatic resection: risk factors, management and outcome. Arch Surg 133:156–161

16.

Mohamed EA, Daleh El, Morshed M (2015) Ligasure a safe cystic duct sealer? An ex vivo study. Asian J Surg 38:187–190

17.

Buell JF, Gayet B, Han HS, Wakabayashi G, Kim KH, Belli G, Cannon R, Saggi B, Keneko H, Koffron A, Brock G, Dagher I (2013) Evaluation of stapler hepatectomy during a laparoscopic. Liver Resection 15:845–850

18.

Rahbari NN, Elbers H, Koch M, Vogler P, Striebel F, Bruckner T, Mehrabi A, Schemmer P, Büchler MW, Weitz J (2014) Randomized clinical trial of stapler versus clamp-crushing transection in elective liver resection. Br J Surg 101:200–207

19.

Zimmitti G, Vauthey JN, Shindoh J, Tzeng CW, Roses RE, Ribero D, Capussotti L, Giuliante F, Nuzzo G, Aloia TA (2013) Systematic use of an intraoperative air leak test at the time of major liver resection reduces the rate of postoperative biliary complications. J Am Coll Surg 217:1028–1037

20.

Yu YD, Kim DS, Jung SW, Han JH, Suh SO (2016) Influence of anti-adhesive agent on incidence of bile leakage after liver resection: a prospective cohort study. Int J Surg 31:40–46

21.

Elze MC, Gregson J, Baber U, Williamson E, Sartori S, Mehran R, Nichols M, Stone GW, Pocock SJ (2017) Comparison of propensity score methods and covariate adjustment: evaluation in 4 cardiovascular studies. J Am Coll Cardiol 69:345–357

22.

D'Agostino RB Jr (1998) Propensity score methods for bias reduction in the comparison of a treatment to a non-randomized control group. Stat Med 17:2265–2281
Ethics declarations
Conflict of interest
Dr. Buell, Iannitti, and Fong are paid consultants to Ethicon and Medtronic for work that is outside the scope of this manuscript. Dr. Martinie is a paid consultant to Intuitive Surgical, Ethicon and Medtronic for work that is outside the scope of this manuscript. Drs. Smith, Monlezun, Konstantinidis, Parker, and Darden have no disclosure or financial ties to disclose.
Additional information
Publisher's Note
Springer Nature remains neutral with regard to jurisdictional claims in published maps and institutional affiliations.
About this article
Cite this article
Smith, A.A., Monlezun, D.J., Martinie, J. et al. Bile Leak Reduction with Laparoscopic Versus Open Liver Resection: A Multi-institutional Propensity Score-Adjusted Multivariable Regression Analysis. World J Surg (2020) doi:10.1007/s00268-019-05343-x