Abstract
Background
A new technique for performing laparoscopic anterior resection is described. Main differences from the standard technique are (1) pneumoperitoneum to improve exposure of the rectum, even in a narrow pelvis; (2) rectal division performed using a conventional linear stapler inserted via a 4.5 cm suprapubic incision; and (3) eversion of the rectum for tumors close to the anal verge, with transection performed under direct vision.
Methods
Results in 78 patients who underwent transabdominal transection and in 7 patients requiring rectal eversion were compared retrospectively with those in 61 consecutive patients who had undergone standard laparoscopic resection.
Results
The duration of the operation and estimated blood loss were greater with rectal eversion, and more staple cartridges were used for the conventional technique; however, the incidence of complications was similar for all three groups. Five patients in the conventional group required conversion to an open procedure.
Conclusion
The new technique should improve the safety of resection.
This is a preview of subscription content, log in to check access.
We're sorry, something doesn't seem to be working properly.
Please try refreshing the page. If that doesn't work, please contact support so we can address the problem.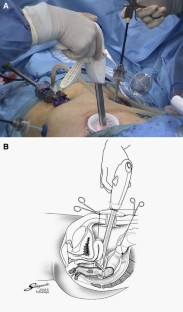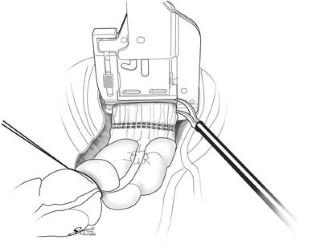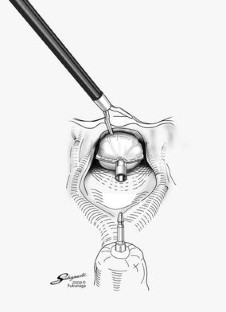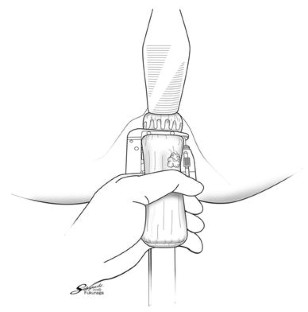 References
1.

Knight CD, Griffen FD (1980) An improved technique for low anterior resection of the rectum using the EEA stapler. Surgery 88:710–714

2.

Feinberg SM, Parker F, Cohen Z (1986) The double stapling technique for low anterior resection of rectal carcinoma. Dis Colon Rectum 29:885–890

3.

Yamamoto S, Watanabe M, Hasegawa H et al (2002) Prospective evaluation of laparoscopic surgery for rectosigmoidal and rectal carcinoma. Dis Colon Rectum 45:1648–1654

4.

Carlsen E, Schlichting E, Guldvog I et al (1998) Effect of the introduction of total mesorectal excision for the treatment of rectal cancer. Br J Surg 85:526–529

5.

Laxamana A, Solomon MJ, Cohen Z et al (1995) Long-term results of anterior resection using the double stapling technique. Dis Colon Rectum 38:1246–1250

6.

Moore JW, Chapuis PH, Bokey EL et al (1996) Morbidity and mortality after single- and double-stapled colorectal anastomosis in patients with carcinoma of the rectum. Aust N Z J Surg 66:820–823

7.

Fu CG, Muto T, Masaki T et al (1997) Results of the double stapling procedure in colorectal surgery. Jpn J Surg 27:706–709

8.

Ramos JR, Petrosemolo RH, Valory EA et al (1997) Abdominoperineal resection: laparoscopic versus conventional. Surg Laparosc Endosc 7:148–152

9.

Iroatulam AJ, Agachan F, Alabaz O et al (1998) Laparoscopic abdominoperineal resection for anorectal cancer. Am Surg 64:12–18

10.

Leung KI, Kwok SP, Lau WY et al (2000) Laparoscopic-assisted abdominoperineal resection for low rectal adenocarcinoma. Surg Endosc 14:67–70

11.

Morino M, Parini U, Giraudo G et al (2003) Laparoscopic total mesorectal escisión: a consecutive series of 100 patients. Ann Surg 237:335–342

12.

Agaba EA (2004) Does rectal washout during anterior resection prevent local tumor recurrence? Dis Colon Rectum 47:291–296

13.

Tjandra JJ, Kikenny J 3rd, Buie WD et al (2005) Practice parameters for the management of rectal cancer (revised). Dis Colon Rectum 48:411–423

14.

Cem T, Tarkan U, Ozgul S et al (2006) Is rectal washout necessary in anterior resection for rectal cancer? A prospective clinical study. World J Surg 30:233–241

15.

Maeda K, Maruta M, Hanai T et al (2004) Irrigation volume determines the efficacy of "rectal washout". Dis Colon Rectum 47:1706–1710

16.

Mandl F (1922) Uber den mastdarmkrebs. Dtsch Z Chir 168:145–288

17.

Williamson MER, Lewis WG, Miller AS et al (1995) Clinical and physiological evaluation of anorectal eversion during restorative proctocolectomy. Br J Surg 82:1391–1394

18.

Dignan RD, Kwa JA, Odom TA et al (1999) Stapler-facilitated rectal eversion. Dis Colon Rectum 42:1472–1474
Electronic Supplementary Material
Below is the link to the electronic supplementary material.
About this article
Cite this article
Fukunaga, Y., Higashino, M., Tanimura, S. et al. New Technique for Rectal Division in Laparoscopic Anterior Resection—with Video. World J Surg 32, 2095–2100 (2008). https://doi.org/10.1007/s00268-008-9676-8
Keywords
Rectal Cancer

Anastomotic Leakage

Estimate Blood Loss

Staple Line

Advanced Rectal Cancer