Abstract
Background
This study is a single-institution validation of video-assisted thoracoscopic (VATS) resection of a small solitary pulmonary nodule (SPN) previously localized by a CT-guided hook-wire system in a consecutive series of 45 patients.
Methods
The records of all patients undergoing VATS resection for SPN preoperatively localized by CT-guided a hook-wire system from January 2002 to December 2004 were assessed with respect to failure to localize the lesion by the hook-wire system, conversion thoracotomy rate, duration of operation, postoperative complications, and histology of SPN.
Results
Forty-five patients underwent 49 VATS resections, with simultaneous bilateral SPN resection performed in 4. Preoperative CT-guided hook-wire localization failed in two patients (4%). Conversion thoracotomy was necessary in two patients (4%) because it was not possible to resect the lesion by a VATS approach. The average operative time was 50 min. Postoperative complications occurred in 3 patients (6%), one hemothorax and two pneumonia. The mean hospital stay was 5 days (range: 2–18 days). Histological assessment revealed inflammatory disease in 17 patients (38%), metastasis in 17 (38%), non-small-cell lung cancer (NSCLC) in 4 (9%), lymphoma in 3 (6%), interstitial fibrosis in 2 (4%), histiocytoma in one (2%), and hamartoma in one (2%).
Conclusions
Histological analysis of resected SPN revealed unexpected malignant disease in more than 50% of the patients indicating that histological clarification of SPN seems warranted. Video-assisted thoracoscopic resection of SPN previously localized by a CT-guided hook-wire system is related to a low conversion thoracotomy rate, a short operation time, and few postoperative complications, and it is well suited for the clarification of SPN.
This is a preview of subscription content, log in to check access.
Access options
Buy single article
Instant unlimited access to the full article PDF.
US$ 39.95
Price includes VAT for USA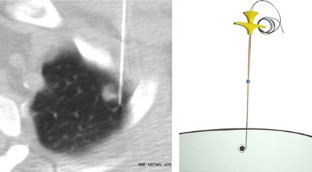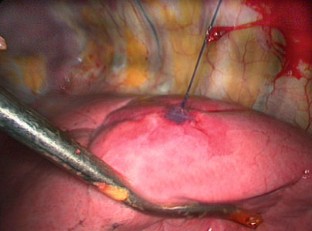 References
1.

Fraser RG, Sanders C, Barnes GT, et al. Digital imaging of the chest. Radiology 1989;171:297–307

2.

Kaneko M, Eguchi K, Ohmatsu H, et al. Peripheral lung cancer: screening and detection with low-dose spiral CT versus radiography. Radiology 1996;201:798–802

3.

Lillington GA. Management of solitary pulmonary nodules. Dis Mon 1991;37:271–318

4.

Lillington GA, Caskey CI. Evaluation and management of solitary and multiple pulmonary nodules. Clin Chest Med 1993;14:111–119

5.

Viggiano RW, Swensen SJ, Rosenow EC III. Evaluation and management of solitary and multiple pulmonary nodules. Clin Chest Med 1992;13:83–95

6.

Allen MS, Deschamps C, Lee RE, et al. Video-assisted thoracoscopic stapled wedge excision for indeterminate pulmonary nodules. J Thorac Cardiovasc Surg 1993;106:1048–1052

7.

Suzuki K, Nagai K, Yoshida J, et al. Video-assisted thoracoscopic surgery for small indeterminate pulmonary nodules: indications for preoperative marking. Chest 1999;115:563–568

8.

Lenglinger FX, Schwarz CD, Artmann W. Localization of pulmonary nodules before thoracoscopic surgery: value of percutaneous staining with methylene blue. AJR Am J Roentgenol 1994;163:297–300

9.

Wicky S, Mayor B, Cuttat JF, et al. CT-guided localizations of pulmonary nodules with methylene blue injections for thoracoscopic resections. Chest 1994;106:1326–1328

10.

Chella A, Lucchi M, Ambrogi MC, et al. A pilot study of the role of TC-99 radionuclide in localization of pulmonary nodular lesions for thoracoscopic resection. Eur J Cardiothorac Surg 2000;18:17–21

11.

Nomori H, Horio H, Naruke T, et al. Fluoroscopy-assisted thoracoscopic resection of lung nodules marked with lipiodol. Ann Thorac Surg 2002;74:170–173

12.

Gruppioni F, Piolanti M, Coppola F, et al. [Intraoperative echography in the localization of pulmonary nodules during video-assisted thoracic surgery]. Radiol Med (Torino) 2000;100:223–228

13.

Sortini D, Feo CV, Carcoforo P, et al. Thoracoscopic localization techniques for patients with solitary pulmonary nodule and history of malignancy. Ann Thorac Surg 2005;79:258–262

14.

Wicky S, Dusmet M, Doenz F, et al. Computed tomography-guided localization of small lung nodules before video-assisted resection: experience with an efficient hook-wire system. J Thorac Cardiovasc Surg 2002;124:401–403
Additional information
Presented at the 41st World Congress of Surgery of ISS/SIC 2005, Durban, South Africa.
About this article
Cite this article
Pittet, O., Christodoulou, M., Pezzetta, E. et al. Video-assisted Thoracoscopic Resection of a Small Pulmonary Nodule after Computed Tomography–guided Localization with a Hook-wire System. World J. Surg. 31, 575–578 (2007) doi:10.1007/s00268-006-0343-7
Keywords
Methylene Blue

Small Pulmonary Nodule

Pleural Surface

Chest Tube Drainage

Mediastinal Lymph Node Dissection