Abstract
This article describes a new technique for groin lymphadenectomy with preservation of the femoral fascia based on correct embryologic and anatomic knowledge of inguinofemoral lymph node disposition and their exact relation with the fascial structures of Scarpa's triangle. Scarpa's triangle dissection follows a three-step procedure: development of the side starting from the inguinal ligament; development of the angles proceeding from the apex where the saphenous vein is resected; and dissection of the fossa ovalis by grasping and elevating the entire block of adipose tissue containing the superficial inguinofemoral nodes and the stump of the great saphenous vein. This surgical step allows us to expose and remove en bloc the deep femoral nodes lying medial to the portion of the femoral vein located within the fossa ovalis. The total number of inguinofemoral nodes removed from a series of 156 patients operated on during 1981–2002 ranged from 8 to 35 (mean 20) bilaterally and from 4 to 18 (mean 10) unilaterally. The 5-year survivals by stage were, respectively, 86.2% for stage Ib, 69.2% for stage II, 49.3% for stage III, and 13.3% for stage IVa; these figures are comparable to the survival rates reported by those performing the classic groin lymphadenectomy. Groin lymphadenectomy with preservation of the femoral fascia is thus an oncologically sound conservative procedure that can replace the classic Way's technique, which involves femoral vessel skeletonization, and can be useful for treating malignant diseases requiring groin dissection.
This is a preview of subscription content, log in to check access.
Access options
Buy single article
Instant unlimited access to the full article PDF.
US$ 39.95
Price includes VAT for USA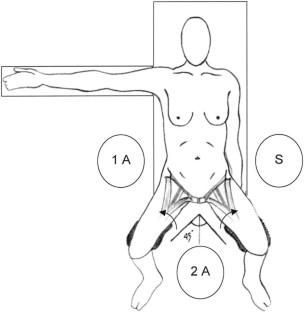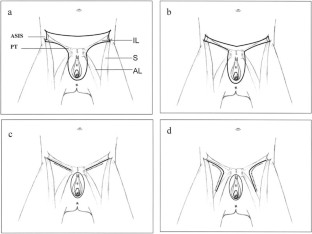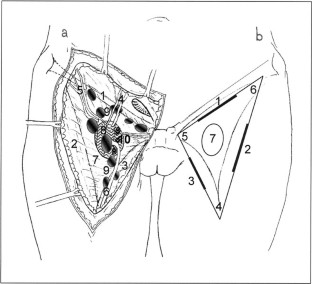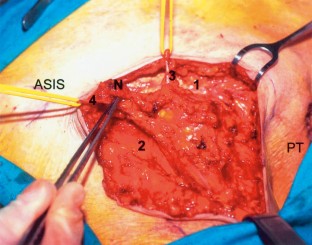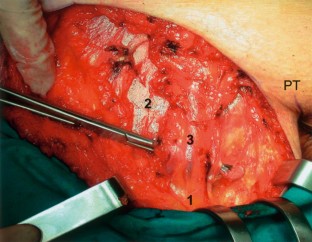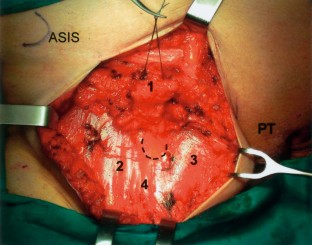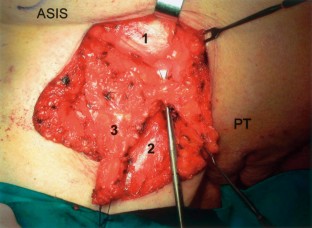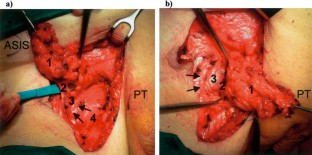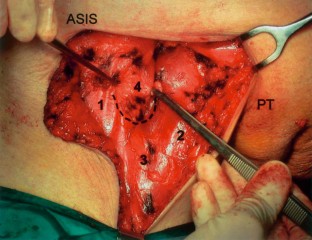 References
1.

Hacker NF, Van der Velden J. Conservative management of early vulvar cancer. Cancer 1993;71:1673–1677

2.

Homesley HD. Management of vulvar cancer. Cancer 1995;76: 2159–2170

3.

Taussig FJ. Cancer of the vulva: an analysis of 155 cases (1911–1940). Am J Obstet Gynecol 1940;40:764–779

4.

Way S. Carcinoma of the vulva. Am J Obstet Gynecol 1960;79:692–694

5.

Way S. Malignant Disease of the Vulva. Edinburgh, Churchill Livingstone, 1982;33–59

6.

Stening M. Cancer and Related Lesions of the Vulva, Lancaster, UK, MTP Press, 1980;111–117

7.

Tovell HMM, Dank LD. Radical vulvectomy and bilateral superficial and deep groin and pelvic lymphadenectomy. In: Gynecologic Operations, New York, Harper & Row, 1982;191–210

8.

Wheeless CRJ. Atlas of Pelvic Surgery. 2nd edition, Philadelphia, Lea & Febiger, 1988;405–409

9.

Monaghan JM. Surgery for invasive carcinoma of the vulva. In Coppleson M, editor, Gynecologic Oncology: Foundamental Principles and Clinical Practice, New York, Churchill Livingstone, 1992;1178–1181

10.

Lee RA. Atlas of Gynecologic Surgery, Philadelphia, Saunders, 1992;16–22

11.

Morley GW. Surgery for vulvar cancer. In Nichols DH, editor, Gynecologic and Obstetric Surgery, St.Louis, Mosby, 1993;290–291

12.

Webb MJ. Mayo Clinic Manual of Pelvic Surgery, 2nd edition, New York, Lippincot Williams & Wilkins, 2000;185

13.

Borgno G, Micheletti L, Barbero M, et al. Topographic distribution of groin nodes: a study of 50 female cadavers. J Reprod Med 1990;35:1127–1129

14.

Micheletti L, Borgno G, Barbero M, et al. Deep femoral lymphadenectomy with preservation of the fascia lata: preliminary report on 42 invasive vulvar carcinomas. J Reprod Med 1990;35:1130–1133

15.

Micheletti L, Levi AC, Bogliatto F. Anatomosurgical implications derived from an embryological study of the Scarpa's triangle with particular reference to groin lymphadenectomy. Gynecol Oncol 1998;70:358–364

16.

Micheletti L, Levi AC, Bogliatto F, et al. Rationale and definition of the lateral extension of the inguinal lymphadenectomy for vulvar cancer derived from an embryological and anatomical study. J Surg Oncol 2002;81:19–24

17.

Micheletti L, Preti M, Zola P, et al. A proposed glossary of terminology related to the surgical treatment of vulvar carcinoma. Cancer 1998;83:1369–1375

18.

Chiarugi G, Bucciante L. Istituzioni di Anatomia dell'Uomo, Vol. II, 11th edition, Milan, Vallardi, 1976

19.

Testut L, Latarjet A. Traité d'Anatomie Humaine, Vol. II, 5th Italina edition, Torino, Unione Tipografica Editrice Torinese (UTET), 1971

20.

Benninghoff A. Makrosckopische und mikroskopische Anatomie des menschen Vol. I, Munich, Urban & Schwarzenberg, 1985

21.

Williams PL. Gray's Anatomy, 38th edition, New York, Churchill Livingstone, 1995

22.

Levi AC, Panattoni GL. Vie e Centri Linfatici. Torino, Unione Tipografica-Editrice Torinese (UTET), 1986

23.

Cox DR, Oakes D. Analysis of Survival Data, London, Chapman Hall, 1984

24.

Way S. Results of a planned attack on carcinoma of the vulva. BMJ 1954;2:780–782

25.

Byron RL, Lamb EJ, Yonemoto RH, et al. Radical inguinal node dissection in the treatment of cancer. Surg. Gynecol Obstet 1962;14:401–408

26.

Byron RL, Mishell DR, Yonemoto RH. The surgical treatment of invasive carcinoma of the vulva. Surg Gynecol Obstet 1965;121:1243–1251

27.

Ballon SC, Lamb EJ. Separate groin incisions in the treatment of carcinoma of the vulva. Surg Gynecol Obstet 1975;140:81–84

28.

Hacker NF, Leuchter RS, Berek JS, et al. Radical vulvectomy and bilateral inguinal lymphadenectomy through separate groin incisions. Obstet Gynecol 1981;58:574–579

29.

Nicklin JL, Hacker NF, Heintze SW, et al. An anatomical study of inguinal lymph node topography and clinical implications for the surgical management of vulvar cancer. Int Gynecol Cancer 1995;5:128–133

30.

Levenback C, Morris M, Burke TW, et al. Groin dissection practices among gynecologic oncologists treating early vulvar cancer. Gynecol Oncol 1996;62:73–77

31.

Shepherd JH. Cervical and vulvar cancer: changes in FIGO definitions of staging. Br J Obstet Gynaecol 1996;103:405–406

32.

Green TH Jr, Ulfelder H, Maigs JV. Epidermoid carcinoma of the vulva: an analysis of 238 cases. Part II. Therapy and end results. Am J Obstet Gynecol 1958;75:848–864

33.

Morley GW. Infiltrative carcinoma of the vulva: results of surgical treatment. Am J Obstet Gynecol 1976;124:874–888

34.

Iversen T, Aalders JG, Christensen A, et al. Squamous cell carcinoma of the vulva: a review of 424 patients, 1956–1974. Ginecol Oncol 1980;9:271–279

35.

Podratz KC, Symmonds RE, Taylor WF. Carcinoma of the vulva: analysis of treatment failure. Am J Obstet Gynecol 1982;143:340–351

36.

Hacker NF, Berek JS, Lagasse LD. Management of regional lymph nodes and their prognostic influence in vulvar cancer. Obstet Gynecol 1983;61:408–412

37.

Figge DC, Tamini HK, Greer BE. Lymphatic spread in carcinoma of the vulva. Am J Obstet Gynecol1985;152:387–394

38.

Hofman H, Fenton J, Durand JC, et al. Traitment du cancer invasif de la vulva. Gynecologie 1985;36:247–251

39.

Cavanagh D, Roberts WS, Bryson SCP, et al. Changing trends in the surgical treatment of invasive carcinoma of the vulva. Surg Gynecol Obstet 1986;162:164–168

40.

Lupi G, Di Re EM, Fontanelli R. Trattamento chirurgico del carcinoma della vulva e delle recidive. In Veronesi U, Candiani GB, Di Re F, et al. editors, Neoplasie Ginecologiche, Milan, Casa Enditrice Ambrosiana, 1987;19–23

41.

Monaghan JM. Vulvar carcinoma: the case for individualization of treatment. Baillieres Clin Obstet Gynaecol 1987;1:263–276

42.

Beller U, Sideri M, Maosinneuve P, et al. Carcinoma of the vulva. J Epidemiol Biostat.2001;6:155–173

43.

Young HH. A radical operation for cure of cancer of the penis. J Urol 1931;26:285–294

44.

Pack GT, Rekers P. The management of malignant tumors in the groin; report of 122 groin dissections. Am J Surg 1942;56:545–565

45.

Basset A. Traitment chirurgical operatoire de l'epithelioma primitif de clitoris. Rev Chir 1912;46:546–570

46.

Daseler EH, Anson BJ, Reimann AF. Radical excision of the inguinal and iliac lymph glands. Surg Gynecol Obstet 1948;87:679–694

47.

Parry-Jones E. Lymphatics of the vulva. J Obstet Gynaecol Br Commonw. 1963;70:751–765

48.

Reiffenstuhl G. The Lymphatics of the Female Genital Organs, Philadelphia, Lippincott, 1964

49.

Plentl AA, Friedman EA. Lymphatic System of the Female Genitalia. The Morphologic Basis of Oncologic Diagnosis and Therapy, Philadelphia, Saunders, 1971

50.

Bell GJ, Lea JS, Reid GC. Complete groin lymphadenectomy with preservation of the fascia lata in the treatment of vulvar carcinoma. Gynecol Oncol 2000;77:314–318

51.

DeCesare SL, Fiorica JV, Roberts WS, et al. A pilot study utilizing intraoperative lymphoscintigraphy for identification of the sentinel lymph nodes in vulvar cancer. Gynecol Oncol 1997;66:425–428

52.

de Hullu JA, Hollema H, Piers DA, et al. Sentinel lymph node procedure is highly accurate in squamous cell carcinoma of the vulva. J Clin Oncol 2000;18:2811–2816

53.

Levenbach C, Coleman RL, Burke TW, et al. Intraoperative lymphatic mapping and sentinel node identification with the blue dye in patients with vulvar cancer. Gynecol Oncol 2001;83:276–281

54.

Burger MPM, Hollema H, Emanuels AG, et al. The importance of the groin node status for the survival of T1 and T2 vulval carcinoma patients. Gynecol Oncol 1995;57:327–334

55.

Homesley HD, Bundy BN, Sedlis A, et al. Radiation therapy versus pelvic node resection for carcinoma of the vulva with positive groin nodes. Obstet Gynecol 1986;68:733–740

56.

Karakousis CP, Driscoll Dl. Groin dissection in malignant melanoma. Br J Surg 1994;81:1771–1774

57.

Ornellas AA, Seixas AL, de Moraes JR. Analyses of 200 lymphadenectomies in patients with penile carcinoma. J Urol 1991;146:330–332

58.

Podratz KC, Symmonds RE, Taylor WF, et al. Carcinoma of the vulva: analysis of treatment and survival. Obstet Gynecol 1983;61:63–74

59.

Ayyappan K, Ananthakrishnan N, Sankaran V. Can regional lymph node involvement be predicted in patients with carcinoma of the penis? Br J Urol 1994;73:549–553

60.

Gould N, Kamelle S, Tillmanns T, et al. Predictors of complications after inguinal lymphadenectomy. Gynecol Oncol 2001;82:329–332

61.

Stehman FB, Bundy BN, Dvoretsky PM, et al. Early stage I carcinoma of the vulva treated with ipsilateral suerficial inguinal lymphadenectomy and modified radical hemivulvectomy: a prospective study of the Gynecologic Oncology Group. Obstet Gynecol 1992;79:490–497
About this article
Cite this article
Micheletti, L., Bogliatto, F. & Massobrio, M. Groin lymphadenectomy with Preservation of Femoral Fascia: Total Inguinofemoral Node Dissection for Treatment of Vulvar Carcinoma. World J. Surg. 29, 1268–1276 (2005). https://doi.org/10.1007/s00268-005-7745-9
Keywords
Lymphedema

Great Saphenous Vein

Inguinal Ligament

Vulvar Cancer

Superficial Fascia