Abstract
This work quantified ecosystem services (ES) and the geographic gross product (GGP) at municipal level in the Metropolitan Region of Buenos Aires (MRBA), Argentina. The ES offer and GGP were evaluated for each land use (extensive agriculture EA, intensive agriculture IA, urban and periurban agriculture UPA, green areas GA, urban use URB), expressed as a percentage (%), at the municipality level. Municipalities with a greater URB percentage (<70) presented an elevated ES offer from GA. In periurban municipalities EA contributed to ES offer more than other vegetated land uses (IA, GA, and UPA). Urban municipalities presented 20% more GGP than periurban municipalities. The GGP was negatively associated with total ES offer (−0.34) and ES offer from EA (−0.46). The identification and quantification of ES and GGP is relevant for achieving an adequate landscape planning and a sustainable environmental and economic use of urban systems.
This is a preview of subscription content, log in to check access.
Access options
Buy single article
Instant access to the full article PDF.
US$ 39.95
Price includes VAT for USA
Subscribe to journal
Immediate online access to all issues from 2019. Subscription will auto renew annually.
US$ 99
This is the net price. Taxes to be calculated in checkout.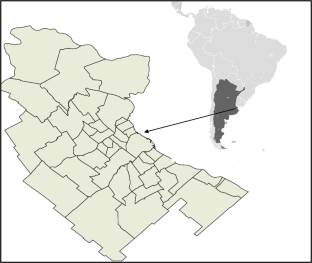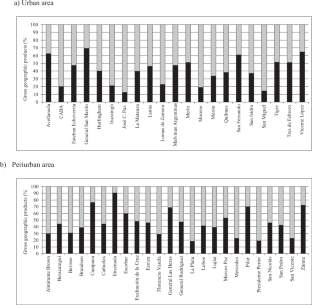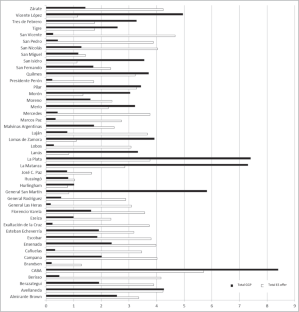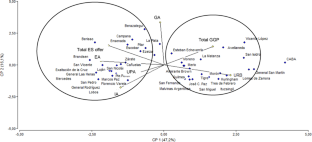 References
Anderson C (2009) Integrando la ciencia y la sociedad a través de la investigación socio-ecológica de largo plazo. Environ Ethics 30(S3):81–100

Arbault D, Rivière M, Rugani B, Benetto E, Tiruta-Barna L (2014) Integrated earth system dynamic modeling for life cycle impact assessment of ecosystem services. Sci Total Environ 472:262–272

Barral MP and Maceira NO (2011) Evaluación ambiental estratégica del ordenamiento territorial. Un estudio de caso para el partido de Balcarce basado en el análisis de servicios ecosistémicos. In: Laterra P, Jobbágy E, Paruelo J (eds): Valoración de Servicios Ecosistémicos. Conceptos, herramientas y aplicaciones para el ordenamiento territorial. Ediciones INTA, Buenos Aires pp 443–459, ISBN: 978-987-679-018-5.t

Civeira G (2016) Servicios ecosistémicos en ambientes urbanos: su relación con la estructura, la planificación y el diseño del paisaje. Tesis de doctorado. Directores de la Tesis: Eva Vidal Vázquez (dir. tes.). Marcos Lado Liñares (dir. tes.), En la Universidade da Coruña, España. https://dialnet.unirioja.es/servlet/tesis?codigo=50187

Collins SL, Carpenter SR, Swinton SM, Orenstein DE, Childers DL, Gragson TL, Grimm NB, Grove JM, Harlan SL, Kaye JP, Knapp Ak, Kofinas GP, Magnuson JJ, McDowell WH, Melack JM, Ogden LA, Robertson GP, Smith MD, Whitmer AC (2011) An integrated conceptual framework for long-term social–ecological research. Front Ecol Environ 9. https://doi.org/10.1890/100068

Costanza R, d'Arge R, de Groot R, Farber S, Grasso M, Hannon B, Limburg K, Naeem S, O'Neill RV, Paruelo J, Raskin RG, Sutton P, van den Belt M (1998) The value of ecosystem services: putting the issues in perspective. Ecol Econ 25:67–72

Cumming GS, Buerkert A, Hoffmann EM, Schlecht E, von Cramon-Taubadel S, Tscharntke T (2014) Implications of agricultural transitions and urbanization for ecosystem services. Nature 515(7525):50–57

De Bon H, Laurent P, Paule M (2010) Sustainable urban agriculture in developing countries. A review. Agron Sustain Devel 30(1). https://doi.org/10.1051/agro:2008062hal-00886446

Di Rienzo JA, Casanoves F, Balzarini MG, Gonzalez L, Tablada M, Robledo CW. InfoStat versión 2015. Grupo InfoStat, FCA, Universidad Nacional de Córdoba, Argentina. http://www.infostat.com.ar

DPE, Direccion provincial de censos (2016) Censo hortifloricola y Censo Nacional agropecuario. Provincia de Buenos Aires, Ministerio de Hacienday Finanzas. http://www.estadistica.ec.gba.gov.ar/dpe/index.php/censos

EC-CABA, Estadística y Censos de Buenos Aires (2016) Censo 2010. Ciudad Autónoma de Buenos Aires. Dirección general de estadística y censos. https://www.estadisticaciudad.gob.ar/eyc/

Endreny T (2018) Strategically growing the urban forest will improve our world. Nat Commun 9:1160

Infostat (2016) Software estadístico. http://www.infostat.com.ar/

INTA, EEA AMBA (2012) Agricultura Urbana y Periurbana en el Área Metropolitana de Buenos Aires: Creación de la Estación Experimental Agropecuaria AMBA. Ediciones INTA. http://inta.gob.ar/documentos/agricultura-urbana-y-periurbana-en-el-area-metropolitana-de-buenos-aires

Kremen C, Williams NM, Aizen MA, Gemmill-Herren B, LeBuhn G, Minckley R, Packer L, Potts SG, Roulston T, Steffan-Dewenter I, Vázquez DP, Winfree R, Adams L, Crone EE, Greenleaf SS, Keitt TH, Klein A-M, Regetz J, Ricketts TH (2007) Pollination and other ecosystem services produced by mobile organisms: a conceptual framework for the effects of land-use change. Ecol Lett 10:299–314

Lodola A, Brigo F, Morra F (2013) Producción en los municipios de la provincia de Buenos Aires. Repositorio Institucional de la Universidad de La Plata. http://sedici.unlp.edu.ar/handle/10915/45923

Lódola A, Brigo R y Morra Mayo. F (2013) Serie Documentos de Trabajo Economía de los Gobiernos Municipales. Teoría y Aplicaciones a la Argentina: Producción en los Municipios de la Provincia de Buenos Aires Documento de Trabajo Nro. 98 ISSN 1853–3930. www.depeco.econo.unlp.edu.ar

Matteucci SD (2006) La sustentabilidad del sistema humano-natural en el norte y noreste de la Provincia de Buenos Aires. In: Matteucci SD, Morello J, Buzai GD, Baxendale C, Silva M, Mendoza N, Pengue W, Rodríguez A (eds) Crecimiento urbano y sus consecuencias sobre el entorno rural. El caso de laecorregión pampeana, Capítulo 4. Orientación Gráfica Editora S.R.L., Buenos Aires

Morello J (2000) Funciones del sistema periurbano: el caso de Buenos Aires. Universidad Nacional de Mar del Plata, Centro de Investigaciones Ambientales, Mar del Plata, p 36

Morello J, Matteuci SD, Rodriguez A (2003) Sustaintable development and urban growth in the Argentine Pampas region. Ann Am Acad Political Soc Sci 50:116–129

Muschietti MP, Civeira G (2017) Estimating net primary productivity and carbon inputs from soybean crop residues in Argentina. Commun Soil Sci Plant Anal 48:1105–1113

Naveh Z, Lieberman A (2001) Ecología de Paisajes. Editorial Facultad de Agronomía, UBA, Buenos Aires

Obschatko E, Foti P, Román M (2006) Los pequeños productores en la República Argentina. Importancia en la producción agropecuaria y en el empleo en base al Censo Nacional Agropecuario 2002. DDA, IICA−PROINDER, SAGPyA. Serie Estudios e Investigaciones N° 10, Buenos Aires

Obuobie E, Keraita B, Danso G, Amoah P, Cofie OO, Raschid-Sally L, Drechsel P (2006) Irrigated urban vegetable production in Ghana: characteristics, benefits and risks. IWMI-RUAF IDRC-CPWF, Accra. IWMI, Ghana, p 150. http://www.cityfarmer.org/GhanaIrrigateVegis.html

Paruelo J (2015) ¿Conviene seguir fomentando las plantaciones forestales en el norte de la Patagonia Argentina? ¿Dónde? ¿Para qué? ¿A quién le conviene? Ecolía Austral 25:112–118

Peng J, Lu T, Yanxu L, Mingyue Z, Yi'na H, Jiansheng W (2017) Ecosystem services response to urbanization in metropolitan areas: thresholds identification. Sci Total Environ 607–608(Dec):706–714

Pérez-Vázquez Ay, Leyva-Trinidad DA (2015) Food security, agrodiversity and indigenous homegardens in Mexico J Glob Ecol Environ 3(4):2454–2644

Pouyat R, Groffman P, Yesilonis I, Hernandez L (2002) Soil carbon pools and fluxes in urban ecosystems. Environ Pollut 116:107–118

Prince SD, Haskett J, Steininger M, Strand H, Wright R (2001) Net primary production of U.S. Midwest croplands from agricultural harvest yield data. Ecol Appl 11:1194–1205

Rivas IS (2010) Gestión ambiental para el ordenamiento territorial del partido de Florencio Varela, Area Metropolitana de Buenos Aires. Rev de la Asociación Geológica Argent 66:535–543

Salbitano F, Borelli S, Conigliaro M, and Chen Y (2016) Guidelines on urban and peri-urban forestry. FAO forestry paper no. 178. Food and Agriculture Organization of the United Nations, Rome

Samson R (2017) Urban trees and their relation to air pollution. In: Pearlmutter D et al. (eds) The urban forest. Future City Vol. 7. 21–30 Springer International, New York City

Sikorski P, Jackowiak K, Szumacher I (2008) Interdisciplinary environmental studies in urban parks as a basis for their sustainable management. Misc Geogr 13:21–32

Szumacher Iy, Malinowska E (2013) Servicios ecosistémicos urbanos según el modelo de Varsovia. Rev del CESLA, núm 16(2013):81–108

Vidal-Koppmann S (2014) Countries y barrios cerrados. Mutaciones socio-territoriales de la región metropolitana de Buenos Aires. Editorial Dunken, Buenos Aires. ISBN 9870274013, 9789870274018. p 408

Viglizzo EF, Pordomingo AJ, Castro MG, Lertora FA, Bernardos JN (2004) Scale-dependent controls on ecological functions in agroecosystems of Argentina. Agric Ecosyst Environ 101:39–51

Vila Subirós J, Varga Linde D, Llausàs Pascual A, Ribas Palom A (2006) Conceptos y métodos fundamentales en ecología del paisaje (landscape ecology). Una interpretación desde la Geogría1 Doc àl Geogr 48:151–166

Yang ZS, Hao P, Liu WD, Cai JM (2016) Peri-urban agricultural development in Beijing: varied forms, innovative practices and policy implications. Habitat Int 56:222–234

Zezza A, Tasciotti L (2010) Urban agriculture, poverty, and food security: empirical evidence from a sample of developing countries. Food Policy 35:265–273
Acknowledgements
This research was financially supported by the National institute of agricultural technology (INTA).
Ethics declarations
Conflict of interest
The authors declare that they have no conflict of interest.
Additional information
Publisher's note Springer Nature remains neutral with regard to jurisdictional claims in published maps and institutional affiliations.
About this article
Cite this article
Civeira, G., Lado Liñares, M., Vidal Vazquez, E. et al. Ecosystem Services and Economic Assessment of Land Uses in Urban and Periurban Areas. Environmental Management (2020). https://doi.org/10.1007/s00267-020-01257-w
Received:

Accepted:

Published:
Keywords
Megacities

Metropolitan Region of Buenos Aires (MRBA)

Vegetated uses

Geographic gross product (GGP)

Sustainable urban environments