Abstract
Working rangelands and natural areas span diverse ecosystems and face both ecological and economic threats from weed invasion. Restoration practitioners and land managers hold a voluminous cache of place-based weed management experience and knowledge that has largely been untapped by the research community. We surveyed 260 California rangeland managers and restoration practitioners to investigate invasive and weedy species of concern, land management goals, perceived effectiveness of existing practices (i.e., prescribed fire, grazing, herbicide use, and seeding), and barriers to practice implementation. Respondents identified 196 problematic plants, with yellow starthistle (Centaurea solstitialis L.) and medusahead (Elymus caput-medusae L.) most commonly listed. Reported adoption and effectiveness of weed management practices varied regionally, but the most highly rated practice in general was herbicide use; however, respondents identified considerable challenges including nontarget effects, cost, and public perception. Livestock forage production was the most commonly reported management goals (64% of respondents), and 25% of respondents were interested in additional information on using grazing to manage invasive and weedy species; however, 19% of respondents who had used grazing for weed management did not perceive it to be an effective tool. Across management practices, we also found common barriers to implementation, including operational barriers (e.g., permitting, water availability), potential adverse impacts, actual effectiveness, and public perception. Land manager and practitioner identified commonalities of primary weeds, management goals, perceived practice effectiveness, and implementation barriers across diverse bioregions highlight major needs that could be immediately addressed through management–science partnerships across the state's expansive rangelands and natural areas.
This is a preview of subscription content, log in to check access.
Access options
Buy single article
Instant access to the full article PDF.
US$ 39.95
Price includes VAT for USA
Subscribe to journal
Immediate online access to all issues from 2019. Subscription will auto renew annually.
US$ 99
This is the net price. Taxes to be calculated in checkout.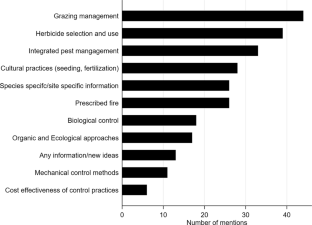 References
Alexander JM, Frankel SJ, Hapner N et al. (2017) Working across cultures to protect Native American Natural and cultural resources from invasive species in California. J For 115:473–479. https://doi.org/10.5849/jof.16-018

Brodt S, Klonsky K, Jackson L et al. (2009) Factors affecting adoption of hedgerows and other biodiversity-enhancing features on farms in California, USA. Agrofor Syst 76:195–206. https://doi.org/10.1007/s10457-008-9168-8

Brunson MW, Huntsinger L (2008) Ranching as a conservation strategy: can old ranchers save the new West? Rangel Ecol Manag 61:137–147. https://doi.org/10.2111/07-063.1

Coutts SR, Yokomizo H, Buckley YM (2013) The behavior of multiple independent managers and ecological traits interact to determine prevalence of weeds. Ecol Appl 23:523–536. https://doi.org/10.1890/12-0599.1

Daehler CC, Goergen E (2005) Experimental restoration of an indigenouse Hawaiian grassland after invasion by buffelgrass (Cenchrus ciliaris). Restor Ecol 13:380–389

Derner JD, Smart AJ, Toombs TP et al. (2018) Soil health as a transformational change agent for US grazing lands management. Rangel Ecol Manag 71:403–408. https://doi.org/10.1016/j.rama.2018.03.007

Didier AEA, Brunson MW, Didier EA, Brunson MW (2004) Adoption of range management innovations by Utah ranchers. Rangel Ecol Manag 57:330–336

DiTomaso JM (2000) Invasive weeds in rangelands: species, impacts, and management. Weed Sci 48:255–265. https://doi.org/10.1614/0043-1745(2000)048[0255:IWIRSI]2.0.CO;2

DiTomaso JM, Kyser GB, George MR et al. (2008) Control of medusahead (Taeniatherum caput-medusae) using timely sheep grazing. Invasive Plant Sci Manag 1:241–247. https://doi.org/10.1614/IPSM-07-031.1

Ditomaso JM, Kyser GB, Hastings MS (1999) Prescribed burning for control of yellow starthistle (Centaurea solstitialis) and enhanced native plant diversity. Weed Sci 47:233–242

Duncan CA, Jachetta JJ, Brown ML et al. (2004) Assessing the economic, environmental, and societal losses from invasive plants on rangeland and wildlands. Weed Technol 18:1411–1416. https://doi.org/10.1614/0890-037X(2004)018[1411:ATEEAS]2.0.CO;2

Eastburn DJ, Roche LM, Doran MP et al. (2018) Seeding plants for long-term multiple ecosystem service goals. J Environ Manag. https://doi.org/10.1016/j.jenvman.2018.01.061

Epstein L, Zhang M (2014) The impact of integrated pest management programs on pesticide use in California, USA. In: Peshin R, Pimentel D (eds) Integrated Pest Management: Experiences with Implementation, Global Overivew, Vol. 4. Springer, Dordrecht, pp 173–200

Fernandez-Gimenez ME, Knapp CN (2009) Understanding change: integrating rancher knowledge into state-and-transition models. Rangel Ecol Manag 62:510–521. https://doi.org/10.2111/08-176.1

Gornish ES, Case E, Valle M et al. (2018) A systematic review of management efforts on goatgrass (Aegilops spp) dominance. Plant Ecol 219:549–560. https://doi.org/10.1007/s11258-018-0817-3

Havstad KM, Peters DPC, Skaggs R et al. (2007) Ecological services to and from rangelands of the United States. Ecol Econ 64:261–268. https://doi.org/10.1016/j.ecolecon.2007.08.005

Hawkes G, Stiles M (1986) Attitudes about pesticide safety. Calif Agric 40:19–22

Heap IM (1997) The occurrence of herbicide-resistant weeds. Pestic Sci 235:235–243

James JJ, Gornish ES, Ditomaso JM et al. (2015) Managing medusahead (Taeniatherum caput-medusae) on rangeland: a meta-analysis of control effects and assessment of stakeholder needs. Rangel Ecol Manag 68:215–223. https://doi.org/10.1016/j.rama.2015.03.006

Kettenring KM, Adams CR (2011) Lessons learned from invasive plant control experiments: a systematic review and meta-analysis. J Appl Ecol 48:970–979

Li YM, Roche LM, Gornish ES. In Review. Bridging the research-implementation gap in weed management on California grasslands. Rangel Ecol Manag

Lubell MN, Cutts BB, Roche LM, et al. (2013) Conservation program participation and adaptive rangeland decision-making. Rangel Ecol Manag 66. https://doi.org/10.2111/REM-D-13-00025.1

Lund HG (2007) Accounting for the world's rangelands. Rangelands 29:3–10. https://doi.org/10.2111/1551-501X(2007)29[3:AFTWR]2.0.CO;2

Neuman WL (2003) Social research methods: qualitative and quantitative approaches. Allyn and Bacon, Boston, MA, USA

Norgaard KM (2007) The politics of invasive weed management: Gender, race, and risk perception in rural California. Rural Sociol 72:450–477. https://doi.org/10.1526/003601107781799263

Pimentel D, Zuniga R, Morrison D (2005) Update on the environmental and economic costs associated with alien-invasive species in the United States. Ecol Econ 52:273–288. https://doi.org/10.1016/j.ecolecon.2004.10.002

Pitcairn MJ, Schoenig S, Yacoub R, Gendron J (2006) Yellow starthistle continues its spread in California. Calif Agric 60:83–90. https://doi.org/10.3733/ca.v060n02p83

Porensky LM, Perryman BL, Williamson MA et al. (2018) Combining active restoration and targeted grazing to establish native plants and reduce fuel loads in invaded ecosystems. Ecol Evol 8:12533–12546. https://doi.org/10.1002/ece3.4642

Powels S, Matthews J (1992) Multiple herbicide resistance in Annual Ryegrass (Lolium rigidum): a driving forece for the adoption of integrated weed management. In: Denholm I, Devonshire A, Hollomon D (eds) Resistance 91: achievments and develpments in combating pesticide resistance. Springer, Dordrecht, p 77–87

Rinella MJ, Bellows SE (2016) Evidence-targeted grazing benefits to invaded rangelands can increase over extended time frames. Rangel Ecol Manag 69:169–172. https://doi.org/10.1016/j.rama.2016.02.001

Roche LM, Cutts BB, Derner JD et al. (2015a) On-ranch grazing strategies: context for the rotational grazing dilemma. Rangel Ecol Manag 68:248–256. https://doi.org/10.1016/j.rama.2015.03.011

Roche LM, Schohr TK, Derner JD et al. (2015b) Sustaining working rangelands: insights from rancher decision making. Rangel Ecol Manag 68:383–389. https://doi.org/10.1016/j.rama.2015.07.006

Schiffman P (2007) Species composition at the time of first European settlement. In: Stromberg B, Corbin J, D'Antonio C (eds) California grasslands: ecology and management. University of California Press, Berkeley, p 52–56

Swart JAA, Zevenberg J, Ho P et al. (2018) Involving society in restoration and conservation. Restor Ecol 26:S3–S6. https://doi.org/10.1111/rec.12709

U.S. Department of Agriculture (2018) Summary report: 2015 national resources inventory. U.S. Department of Agriculture, Washington, DC

Vilà M, Espinar JL, Hejda M et al. (2011) Ecological impacts of invasive alien plants: a meta-analysis of their effects on species, communities and ecosystems. Ecol Lett 14:702–708. https://doi.org/10.1111/j.1461-0248.2011.01628.x

Westbrooks RG (1998) Invasive plants: changing the landscape of America: Fact book. Federal Interagency Committee for the Management of Noxious and Exotic Weeds, Washington, DC, USA

Wilson RS, Tucker MA, Hooker NH et al. (2008) Perceptions and beliefs about weed management: perspectives of Ohio grain and produce farmers. Weed Technol 22:339–350. https://doi.org/10.1614/WT-07-143.1
Acknowledgements
Funding was provided in part via the California Department of Pesticide Regulation (DPR). The contents of this document do not necessarily reflect the views and policies of DPR, nor does mention of trade names or commercial products constitute endorsement or recommendation for use. We are thankful to the project technicians and interns who helped with data collection and entry, as well as our survey beta testers. We appreciate project workshop sponsor support from Alligare, California Beef Cattle Improvement Association, California Invasive Plant Council, California Native Grasslands Association, Dow AgroSciences, and USDA Natural Resources Conservation Service. We are also grateful to the local University of California Cooperative Extension advisors who assisted with hosting the workshop series Morgan Doran, David Lile, Rebecca Ozeran, Devii Rao, Matthew Shapero, and Jeff Stackhouse. Lastly, we owe a debt of gratitude to all of the workshop, survey, and interview participants who willingly shared their knowledge and time with us.
Ethics declarations
Conflict of interest
The authors declare that they have no conflict of interest.
Additional information
Publisher's note Springer Nature remains neutral with regard to jurisdictional claims in published maps and institutional affiliations.
Supplementary Information
About this article
Cite this article
Schohr, T.K., Gornish, E.S., Woodmansee, G. et al. Practitioner Insights into Weed Management on California's Rangelands and Natural Areas. Environmental Management 65, 212–219 (2020). https://doi.org/10.1007/s00267-019-01238-8
Received:

Accepted:

Published:

Issue Date:
Keywords
Invasive plants

Livestock grazing

Herbicide

Seeding

Prescribed fire

California