Abstract
Background
Autologous fat grafting is common in facial reconstructive and cosmetic surgeries; the most important drawbacks are the high absorption rate and unpredictable volume retention rate. Surgeons usually make clinical judgements based on their own experience. Therefore, this study aimed to systematically and quantitatively review the volume retention rate of facial autologous fat grafting and analyse the relevant influencing factors.
Methods
A systematic literature review was performed using the Medline, EMBASE, Cochrane Library, and Web of Science databases in October 2019 for articles that reported objectively measured volume retention rates of facial fat grafting. Patient characteristics, fat graft volumetric data, and complications were collected. A meta-analysis using a random-effects model was conducted to pool the estimated fat retention rate. Relevant factors were analysed and reviewed on the basis of subgroups.
Results
We included 27 studies involving 1011 patients with facial fat grafting. The volume retention rate varied from 26 to 83%, with a mean follow-up of 3–24 months. The overall pooled retention rate was 47% (95% CI 41–53%). The volume measurement method significantly influenced the reported retention rate. A trend towards better retention was found for secondary fat grafting procedures and patients with congenital deformities. Only 2.8% of all patients had complications.
Conclusion
The exact percentage of facial fat grafts retained is currently unpredictable; the reported rate varies with different estimation methods. This review analysed studies that provided objectively measured volume retention rates, the pooled average percentage of facial fat graft retention (47%, 95% CI 41–53%), and relevant factors.
Level of Evidence III
This journal requires that authors assign a level of evidence to each article. For a full description of these evidence-based medicine ratings, please refer to the Table of Contents or the online Instructions to Authors www.springer.com/00266.
This is a preview of subscription content, log in to check access.
Access options
Buy single article
Instant unlimited access to the full article PDF.
US$ 39.95
Price includes VAT for USA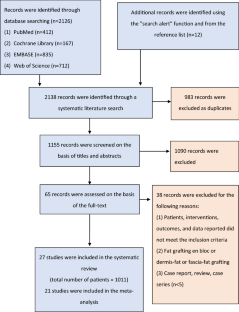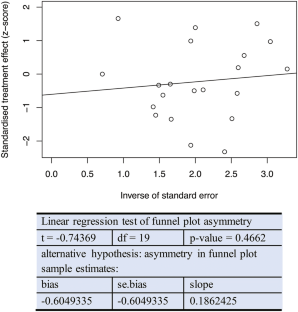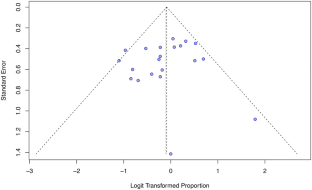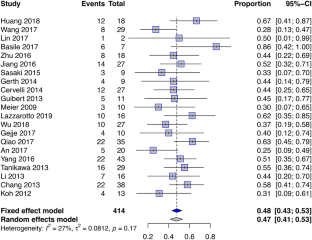 References
1.

Neuber F (1893) Fettransplantation. Chir Kongr Verhandl Dsch Gesellch Chir 22:66

2.

Khouri RK Jr, Khouri RK (2017) Current clinical applications of fat grafting. Plast Reconstr Surg 140:466e–486e

3.

Coleman SR (2001) Structural fat grafts: the ideal filler? Clin Plast Surg 28:111–119

4.

Qiao J, Gui L, Fu X et al (2017) A novel method of mild to moderate Parry–Romberg syndrome reconstruction: computer-assisted surgery with mandibular outer cortex and fat grafting. J Craniofac Surg 28:359–365

5.

Coleman SR (2006) Facial augmentation with structural fat grafting. Clin Plast Surg 33:567–577

6.

Howick J, Chalmers I, Glasziou P et al (2011) The Oxford 2011 levels of evidence. Oxford Centre for Evidence-Based Medicine. http://www.cebm.net/index.aspx?o=5653. Accessed 5 Oct 2019

7.

Gentile P, De Angelis B, Pasin M et al (2014) Adipose-derived stromal vascular fraction cells and platelet-rich plasma: basic and clinical evaluation for cell-based therapies in patients with scars on the face. J Craniofac Surg 25:267–272

8.

Yang X, Wu R, Bi H et al (2016) Autologous fat grafting with combined three-dimensional and mirror-image analyses for progressive hemifacial atrophy. Ann Plast Surg 77:308–313

9.

Meier JD, Glasgold RA, Glasgold MJ (2009) Autologous fat grafting: long-term evidence of its efficacy in midfacial rejuvenation. Arch Facial Plast Surg 11:24–28

10.

Cervelli D, Gasparini G, Grussu F et al (2014) Autologous fat transplantation for the temporalis muscle flap donor site: our experience with 45 cases. Head Neck 36:1296–1304

11.

Koh KS, Oh TS, Kim H et al (2012) Clinical application of human adipose tissue-derived mesenchymal stem cells in progressive hemifacial atrophy (Parry–Romberg disease) with microfat grafting techniques using 3-dimensional computed tomography and 3-dimensional camera. Ann Plast Surg 69:331–337

12.

Tanna N, Wan DC, Kawamoto HK, Bradley JP (2011) Craniofacial microsomia soft-tissue reconstruction comparison: inframammary extended circumflex scapular flap versus serial fat grafting. Plast Reconstr Surg 127:802–811

13.

Gejje S, Singh AK, Srivastava PK et al (2017) Evaluation of use of adipose cells in various procedures of plastic surgery and its volumetric quantification using high resolution ultrasound. J Clin Diagn Res PC11:PC17–PC21

14.

Nelson L, Stewart KJ (2008) Experience in the treatment of HIV-associated lipodystrophy. J Plast Reconstr Aesthet Surg 61:366–371

15.

Wang W, Xie Y, Huang RL et al (2017) Facial contouring by targeted restoration of facial fat compartment volume: the midface. Plast Reconstr Surg 139:563–572

16.

Guibert M, Franchi G, Ansari E et al (2013) Fat graft transfer in children's facial malformations: a prospective three-dimensional evaluation. J Plast Reconstr Aesthet Surg 66:799–804

17.

Tanikawa DY, Aguena M, Bueno DF, Passos-Bueno MR, Alonso N (2013) Fat grafts supplemented with adipose-derived stromal cells in the rehabilitation of patients with craniofacial microsomia. Plast Reconstr Surg 132:141–152

18.

Huang RL, Xie Y, Wang W, Tan P, Li Q (2018) Long-term outcomes of temporal hollowing augmentation by targeted volume restoration of fat compartments in Chinese adults. JAMA Facial Plast Surg 20:387–393

19.

Gerth DJ, King B, Rabach L, Glasgold RA, Glasgold MJ (2014) Long-term volumetric retention of autologous fat grafting processed with closed-membrane filtration. Aesthet Surg J 34:985–994

20.

Gontijo-de-Amorim NF, Charles-de-Sa L, Rigotti G (2017) Mechanical supplementation with the stromal vascular fraction yields improved volume retention in facial lipotransfer: a 1-year comparative study. Aesthet Surg J 37:975–985

21.

Lin S, Hsiao YC, Huang JJ et al (2017) Minimal invasive rhinoplasty: fat injection for nasal dorsum contouring. Ann Plast Surg 78:S117–S123

22.

Zhu M, Xie Y, Zhu Y, Chai G, Li Q (2016) A novel noninvasive three-dimensional volumetric analysis for fat-graft survival in facial recontouring using the 3L and 3M technique. J Plast Reconstr Aesthet Surg 69:248–254

23.

Slack GC, Tabit CJ, Allam KA, Kawamoto HK, Bradley JP (2014) Parry–Romberg reconstruction: beneficial results despite poorer fat take. Ann Plast Surg 73:307–310

24.

Basile FV, Basile AR (2017) Prospective controlled study of chin augmentation by means of fat grafting. Plast Reconstr Surg 140:1133–1141

25.

Chang Q, Li J, Dong Z, Liu L, Lu F (2013) Quantitative volumetric analysis of progressive hemifacial atrophy corrected using stromal vascular fraction-supplemented autologous fat grafts. Dermatol Surg 39:1465–1473

26.

Kim SS, Kawamoto HK, Kohan E, Bradley JP (2010) Reconstruction of the irradiated orbit with autogenous fat grafting for improved ocular implant. Plast Reconstr Surg 126:213–220

27.

Sasaki GH (2015) The safety and efficacy of cell-assisted fat grafting to traditional fat grafting in the anterior mid-face: an indirect assessment by 3D imaging. Aesthet Plast Surg 39:833–846

28.

Jiang T, Xie Y, Zhu M et al (2016) The second fat graft has significantly better outcome than the first fat graft for Romberg syndrome: a study of three-dimensional volumetric analysis. J Plast Reconstr Aesthet Surg 69:1621–1626

29.

An J (2017) A study on preoperative morphological assessment and postoperative quantitative evaluation of autologous facial fat grafting based on three-dimensional surface imaging techniques. Peking University, Beijing (in Chinese)

30.

Li J, Gao J, Cha P et al (2013) Supplementing fat grafts with adipose stromal cells for cosmetic facial contouring. Dermatol Surg 39:449–456

31.

Wu R, Yang X, Jin X et al (2018) Three-dimensional volumetric analysis of 3 fat-processing techniques for facial fat grafting: a randomized clinical trial. JAMA Facial Plast Surg 20:222–229

32.

Lazzarotto A, Franz L, Stella E et al (2019) Volumetric analysis of fat injection by computerized tomography in orthognathic surgery: preliminary report on a novel volumetric analysis process for the quantification of aesthetic results. J Craniofac Surg 30:771–776

33.

Yu NZ, Huang JZ, Zhang H et al (2015) A systemic review of autologous fat grafting survival rate and related severe complications. Chin Med J (Engl) 128:1245–1251

34.

Wang GH, Zhao JF, Xue HY, Li D (2019) Facial aesthetic fat graft retention rates after filtration, centrifugation, or sedimentation processing techniques measured using three-dimensional surface imaging devices. Chin Med J (Engl) 132:69–77

35.

Zhou YW, Wang J, Li HZ et al (2016) Efficacy and safety of cell-assisted lipotransfer: a systematic review and meta-analysis. Plast Reconstr Surg 137:44E–57E

36.

Krastev TK, Beugels J, Hommes J et al (2018) Efficacy and safety of autologous fat transfer in facial reconstructive surgery: a systematic review and meta-analysis. JAMA Facial Plast Surg 20:351–360

37.

Horl HW, Feller AM, Biemer E (1991) Technique for liposuction fat reimplantation and long-term volume evaluation by magnetic resonance imaging. Ann Plast Surg 26:248–258

38.

Arcuri F, Brucoli M, Baragiotta N et al (2013) The role of fat grafting in the treatment of posttraumatic maxillofacial deformities. Craniomaxillofac Trauma Reconstr 6:121–126

39.

Caye N, Le Fourn B, Pannier M (2003) Surgical treatment of facial lipoatrophy. Ann Chir Plast Esthet 48:2–12

40.

Burnouf M, Buffet M, Schwarzinger M et al (2005) Evaluation of Coleman lipostructure for treatment of facial lipoatrophy in patients with human immunodeficiency virus and parameters associated with the efficiency of this technique. Arch Dermatol 141:1220–1224

41.

Uzzan C, Boccara D, Lachere A, Mimoun M, Chaouat M (2012) Treatment of facial lipoatrophy by lipofilling in HIV infected patients: retrospective study on 317 patients on 9 years. Ann Chir Plast Esthet 57:210–216

42.

Ozalp B, Cakmakoglu C (2017) The effect of smoking on facial fat grafting surgery. J Craniofac Surg 28:449–453

43.

Agrawal KS, Bachhav M, Naik CS, Tanwar H, Sankhe SS (2016) Autologous fat transfer for esthetic contouring of face in posttraumatic nonfunctional maxillofacial deformities. Craniomaxillofac Trauma Reconstr 9:113–120

44.

Scotto di Santolo M, Sagnelli M, Tortora G et al (2016) The utility of the high-resolution ultrasound technique in the evaluation of autologous adipose tissue lipofilling, used for the correction of post-surgical, post-traumatic and post-burn scars. Radiol Med 121:521–527

45.

Fontdevila J, Serra-Renom JM, Raigosa M et al (2008) Assessing the long-term viability of facial fat grafts: an objective measure using computed tomography. Aesthet Surg J 28:380–386

46.

Losken A, Seify H, Denson DD, Paredes AA Jr, Carlson GW (2005) Validating three-dimensional imaging of the breast. Ann Plast Surg 54:471–476 discussion 7-8

47.

Tepper OM, Small KH, Unger JG et al (2009) 3D analysis of breast augmentation defines operative changes and their relationship to implant dimensions. Ann Plast Surg 62:570–575

48.

Lubbers HT, Medinger L, Kruse A, Gratz KW, Matthews F (2010) Precision and accuracy of the 3dMD photogrammetric system in craniomaxillofacial application. J Craniofac Surg 21:763–767

49.

Rohrich RJ, Sorokin ES, Brown SA (2004) In search of improved fat transfer viability: a quantitative analysis of the role of centrifugation and harvest site. Plast Reconstr Surg 113:391–395 discussion 6-7

50.

Padoin AV, Braga-Silva J, Martins P et al (2008) Sources of processed lipoaspirate cells: influence of donor site on cell concentration. Plast Reconstr Surg 122:614–618

51.

Ullmann Y, Shoshani O, Fodor A et al (2005) Searching for the favorable donor site for fat injection: in vivo study using the nude mice model. Dermatol Surg 31:1304–1307

52.

Small K, Choi M, Petruolo O, Lee C, Karp N (2014) Is there an ideal donor site of fat for secondary breast reconstruction? Aesthet Surg J 34:545–550

53.

Mojallal A, Shipkov C, Braye F, Breton P, Foyatier JL (2009) Influence of the recipient site on the outcomes of fat grafting in facial reconstructive surgery. Plast Reconstr Surg 124:471–483

54.

Pasquale P, Gaetano M, Giovanni DO, Luigi C, Gilberto S (2015) Autologous fat grafting in facial volumetric restoration. J Craniofac Surg 26:756–759

55.

Rieck B, Schlaak S (2003) Measurement in vivo of the survival rate in autologous adipocyte transplantation. Plast Reconstr Surg 111:2315–2323

56.

Tholpady SS, Aojanepong C, Llull R et al (2005) The cellular plasticity of human adipocytes. Ann Plast Surg 54:651–656

57.

Fontdevila J, Guisantes E, Martinez E, Prades E, Berenguer J (2014) Double-blind clinical trial to compare autologous fat grafts versus autologous fat grafts with PDGF: no effect of PDGF. Plast Reconstr Surg 134:219e–230e

58.

Guaraldi G, De Fazio D, Orlando G et al (2005) Facial lipohypertrophy in HIV-infected subjects who underwent autologous fat tissue transplantation. Clin Infect Dis 40:e13–e15

59.

Wang Y, Wu Y (2017) Assessment of the clinical efficacy of cell-assisted lipotransfer and conventional fat graft: a meta-analysis based on case-control studies. J Orthop Surg Res 12:155

60.

Picard F, Hersant B, La Padula S, Meningaud JP (2017) Platelet-rich plasma-enriched autologous fat graft in regenerative and aesthetic facial surgery: technical note. J Stomatol Oral Maxillofac Surg 118:228–231

61.

Laloze J, Varin A, Gilhodes J et al (2018) Cell-assisted lipotransfer: friend or foe in fat grafting? Systematic review and meta-analysis. J Tissue Eng Regen Med 12:e1237–e1250

62.

Bir SC, Esaki J, Marui A et al (2009) Angiogenic properties of sustained release platelet-rich plasma: characterization in-vitro and in the ischemic hind limb of the mouse. J Vasc Surg 50:870-9.e2

63.

Kakudo N, Minakata T, Mitsui T et al (2008) Proliferation-promoting effect of platelet-rich plasma on human adipose-derived stem cells and human dermal fibroblasts. Plast Reconstr Surg 122:1352–1360

64.

Cervelli V, Scioli MG, Gentile P et al (2012) Platelet-rich plasma greatly potentiates insulin-induced adipogenic differentiation of human adipose-derived stem cells through a serine/threonine kinase Akt-dependent mechanism and promotes clinical fat graft maintenance. Stem Cells Transl Med 1:206–220

65.

Rehman J, Traktuev D, Li J et al (2004) Secretion of angiogenic and antiapoptotic factors by human adipose stromal cells. Circulation 109:1292–1298

66.

Kakudo N, Tanaka Y, Morimoto N et al (2013) Adipose-derived regenerative cell (ADRC)-enriched fat grafting: optimal cell concentration and effects on grafted fat characteristics. J Transl Med 11:254

67.

Denadai R, Raposo-Amaral CA, Pinho AS et al (2017) Predictors of autologous free fat graft retention in the management of craniofacial contour deformities. Plast Reconstr Surg 140:50e–61e

68.

Lei L, Liao W, Sheng P et al (2007) Biological character of human adipose-derived adult stem cells and influence of donor age on cell replication in culture. Sci China C Life Sci 50:320–328

69.

Zhu M, Kohan E, Bradley J et al (2009) The effect of age on osteogenic, adipogenic and proliferative potential of female adipose-derived stem cells. J Tissue Eng Regen Med 3:290–301

70.

Schipper BM, Marra KG, Zhang W, Donnenberg AD, Rubin JP (2008) Regional anatomic and age effects on cell function of human adipose-derived stem cells. Ann Plast Surg 60:538–544
Ethics declarations
Conflict of interest
The authors declare that they have no conflict of interest to disclose.
Human and Animal Rights
This article does not contain any studies with human participants or animals performed by any of the authors.
Informed Consent
For this type of study, informed consent is not required.
Additional information
Publisher's Note
Springer Nature remains neutral with regard to jurisdictional claims in published maps and institutional affiliations.
Electronic supplementary material
Below is the link to the electronic supplementary material.
About this article
Cite this article
Lv, Q., Li, X., Qi, Y. et al. Volume Retention After Facial Fat Grafting and Relevant Factors: A Systematic Review and Meta-analysis. Aesth Plast Surg (2020) doi:10.1007/s00266-020-01612-6
Received:

Accepted:

Published:
Keywords
Facial fat grafting

Volume retention rate

Systematic review

Meta-analysis