Abstract
Introduction
With aging, progressive changes occur in the eyelid region. The novel technique for repositioning of the fat pads described herein addresses Hester classification type II, lower eyelid aging with minimal decrease in the eyelid/cheek juncture.
Materials and Methods
In this retrospective study of patients undergoing surgery at our clinic between 2000 and 2018, 92 were classified as Hester II and a transconjunctival surgical procedure was performed with repositioning of the fat pads and intranasal fixation assisted by the Casagrande needle.
Results
Erasure of the nasojugal fold was observed in all patients, offering a greater uniformity in the convexity of the middle third and resulting in better rejuvenation of the target area while eliminating visible scarring from a suture through the skin.
Discussion
The repositioning of fat pads using intranasal fixation offers the necessary anchoring qualities without worrying about unsightly scars or the need to remove stitches early, which can decrease the proper scarring and adhesion of the pads in their new pockets.
Conclusion
The quality and longevity of the results of this retrospective study allow us to offer this novel fat pad fixation method in transconjunctival blepharoplasty.
Level of Evidence IV
This journal requires that authors assign a level of evidence to each article. For a full description of these evidence-based medicine ratings, please refer to the Table of Contents or the online Instructions to Authors www.springer.com/00266.
This is a preview of subscription content, log in to check access.
Access options
Buy single article
Instant unlimited access to the full article PDF.
US$ 39.95
Price includes VAT for USA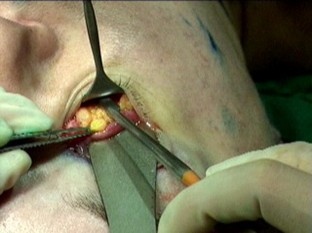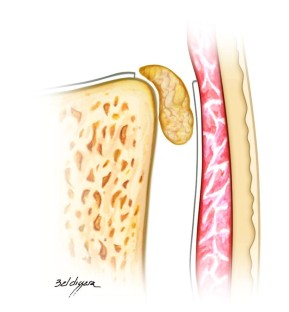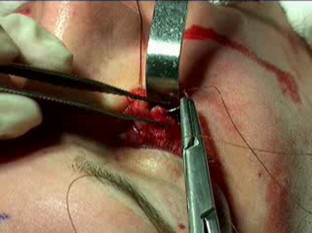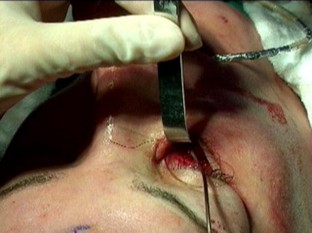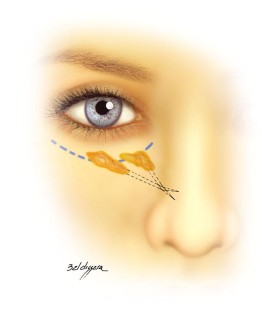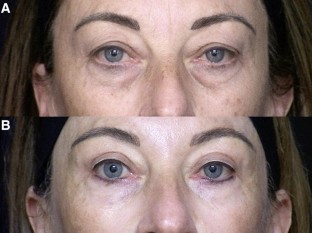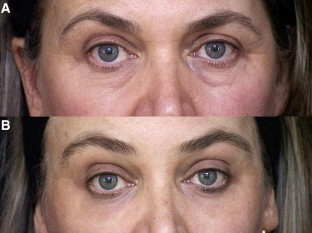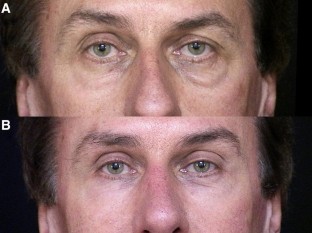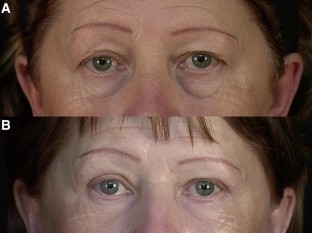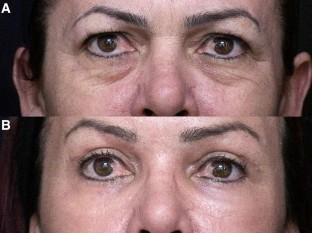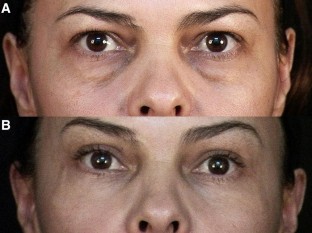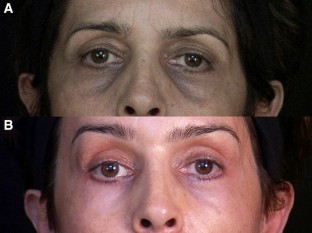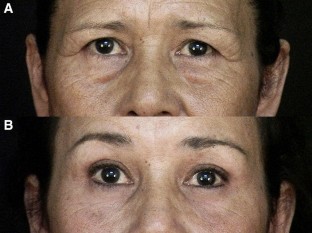 References
1.

Loeb R (1981) Fat pad sliding and fat grafting for leveling lid depressions. Clin Plast Surg 8:757–776

2.

Flowers RF (1993) Tear trough implants for correction of tear trough deformity. Clin Plast Surg 20:403–415

3.

Haddock NT, Saadeh PB, Boutros S, Thorne CH (2009) The tear trough and lid/cheek junction: anatomy and implications for surgical correction. Plast Reconstr Surg 123:1332–1340 (Discussion 1341–1342)

4.

Wong CH, Hsieh MKH, Mendelson B (2012) The tear trough ligament: anatomical basis for the tear trough deformity. Plast Reconstr Surg 129:1392–1402

5.

Cardim VLN (2003) Evolução da face senil. In: Badin AZ, Casagrande C, Saltz R (eds) Rejuvenescimento fácil-cirurgia videoendoscópica e procedimentos ancilares. Revintes, Rio de Janeiro, pp 19–24

6.

Herster TR Jr, Codner MA, McCord CD, Nahai F, Giannopoulus A (2000) Evolution of technique of the direct transblepharoplasty approach for the correction of lower lid and midfacial aging: maximizing results and minimizing complications in a 5-year experience. Plast Reconstr Surg 105(1):393–406

7.

Hamra S (1995) Arcus marginalis release and orbital fat preservation in midface rejuvenation. Plast Reconstr Surg 96(354–362):5

8.

Hamra ST (1996) The role of orbital fat preservation in facial aesthetic surgery: a new concept. Clin Plast Surg 23:17–28

9.

Guyuron B, Harvey D (2016) Periorbital and orbital aging: senile enophthalmos as a cause of upper eyelid ptosis. Plast Reconstr Surg 138(1):31e–37e

10.

Stutman RL, Codner MA (2012) Tear trough deformity: review of anatomy and treatment options. Aesthet Surg 32:426–440

11.

Hirmand H (2010) Anatomy and nonsurgical correction of the tear trough deformity. Plast Reconstr Surg 125(4):699–708

12.

Tonnard P, Verpaele A, Peeters G, Hamdi M, Cornelissen M, Declercq H (2013) Nanofat grafting: basic research and clinical applications. Plast Reconstr Surg 32(4):1017–1026

13.

McCord CD Jr, Codner MA, Hester TR (1998) Redraping the inferior orbicularis arc. Plast Reconstr Surg 102:2471–2479

14.

Atiyeh BS, Hayek SN (2004) Combined arcus marginalis release, preseptal orbicularis muscle sling, and SOOF plication for midfacial rejuvenation. Aesthetic Plast Surg 28(4):197–202

15.

Collar RM, Lyford-Pike S, Byrne P (2013) Algorithmic approach to lower lid blepharoplasty. Facial Plast Surg 29(1):32–39

16.

Kikkawa DO, Lemke BN, Dortzbach RK (1996) Relations of the superficial musculoaponeurotic system to the orbit and characterization of the orbitomalar ligament. Ophthalmic Plast Reconstr Surg 12(2):77–88

17.

Miranda SG, Codner MA (2017) Micro free orbital fat grafts to the tear trough deformity during lower blepharoplasty. Plast Reconstr Surg 139(6):1335–1343

18.

Goldberg RA (2000) Transconjunctival orbital fat repositioning: transposition of orbital fat pedicles into the subperiosteal pocket. Plast Reconstr Surg 105:743–748 (Discussion 749–751)

19.

Kawamoto HK, Bradley JP (2003) The tear "TROUF" procedure: transconjunctival repositioning of orbital unipedicled fat. Plast Reconstr Surg 112(7):1903–1907

20.

Barton FE Jr, Ha R, Awada M (2004) Fat extrusion and septal reset in patients with the tear trough triad: a critical appraisal. Plast Reconstr Surg 113(7):2115–2121

21.

Hidalgo DA (2011) An integrated approach to lower blepharoplasty. Plast Reconstr Surg 127(1):386–395

22.

Pezeshk RA, Sieber DA, Rohrich RJ (2017) The six-step lower blepharoplasty: using fractionated fat to enhance blending of the lid-cheek junction. Plast Reconstr Sur 139(6):1381–1383

23.

Tonnard PL, Verpaele AM, Zeltzer AA (2013) Augmentation blepharoplasty: a review of 500 consecutive patients. Aesthet Surg J 33(3):341–352

24.

Rohrich RJ, Mahedia M, Shah N, Afrooz P, Vishvanath L, Gupta RK (2018) Role of fractionated fat in blending the lid-cheek junction. Plast Reconstr Surg 142(1):56–65

25.

Casagrande C, Saltz R, Chem R, Pinto R, Collares M (2000) Direct needle fixation in endoscopic facial rejuvenation. Aesthet Surg 20:361–367

26.

Zoumalan CI (2018) Managing periocular filler-related syndrome prior to lower blepharoplasty. Aesthetic Plast Surg. 8 Oct 2018. (Epub ahead of print)
Ethics declarations
Conflict of interest
The authors declare that they have no conflicts of interest to disclose.
Ethical Approval
This article does not contain any studies with human participants or animals performed by any of the authors.
Informed Consent
Informed consent was obtained from all individual participants included in the study.
Additional information
Publisher's Note
Springer Nature remains neutral with regard to jurisdictional claims in published maps and institutional affiliations.
Electronic supplementary material
Below is the link to the electronic supplementary material.
Supplementary material 1 (WMV 66510 kb)
About this article
Cite this article
Garcia, C.P., Badin, A.Z.D. Treating Tear Trough Deformity: Transconjunctival Blepharoplasty with Fat Pad Repositioning and Fixation in the Intranasal Mucosa—18 Years' Experience. Aesth Plast Surg 43, 695–701 (2019) doi:10.1007/s00266-019-01353-1
Received:

Accepted:

Published:

Issue Date:
Keywords
Eyelid

Blepharoplasty

Tear trough

Nasojugal sulcus

Fat pad