Abstract
Background
Accessory breasts are usually located in the axilla. Symptoms associated with an axillary accessory breast (AAB) may newly develop or worsen after pregnancy. After childbirth, AAB engorgement and hyperplasia may occur due to milk formation. We evaluated the optimal time for AAB excision and assessed variations in clinical presentations and surgical outcomes associated with pregnancy.
Methods
In total, 540 women whose symptoms began from puberty and underwent AAB excision were retrospectively analyzed. Group 1 comprised 416 patients who underwent operations before pregnancy, and Group 2 comprised 124 patients who underwent operations after childbirth. AABs were classified according to the Damsoyu–Lee (DL) classification. Satisfaction was measured by pain and cosmesis 3 months postoperatively.
Results
Group 2 had more patients with severe symptoms [DL class II (n = 8, 6.5%) and III (n = 15, 12.1%)] than Group 1 (p = 0.049). The specimen weight and liposuction volume were greater in Group 2. The reoperation rate was also higher in Group 2 [loosening skin excision (n = 4, 3.2%) and remnant gland excision (n = 3, 2.4%)] (p = 0.032). In Group 2, 31 (25%) patients had AAB engorgement after childbirth and 7 (5.6%) had milk secretion from the accessory nipple after childbirth. The overall satisfaction score was lower in Group 2 than 1.
Conclusions
Pregnancy may cause accessory breast gland hyperplasia. After childbirth, symptoms such as AAB engorgement and milk secretion from the accessory nipple may occur. The optimal timing for operation for AAB appears to be before the onset of pregnancy because of lower reoperation rates and greater patient satisfaction.
Level of Evidence IV
This journal requires that authors assign a level of evidence to each article. For a full description of these Evidence-Based Medicine ratings, please refer to the Table of Contents or the online Instructions to Authors www.springer.com/00266.
This is a preview of subscription content, log in to check access.
Access options
Buy single article
Instant unlimited access to the full article PDF.
US$ 39.95
Price includes VAT for USA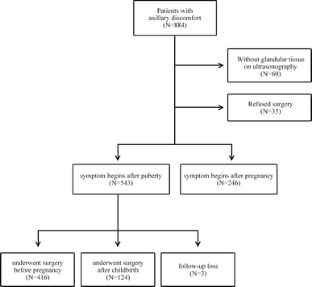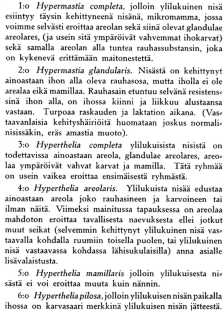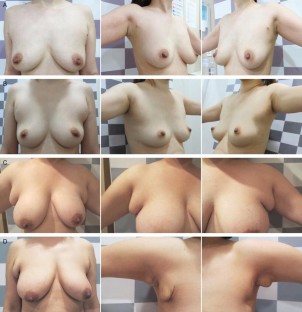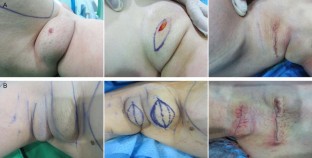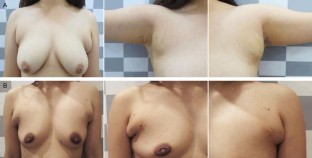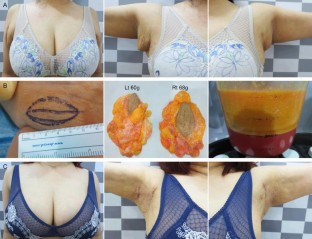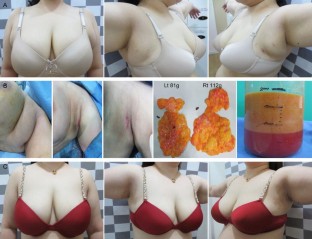 References
1.

Bartsich SA, Ofodile FA (2011) Accessory breast tissue in the axilla: classification and treatment. Plast Reconstr Surg 128(1):35e–36e

2.

DeFilippis EM, Arleo EK (2014) The ABCs of accessory breast tissue: basic information every radiologist should know. AJR Am J Roentgenol 202(5):1157–1162

3.

Seifert F, Rudelius M, Ring J, Gutermuth J, Andres C (2012) Bilateral axillary ectopic breast tissue. Lancet 380(9844):835

4.

Grama F, Voiculescu S, Virga E, Burcos T, Cristian D (2016) Bilateral axillary accessory breast tissue revealed by pregnancy. Chirurgia (Bucur) 111(6):527–531

5.

Husain M, Khan S, Bhat A, Hajini F (2014) Accessory breast tissue mimicking pedunculated lipoma. BMJ Case Rep. https://doi.org/10.1136/bcr-2014-204990

6.

Kim YS (2004) Correction of accessory axillary breast tissue without visible scar. Aesthet Surg J 24(6):531–535

7.

Greer KE (1974) Accessory axillary breast tissue. Arch Dermatol 109(1):88–89

8.

Lesavoy MA, Gomez-Garcia A, Nejdl R, Yospur G, Syiau TJ, Chang P (1995) Axillary breast tissue: clinical presentation and surgical treatment. Ann Plast Surg 35(4):356–360

9.

Hwang SB, Choi BS, Byun GY, Koo BH, Lee SR (2017) Accessory axillary breast excision with liposuction using minimal incision: a preliminary report. Aesthet Plast Surg 41(1):10–18

10.

Kajava Y (1915) Ylilukuisten nisien esiintymisestä suomalaisilla. Duodecim 31:143–170

11.

Fama F, Cicciu M, Sindoni A, Scarfo P, Pollicino A, Giacobbe G, Buccheri G, Taranto F, Palella J, Gioffre-Florio M (2016) Prevalence of ectopic breast tissue and tumor: a 20-year single center experience. Clin Breast Cancer 16(4):e107–e112

12.

Lim HS, Kim SJ, Baek JM, Kim JW, Shin SS, Seon HJ, Heo SH (2017) Sonographic findings of accessory breast tissue in axilla and related diseases. J Ultrasound Med 36(7):1469–1478

13.

Aydogan F, Baghaki S, Celik V, Kocael A, Gokcal F, Cetinkale O, Unal H (2010) Surgical treatment of axillary accessory breasts. Am Surg 76(3):270–272

14.

Alghamdi H, Abdelhadi M (2005) Accessory breasts: when to excise? Breast J 11(2):155–157

15.

Zhang S, Yu YH, Qu W, Zhang Y, Li J (2015) Diagnosis and treatment of accessory breast cancer in 11 patients. Oncol Lett 10(3):1783–1788

16.

Tiwary SK, Kumar P, Khanna AK (2015) Fibroadenoma in axilla: another manifestation of ectopic breast. BMJ Case Rep. https://doi.org/10.1136/bcr-2015-209535

17.

Surd A, Mironescu A, Gocan H (2016) Fibroadenoma in axillary supernumerary breast in a 17-year-old girl: case report. J Pediatr Adolesc Gynecol 29(5):e79–e81

18.

Sawa M, Kawai N, Sato M, Takeuchi T, Tamaki T, Oura S (2010) Fibroadenoma of the axillary accessory breast: diagnostic value of dynamic magnetic resonance imaging. Jpn J Radiol 28(8):613–617

19.

Whang IY, Lee J, Kim KT (2007) Galactocele as a changing axillary lump in a pregnant woman. Arch Gynecol Obstet 276(4):379–382

20.

Jeremy SM, Jack CS, Vincent YK, Evan WK (2012) The use of microdebrider for the treatment of accessory axillary breast. J Plast Reconstr Aesthet Surg 65(11):e301–e304

21.

Tang X (2017) Mammotome-assisted liposuction: a novel technique for accessory breasts. Aesthet Plast Surg 41(3):517–523

22.

Down S, Barr L, Baildam AD, Bundred N (2003) Management of accessory breast tissue in the axilla. Br J Surg 90(10):1213–1214

23.

Velanovich V (1995) Ectopic breast tissue, supernumerary breasts, and supernumerary nipples. South Med J 88(9):903–906
Ethics declarations
Conflict of interest
The authors declare that they have no conflicts of interest.
Ethical Approval
All procedures performed in studies involving human participants were in accordance with the ethical standards of the institutional and/or national research committee and with the 1964 Helsinki Declaration and its later amendments or comparable ethical standards.
Electronic supplementary material
Below is the link to the electronic supplementary material.
Surgical technique for axillary breast operation (WMV 35926 kb)
About this article
Cite this article
Lee, S.R., Lee, S.G., Byun, G.Y. et al. Axillary Accessory Breast: Optimal Time for Operation. Aesth Plast Surg 42, 1231–1243 (2018). https://doi.org/10.1007/s00266-018-1128-8
Received:

Accepted:

Published:

Issue Date:
Keywords
Axillary accessory breast

Accessory breast enlargement after pregnancy

Classification of accessory breast