Abstract
Background
Dynamic breast deformity (DBD) is characterized by visible distortion and deformity of the breast due to contraction of the pectoralis major muscle after submuscular breast augmentation; fortunately, in most cases, this is not a clinically significant complaint from patients. The purpose of this study is to present a simple method for objectively measuring DBD in patients submitted to dual plane breast augmentation (DPBA).
Methods
We studied 32 women, between 18 and 50 years old, who underwent primary DPBA with at least 1 year of follow-up. Anthropometric landmarks of the breast were marked, creating linear segments. Standardized photographs were obtained both during no pectoralis contraction (NPC) and during maximum pectoralis muscle contraction (MPC); measurements of the linear segments were taken through ImageJ imaging software, and both groups were compared.
Results
We found statistically significant differences in all analyzed segments when comparing measurements of the breasts during NPC and MPC (p < 0.001).
Conclusion
Our study proposes a novel, standardized method for measuring DBD after DPBA. This technique is reproducible, allowing for objective quantification of the deformity in any patient, which can be valuable for both patients and surgeons, as it allows for a more thorough discussion on DBD, both pre- and postoperatively, and may help both patients and surgeons to make more informed decisions regarding potential animation deformities after breast augmentation.
Level of Evidence V
This journal requires that authors assign a level of evidence to each article. For a full description of these Evidence-Based Medicine ratings, please refer to the Table of Contents or the online Instructions to Authors www.springer.com/00266.
This is a preview of subscription content, log in to check access.
Access options
Buy single article
Instant unlimited access to the full article PDF.
US$ 39.95
Price includes VAT for USA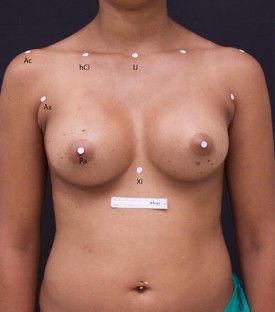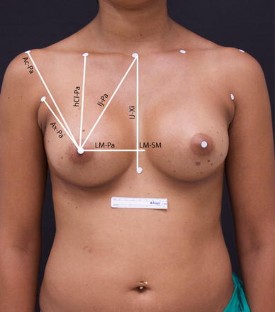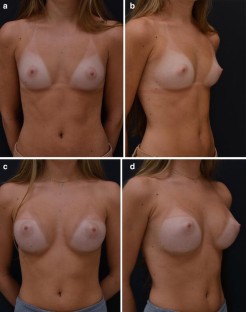 References
1.

Regnault P (1977) Partially submuscular breast augmentation. Plast Reconstr Surg 59:72–76

2.

Spear SL, Bulan EJ, Venturi ML (2006) Breast augmentation. Plast Reconstr Surg 118:188S–196S

3.

Tebbetts JB (2001) Dual plane breast augmentation: optimizing implant-soft-tissue relationships in a wide range of breast types. Plast Reconstr Surg 107:1255–1272

4.

Dempsey WC, Latham WD (1968) Subpectoral implants in augmentation mammaplasty. Preliminary report. Plast Reconstr Surg 42:515–521

5.

Namnoum JD, Largent J, Kaplan HM, Oefelein MG, Brown MH (2013) Primary breast augmentation clinical trial outcomes stratified by surgical incision, anatomical placement and implant device type. J Plast Reconstr Aesthet Surg 66:1165–1172

6.

Bracaglia R, Tambasco D, Gentileschi S, D'Ettorre M (2013) Triple-plane technique for breast augmentation: solving animation deformities. Aesthet Plast Surg 37:715–718

7.

Tebbetts JB (2006) Dual plane breast augmentation: optimizing implant-soft-tissue relationships in a wide range of breast types. Plast Reconstr Surg 118:81S–98S

8.

Spear SL, Carter ME, Ganz JC (2006) The correction of capsular contracture by conversion to "dual-plane" positioning: technique and outcomes. Plast Reconstr Surg 118:103S–113S (discussion 14S)

9.

Spear SL, Carter ME, Ganz JC (2003) The correction of capsular contracture by conversion to "dual-plane" positioning: technique and outcomes. Plast Reconstr Surg 112:456–466

10.

Pardo Mateu L, Chamorro Hernandez JJ (1998) Partial myotomy of the pectoralis major in submuscular breast implants. Aesthetic Plast Surg 22:228–230

11.

Maxwell GP, Tornambe R (1988) Management of mammary subpectoral implant distortion. Clin Plast Surg 15:601–611

12.

Khan UD (2009) Dynamic breasts: a common complication following partial submuscular augmentation and its correction using the muscle-splitting biplane technique. Aesthetic Plast Surg 33:353–360

13.

Baxter RA (2005) Subfascial breast augmentation: theme and variations. Aesthet Surg J 25:447–453

14.

Henriksen TF, Fryzek JP, Holmich LR, McLaughlin JK, Kjoller K, Hoyer AP et al (2005) Surgical intervention and capsular contracture after breast augmentation: a prospective study of risk factors. Ann Plast Surg 54:343–351

15.

Baxter RA (2011) Update on the split-muscle technique for breast augmentation: prevention and correction of animation distortion and double-bubble deformity. Aesthet Plast Surg 35:426–429

16.

Adams WP Jr, Teitelbaum S, Bengtson BP, Jewell ML, Tebbetts J, Spear S (2006) Breast augmentation roundtable. Plast Reconstr Surg 118:175S–187S

17.

Spear SL, Bulan EJ, Venturi ML (2004) Breast augmentation. Plast Reconstr Surg 114:73E–81E

18.

Khan UD (2007) Muscle-splitting breast augmentation: a new pocket in a different plane. Aesthetic Plast Surg 31:553–558

19.

Hammond DC, Schmitt WP, O'Connor EA (2015) Treatment of breast animation deformity in implant-based reconstruction with pocket change to the subcutaneous position. Plast Reconstr Surg 135:1540–1544

20.

Lee SD, Yi MH, Kim DW, Lee Y, Choi Y, Oh SH (2016) The effect of botulinum neurotoxin type A on capsule formation around silicone implants: the in vivo and in vitro study. Int Wound J 13:65–71

21.

Spear SL, Schwartz J, Dayan JH, Clemens MW (2009) Outcome assessment of breast distortion following submuscular breast augmentation. Aesthetic Plast Surg 33:44–48

22.

Quieregatto PR, Hochman B, Ferrara SF, Furtado F, Liebano RE, Sabino Neto M et al (2014) Anthropometry of the breast region: how to measure? Aesthetic Plast Surg 38:344–349

23.

Westreich M (1997) Anthropomorphic breast measurement: protocol and results in 50 women with aesthetically perfect breasts and clinical application. Plast Reconstr Surg 100:468–479

24.

Liu YJ, Thomson JG (2011) Ideal anthropomorphic values of the female breast: correlation of pluralistic aesthetic evaluations with objective measurements. Ann Plast Surg 67:7–11

25.

Agbenorku P, Agbenorku M, Iddi A, Amevor E, Sefenu R, Osei D (2011) Measurements of breasts of young West African females: a guideline in anatomical landmarks for adolescent breast surgery. Aesthetic Plast Surg 35:49–54

26.

Catherwood T, McCaughan E, Greer E, Spence RA, McIntosh SA, Winder RJ (2011) Validation of a passive stereophotogrammetry system for imaging of the breast: a geometric analysis. Med Eng Phys 33:900–905

27.

Pelle-Ceravolo M, Del Vescovo A, Bertozzi E, Molinari P (2004) A technique to decrease breast shape deformity during muscle contraction in submuscular augmentation mammaplasty. Aesthetic Plast Surg 28:288–294

28.

Mallucci P, Branford OA (2015) Shapes, proportions, and variations in breast aesthetic ideals: the definition of breast beauty, analysis, and surgical practice. Clin Plast Surg 42:451–464
Ethics declarations
Conflict of interest
The authors declare that they have no conflicts of interest with regard to the content of this manuscript.
Ethical standards
This study was approved by the IRB, and all procedures performed were in accordance with the ethical standards of Hospital São Lucas - Pontifical University Catholic of Rio Grande do Sul research committee and with the 1964 Declaration of Helsinki and its later amendments.
Electronic supplementary material
Below is the link to the electronic supplementary material.
Supplementary material 1 (MP4 17638 kb)
About this article
Cite this article
Cheffe, M.R., Valentini, J.D., Collares, M.V.M. et al. Quantifying Dynamic Deformity After Dual Plane Breast Augmentation. Aesth Plast Surg 42, 716–724 (2018). https://doi.org/10.1007/s00266-017-1065-y
Received:

Accepted:

Published:

Issue Date:
Keywords
Breast augmentation

Dynamic breast deformity

Breast animation

Subpectoral

Dual plane