Abstract
Introduction
Several factors, such as aging, pregnancy, and weight loss, reduce the elasticity of the breast tissue, and ptosis occurs. Due to aging and gravity, it is not possible to completely prevent breast ptosis. The goal is to delay the recurrence of ptosis as much as possible.
Patients and Methods
This study included 20 female patients aged 25–55 years. The patients who underwent surgery had different levels of ptosis. Although the patients wanted their breasts to be lifted and an increase in projection, they did not want implants to be used. For this reason, autologous flaps were prepared from the patients, and these flaps were called autoprosthesis flaps. The flap donor area (FA) boundaries consisted of the inframammary fold at the bottom, the medial and lateral pillar legs at the two sides and the lower margin of the areola at the top. The skin on the FA was de-epithelialized. A hand dermatome was used to ensure that the extracted skin was not too thick because the rest of the dermal skin would form the cover of the planned autoprosthesis flap. Before surgery, the autoprosthesis flap baseline width, projection, and shape (round or anatomic) were planned for each patient. The autoprosthesis flap was prepared as a central pedicle, and the dermal layer, which was 1 cm wider than the flap, was then attached over the autoprosthesis flap to the pectoral muscle fascia with at least 10 sutures in the recipient area. For a round autoprosthesis flap, the flap base diameter was 10–12 cm on average, whereas for an anatomic autoprosthesis flap, the width of the flap was 10–12 cm and the height was 12–14 cm. Autoprosthesis flap projections varied from 4 to 6 cm.
Results
Because of the autoprosthesis flap, breast projection was more prominent, even in the lying position. All the patients were very satisfied with their size, shape, projection, and natural appearance. In particular, the image in the lying position was very similar to a mastopexy performed with an actual breast implant; thus, sagging was not observed.
Conclusion
In augmentation mastopexy patients who do not want implants, upper pole filling and adequate breast projection can be easily achieved with this method. The potential risks of capsule formation, implant rejection, and implant rupture were not observed with this technique.
Level of Evidence V
This journal requires that authors assign a level of evidence to each article. For a full description of these Evidence-Based Medicine ratings, please refer to the Table of Contents or the online Instructions to Authors www.springer.com/00266.
This is a preview of subscription content, log in to check access.
Access options
Buy single article
Instant unlimited access to the full article PDF.
US$ 39.95
Price includes VAT for USA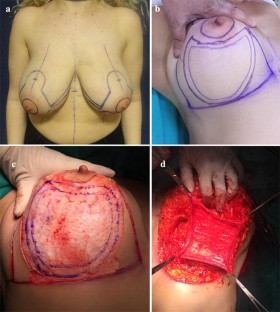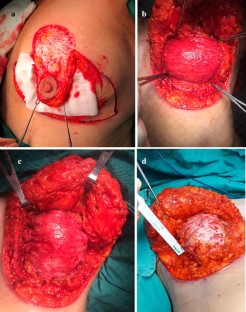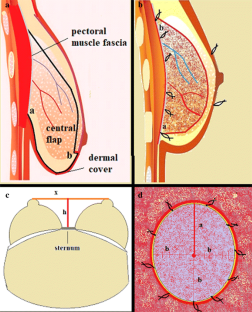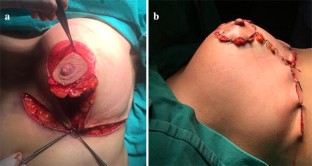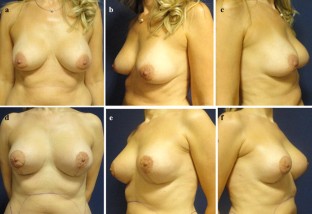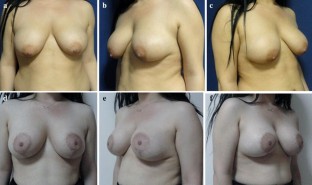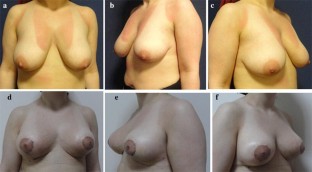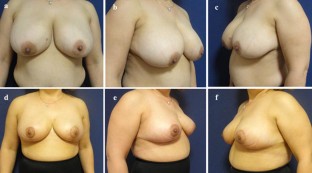 References
1.

Regnault P (1976) Breast ptosis. Definition and treatment. Clin Plast Surg 3:193–203

2.

Wueringer E, Tschabitscher M (2002) New aspects of the topographical anatomy of the mammary gland regarding its neurovascular supply along a regular ligamentous suspension. Eur J Morphol 40:181–189

3.

Owsley JQ Jr (1975) Simultaneous mastopexy and augmentation for correction of the small ptotic breast. Ann Plast Surg 2:195

4.

Elliott LF (2002) Circumareolar mastopexy with augmentation. Clin Plast Surg 29:337–347

5.

Spear SL, Pelletiere CV, Menon N (2004) One-stage augmentation combined with mastopexy: aesthetic results and patient satisfaction. Aesthet Plast Surg 28:259–267

6.

Gonzales-Ulloa M (1960) Correction of hypotrophy of the breast by exogenous material. Plast Reconstr Surg 25:15

7.

Regnault P (1966) The hypoplastic and ptotic breast: a combined operation with prosthetic augmentation. Plast Reconstr Surg 37:31–37

8.

Fayman MS (1998) Short scar mastopexy with flap transposition. Aesthet Plast Surg 22:135–141

9.

Hönig JF, Frey HP, Hasse FM, Hasselberg J (2009) Auto augmentation mastopexy with an inferior-based pedicle. Aesthet Plast Surg 33:302–307

10.

Goés JCS (2003) Periareolar mastopexy: double skin technique with mesh support. Aesthet Surg J 3:129–135

11.

Gümüş N (2013) A versatile modification of dermo glandular hammock flap for mastopexy: extended hammock. J Plast Surg Hand Surg 47:252–257

12.

Ors S (2016) Auto augmentation mastopexy modification prevents bottoming-out deformity and areola distortion: a preliminary report. Aesthet Plast Surg 40:497–506

13.

Ors S (2016) Autoaugmentation Mastopexy with mushroom technique; a preliminary report. Austin Anaplastol 1:1001

14.

Balch CR (1981) The central mound technique for reduction mammaplasty. Plast Reconstr Surg 67:305–311

15.

Hester TR Jr, Bostwick J 3rd, Miller L, Cunningham SJ (1985) Breast reduction utilizing the maximally vascularized central breast pedicle. Plast Reconstr Surg 76:890–900

16.

Becker H, Lind JG (2013) The use of synthetic mesh in reconstructive, revision, and cosmetic breast surgery. Aesthet Plast Surg 37(5):914–921

17.

Kornstein A (2013) Porcine-derived acellular dermal matrix in primary augmentation mammoplasty to minimize implant-related complications and achieve an internal mastopexy: a case series. J Med Case Rep 7:275

18.

Daar DA, Gandy JR, Clark EG et al (2016) Plastic surgery and acellular dermal matrix: highlighting trends from 1999 to 2013. World J Plast Surg 5(2):97–108
Acknowledgements
The author has no financial interest in any of the products, devices, or drugs mentioned in this manuscript.
Electronic supplementary material
Below is the link to the electronic supplementary material.
The details of the operation technique can be seen in Video 1 (MP4 83332 kb)
The details of the operation technique can be seen in Video 1 (MP4 83332 kb)
About this article
Cite this article
Ors, S. Augmentation Mastopexy with a Dermal Encapsulated Round or Anatomic Autoprosthesis. Aesth Plast Surg 42, 88–97 (2018) doi:10.1007/s00266-017-0987-8
Received:

Accepted:

Published:

Issue Date:
Keywords
Augmentation mastopexy

Breast implant

Autoaugmentation

Breast ptosis