Abstract
Objective
Facial keloids commonly occur in young patients. Multiple keloid masses often converge into a large lesion on the face, representing a significant obstacle to keloid mass excision and reconstruction. We describe a new surgical method that excises the keloid mass and resurfaces the wound by saving the keloid skin as a skin flap during facial keloid treatment.
Methods
Forty-five patients with facial keloids were treated in our department between January 2013 and January 2016. Multiple incisions were made along the facial esthetic line on the keloid mass. The keloid skin was dissected and elevated as a skin flap with one or two pedicles. The scar tissue in the keloid was then removed through the incision. The wound was covered with the preserved keloid skin flap and closed without tension. Radiotherapy and hyperbaric oxygen were applied after surgery. Patients underwent follow-up examinations 6 and 12 months after surgery.
Results
Of the 45 total patients, 32 patients were cured and seven patients were partially cured. The efficacy rate was 88.9%, and 38 patients (84.4%) were satisfied with the esthetic result.
Conclusion
We describe an efficacious and esthetically satisfactory surgical method for managing facial keloids by preserving the keloid skin as a skin flap.
Level of Evidence IV
This journal requires that authors assign a level of evidence to each article. For a full description of these Evidence-Based Medicine ratings, please refer to the Table of Contents or the online Instructions to Authors www.springer.com/00266.
This is a preview of subscription content, log in to check access.
Access options
Buy single article
Instant unlimited access to the full article PDF.
US$ 39.95
Price includes VAT for USA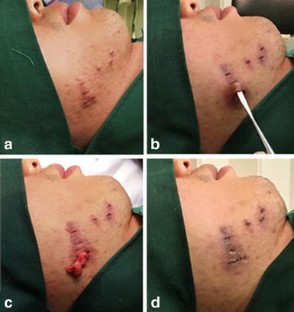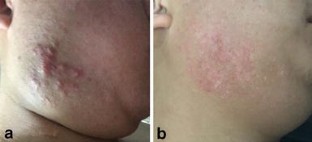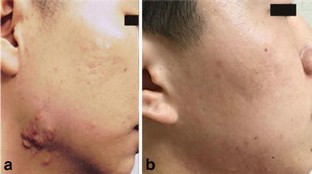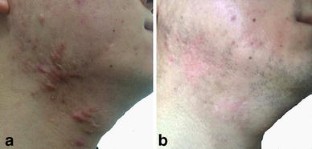 References
1.

Wolfram D, Tzankov A, Pülzl P et al (2009) Hypertrophic scars and keloids—a review of their pathophysiology, risk factors, and therapeutic management. Dermatol Surg 35:171–181

2.

Kim K, Son D, Kim J (2015) Radiation therapy following total keloidectomy: a retrospective study over 11 years. Arch Plast Surg 42(5):588–595

3.

Lindsey WH, Davis PT (1997) Facial keloids. A 15-year experience. Arch Otolaryngol Head Neck Surg 123(4):397–400

4.

Donkor P (2007) Head and neck keloid: treatment by core excision and delayed intralesional injection of steroid. J Oral Maxillofac Surg 65(7):1292–1296

5.

Lee Y, Minn KW, Baek RM et al (2001) A new surgical treatment of keloid: keloid core excision. Ann Plast Surg 46(2):135–140

6.

Pestarardo CM, Cordero A Jr, Ansorena JM et al (1995) Acne keloidalis nuchae. Tissue expansion treatment. Dermatol Surg 21(8):723–724

7.

Berman B, Maderal A, Raphael B (2017) Keloids and hypertrophic scars: pathophysiology, classification, and treatment. Dermatol Surg 43:S3–S18

8.

Gauglitz GG, Korting HC, Pavicic T et al (2011) Hypertrophic scarring and keloids: pathomechanisms and current and emerging treatment strategies. Mol Med 17(1–2):113–125

9.

Jacobsson F (1948) The treatment of keloid at radium-hemmet, 1921–1941. Acta Radiol 29(3):251–267

10.

Speranza G, Sultanem K, Muanza T (2008) Descriptive study of patients receiving excision and radiotherapy for keloids. Int J Radiat Oncol Biol Phys 71(5):1465–1469

11.

Malaker K, Vijayraghavan K, Hodson I et al (2004) Retrospective analysis of treatment of unresectable keloids with primary radiation over 25 years. Clin Oncol (R Coll Radiol) 16(4):290–298

12.

Sigaux N, Jacquemart M, Cousin AS et al (2017) Association of surgical excision and brachytherapy for the management of keloids. J Stomatol Oral Maxillofac Surg 118(3):161–166

13.

Guix B, Henríquez I, Andrés A et al (2001) Treatment of keloids by high-dose-rate brachytherapy: a seven-year study. Int J Radiat Oncol Biol Phys 50(1):167–172

14.

Ogawa R, Yoshitatsu S, Yoshida K et al (2009) Is radiation therapy for keloids acceptable? The risk of radiation-induced carcinogenesis. Plast Reconstr Surg 124(4):1196–1201

15.

Gauglitz GG, Korting HC, Pavicic T, Ruzicka T, Jeschke MG (2011) Hypertrophic scarring and keloids: pathomechanisms and current and emerging treatment strategies. Mol Med 17(1–2):113–125

16.

Ogama R, Akaishi S, Chenyu H et al (2011) Clinical applications of basic research that shows reducing skin tension could prevent and treat abnormal scarring: the importance of fascial subcutaneous tensile reduction sutures and flap surgery for keloid and hypertrophic scar reconstruction. J Nippon Med Sch 78:68–76

17.

Admas BB, Gloster HM (2002) Surgical pearl: excision with suprakeloidal flap and radiation therapy for keloids. J Am Acad Dermatol 47(2):307–309

18.

Araújo FM, Kondo RN, Minelli L (2013) Pyoderma gangrenosum: skin grafting and hyperbaric oxygen as adjuvants in the treatment of a deep and extensive ulcer. An Bras Dermatol 88:176–178

19.

Ding Z, Tong WC, Lu XX et al (2014) Hyperbaric oxygen therapy in acute ischemic stroke: a review. Interv Neurol 2(4):201–211

20.

Migita H, Yoshitake S, Tange Y et al (2016) Hyperbaric oxygen therapy suppresses apoptosis and promotes renal tubular regeneration after renal ischemia reperfusion injury in rats. Nephrourol Mon 8(1):e34421

21.

Skeik N, Porten BR, Isaacson E et al (2015) Hyperbaric oxygen treatment outcome for different indications from a single center. Ann Vasc Surg 29(2):206–214

22.

Richards L, Lineaweaver WC, Stile F et al (2003) Effect of hyperbaric oxygen therapy on the tube pedicle flap survival in a rat model. Ann Plast Surg 50(1):51–56

23.

Xiao YD, Liu YQ, Li JL et al (2015) Hyperbaric oxygen preconditioning inhibits skin flap apoptosis in a rat ischemia-reperfusion model. J Surg Res 199(2):732–739
Acknowledgement
The authors have indicated no significant interest with commercial supporters.
Ethics declarations
Conflict of interest
The authors declare that they have no conflict of interest.
Electronic supplementary material
Below is the link to the electronic supplementary material.
Supplementary material 1 (MOV 107265 kb)
Supplementary material 2 (MOV 72577 kb)
Supplementary material 3 (MOV 59621 kb)
About this article
Cite this article
Liu, S., Liang, W., Song, K. et al. Keloid Skin Flap Retention and Resurfacing in Facial Keloid Treatment. Aesth Plast Surg 42, 304–309 (2018) doi:10.1007/s00266-017-0949-1
Received:

Accepted:

Published:

Issue Date:
Keywords
Facial keloid

Keloid skin flap

Radiotherapy