Abstract
Background
Visual recording of surgical procedures is a method that is used quite frequently in practices of plastic surgery. While presentations containing photographs are quite common in education seminars and congresses, video-containing presentations find more favour. For this reason, the presentation of surgical procedures in the form of real-time video display has increased especially recently. Appropriate technical equipment for video recording is not available in most hospitals, so there is a need to set up external apparatus in the operating room. Among these apparatuses can be listed such options as head-mounted video cameras, chest-mounted cameras, and tripod-mountable cameras. The head-mounted video camera is an apparatus that is capable of capturing high-resolution and detailed close-up footage. The tripod-mountable camera enables video capturing from a fixed point. Certain user-specific modifications can be made to overcome some of these restrictions. Among these modifications, custom-made applications are one of the most effective solutions.
Methods
The article makes an attempt to present the features and experiences concerning the use of a combination of a head- or chest-mounted action camera, a custom-made portable tripod apparatus of versatile features, and an underwater camera.
Results
The descriptions we used are quite easy-to-assembly, quickly installed, and inexpensive apparatuses that do not require specific technical knowledge and can be manipulated by the surgeon personally in all procedures.
Conclusion
The author believes that video recording apparatuses will be integrated more to the operating room, become a standard practice, and become more enabling for self-manipulation by the surgeon in the near future.
Level of Evidence V
This journal requires that authors assign a level of evidence to each article. For a full description of these Evidence-Based Medicine ratings, please refer to the Table of Contents or the online Instructions to Authors www.springer.com/00266.
This is a preview of subscription content, log in to check access.
Access options
Buy single article
Instant unlimited access to the full article PDF.
US$ 39.95
Price includes VAT for USA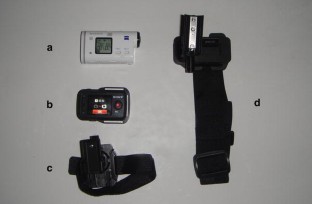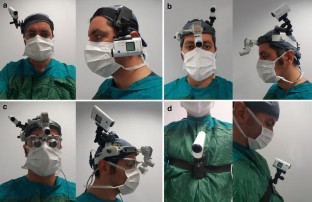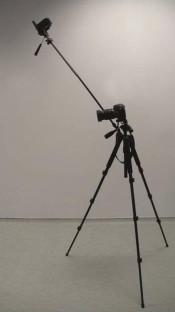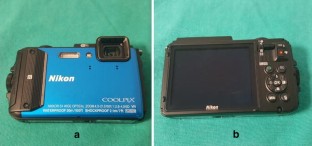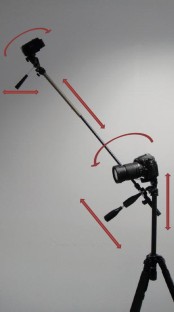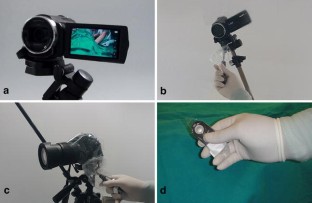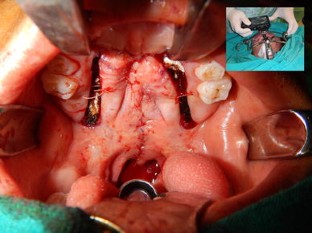 References
1.

Workman J, Vrabel C (1999) Evaluating and selecting video equipment for the OR. AORN J 70:1025–1028

2.

Geis WP (1996) Head-mounted video monitor for global visual access in mini-invasive surgery. An initial report. Surg Endosc 10:768–770

3.

Tsunoda K, Tsunoda A, Ishimoto S, Kimura S (2006) Clinical applications of commercially available video recording and monitoring systems: inexpensive, high quality video recording and monitoring systems for endoscopy and microsurgery. Surg Technol Int 15:41–43

4.

Sugamoto Y, Hamamoto Y, Kimura M, Fukunaga T, Tasaki K, Asai Y, Takeshita N, Maruyama T, Hosokawa T, Tamachi T, Aoyama H, Matsubara H (2015) A novel method for real-time audio recording with intraoperative video. J Surg Educ 72:795–802

5.

Makhni EC, Jobin CM, Levine WN, Ahmad CS (2015) Using wearable technology to record surgical videos. Am J Orthop 44:163–166

6.

Nakayama H, Masuda H, Fukuzawa M (2004) Recording of surgery with two crane-type tripods and video cameras. Int Surg 89:217–220

7.

Nair AG, Kamal S, Dave TV, Mishra K, Reddy HS, Della Rocca D, Della Rocca RC, Andron A, Jain V (2016) Surgeon point-of-view recording: using a high-definition head-mounted video camera in the operating room. Indian J Ophthalmol 63:771–774

8.

Graves SN, Shenaq DS, Langerman AJ (2015) Video capture of plastic surgery procedures using the GoPro HERO3+. Plast Reconstr Surg Glob Open 3:312

9.

Horgmo QH, Danielsen HE (2012) A camera support for operating theatre videography. J Vis Commun Med 35:20–24

10.

Kucuker I, Keles MK, Aydogdu IO (2013) An easy and applicable method for capturing high-quality rhinoplasty videos: handle banded camcorder. Plast Reconstr Surg 132:1082–1084

11.

Matsumoto S, Sekine K, Yamazaki M, Funabiki T, Orita T, Shimizu M, Kitano M (2013) Digital video recording in trauma surgery using commercially available equipment. Scand J Trauma Resusc Emerg Med 21:27

12.

Levin D, Tan S (2015) Black box audio/video recording in the operating room: time for anesthesiologists to get with the picture. Can J Anesth 62:937–938

13.

Bizzotto N, Sandri A, Lavini F, Dall'Oca C, Regis D (2014) Video in operating room: GoPro HERO3 camera on surgeon's head to film operations—a test. Surg Innov 21:338–340

14.

Warrian KJ, Ashenhurst M, Gooi A, Gooi P (2015) A novel combination point-of-view (POV) action camera recording to capture the surgical field and instrument ergonomics in oculoplastic surgery. Ophthal Plast Reconstr Surg 31:321–322

15.

Jaberoo MC, Saleh HA (2008) A novel appliance for intra-operative filming of rhinoplasty. Clin Otolaryngol 33:383–384

16.

Silas MR, Grassia P, Langerman A (2015) Video recording of the operating room—is anonymity possible? J Surg Res 197:272–276

17.

Xiao Y, Schimpff S, Mackenzie C, Merrell R, Entin E, Voigt R, Jarrell B (2007) Video technology to advance safety in the operating room and perioperative environment. Surg Innov 14:52–61

18.

Chen CM, Lee KT, Shen YH (2009) Simple method to record high-quality surgical videos. Br J Oral Maxillofac Surg 47:489–496

19.

Lee B, Chen BR, Chen BB, Lu JY, Giannotta SL (2015) Recording stereoscopic 3D neurosurgery with a head-mounted 3D camera system. Br J Neurosurg 29:371–373
Ethics declarations
Conflict of interest
The authors declare that they have no conflict of interest.
Human and Animals Rights Statement
This article does not contain any studies with human participants or animals performed by the author.
Additional information
38th National Congress of Turkish Society of Plastic, Reconstructive and Aesthetic Surgery.
Electronic supplementary material
Below is the link to the electronic supplementary material.
Video 1, Supplemental Digital Content 1: A sample of the brow lifting operation recording made with the head-mounted camera (2x accelerated capture) (MOV 2294 kb)
Video 2, Supplemental Digital Content 2; A sample of the video close-up video recording made from the distal edge of the operation table in rhinoplasty operations in order to obtain basal images (2x accelerated capture) (WMV 3560 kb)
Video 3, Supplemental Digital Content 3; A video recording sample of the upper part of the face made with the versatile tripod in an eyelid operation (2x accelerated capture) (MOV 2367 kb)
About this article
Cite this article
Kapi, E. Surgeon-Manipulated Live Surgery Video Recording Apparatuses: Personal Experience and Review of Literature. Aesth Plast Surg 41, 738–746 (2017). https://doi.org/10.1007/s00266-017-0826-y
Received:

Accepted:

Published:

Issue Date:
Keywords
Head-mounted action camera

Monopod

Self-manipulation

Surgical video recording

Tripod

Waterproof camera