Abstract
Background
Secondary rhinoplasty often involves the addition of autogenous graft material to add volume, structure, support and to camouflage cartilage and bone grafts. A variety of fascias have been used to camouflage, wrap and give "fill" in secondary rhinoplasty. The posterior auricular fascia is a source of material ideal for such purposes, and its quantity, anatomical structure and ease of harvest with minimal donor site morbidity make it a versatile and attractive autogenous graft.
Methods
The clinical records of patients receiving autogenous posterior auricular fascial grafts were reviewed. There were two main uses of this graft material, one was to cover the tip reconstruction in secondary rhinoplasties under thin tip skin. This is a camouflage graft. The second use is for fill and augmentation, especially for the nasal dorsum and as an interpostitional graft between the dorsum and the tip.
Conclusion
The posterior auricular fascial graft has many potential uses in secondary rhinoplasties and is readily harvested as a generous graft concurrent to conchal cartilage harvest and with a concealed scar behind the ear.
Level of Evidence V
This journal requires that authors assign a level of evidence to each article. For a full description of these evidence-based medicine ratings, please refer to the Table of Contents or the online Instructions to Authors www.springer.com/00266.
This is a preview of subscription content, log in to check access.
Access options
Buy single article
Instant unlimited access to the full article PDF.
US$ 39.95
Price includes VAT for USA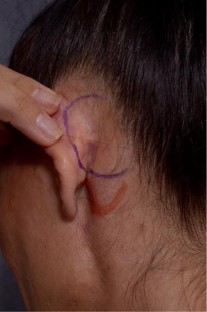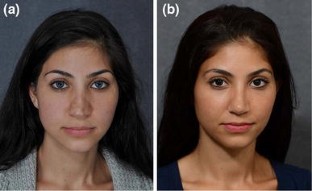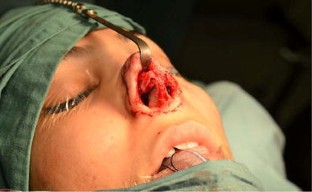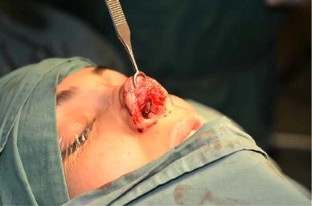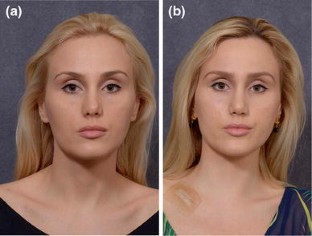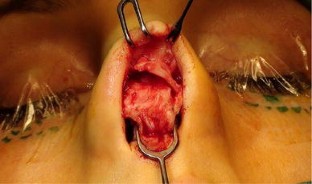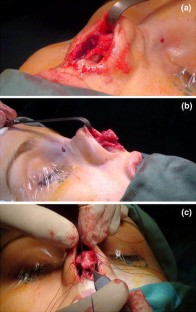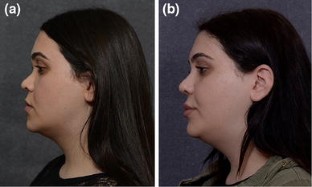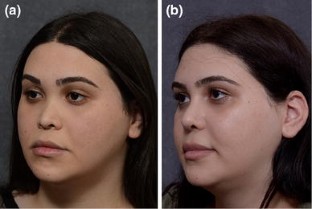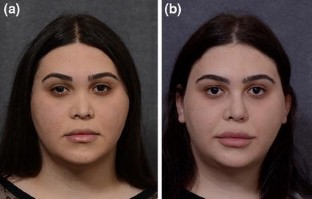 References
1.

Wang Y, Zhuang Z, Jiang H, Yang Q, Zhao Y, Han J, Yu D, Zhang Z (2008) The anatomy and application of the postauricular fascia flap in auricular reconstruction for congenital microtia. J Plast Reconstr Aesthet Surg 61:S70–S76

2.

Shokrollahi K, Taylor JP, Le Roux CM, Ashton MW, Rozen WM, Jones NS, Payne A (2014) The Postauricular fascia: classification, anatomy and potential surgical applications. Ann Plast Surg 73(1):92–97

3.

Shokrollahi K, Cooper MA, Hiew LY (2009) A new strategy for otoplasty. J Plast Reconstr Aesthet Surg 62(6):774–781

4.

Daniel RK (2008) Diced cartilage grafts in rhinoplasty surgery: current techniques and applications. J Plast Reconstr Aesthet Surg 122(6):1883–1891

5.

Guerrerosantos J, Trabanino C, Guerrerosantos F (2006) Multifragmented cartilage wrapped with fascia in augmentation rhinoplasty. J Plast Reconstr Aesthet Surg 117(3):804–812

6.

Gerbault O, Aiach G (2009) Diced cartilage wrapped in deep temporal aponeurosis (DC-F): a new technique in augmentation rhinoplasty. Ann Chir Plast Esthet (France) 54(5):477–485

7.

Guerrerosantos J (1985) Temporoparietal free fascial grafts to the nose. J Plast Reconstr Aesthet Surg 76:328

8.

Daniel RK (2010) Mastering rhinoplasty: a comprehensive atlas of surgical techniques with integrated video clips, 2nd edn. Springer, Heidelberg Dordrecht London, p 380

9.

Lee KC, Ha SU, Park JM, Kim SK, Park SH, Kim JH (2006) Foreign body removal and immediate nasal reconstruction with superficial temporal fascia. J Aesthet Plast Surg 30(3):351–355

10.

Baker TM, Courtiss EH (1994) Temporalis fascia grafts in open secondary rhinoplasty. Plast Reconstr Surg 93(4):802–810

11.

Erol O (2000) The Turkish delight a pliable graft for rhinoplasty. Plast Reconstr Surg 105:2229–2241

12.

Kemaloglu C, Tenkin YA (2014) Comparison of diced cartilage grafts wrapped in perichondrium versus fascia. Aesthet Plast Surg 38:1164–1168

13.

Hodgkinson DJ (1992) The olecranon bone graft for nasal augmentation. Aesthet Plast Surg 16:129

14.

Hodgkinson DJ (2007) The Eurasian nose: aesthetic principles and techniques for augmentation of the Asian nose with autogenous grafting. Aesthet Plast Surg 31(1):28–31
Ethics declarations
Conflict of interest
The authors declare that they have no conflicts of interest to disclose.
Informed Consent
All persons involved in this study have given informed consent for their images to be used for scientific or educational purposes. Informed consent was given by the patients for the publication of their case reports.
Ethical Approval
All surgical procedures were performed in the authors' private practice and were in accordance with the ethical standards of the institutional and/or national research committee and the 1964 Helsinki Declaration and its later amendments or comparable ethical standards.
Electronic Supplementary Material
Below is the link to the electronic supplementary material.
Supplementary material 1 (MP4 14410 kb) Posterior auricular fascia elevated from behind the concha and posterior to the auriculocephalic sulcus
Supplementary material 1 (MP4 14410 kb) Posterior auricular fascia elevated from behind the concha and posterior to the auriculocephalic sulcus
About this article
Cite this article
Hodgkinson, D.J., Valente, P.M. The Versatile Posterior Auricular Fascia in Secondary Rhinoplasty Procedures. Aesth Plast Surg 41, 893–897 (2017) doi:10.1007/s00266-017-0824-0
Received:

Accepted:

Published:

Issue Date:
Keywords
Posterior auricular fascia

Secondary rhinoplasty

Tip camouflage