Abstract
Background
Gluteoplasty has gained notoriety over the last decades, which has motivated the development of various surgical techniques. Nevertheless, the fear of dissection of the intramuscular plane without direct visualization may inhibit learning and development of gluteal augmentation with implants. Moreover, literature detailing the technical steps of intramuscular dissection for the construction of the implant pocket is scarce. This study presents a new approach to intramuscular dissection for gluteal augmentation with silicone implants, a variation of the conventional surgical technique.
Methods
We performed a retrospective analysis of a series of 12 female patients submitted to a variation of the intramuscular dissection technique for gluteal augmentation with silicone implants. Data from patients, implants, follow-up time, postoperative complications, and the degree of patient satisfaction were obtained. This technique follows the principle of alternating spatulas to perform the blunt dissection of the implant pocket.
Results
In this series, the proposed technique is controlled and safe for intramuscular dissection, which can be used for both experienced and training surgeons. This technique is based on well-known anatomical points and references. We observed that the implant was well positioned and covered, the patients were satisfied with the result, and the number of complications was low.
Conclusions
This variation of the intramuscular dissection technique for gluteal augmentation with silicone implants provides an easily reproducible and safe procedure that involves well-controlled technical steps, especially during dissection of the intramuscular pocket. In this series of patients, training surgeons learned faster, results were satisfactory, and the number of complications was low.
Level of Evidence V
This journal requires that authors assign a level of evidence to each article. For a full description of these Evidence-Based Medicine ratings, please refer to the Table of Contents or the online Instructions to Authors www.springer.com/00266.
This is a preview of subscription content, log in to check access.
We're sorry, something doesn't seem to be working properly.
Please try refreshing the page. If that doesn't work, please contact support so we can address the problem.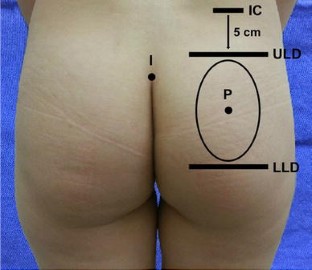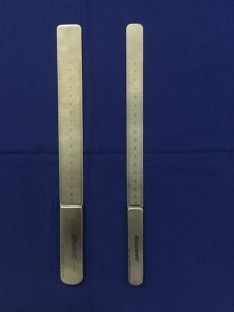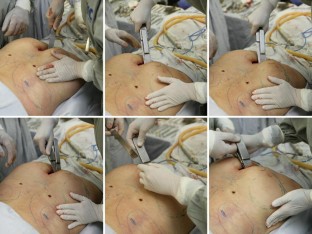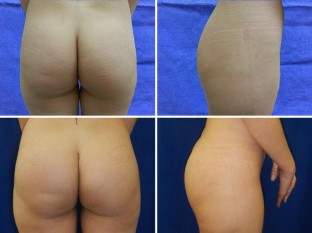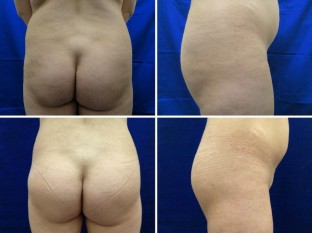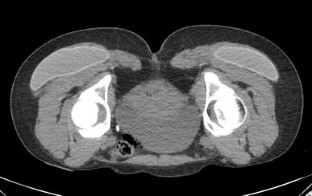 References
1.

De La Penã J, Rubio OV, Cano JP, Cedillo MC, Garcés MT (2006) History of gluteal augmentation. Clin Plast Surg 33:307–319

2.

González-Ulloa M (1991) Gluteoplasty: a ten-year report. Aesthet Plast Surg 15:85–91

3.

Robles JM, Tagllaperta JC, Grandl YMA (1984) Augmentation gluteoplasty: submuscular implant. Cir Plast Ibero-latinoam 10:365–375

4.

Vergara R, Marcos M (1996) Intramuscular gluteal implants. Aesthet Plast Surg 20:259–262

5.

Vergara R, Amezcua H (2003) Intramuscular gluteal implants: 15 years' experience. Aesthet Surg J 23:86–91

6.

De La Pena JA, Monjadin LH, Gamboa LF (2000) Augmentation gluteoplasty: anatomical and clinical considerations. Plast Cosmet Surg 17:1–12

7.

Gonzalez R (2004) Augmentation gluteoplasty: the XYZ method. Aesthet Plast Surg 28:417–425

8.

Serra F, Aboudib JH, Cedrola JP, de Castro CC (2010) Gluteoplasty: anatomic basis and technique. Aesthet Surg J 30:579–592

9.

Gonzalez R (2010) Gluteal implants: the "XYZ" intramuscular method. Aesthet Surg J 30:256–264

10.

Serra F, Aboudib JH, Marques RG (2012) Reducing wound complications in gluteal augmentation surgery. Plast Reconstr Surg 130:706e–713e

11.

Cuenca-Guerra R, Lugo-Beltran I (2006) Beautiful buttocks: characteristics and surgical techniques. Clin Plast Surg 33:321–332

12.

Mendieta CG (2006) Classification system for gluteal evaluation. Clin Plast Surg 33:333–346

13.

Daramola OO, Rhee JS (2011) Rating evidence in medical literature. Virtual Mentor 13:46–51
Ethics declarations
Conflict of interest
The authors declare that they have no conflict of interest.
Ethical approval
All procedures performed in studies involving human participants were in accordance with the ethical standards of the institutional and/or national research committee and with the 1964 Helsinki declaration and its later amendments or comparable ethical standards.
Electronic supplementary material
Below is the link to the electronic supplementary material.
Supplementary material 1 (MOV 71971 kb)
About this article
Cite this article
Andrade, G.A., Coltro, P.S., Andó, A. et al. Gluteal Augmentation with Silicone Implants: A New Proposal for Intramuscular Dissection. Aesth Plast Surg 41, 872–877 (2017). https://doi.org/10.1007/s00266-017-0823-1
Received:

Accepted:

Published:

Issue Date:
Keywords
Buttocks

Prosthesis implantation

Surgical procedures, operative