Abstract
Background
Cartilage grafts are used routinely in rhinoplasty, but are they necessary? Can we support the normal anatomy by preserving and transposing the adjacent tissues? In this study we hypothesize that during rhinoplasty, cartilage flaps can give adequate support and may decrease the need for cartilage grafts.
Methods
Included in this study were 147 patients who underwent an open rhinoplasty technique under general anesthesia between January 2010 and May 2012. Mean operative time was 73 min (range = 44–120 min). After dissection and septoplasty (if needed), we performed dorsal bone and septal reductions. Following reduction, upper lateral cartilage superior segments were preserved and turned inward as cartilage flaps to replace the spreader grafts. Lower lateral cartilage cranial parts were not excised and were slid over the caudal part to replace the alar strut grafts. Cartilage from the caudal nasal septum was not excised; instead, lower lateral cartilages were cephaloposteriorly displaced with a tongue-in-groove technique to support the nasal tip.
Results
Mean follow-up time was 19.6 months (6–30 months). All patients but 12 were satisfied or completely satisfied with the results. Among the 12 unsatisfied patients, four complained of a one-sided inverted-V deformity (secondary spreader grafts were added), three had supratip deformity (secondary additional dorsal septal excisions), two demanded extra tip definition (secondary tipoplasty), two were unhappy with the bone symmetry (secondary osteotomies), and one complained of hanging columella (secondary excision from the caudal septum).
Conclusions
Cartilage flaps have some advantages over cartilage grafts. First, graft harvest is not needed in the former; second, because flaps are a part of the normal anatomy, they provide a good tissue match, making fixation easier. However, the tongue-in-groove technique cannot be used in patients who do not need caudal excision, and cartilage flaps can be inadequate in some patients who may need additional grafts.
EBM Level IV
This journal requires that authors assign a level of evidence to each article. For a full description of these Evidence-Based Medicine ratings, please refer to the Table of Contents or the online Instructions to Authors www.springer.com/00266.
This is a preview of subscription content, log in to check access.
Access options
Buy single article
Instant unlimited access to the full article PDF.
US$ 39.95
Price includes VAT for USA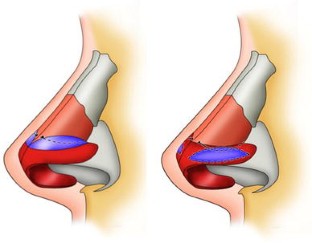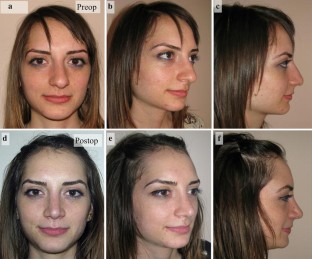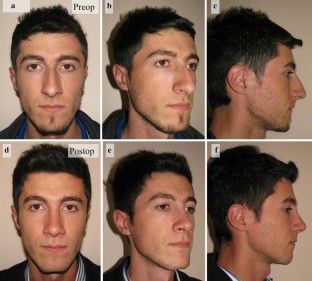 References
1.

Sheen JH (1984) Spreader graft: a method of reconstructing the roof of the middle nasal vault following rhinoplasty. Plast Reconstr Surg 73:230–239

2.

Gunter JP, Friedman RM (1997) Lateral crural strut graft: technique and clinical applications in rhinoplasty. Plast Reconstr Surg 99(4):943–955

3.

Rohrich RJ, Raniere J Jr, Ha RY (2002) The alar contour graft: correction and prevention of alar rim deformities in rhinoplasty. Plast Reconstr Surg 109(7):2495–2508

4.

Cervelli V, Spallone D, Bottini JD, Silvi E, Gentile P, Curcio B, Pascali M (2009) Alar batten cartilage graft: treatment of internal and external nasal valve collapse. Aesthet Plast Surg 33(4):625–634

5.

Gruber RP, Zhang AY, Mohebali K (2010) Preventing alar retraction by preservation of the lateral crus. Plast Reconstr Surg 126(2):581–588

6.

Gruber RP, Kryger G, Chang D (2008) The intercartilaginous graft for actual and potential alar retraction. Plast Reconstr Surg 121(5):288e–296e

7.

Rohrich RJ, Kurkjian TJ, Hoxworth RE, Stephan PJ, Mojallal A (2012) The effect of the columellar strut graft on nasal tip position in primary rhinoplasty. Plast Reconstr Surg 130(4):926–932

8.

Reiffel AJ, Cross KJ, Spinelli HM (2011) Nasal spreader grafts: a comparison of Medpor to autologous tissue reconstruction. Ann Plast Surg 66(1):24–28

9.

Oneal RM, Berkowitz RL (1988) Upper lateral cartilage spreader flaps in rhinoplasty. Aesthet Surg J 18:370–371

10.

Gruber RP, Melkun ET, Woodward JF, Perkins SW (2011) Dorsal reduction and spreader flaps. Aesthet Surg J 31(4):456–464

11.

Ozmen S, Ayhan S, Findikcioglu K, Kandal S, Atabay K (2008) Upper lateral cartilage fold-in flap: a combined spreader and/or splay graft effect without cartilage grafts. Ann Plast Surg 61(5):527–532

12.

Ozmen S, Eryilmaz T, Sencan A, Cukurluoglu O, Uygur S, Ayhan S, Atabay K (2009) Sliding alar cartilage (SAC) flap: a new technique for nasal tip surgery. Ann Plast Surg 63(5):480–485

13.

Williams EF (2012) Alar-columellar disharmony using the tongue-in-groove maneuver in primary endonasal rhinoplasty. Arch Facial Plast Surg 14(4):283–288

14.

Tezel E, Numanoğlu A (2007) Septocolumellar suture in closed rhinoplasty. Ann Plast Surg 59(3):268–272

15.

Çakir B, Doğan T, Öreroğlu AR, Daniel RK (2013) Rhinoplasty: surface aesthetics and surgical techniques. Aesthet Surg J 33(3):363–375

16.

de Pochat VD, Alonso N, Mendes RR, Cunha MS, Menezes JV (2012) Nasal patency after open rhinoplasty with spreader grafts. J Plast Reconstr Aesthet Surg 65(6):732–738

17.

Kucuker I, Ozmen S (2013) Extended Spreader graft placement before lateral nasal osteotomy. Aesthetic Plast Surg 37(4):684–691

18.

Seyhan A (1997) Method for middle vault reconstruction in primary rhinoplasty: upper lateral cartilage bending. Plast Reconstr Surg 100:1941–1943

19.

Rohrich RJ, Muzaffar AR, Janis JE (2004) Component dorsal hump reduction: the importance of maintaining dorsal aesthetic lines in rhinoplasty. Plast Reconstr Surg 114:1298–1308

20.

Fischer H, Gubisch W (2006) Nasal valves—importance and surgical procedures. Facial Plast Surg 22(4):266–280 [review]

21.

Constantinides MS, Adamson PA, Cole P (1996) The long-term effects of open cosmetic septorhinoplasty on nasal air flow. Arch Otolaryngol Head Neck Surg 122:41–45

22.

Guyuron B (2001) Alar rim deformities. Plast Reconstr Surg 107:856–863

23.

Toriumi DM, Checcone MA (2009) New concepts in nasal tip contouring. Facial Plast Surg Clin North Am 17:55–90

24.

Dobratz EJ, Tran V, Hilger PA (2010) Comparison of techniques used to support the nasal tip and their long-term effects on tip position. Arch Facial Plast Surg 12(3):172–179

25.

Kridel RW, Scott BA, Foda HM (1999) The tongue-in-groove technique in septorhinoplasty: a 10-year experience. Arch Facial Plast Surg 1(4):246–258

26.

Daniel RK (2009) Tip refinement grafts: the designer tip. Aesthet Surg J 29(6):528–537

27.

Gruber RP, Chang E, Buchanan E (2010) Suture techniques in rhinoplasty. Clin Plast Surg 37(2):231–243

28.

Dosanjh AS, Hsu C, Gruber RP (2010) The hemitransdomal suture for narrowing the nasal tip. Ann Plast Surg 64(6):708–712

29.

Daniel RK (2011) Rhinoplasty: open tip suture techniques: a 25-year experience. Facial Plast Surg 27(2):213–224
Conflict of interest
The authors have no conflicts of interest to disclose.
Electronic supplementary material
Below is the link to the electronic supplementary material.
Supplementary material 1 (MP4 49429 kb)
About this article
Cite this article
Küçüker, İ., Özmen, S., Kaya, B. et al. Are Grafts Necessary in Rhinoplasty? Cartilage Flaps with Cartilage-Saving Rhinoplasty Concept. Aesth Plast Surg 38, 275–281 (2014) doi:10.1007/s00266-013-0258-2
Received:

Accepted:

Published:

Issue Date:
Keywords
Rhinoplasty

Graft

FLAP

Spreader flap

Septoplasty

Cartilage flap

Strut graft

Tongue in groove