Abstract
Introduction
With the development of surgical techniques and improvements in hemi-pelvic prosthesis systems, extra-articular resection can be performed as a limb-salvage procedure in selected patients whose hip joint is invaded by a sarcoma. The aim of this study was to describe the indications for and the technical details, post-operative complications, and oncologic and functional outcomes of this procedure.
Methods
Eighteen patients with Enneking IIB or IB sarcoma who underwent extra-articular resection of the hip joint were enrolled. A modular pelvic endoprosthesis combined with a femoral endoprosthesis was used to reconstruct the bone and joint defect. Pathological diagnoses included osteosarcoma (7 patients), chondrosarcoma (7), undifferentiated high-grade pleomorphic sarcoma (3), and malignant peripheral nerve-sheath tumour (1).
Results
Wide, marginal and intralesional surgical margin was achieved in 13, four and one patients, respectively. There was one peri-operative death and the other 17 patients were followed up for 35.0 months (range, 10–75 months). Three patients had early-stage dislocations. One had a traumatic dislocation three years later. Two patients had wound complications. The average MSTS 93 score was 63.5% ± 10.8%. Four patients had local recurrence. The estimated three-year disease-free survival and overall survival for the 18 patients were both 50.0%.
Conclusion
Although technically demanding, extra-articular resection of hip is a limb-salvage procedure that is worth considering for carefully selected patients.
This is a preview of subscription content, log in to check access.
Access options
Buy single article
Instant unlimited access to the full article PDF.
US$ 39.95
Price includes VAT for USA
Subscribe to journal
Immediate online access to all issues from 2019. Subscription will auto renew annually.
US$ 199
This is the net price. Taxes to be calculated in checkout.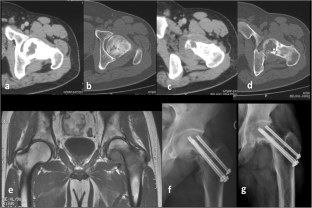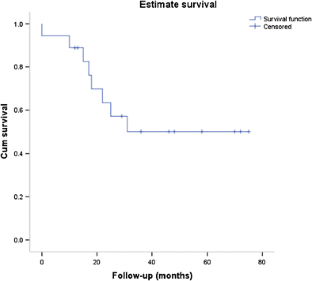 References
1.

Malawer MM, Sugarbaker PH (2001) Musculoskeletal cancer surgery: treatment of sarcomas and allied diseases. Kluwer Academic Publishers, Dordrecht

2.

Wedemeyer C, Kauther MD (2011) Hemipelvectomy—only a salvage therapy? Orthop Rev (Pavia) 3(1):e4

3.

Carter SR, Eastwood DM, Grimer RJ, Sneath RS (1990) Hindquarter amputation for tumours of the musculoskeletal system. J Bone Joint Surg Br 72(3):490–493

4.

Daigeler A, Lehnhardt M, Khadra A, Hauser J, Steinstraesser L, Langer S, Goertz O, Steinau HU (2009) Proximal major limb amputations—a retrospective analysis of 45 oncological cases. World J Surg Oncol 7:15

5.

Falkinstein Y, Ahlmann ER, Menendez LR (2008) Reconstruction of type II pelvic resection with a new peri-acetabular reconstruction endoprosthesis. J Bone Joint Surg Br 90(3):371–376

6.

Ji T, Guo W, Yang RL, Tang XD, Wang YF (2013) Modular hemipelvic endoprosthesis reconstruction—experience in 100 patients with mid-term follow-up results. Eur J Surg Oncol 39(1):53–60

7.

Menendez LR, Ahlmann ER, Falkinstein Y, Allison DC (2009) Periacetabular reconstruction with a new endoprosthesis. Clin Orthop Relat Res 467:2831–2837

8.

Nakamura S, Kusuzaki K, Murata H, Takeshita H, Hirata M, Hashiguchi S, Hirasawa Y (2001) Extra-articular wide tumor resection and limb reconstruction in malignant bone tumors at the proximal femur. Orthopedics 24(5):445–447

9.

Oragui E, Nannaparaju M, Sri-Ram K, Khan W, Hashemi-Nejad A, Skinner J (2013) A new technique of endoprosthetic replacement for osteosarcoma of proximal femur with intra-articular extension. Int J Surg Case Rep 4(1):101–104

10.

Rudiger HA, Dora C, Bode-Lesniewska B, Exner GU (2005) Extra-articular resection of the hip with a posterior column-preserving technique for treatment of an intra-articular malignant lesion. A report of two cases. J Bone Joint Surg Am 87(12):2768–2774

11.

Tang X, Guo W, Yang R, Tang S, Dong S (2010) Use of aortic balloon occlusion to decrease blood loss during sacral tumor resection. J Bone Joint Surg Am 92(8):1747–1753

12.

Enneking W (1983) Musculoskeletal tumor surgery. Churchill Livingstone Pelvis (228 cases), New York, pp 483–529

13.

Guo W, Li D, Tang X, Yang Y, Ji T (2007) Reconstruction with modular hemipelvic prostheses for periacetabular tumor. Clin Orthop Relat Res 461:180–188

14.

Tang X, Guo W, Ji T (2011) Reconstruction with modular hemipelvic prosthesis for the resection of solitary periacetabular metastasis. Arch Orthop Trauma Surg 131(12):1609–1615

15.

Jaiswal PK, Aston WJ, Grimer RJ, Abudu A, Carter S, Blunn G, Briggs TW, Cannon S (2008) Peri-acetabular resection and endoprosthetic reconstruction for tumours of the acetabulum. J Bone Joint Surg Br 90(9):1222–1227

16.

Witte D, Bernd L, Bruns J, Gosheger G, Hardes J, Hartwig E, Lehner B, Melcher I, Mutschler W, Schulte M, Tunn PU, Wozniak W, Zahlten-Hinguranage A, Zeifang F (2009) Limb-salvage reconstruction with MUTARS hemipelvic endoprosthesis: a prospective multicenter study. Eur J Surg Oncol 35(12):1318–1325

17.

Kitagawa Y, Ek ET, Choong PF (2006) Pelvic reconstruction using saddle prosthesis following limb salvage operation for periacetabular tumour. J Orthop Surg (Hong Kong) 14(2):155–162

18.

Schwartz AJ, Kiatisevi P, Eilber FC, Eilber FR, Eckardt JJ (2009) The Friedman-Eilber resection arthroplasty of the pelvis. Clin Orthop Relat Res 467(11):2825–2830

19.

Ji T, Guo W, Tang XD, Yang Y (2010) Reconstruction of type II+III pelvic resection with a modular hemipelvic endoprosthesis: a finite element analysis study. Orthop Surg 2(4):272–277

20.

Jeys LM, Kulkarni A, Grimer RJ, Carter SR, Tillman RM, Abudu A (2008) Endoprosthetic reconstruction for the treatment of musculoskeletal tumors of the appendicular skeleton and pelvis. J Bone Joint Surg Am 90(6):1265–1271

21.

Couto AG, Araujo B, Torres de Vasconcelos RA, Renni MJ, Da Fonseca CO, Cavalcanti IL (2016) Survival rate and perioperative data of patients who have undergone hemipelvectomy: a retrospective case series. World J Surg Oncol 14(1):255

22.

Arnal-Burro J, Calvo-Haro JA, Igualada-Blazquez C, Gil-Martinez P, Cuervo-Dehesa M, Vaquero-Martin J (2016) Hemipelvectomy for the treatment of high-grade sarcomas: Pronostic of chondrosarcomas compared to other histological types. Rev Esp Cir Ortop Traumatol 60(1):67–74
Acknowledgements
The authors thank the Musculoskeletal Tumor Center of Peking University People's Hospital for the patients' clinical data, Professor Chunfang Zhang for excellent technical assistance, and Professor Danhua Shen and Dr. Kunkun Sun for the pathological review and evaluation, respectively. This work was not supported by any foundation. This study complies with all current relevant laws in China, where this report was produced.
Ethics declarations
Conflict of interest
No conflicts of interest are declared by any author in this study.
Ethics
Prior to the start of this study we obtained approval from our IRB.
Additional information
Dasen Li and Lu Xie are co-first authors.
Electronic supplementary material
About this article
Cite this article
Li, D., Xie, L., Guo, W. et al. Extra-articular resection is a limb-salvage option for sarcoma involving the hip joint. International Orthopaedics (SICOT) 42, 695–703 (2018). https://doi.org/10.1007/s00264-018-3771-8
Received:

Accepted:

Published:

Issue Date:
Keywords
Extra-articular resection

Hip

Limb salvage

Endoprosthesis

Sarcoma