Abstract
Purpose
During tibial tubercle transfer, popliteal vessels are at risk from drills and screws. The risk is around 0.11%, as described in the literature. We reviewed knee injected CT scan for analysis of the location of arteries, identified landmarks allowing minimizing risks, and defined a safe zone.
Material and method
Distances between the posterior cortex and arteries were measured on CT scans from 30 adults (60 knees) at three levels (proximal part of the tibial tuberosity, 20 mm and 40 mm distally). Data were used to create a "risk map" with different angular sectors where the frequency of the presence of arteries was analyzed in each area. We also analyzed the position of 68 screws of 47 patients who underwent a medial tibial tuberosity transfer.
Results
The nearest distance between artery and the posterior tibial cortex was found at the level corresponding to the top of the tuberosity with less than 1 mm, while the largest distance was found at the distal level. We were able to define a safe zone for drilling through the posterior tibial cortex which allows a safe fixation for the screws. This zone corresponds to the medial third of the posterior cortex. When the safe zone is not respected, screws that overtake the posterior cortex may be close to arteries as observed for 37 of the 68 screws analyzed.
Conclusion
We described new landmarks and recommendations to avoid this complication during tibial tuberosity transfer.
This is a preview of subscription content, log in to check access.
Access options
Buy single article
Instant unlimited access to the full article PDF.
US$ 39.95
Price includes VAT for USA
Subscribe to journal
Immediate online access to all issues from 2019. Subscription will auto renew annually.
US$ 199
This is the net price. Taxes to be calculated in checkout.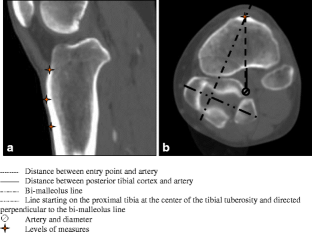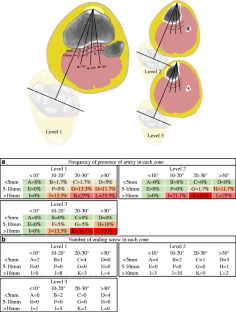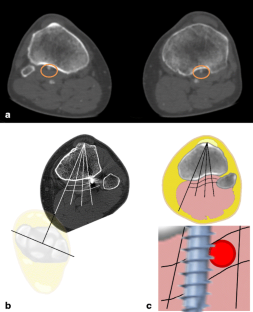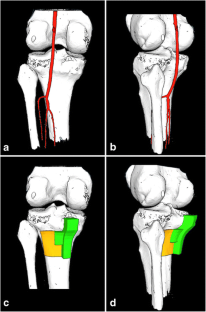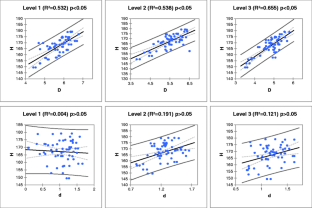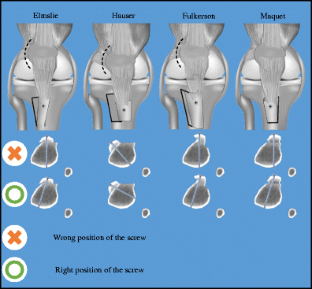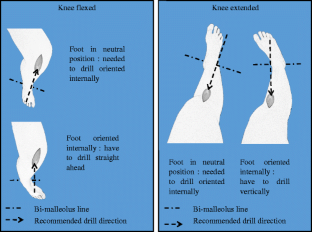 References
1.

DeLee J (1985) Complications of arthroscopy and arthroscopic surgery: results of a national survey. Committee on Complications of Arthroscopy Association of North America. Arthroscopy 1:214–220

2.

Small NC (1986) Complications in arthroscopy: the knee and other joints. Committee on Complications of the Arthroscopy Association of North America. Arthroscopy 2:253–258

3.

Small NC (1990) Complications in arthroscopic meniscal surgery. Clin Sports Med 9:609–617

4.

Tawes RL, Etheredge SN, Webb RL et al (1988) Popliteal artery injury complicating arthroscopic menisectomy. Am J Surg 156:136–138

5.

Bellemans J, Stockx L, Peerlinck K et al (1999) Arterial occlusion and thrombus aspiration after total knee arthroplasty. Clin Orthop Relat Res 336:164–168

6.

Calligaro KD, DeLaurentis DA, Booth RE et al (1994) Acute arterial thrombosis associated with total knee arthroplasty. J Vasc Surg 20:927–930

7.

Rand JA (1987) Vascular complications of total knee arthroplasty. Report of three cases. J Arthroplasty 2:89–93

8.

Rubens F, Wellington JL, Bouchard AG (1990) Popliteal artery injury after tibial osteotomy: report of two cases. Can J Surg 33:294–297

9.

Zaidi SH, Cobb AG, Bentley G (1995) Danger to the popliteal artery in high tibial osteotomy. J Bone Joint Surg Br 77:384–386

10.

Kline AJ, Gonzales J, Beach WR, Miller MD (2006) Vascular risk associated with bicortical tibial drilling during anteromedial tibial tubercle transfer. Am J Orthop (Belle Mead NJ) 35:30–32

11.

Bernhoff K, Björck M (2015) Iatrogenic popliteal artery injury in non arthroplasty knee surgery. Bone Joint J 97–B:192–196. doi:10.1302/0301-620X.97B2.34353

12.

Payne J, Rimmke N, Schmitt LC et al (2015) The incidence of complications of Tibial tubercle osteotomy: a systematic review. Arthroscopy 31:1819–1825. doi:10.1016/j.arthro.2015.03.028

13.

Trotter M (1970) Estimation of stature from intact limb bones. In: Stewart TD (ed) Personal identification in mass disasters. National Museum of Natural History, Smithsonian Institution, Washington, pp 71–84

14.

Eckhoff DG, Johnson KK (1994) Three-dimensional computed tomography reconstruction of tibial torsion. Clin Orthop Relat Res 302:42–6

15.

Akagi M, Oh M, Nonaka T et al (2004) An anteroposterior axis of the tibia for total knee arthroplasty. Clin Orthop Relat Res 420:213–219

16.

Tamari K, Tinley P, Briffa K, Breidahl W (2005) Validity and reliability of existing and modified clinical methods of measuring femoral and tibiofibular torsion in healthy subjects: use of different reference axes may improve reliability. Clin Anat 18:46–55. doi:10.1002/ca.20050

17.

Tamari K, Tinley P, Briffa K, Aoyagi K (2006) Ethnic, gender, and age related differences in femorotibial angle, femoral antetorsion, and tibiofibular torsion: cross-sectional study among healthy Japanese and Australian Caucasians. Clin Anat 19:59–67. doi:10.1002/ca.20170

18.

Matava MJ, Sethi NS, Totty WG (2000) Proximity of the posterior cruciate ligament insertion to the popliteal artery as a function of the knee flexion angle: implications for posterior cruciate ligament reconstruction. Arthroscopy 16:796–804

19.

Keser S, Savranlar A, Bayar A et al (2006) Anatomic localization of the popliteal artery at the level of the knee joint: a magnetic resonance imaging study. Arthroscopy 22:656–659. doi:10.1016/j.arthro.2006.04.076

20.

Audenaert E, Vuylsteke M, Lissens P et al (2003) Pseudoaneurysm complicating knee arthroscopy. A case report. Acta Orthop Belg 69:382–384

21.

Verdonk PCM, Demurie A, Almqvist KF et al (2006) Transplantation of viable meniscal allograft. JBJS Essent Surg Tech os 88:109–118. doi:10.2106/JBJS.E.00875

22.

Ahn J-H, Ha CW (2000) Posterior trans-septal portal for arthroscopic surgery of the knee joint. Arthrosc J Arthrosc Relat Surg 16:774–779. doi:10.1053/jars.2000.7681

23.

Janssen RPA, Scheltinga MRM, Sala HAGM (2004) Pseudoaneurysm of the popliteal artery after anterior cruciate ligament reconstruction with bicortical tibial screw fixation. Arthroscopy 20:E4–E6. doi:10.1016/j.arthro.2003.11.025

24.

Cuéllar A, Cuéllar R, Cuéllar A et al (2015) The effect of knee flexion angle on the neurovascular safety of all-inside lateral meniscus repair: a cadaveric study. Arthroscopy 31:2138–2144. doi:10.1016/j.arthro.2015.04.100

25.

Wensing PJ, Scholten FG, Buijs PC, et al (1995) Arterial tortuosity in the femoropopliteal region during knee flexion: a magnetic resonance angiographic study. J Anat 187:133–9

26.

Rich NM, Collins GJ, McDonald PT et al (1979) Popliteal vascular entrapment. Its increasing interest. Arch Surg 114:1377–1384

27.

Trillat A, Dejour H, Couette A (1964) Diagnosis and treatment of recurrent dislocations of the patella. Rev Chir Orthop Reparatrice Appar Mot 50:813–824

28.

Caton JH, Dejour D (2010) Tibial tubercle osteotomy in patello-femoral instability and in patellar height abnormality. Int Orthop 34:305–309. doi:10.1007/s00264-009-0929-4

29.

Lane J, Karnatzikos G, Gobbi A (2014) Elmslie-Trillat procedure: a distal-based procedure for patellar stabilization. In: Gobbi A, Espregueira Mendes J, Nakamura N (eds) Patellofemoral Jt. State art Eval. Manag. Springer, New York, pp 155–160

30.

Hauser E (1938) Total tendon transplant for slipping patella: a new operation for recurrent dislocation of the patella. Surg Gynecol Obs 66:199–214

31.

Fulkerson JP (1983) Anteromedialization of the tibial tuberosity for patellofemoral malalignment. Clin Orthop Relat Res 177:176–81

32.

Fulkerson JP, Becker GJ, Meaney JA et al (1990) Anteromedial tibial tubercle transfer without bone graft. Am J Sports Med 18:490–496

33.

Servien E, Verdonk PC, Neyret P (2007) Tibial tuberosity transfer for episodic patellar dislocation. Sports Med Arthrosc 15:61–67. doi:10.1097/JSA.0b013e3180479464

34.

Koëter S, Diks MJF, Anderson PG, Wymenga AB (2007) A modified tibial tubercle osteotomy for patellar maltracking: results at two years. J Bone Joint Surg Br 89:180–185. doi:10.1302/0301-620X.89B2.18358
Ethics declarations
Conflict of interest
Jacques Hernigou, Esfandiar Chahidi, Mahine Kashi, Eric Moest, Bassel Dakhil, Georges Hayek, Antoine Callewier, Frederic Schuind, Olivier Bath declare that they have no conflict of interest.
Electronic supplementary material
The video presents 3D images of a leg and arteries target and the risk map according to our results (in green areas where arteries were never observed, in red areas were arteries were observed). (MP4 50682 kb)
The video presents 3D images of a leg and arteries target and the risk map according to our results (in green areas where arteries were never observed, in red areas were arteries were observed). (MP4 50682 kb)
About this article
Cite this article
Hernigou, J., Chahidi, E., Kashi, M. et al. Risk of vascular injury when screw drilling for tibial tuberosity transfer. International Orthopaedics (SICOT) 42, 1165–1174 (2018). https://doi.org/10.1007/s00264-017-3554-7
Received:

Accepted:

Published:

Issue Date:
Keywords
Popliteal artery injury

Landmarks

Safe zone

Nails

External fixation

Anterior tibial tuberosity osteotomies