Abstract
In a clinical phase I/II trial, pediatric patients with high-risk malignancies were treated with ex vivo IL-2-stimulated donor natural killer (NK) cells after transplantation with haploidentical stem cells. To evaluate the potential negative effects of the immunosuppressive drug mycophenolate mofetil (MMF) used for immunotherapy, the functionality and signaling of ex vivo NK cells was investigated. Our results show that during NK cell expansion, long-term (9 days) incubation with mycophenolic acid (MPA), the active metabolite of MMF, in therapeutically relevant concentrations led to the severe inhibition of NK cell proliferation. This correlated with a significantly reduced cytokine/chemokine secretion and the inhibited acquisition of surface receptors regarding cytotoxicity (e.g., NKp30, NKp44, NKp46, NKG2D), adhesion/migration (e.g., ICAM-1/CD54, LFA-1/CD11a, CD62L, CXCR3) and activation (e.g., CD25). Moreover, MPA prevented phosphorylation of the central signaling molecules STAT-3/-4/-5, AKT and ERK1/2. In contrast, short-term (24 h) MPA incubation of IL-2-stimulated NK cells had no or only marginal effects on the activated NK cell phenotype, including receptor expression, cytokine/chemokine secretion and intracellular signaling. Further, short-term MPA incubation only moderately affected the highly cytotoxic activity of previously IL-2-stimulated NK cells. In conclusion, while long-term MPA incubation significantly compromised ex vivo NK cell functionality, previously IL-2-activated NK cells seemed to be rather resistant to short-term MPA treatment. This finding supports the use of IL-2-activated NK cells as immunotherapy, especially for patients treated with MMF after haploidentical stem cell transplantation.
This is a preview of subscription content, log in to check access.
Access options
Buy single article
Instant unlimited access to the full article PDF.
US$ 39.95
Price includes VAT for USA
Subscribe to journal
Immediate online access to all issues from 2019. Subscription will auto renew annually.
US$ 199
This is the net price. Taxes to be calculated in checkout.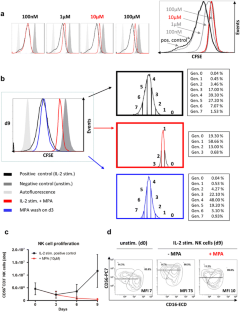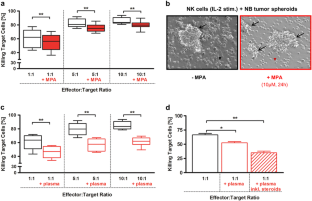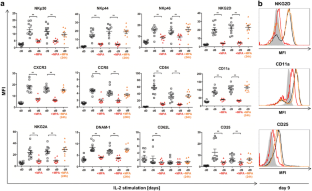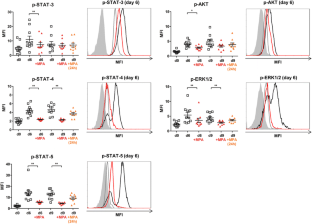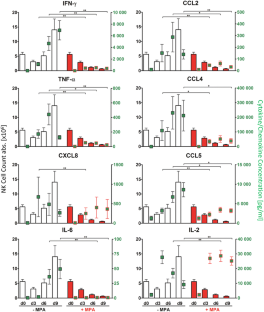 Abbreviations
BW:

Body weight

GCP:

Good clinical practice

GMP:

Good manufacturing practice

GvL/T:

Graft-versus-leukemia/tumor

GvHD:

Graft-versus-host-disease

haplo-SCT:

Haploidentical stem cell transplantation

IMPDH:

Inosine monophosphate dehydrogenase

MFI:

Mean fluorescence intensity

MMF:

Mycophenolate mofetil

MPA:

Mycophenolic acid

NB:

Neuroblastoma

NCR:

Natural cytotoxicity receptors

NK-DLI:

Natural killer cell donor lymphocyte infusion

NKG2D:

NK group 2D

PB:

Peripheral blood
References
1.

Cooper MA, Fehniger TA, Caligiuri MA (2001) The biology of human natural killer-cell subsets. Trends Immunol 22(11):633–640

2.

Farag SS, Caligiuri MA (2006) Human natural killer cell development and biology. Blood Rev 20(3):123–137

3.

Ljunggren HG, Malmberg KJ (2007) Prospects for the use of NK cells in immunotherapy of human cancer. Nat Rev Immunol 7(5):329–339

4.

Lanier LL (2005) NK cell recognition. Annu Rev Immunol 23:225–274

5.

Ljunggren HG, Karre K (1990) In search of the 'missing self': MHC molecules and NK cell recognition. Immunol Today 11(7):237–244

6.

Moretta A, Bottino C, Vitale M, Pende D, Cantoni C, Mingari MC, Biassoni R, Moretta L (2001) Activating receptors and coreceptors involved in human natural killer cell-mediated cytolysis. Annu Rev Immunol 19:197–223. doi:10.1146/annurev.immunol.19.1.197

7.

Smyth MJ, Hayakawa Y, Takeda K, Yagita H (2002) New aspects of natural-killer-cell surveillance and therapy of cancer. Nat Rev Cancer 2(11):850–861

8.

Huenecke S, Zimmermann SY, Kloess S, Esser R, Brinkmann A, Tramsen L, Koenig M, Erben S, Seidl C, Tonn T, Eggert A, Schramm A, Bader P, Klingebiel T, Lehrnbecher T, Passweg JR, Soerensen J, Schwabe D, Koehl U (2010) IL-2-driven regulation of NK cell receptors with regard to the distribution of CD16 + and CD16- subpopulations and in vivo influence after haploidentical NK cell infusion. J Immunother 33(2):200–210

9.

Sivori S, Parolini S, Marcenaro E, Castriconi R, Pende D, Millo R, Moretta A (2000) Involvement of natural cytotoxicity receptors in human natural killer cell-mediated lysis of neuroblastoma and glioblastoma cell lines. J Neuroimmunol 107(2):220–225

10.

Brehm C, Huenecke S, Quaiser A, Esser R, Bremm M, Kloess S, Soerensen J, Kreyenberg H, Seidl C, Becker PS, Muhl H, Klingebiel T, Bader P, Passweg JR, Schwabe D, Koehl U (2011) IL-2 stimulated but not unstimulated NK cells induce selective disappearance of peripheral blood cells: concomitant results to a phase I/II study. PLoS ONE 6(11):e27351. doi:10.1371/journal.pone.0027351

11.

Koehl U, Sorensen J, Esser R, Zimmermann S, Gruttner HP, Tonn T, Seidl C, Seifried E, Klingebiel T, Schwabe D (2004) IL-2 activated NK cell immunotherapy of three children after haploidentical stem cell transplantation. Blood Cells Mol Dis 33(3):261–266

12.

Miller JS, Soignier Y, Panoskaltsis-Mortari A, McNearney SA, Yun GH, Fautsch SK, McKenna D, Le C, Defor TE, Burns LJ, Orchard PJ, Blazar BR, Wagner JE, Slungaard A, Weisdorf DJ, Okazaki IJ, McGlave PB (2005) Successful adoptive transfer and in vivo expansion of human haploidentical NK cells in patients with cancer. Blood 105(8):3051–3057

13.

Passweg JR, Koehl U, Uharek L, Meyer-Monard S, Tichelli A (2006) Natural-killer-cell-based treatment in haematopoietic stem-cell transplantation. Best Pract Res Clin Haematol 19(4):811–824

14.

Rubnitz JE, Inaba H, Ribeiro RC, Pounds S, Rooney B, Bell T, Pui CH, Leung W (2010) NKAML: a pilot study to determine the safety and feasibility of haploidentical natural killer cell transplantation in childhood acute myeloid leukemia. J Clin Oncol 28(6):955–959

15.

Stern M, Passweg JR, Meyer-Monard S, Esser R, Tonn T, Soerensen J, Paulussen M, Gratwohl A, Klingebiel T, Bader P, Tichelli A, Schwabe D, Koehl U (2013) Pre-emptive immunotherapy with purified natural killer cells after haploidentical SCT: a prospective phase II study in two centers. Bone Marrow Transplant 48(3):433–438. doi:10.1038/bmt.2012.162

16.

Allison AC, Eugui EM (1993) Immunosuppressive and other effects of mycophenolic acid and an ester prodrug, mycophenolate mofetil. Immunol Rev 136:5–28

17.

Allison AC, Eugui EM (2000) Mycophenolate mofetil and its mechanisms of action. Immunopharmacology 47(2–3):85–118

18.

Allison AC, Eugui EM (2005) Mechanisms of action of mycophenolate mofetil in preventing acute and chronic allograft rejection. Transplantation 80(2 Suppl):S181–S190

19.

Koehl U, Esser R, Zimmermann S, Tonn T, Kotchetkov R, Bartling T, Sorensen J, Gruttner HP, Bader P, Seifried E, Martin H, Lang P, Passweg JR, Klingebiel T, Schwabe D (2005) Ex vivo expansion of highly purified NK cells for immunotherapy after haploidentical stem cell transplantation in children. Klin Padiatr 217(6):345–350

20.

Passweg JR, Stern M, Koehl U, Uharek L, Tichelli A (2005) Use of natural killer cells in hematopoetic stem cell transplantation. Bone Marrow Transplant 35(7):637–643

21.

Koehl U, Brehm C, Huenecke S, Zimmermann SY, Kloess S, Bremm M, Ullrich E, Soerensen J, Quaiser A, Erben S, Wunram C, Gardlowski T, Auth E, Tonn T, Seidl C, Meyer-Monard S, Stern M, Passweg J, Klingebiel T, Bader P, Schwabe D, Esser R (2013) Clinical grade purification and expansion of NK cell products for an optimized manufacturing protocol. Front Oncol 3:118. doi:10.3389/fonc.2013.00118

22.

Esser R, Muller T, Stefes D, Kloess S, Seidel D, Gillies SD, Aperlo-Iffland C, Huston JS, Uherek C, Schonfeld K, Tonn T, Huebener N, Lode HN, Koehl U, Wels WS (2012) NK cells engineered to express a GD2 -specific antigen receptor display built-in ADCC-like activity against tumour cells of neuroectodermal origin. J Cell Mol Med 16(3):569–581. doi:10.1111/j.1582-4934.2011.01343.x

23.

Kloess S, Huenecke S, Piechulek D, Esser R, Koch J, Brehm C, Soerensen J, Gardlowski T, Brinkmann A, Bader P, Passweg J, Klingebiel T, Schwabe D, Koehl U (2010) IL-2-activated haploidentical NK cells restore NKG2D-mediated NK-cell cytotoxicity in neuroblastoma patients by scavenging of plasma MICA. Eur J Immunol 40(11):3255–3267

24.

Quah BJ, Parish CR (2010) The use of carboxyfluorescein diacetate succinimidyl ester (CFSE) to monitor lymphocyte proliferation. J Vis Exp (44). doi:10.3791/2259

25.

Zimmermann SY, Esser R, Rohrbach E, Klingebiel T, Koehl U (2005) A novel four-colour flow cytometric assay to determine natural killer cell or T-cell-mediated cellular cytotoxicity against leukaemic cells in peripheral or bone marrow specimens containing greater than 20% of normal cells. J Immunol Methods 296(1–2):63–76

26.

Baudard M, Vincent A, Moreau P, Kergueris MF, Harousseau JL, Milpied N (2002) Mycophenolate mofetil for the treatment of acute and chronic GVHD is effective and well tolerated but induces a high risk of infectious complications: a series of 21 BM or PBSC transplant patients. Bone Marrow Transplant 30(5):287–295. doi:10.1038/sj.bmt.1703633

27.

Bhatia M, Militano O, Jin Z, Figurski M, Shaw L, Moore V, Morris E, Tallamy B, van deVen C, Ayello J, Baxter-Lowe L, Satwani P, George D, Bradley MB, Garvin J, Cairo MS (2010) An age-dependent pharmacokinetic study of intravenous and oral mycophenolate mofetil in combination with tacrolimus for GVHD prophylaxis in pediatric allogeneic stem cell transplantation recipients. Biol Blood Marrow Transplant 16(3):333–343. doi:10.1016/j.bbmt.2009.10.007

28.

van Hest RM, Doorduijn JK, de Winter BC, Cornelissen JJ, Vulto AG, Oellerich M, Lowenberg B, Mathot RA, Armstrong VW, van Gelder T (2007) Pharmacokinetics of mycophenolate mofetil in hematopoietic stem cell transplant recipients. Ther Drug Monit 29(3):353–360. doi:10.1097/FTD.0b013e31805d8816

29.

Eissens DN, Van Der Meer A, Van Cranenbroek B, Preijers FW, Joosten I (2010) Rapamycin and MPA, but not CsA, impair human NK cell cytotoxicity due to differential effects on NK cell phenotype. Am J Transplant 10(9):1981–1990. doi:10.1111/j.1600-6143.2010.03242.x

30.

Ohata K, Espinoza JL, Lu X, Kondo Y, Nakao S (2011) Mycophenolic acid inhibits natural killer cell proliferation and cytotoxic function: a possible disadvantage of including mycophenolate mofetil in the graft-versus-host disease prophylaxis regimen. Biol Blood Marrow Transplant 17(2):205–213. doi:10.1016/j.bbmt.2010.08.014

31.

Biassoni R (2009) Human natural killer receptors, co-receptors, and their ligands. Curr Protoc Immunol Chapter 14:Unit 14 10. doi:10.1002/0471142735.im1410s84

32.

Bryceson YT, March ME, Ljunggren HG, Long EO (2006) Activation, coactivation, and costimulation of resting human natural killer cells. Immunol Rev 214:73–91. doi:10.1111/j.1600-065X.2006.00457.x

33.

Barten MJ, van Gelder T, Gummert JF, Shorthouse R, Morris RE (2002) Novel assays of multiple lymphocyte functions in whole blood measure: new mechanisms of action of mycophenolate mofetil in vivo. Transpl Immunol 10(1):1–14

34.

Blaheta RA, Leckel K, Wittig B, Zenker D, Oppermann E, Harder S, Scholz M, Weber S, Encke A, Markus BH (1999) Mycophenolate mofetil impairs transendothelial migration of allogeneic CD4 and CD8 T-cells. Transplant Proc 31(1–2):1250–1252

35.

Allison AC, Kowalski WJ, Muller CD, Eugui EM (1993) Mechanisms of action of mycophenolic acid. Ann N Y Acad Sci 696:63–87

36.

Theze J, Alzari PM, Bertoglio J (1996) Interleukin 2 and its receptors: recent advances and new immunological functions. Immunol Today 17(10):481–486

37.

Waldmann TA (2006) The biology of interleukin-2 and interleukin-15: implications for cancer therapy and vaccine design. Nat Rev Immunol 6(8):595–601. doi:10.1038/nri1901

38.

Yu CR, Lin JX, Fink DW, Akira S, Bloom ET, Yamauchi A (1996) Differential utilization of Janus kinase-signal transducer activator of transcription signaling pathways in the stimulation of human natural killer cells by IL-2, IL-12, and IFN-alpha. J Immunol 157(1):126–137

39.

Wang KS, Ritz J, Frank DA (1999) IL-2 induces STAT4 activation in primary NK cells and NK cell lines, but not in T cells. J Immunol 162(1):299–304

40.

Jiang K, Zhong B, Gilvary DL, Corliss BC, Hong-Geller E, Wei S, Djeu JY (2000) Pivotal role of phosphoinositide-3 kinase in regulation of cytotoxicity in natural killer cells. Nat Immunol 1(5):419–425. doi:10.1038/80859

41.

Wei S, Gamero AM, Liu JH, Daulton AA, Valkov NI, Trapani JA, Larner AC, Weber MJ, Djeu JY (1998) Control of lytic function by mitogen-activated protein kinase/extracellular regulatory kinase 2 (ERK2) in a human natural killer cell line: identification of perforin and granzyme B mobilization by functional ERK2. J Exp Med 187(11):1753–1765

42.

Nagy SE, Andersson JP, Andersson UG (1993) Effect of mycophenolate mofetil (RS-61443) on cytokine production: inhibition of superantigen-induced cytokines. Immunopharmacology 26(1):11–20

43.

Chiossone L, Vitale C, Cottalasso F, Moretti S, Azzarone B, Moretta L, Mingari MC (2007) Molecular analysis of the methylprednisolone-mediated inhibition of NK-cell function: evidence for different susceptibility of IL-2- versus IL-15-activated NK cells. Blood 109(9):3767–3775. doi:10.1182/blood-2006-07-037846

44.

Vitale C, Chiossone L, Cantoni C, Morreale G, Cottalasso F, Moretti S, Pistorio A, Haupt R, Lanino E, Dini G, Moretta L, Mingari MC (2004) The corticosteroid-induced inhibitory effect on NK cell function reflects down-regulation and/or dysfunction of triggering receptors involved in natural cytotoxicity. Eur J Immunol 34(11):3028–3038. doi:10.1002/eji.200425418
Acknowledgments
This project was supported by the "Deutsche Forschungsgemeinschaft (DFG)"(GRK-1172), "Hilfe für krebskranke Kinder Frankfurt e.V." and the "LOEWE Center for Cell and Gene Therapy Frankfurt" funded by Hessisches Ministerium für Wissenschaft und Kunst, III L 4- 518/17.004 (2010). The authors would like to thank all patients, nurses and physicians and the members of the Laboratory of Stem Cell Transplantation and Immunotherapy for their technical support and Dr. D. Hintereder of the Central Laboratory for the quantification of total MPA in patients' PB plasma.
Conflict of interest
The authors declare that they have no conflicts of interest.
Electronic supplementary material
Below is the link to the electronic supplementary material.
Supplementary material 2 (MP4 13137 kb)
Supplementary material 3 (MP4 4270 kb)
About this article
Cite this article
Brehm, C., Huenecke, S., Esser, R. et al. Interleukin-2-stimulated natural killer cells are less susceptible to mycophenolate mofetil than non-activated NK cells: possible consequences for immunotherapy. Cancer Immunol Immunother 63, 821–833 (2014). https://doi.org/10.1007/s00262-014-1556-5
Received:

Accepted:

Published:

Issue Date:
Keywords
MMF

MPA

NK cells

Immunosuppressive therapy

Immunotherapy

Haploidentical stem cell transplantation