Abstract
This report provides the first imaging report of isolated intrahepatic cryptococcosis. An 83-year-old man was incidentally pointed out of hepatic nodules. CT revealed four well-defined nodules of 21 mm, 15 mm, 7 mm, and 5 mm in diameter without contrast enhancement. Two nodules displayed central hyperattenuation and the others were totally hyperattenuating. MRI showed that the nodules were hypointense relative to normal liver parenchyma on T1- and T2-weighted images. 18F-FDG PET imaging revealed no obvious increased uptake of nuclear species into the liver nodules. Partial resection of the three largest hepatic nodules was performed based on a preoperative diagnosis of hepatic metastasis from known sigmoid colon cancer. All three resected nodules were composed mainly of necrotic tissue with peripheral histiocytic aggregates and numerous yeast-like cells. The final diagnosis was hepatic cryptococcosis.
This is a preview of subscription content, log in to check access.
Access options
Buy single article
Instant access to the full article PDF.
US$ 39.95
Price includes VAT for USA
Subscribe to journal
Immediate online access to all issues from 2019. Subscription will auto renew annually.
US$ 99
This is the net price. Taxes to be calculated in checkout.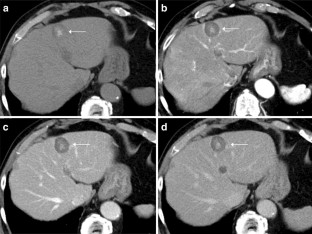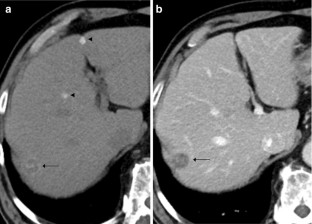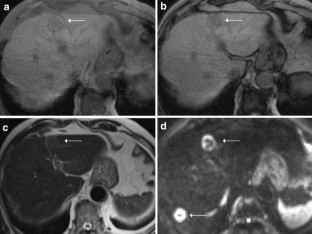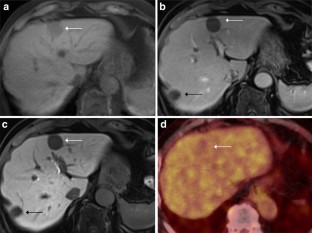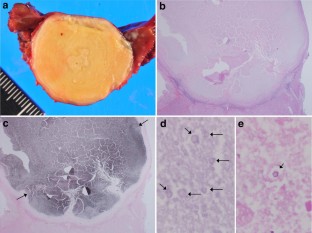 References
1.

Perfect JR, Dismukes WE, Dromer F, Goldman DL, Graybill JR, Hamill RJ, Harrison TS, Larsen RA, Lortholary O, Nguyen MH, Pappas PG, Powderly WG, Singh N, Sobel JD, Sorrell TC (2010) Clinical practice guidelines for the management of cryptococcal disease: 2010 update by the infectious diseases society of America. Clin Infect Dis 50(3):291-322. https://doi.org/10.1086/649858.

2.

Maziarz EK, Perfect JR (2016) Cryptococcosis. Infect Dis Clin North Am 30(1):179-206. https://doi.org/10.1016/j.idc.2015.10.006.

3.

Khoury MB, Godwin JD, Ravin CE, Gallis HA, Halvorsen RA, Putman CE (1984) Thoracic cryptococcosis: immunologic competence and radiologic appearance. AJR Am J Roentgenol 142(5): 893-896.

4.

Lindell RM, Hartman TE, Nadrous HF, Ryu JH (2005) Pulmonary cryptococcosis: CT findings in immunocompetent patients. Radiology 236(1):326-331. https://doi.org/10.1148/radiol.2361040460.

5.

Xie LX, Chen YS, Liu SY, Shi YX (2015) Pulmonary cryptococcosis: comparison of CT findings in immunocompetent and immunocompromised patients. Acta Radiol 56(4):447-453. https://doi.org/10.1177/0284185114529105.

6.

Lanzieri CF, Bangert BA, Tarr RW, Shah RS, Lewin JS, Gilkeson RC. (1997) Neuroradiology case of the day. CNS cryptococcal infection. AJR Am J Roentgenol 169(1):295299.

7.

Rohtagi A, Aggarwal A, Chabra MK, Dahale AS (2013) Disseminated cryptococcosis with hepatic dysfunction as the initial manifestation in an immunocompetent adult. Arch Iran Med 16(5):303-305.

8.

Lu S, Furth EE, Blumberg EA, Bing Z (2009) Hepatic involvement in a liver transplant recipient with disseminated cryptococcosis. Transpl Infect Dis 11(2):179-182. https://doi.org/10.1111/j.1399-3062.2009.00365.x.

9.

Utili R, Tripodi MF, Ragone E, Casillo R, Pasquale G, De Santo L, Esposito S (2004) Hepatic cryptococcosis in a heart transplant recipient. Transpl Infect Dis 6(1):33-36.

10.

Das CJ, Pangtey GS, Hari S, Hari P, Das AK (2006) Biliary cryptococcosis in a child: MR imaging findings. Pediatr Radiol 36(8):877-880.

11.

Brierley J, Gospodarowicz M, Wittekind C (2016) TNM Classification of malignant tumours. 8th ed: Wiley-Blackwell.

12.

Emmons C (1955) Saprophytic sources of Cryptococcus neoformans associated with the pigeon (Columba livia). Am J Hyg 62(3):227-232.

13.

Steenbergen JN, Shuman HA, Casadevall A (2001) Cryptococcus neoformans interactions with amoebae suggest an explanation for its virulence and intracellular pathogenic strategy in macrophages Proc Natl Acad Sci USA 98:15245-15250.

14.

Nara S, Sano T, Ojima H, Onaya H, Ikeda M, Morizane C, Esaki M, Sakamoto Y, Shimada K, Kosuge T (2008) Liver cryptococcosis manifesting as obstructive jaundice in a young immunocompetent man: report of a case. Surg Today 38(3):271-274. https://doi.org/10.1007/s00595-007-3605-6.

15.

Zhang C, Du L, Cai W, Wu Y, Lv F (2014) Isolated hepatobiliary cryptococcosis manifesting as obstructive jaundice in an immunocompetent child: case report and review of the literature. Eur J Pediatr 173(12):1569-1572. https://doi.org/10.1007/s00431-013-2132-2.
Funding
No funding was received for this study.
Ethics declarations
Conflict of interest
The authors declare that they have no conflicts of interest.
Ethical approval
All procedures performed in studies involving human participants were in accordance with the ethical standards of the institutional and/or national research committee and with the 1964 Declaration of Helsinki and its later amendments or comparable ethical standards.
Informed consent
Informed consent was obtained from the patient in the study.
Additional information
Publisher's Note
Springer Nature remains neutral with regard to jurisdictional claims in published maps and institutional affiliations.
About this article
Cite this article
Hoshiai, S., Hiyama, T., Kawasaki, H. et al. Mass-forming hepatic cryptococcosis: a mimicker of metastatic tumors. Abdom Radiol (2020). https://doi.org/10.1007/s00261-020-02437-2
Keywords
Cryptococcus

Cryptococcosis

Hepatic cryptococcosis

Liver cryptococcosis