Abstract
Minimally invasive surgery for complex endometriosis requires preoperative planning that intimately connects the gynecologic surgeon to the radiologist. Understanding the surgeon's perspective to endometriosis treatment facilitates a productive relationship that ultimately benefits the patient. We examine minimally invasive surgery for endometriosis and the key radiologic information which enable the surgeon to successfully negotiate patient counseling, preoperative planning, and an interdisciplinary approach to surgery.
This is a preview of subscription content, log in to check access.
Access options
Buy single article
Instant unlimited access to the full article PDF.
US$ 39.95
Price includes VAT for USA
Subscribe to journal
Immediate online access to all issues from 2019. Subscription will auto renew annually.
US$ 99
This is the net price. Taxes to be calculated in checkout.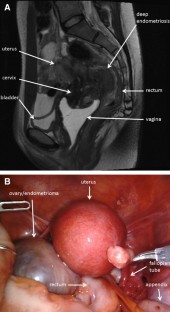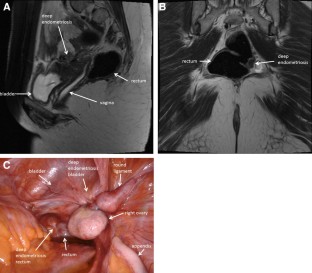 References
1.

G.A. Dunselman, N. Vermeulen, C. Becker, C. Calhaz-Jorge, T. D'Hooghe, B. De Bie, O. Heikinheimo, A.W. Horne, L. Kiesel, A. Nap, A. Prentice, E. Saridogan, D. Soriano, W. Nelen, ESHRE guideline: management of women with endometriosis, Hum Reprod 29(3) (2014) 400-12.

2.

M. Bazot, E. Darai, Diagnosis of deep endometriosis: clinical examination, ultrasonography, magnetic resonance imaging, and other techniques, Fertil Steril 108(6) (2017) 886-894.

3.

Endometriosis and infertility: a committee opinion, Fertil Steril 98(3) (2012) 591-8.

4.

M.S. Abrao, F. Petraglia, T. Falcone, J. Keckstein, Y. Osuga, C. Chapron, Deep endometriosis infiltrating the recto-sigmoid: critical factors to consider before management, Hum Reprod Update 21(3) (2015) 329-39.

5.

P. Vercellini, L. Buggio, A. Borghi, E. Monti, U. Gattei, M.P. Frattaruolo, Medical treatment in the management of deep endometriosis infiltrating the proximal rectum and sigmoid colon: a comprehensive literature review, Acta Obstet Gynecol Scand (2018).

6.

N. Berlanda, E. Somigliana, M.P. Frattaruolo, L. Buggio, D. Dridi, P. Vercellini, Surgery versus hormonal therapy for deep endometriosis: is it a choice of the physician?, Eur J Obstet Gynecol Reprod Biol 209 (2017) 67-71.

7.

P. Wang, X.P. Wang, Y.Y. Li, B.Y. Jin, D. Xia, S. Wang, H. Pan, Hydronephrosis due to ureteral endometriosis in women of reproductive age, Int J Clin Exp Med 8(1) (2015) 1059-65.

8.

R.C. Stern, R. Dash, R.C. Bentley, M.J. Snyder, A.F. Haney, S.J. Robboy, Malignancy in endometriosis: frequency and comparison of ovarian and extraovarian types, Int J Gynecol Pathol 20(2) (2001) 133-9.

9.

C.L. Pearce, C. Templeman, M.A. Rossing, A. Lee, A.M. Near, P.M. Webb, C.M. Nagle, J.A. Doherty, K.L. Cushing-Haugen, K.G. Wicklund, J. Chang-Claude, R. Hein, G. Lurie, L.R. Wilkens, M.E. Carney, M.T. Goodman, K. Moysich, S.K. Kjaer, E. Hogdall, A. Jensen, E.L. Goode, B.L. Fridley, M.C. Larson, J.M. Schildkraut, R.T. Palmieri, D.W. Cramer, K.L. Terry, A.F. Vitonis, L.J. Titus, A. Ziogas, W. Brewster, H. Anton-Culver, A. Gentry-Maharaj, S.J. Ramus, A.R. Anderson, D. Brueggmann, P.A. Fasching, S.A. Gayther, D.G. Huntsman, U. Menon, R.B. Ness, M.C. Pike, H. Risch, A.H. Wu, A. Berchuck, Association between endometriosis and risk of histological subtypes of ovarian cancer: a pooled analysis of case-control studies, Lancet Oncol 13(4) (2012) 385-94.

10.

A. Dawson, M.L. Fernandez, M. Anglesio, P.J. Yong, M.S. Carey, Endometriosis and endometriosis-associated cancers: new insights into the molecular mechanisms of ovarian cancer development, Ecancermedicalscience2018.

11.

V.V. Palla, G. Karaolanis, T. Bliona, I. Katafigiotis, I. Anastasiou, D. Hassiakos, Endometrioid adenocarcinoma arising from colon endometriosis, SAGE Open Med Case Rep2017.

12.

Y. Tarumi, T. Mori, I. Kusuki, F. Ito, J. Kitawaki, Endometrioid adenocarcinoma arising from deep infiltrating endometriosis involving the bladder: A case report and review of the literature, Gynecol Oncol Rep2015, pp. 68-70.

13.

P. Vercellini, M.P. Frattaruolo, R. Rosati, D. Dridi, A. Roberto, P. Mosconi, O. De Giorgi, F.M. Cribiu, E. Somigliana, Medical treatment or surgery for colorectal endometriosis? Results of a shared decision-making approach, Hum Reprod 33(2) (2018) 202-211.

14.

V. Nisenblat, P.M. Bossuyt, C. Farquhar, N. Johnson, M.L. Hull, Imaging modalities for the non-invasive diagnosis of endometriosis, Cochrane Database Syst Rev 2 (2016) Cd009591.

15.

D.J. Bartlett, B.J. Burkett, T.L. Burnett, S.P. Sheedy, J.G. Fletcher, W.M. VanBuren, Comparison of routine pelvic US and MR imaging in patients with pathologically confirmed endometriosis, Abdom Radiol (NY) (2019).

16.

S. Alborzi, A. Rasekhi, Z. Shomali, G. Madadi, M. Alborzi, M. Kazemi, A. Hosseini Nohandani, Diagnostic accuracy of magnetic resonance imaging, transvaginal, and transrectal ultrasonography in deep infiltrating endometriosis, Medicine (Baltimore) 97(8) (2018) e9536.

17.

C. Schneider, F. Oehmke, H.R. Tinneberg, G.A. Krombach, MRI technique for the preoperative evaluation of deep infiltrating endometriosis: current status and protocol recommendation, Clin Radiol 71(3) (2016) 179-94.

18.

B. Dousset, M. Leconte, B. Borghese, A.E. Millischer, G. Roseau, S. Arkwright, C. Chapron, Complete surgery for low rectal endometriosis: long-term results of a 100-case prospective study, Ann Surg 251(5) (2010) 887-95.

19.

R. Cranney, G. Condous, S. Reid, An update on the diagnosis, surgical management, and fertility outcomes for women with endometrioma, Acta Obstet Gynecol Scand 96(6) (2017) 633-643.

20.

J.C. Williams, T.L. Burnett, T. Jones, S.K. Venkatesh, W.M. VanBuren, Association between kissing and retropositioned ovaries and severity of endometriosis: MR imaging evaluation, Abdom Radiol (NY) (2019).

21.

S. McDermott, T.N. Oei, V.R. Iyer, S.I. Lee, MR imaging of malignancies arising in endometriomas and extraovarian endometriosis, Radiographics 32(3) (2012) 845-63.

22.

K.A. Robinson, C.O. Menias, L. Chen, G. Schiappacasse, A.M. Shaaban, M.P. Caserta, K.M. Elsayes, W.M. VanBuren, C.W. Bolan, Understanding malignant transformation of endometriosis: imaging features with pathologic correlation, Abdom Radiol (NY) (2019).

23.

E. Kovoor, J. Nassif, I. Miranda-Mendoza, G. Lang-Averous, A. Wattiez, Long-term urinary retention after laparoscopic surgery for deep endometriosis, Fertil Steril 95(2) (2011) 803.e9-12.

24.

Y. Hagiwara, M. Hatori, T. Moriya, Y. Terada, N. Yaegashi, S. Ehara, S. Kokubun, Inguinal endometriosis attaching to the round ligament, Australas Radiol 51(1) (2007) 91-4.

25.

V.V. Palla, G. Karaolanis, I. Katafigiotis, I. Anastasiou, Ureteral endometriosis: A systematic literature review, Indian J Urol2017, pp. 276-82.

26.

S. Siddighi, J.J. Yune, J. Hardesty, Indocyanine green for intraoperative localization of ureter, Am J Obstet Gynecol 211(4) (2014) 436.e1-2.

27.

J. Struble, S. Reid, M.A. Bedaiwy, Adenomyosis: A Clinical Review of a Challenging Gynecologic Condition, J Minim Invasive Gynecol 23(2) (2016) 164-85.

28.

L. Garcia, K. Isaacson, Adenomyosis: review of the literature, J Minim Invasive Gynecol 18(4) (2011) 428-37.

29.

J. Donnez, M.M. Dolmans, L. Fellah, What if deep endometriotic nodules and uterine adenomyosis were actually two forms of the same disease?, Fertil Steril 111(3) (2019) 454-456.

30.

G. Villa, M. Mabrouk, M. Guerrini, G. Mignemi, G.G. Colleoni, S. Venturoli, R. Seracchioli, Uterine rupture in a primigravida with adenomyosis recently subjected to laparoscopic resection of rectovaginal endometriosis: case report, J Minim Invasive Gynecol 15(3) (2008) 360-1.

31.

S. Angioni, M. Peiretti, M. Zirone, M. Palomba, V. Mais, V. Gomel, G.B. Melis, Laparoscopic excision of posterior vaginal fornix in the treatment of patients with deep endometriosis without rectum involvement: surgical treatment and long-term follow-up, Hum Reprod 21(6) (2006) 1629-34.

32.

C. De Cicco, R. Corona, R. Schonman, K. Mailova, A. Ussia, P. Koninckx, Bowel resection for deep endometriosis: a systematic review, Bjog 118(3) (2011) 285-91.

33.

R.M. Pereira, A. Zanatta, C.D. Preti, F.J. de Paula, E.L. da Motta, P.C. Serafini, Should the gynecologist perform laparoscopic bowel resection to treat endometriosis? Results over 7 years in 168 patients, J Minim Invasive Gynecol 16(4) (2009) 472-9.

34.

R.M. Pereira, A. Zanatta, P.C. Serafini, D. Redwine, The feasibility of laparoscopic bowel resection performed by a gynaecologist to treat endometriosis, Curr Opin Obstet Gynecol 22(4) (2010) 344-53.

35.

A. Lopez Carrasco, A. Hernandez Gutierrez, P.A. Hidalgo Gutierrez, R. Rodriguez Gonzalez, J.L. Marijuan Martin, I. Zapardiel, J. de Santiago Garcia, Ileocecal endometriosis: diagnosis and management, Taiwan J Obstet Gynecol 56(2) (2017) 243-246.

36.

J. Alves, M. Puga, R. Fernandes, A. Pinton, I. Miranda, E. Kovoor, A. Wattiez, Laparoscopic Management of Ureteral Endometriosis and Hydronephrosis Associated With Endometriosis, J Minim Invasive Gynecol 24(3) (2017) 466-472.

37.

D. Larraín, F. Suárez, H. Braun, J. Chapochnick, L. Diaz, I. Rojas, Thoracic and diaphragmatic endometriosis: Single-institution experience using novel, broadened diagnostic criteria, J Turk Ger Gynecol Assoc2018, pp. 116-21.

38.

J. Nwiloh, Diaphragmatic patch: a useful adjunct in surgical treatment of recurrent catamenial hemothorax, Rev Port Pneumol 17(6) (2011) 278-80.
Additional information
Publisher's Note
Springer Nature remains neutral with regard to jurisdictional claims in published maps and institutional affiliations.
About this article
Cite this article
Burnett, T.L., Feldman, M.K. & Huang, J.Q. The role of imaging as a guide to the surgical treatment of endometriosis. Abdom Radiol (2020). https://doi.org/10.1007/s00261-019-02399-0
Keywords
Endometriosis

Surgery

Magnetic resonance imaging

Ultrasound

Endometrioma

Deep endometriosis