Correction to: Delayed manifestations of abdominal trauma: follow-up abdominopelvic CT in posttraumatic patients
The original version of this article unfortunately contained few mistakes. Under the subheading "Data extraction and review process", in line 12 the word "prospective" is incorrectly given by the author. The correct word is "retrospective".
In Fig. 2D, the label should read as RA instead of LA.
In Table 6, the word "ischemic/gangrenous" should read as "ischemia/gangrene" in 9th row, column 6.
The revised Fig.
2
and Table
6
is given below.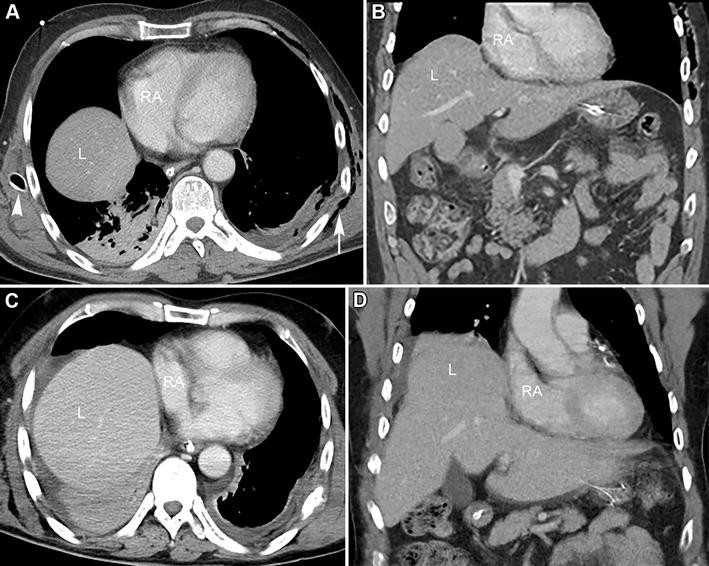 Table 6
Management of organ-specific findings on follow-up abdominopelvic CT
Organ-specific investigations and management following positive findings on follow-up CT

Spleen

1 splenectomy

5 coiling/embolization of splenic artery pseudoaneurysms

Pancreas

2 ERCP with subsequent pancreatic duct stenting

Kidney

1 ureteric stent

Bowel and mesentery

4 small bowel surgeries

 One patient: SBO due to anastomotic stricture

 One patient: traumatic distal ileum perforation

 Two patients: traumatic induced small bowel ischemia/gangrene

Diaphragm

3 diaphragmatic repair (2 laparotomy + 1 laparoscopy)

Miscellaneous

3 imaging-guided fluid drainage

1 embolization of the left gluteal artery pseudoaneurysm

3 PEG tube replacement

Total Interventions

Surgical: 8

Interventional procedures: 15
Copyright information
© Springer Science+Business Media, LLC, part of Springer Nature 2018