Abstract
Metarhizium species are the most abundant fungi that can be isolated from soil, with a well-known biopesticide capacity. Metarhizium recognizes their hosts when the conidium interacts with insects, where the fungi are in contact with the hydrocarbons of the outermost lipid layer cuticle. These cuticular hydrocarbons comprise a mixture of n-alkanes, n-alkenes, and methyl-branched chains. Metarhizium can degrade insect hydrocarbons and use these hydrocarbons for energy production and the biosynthesis of cellular components. The metabolism of nitroalkanes involves nitronate monooxygenase activity. In this work, we isolated a family of six genes with potential nitronate monooxygenase activity from Metarhizium brunneum. The six genes were expressed in Escherichia coli, and the nitronate monooxygenase activity was verified in the recombinant proteins. Additionally, when the conidia of M. brunneum were grown in medium with nitroalkanes, virulence against Plutella xylostella increased. Furthermore, we analyzed the expression of the six Npd genes during the infection to this insect, which showed differential expression of the six Npd genes during infection.
This is a preview of subscription content, log in to check access.
Access options
Buy single article
Instant access to the full article PDF.
US$ 39.95
Price includes VAT for USA
Subscribe to journal
Immediate online access to all issues from 2019. Subscription will auto renew annually.
US$ 199
This is the net price. Taxes to be calculated in checkout.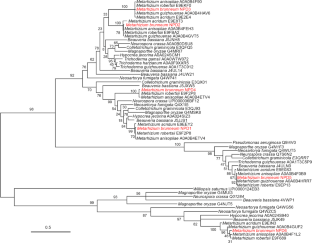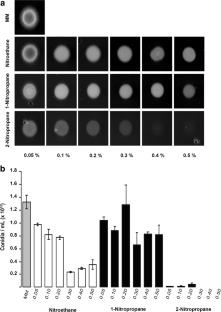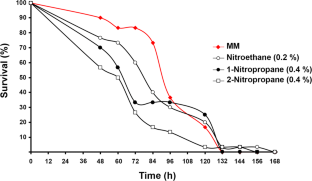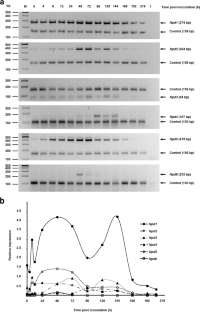 References
Arruda W, Lubeck I, Schrank A, Vainstein MH (2005) Morphological alterations of Metarhizium anisopliae during penetration of Boophilus microplus ticks. Exp Appl Acarol 37(3–4):231–244. https://doi.org/10.1007/s10493-005-3818-6

Ball J, Salvi F, Gadda G (2016) Functional annotation of a presumed nitronate monoxygenase reveals a new class of NADH:Quinone reductases. J Biol Chem 291(40):21160–21170. https://doi.org/10.1074/jbc.M116.739151

Barelli L, Padilla-Guerrero IE, Bidochka MJ (2011) Differential expression of insect and plant specific adhesin genes, Mad1 and Mad2, in Metarhizium robertsii. Fungal Biol 115(11):1174–1185. https://doi.org/10.1016/j.funbio.2011.08.003

Canovas D, Marcos JF, Marcos AT, Strauss J (2016) Nitric oxide in fungi: is there NO light at the end of the tunnel? Curr Genet 62(3):513–518. https://doi.org/10.1007/s00294-016-0574-6

Chomcheon P, Wiyakrutta S, Sriubolmas N, Ngamrojanavanich N, Isarangkul D, Kittakoop P (2005) 3-Nitropropionic acid (3-NPA), a potent antimycobacterial agent from endophytic fungi: is 3-NPA in some plants produced by endophytes? J Nat Prod 68(7):1103–1105. https://doi.org/10.1021/np050036a

Daubner SC, Gadda G, Valley MP, Fitzpatrick PF (2002) Cloning of nitroalkane oxidase form Fusarium oxysporum identifies a new member of the acyl-CoA dehydrogenase superfamily. Proc Natl Acad Sci U S A 99(5):2702–2707

Fitzpatrick PF (2017) Nitroalkane oxidase: structure and mechanism. Arch Biochem Biophys 632:41–46. https://doi.org/10.1016/j.abb.2017.05.012

Francis K, Russell B, Gadda G (2005) Involvement of a flavosemiquinone in the enzymatic oxidation of nitroalkanes catalyzed by 2-nitropropane dioxygenase. J Biol Chem 280(7):5195–51204

Gadda G, Fitzpatrick PF (1999) Substrate specificity of a nitroalkane-oxidizing enzyme. Arch Biochem Biophys 363(2):309–313. https://doi.org/10.1006/abbi.1998.1081

Gadda G, Francis K (2010) Nitronate monooxygenase, a model for anionic flavin semiquinone intermediates in oxidative catalysis. Arch Biochem Biophys 493(1):53–61. https://doi.org/10.1016/j.abb.2009.06.018

Gorlatova N, Tchorzewski M, Kurihara T, Soda K, Esaki N (1998) Purification, characterization, and mechanism of a flavin mononucleotide-dependent 2-nitropropane dioxygenase from Neurospora crassa. Appl Environ Microbiol 64(3):1029–1033

Ha JY, Min JY, Lee SK, Kim HS, Kim DJ, Kim KH, Lee HH, Kim HK, Yoon HJ, Suh SW (2006) Crystal structure of 2-nitropropane dioxygenase complexed with FMN and substrate. Identification of the catalytic base. J Biol Chem 281(27):18660–18667. https://doi.org/10.1074/jbc.M601658200

Hipkin CR, Salem MA, Simpson D, Wainwright SJ (1999) 3-Nitropropionic acid oxidase from horseshoe vetch (Hippocrepis comosa): a novel plant enzyme. Biochem J 340(Pt 2):491–495. https://doi.org/10.1042/bj3400491

Hu X, Xiao G, Zheng P, Shang Y, Su Y, Zhang X, Liu X, Zhang S, St Leger RJ, Wang C (2014) Trajectory and genomic determinants of fungal-pathogen speciation and host adaptation. Proc Natl Acad Sci U S A 111(47):16796–16801. https://doi.org/10.1073/pnas.1412662111

Huarte-Bonnet C, Juarez MP, Pedrini N (2015) Oxidative stress in entomopathogenic fungi grown on insect-like hydrocarbons. Curr Genet 61(3):289–297. https://doi.org/10.1007/s00294-014-0452-z

Jones DT, Taylor WR, Thornton JM (1992) The rapid generation of mutation data matrices form protein sequences. Comput Appl Biosci 8:275–282

Kido T, Soda K, Suzuki T, Asada K (1976) A new oxygenase, 2-nitropropane dioxygenase of Hansenula mrakii. Enzymologic and spectrophotometric properties. J Biol Chem 251(22):6994–7000

Kido T, Hashizume K, Soda K (1978) Purification and properties of nitroalkane oxidase from Fusarium oxysporum. J Bacteriol 133(1):53–58

Kido T, Tanizawa K, Inagaki K, Yoshimura T, Ishida K, Soda K (1984) 2-Nitropropane dioxygenase from Hansenula mrakii: re-characterization of the enzyme and oxidation of anionic nitroalkanes. Agric Biol Chem 48(10):2549–2554. https://doi.org/10.1271/bbb1961.48.2549

Kumar S, Stecher G, Tamura K (2016) MEGA7: molecular evolutionary genetics analysis version 7.0 for bigger datasets. Mol Biol Evol 33(7):1870–1874. https://doi.org/10.1093/molbev/msw054

Lee JH, Park AK, Oh JS, Lee KS, Chi YM (2013) Expression, purification and preliminary X-ray crystallographic analysis of nitroalkane oxidase (NAO) from Pseudomonas aeruginosa. Acta Crystallogr Sect F Struct Biol Cryst Commun 69(Pt 8):888–890. https://doi.org/10.1107/S1744309113017235

Li Y, Zhang J, Tan H (2008) Identification of a nitroalkane oxidase gene: naoA related to the growth of Streptomyces ansochromogenes. Curr Microbiol 57(6):588–592. https://doi.org/10.1007/s00284-008-9247-0

Little HN (1951) Oxidation of nitroethane by extracts from Neurospora. J Biol Chem 193:347–359

Lomer CJ, Bateman RP, Johnson DL, Langewald J, Thomas M (2001) Biological control of locusts and grasshoppers. Annu Rev Entomol 46:667–702. https://doi.org/10.1146/annurev.ento.46.1.667

Lowry OH, Rosebrough NJ, Farr AL, Randall RJ (1951) Protein measurement with the Folin phenol reagent. J Biol Chem 193(1):265–275

Madrigal Pulido J, Padilla Guerrero I, Magana Martinez Ide J, Cacho Valadez B, Torres Guzman JC, Salazar Solis E, Felix Gutierrez Corona J, Schrank A, Jimenez Bremont F, Gonzalez Hernandez A (2011) Isolation, characterization and expression analysis of the ornithine decarboxylase gene (ODC1) of the entomopathogenic fungus, Metarhizium anisopliae. Microbiol Res 166(6):494–507. https://doi.org/10.1016/j.micres.2010.10.002

Marroquin-Guzman M, Hartline D, Wright JD, Elowsky C, Bourret TJ, Wilson RA (2017) The Magnaporthe oryzae nitrooxidative stress response suppresses rice innate immunity during blast disease. Nat Microbiol 2:17054. https://doi.org/10.1038/nmicrobiol.2017.54

Morales Hernandez CE, Padilla Guerrero IE, Gonzalez Hernandez GA, Salazar Solis E, Torres Guzman JC (2010) Catalase overexpression reduces the germination time and increases the pathogenicity of the fungus Metarhizium anisopliae. Appl Microbiol Biotechnol 87(3):1033–1044. https://doi.org/10.1007/s00253-010-2517-3

Niknam V, Ebrahimzadeh H, Maassoumi AA (2003) Toxic nitro compounds in Astragalus species. Biochem Syst Ecol 31:557–562. https://doi.org/10.1016/S0305-1978(02)00179-5

Notzel C, Lingner T, Klingenberg H, Thoms S (2016) Identification of new fungal peroxisomal matrix proteins and revision of the PTS1 consensus. Traffic 17(10):1110–1124. https://doi.org/10.1111/tra.12426

Pedrini N, Crespo R, Juarez MP (2007) Biochemistry of insect epicuticle degradation by entomopathogenic fungi. Comp Biochem Physiol C Toxicol Pharmacol 146(1–2):124–137. https://doi.org/10.1016/j.cbpc.2006.08.003

Porter DJ, Bright HJ (1987) Propionate-3-nitronate oxidase from Penicillium atrovenetum is a flavoprotein which initiates the autoxidation of its substrate by O2. J Biol Chem 262(30):14428–14434

Roberts DW, St Leger RJ (2004) Metarhizium spp., cosmopolitan insect-pathogenic fungi: mycological aspects. Adv Appl Microbiol 54:1–70. https://doi.org/10.1016/S0065-2164(04)54001-7

Salem MA, Williams JM, Wainwright SJ, Hipkin CR (1995) Nitroaliphatic compounds in Hippocrepis comosa and other legumes in the European flora. Phytochemistry 40(1):89–91. https://doi.org/10.1016/0031-9422(95)00346-9

Salvi F, Agniswamy J, Yuan H, Vercammen K, Pelicaen R, Cornelis P, Spain JC, Weber IT, Gadda G (2014) The combined structural and kinetic characterization of a bacterial nitronate monooxygenase from Pseudomonas aeruginosa PAO1 establishes NMO class I and II. J Biol Chem 289(34):23764–23775. https://doi.org/10.1074/jbc.M114.577791

Sambrook JG, Russell R (2001) Molecular cloning: a laboratory manual, 3rd edn. Cold Spring Harbor Laboratory Press, Cold Spring Harbor

Smith JJ, Aitchison JD (2013) Peroxisomes take shape. Nat Rev Mol Cell Biol 14(12):803–817. https://doi.org/10.1038/nrm3700

Tormos JR, Taylor AB, Daubner SC, Hart PJ, Fitzpatrick PF (2010) Identification of a hypothetical protein from Podospora anserina as a nitroalkane oxidase. Biochemistry 49(24):5035–5041. https://doi.org/10.1021/bi100610e

Zhang J, Ma W, Tan H (2002) Cloning, expression and characterization of a gene encoding nitroalkane-oxidizing enzyme from Streptomyces ansochromogenes. Eur J Biochem 269(24):6302–6307. https://doi.org/10.1046/j.1432-1033.2002.03350.x

Zhang W, Li J, Tang Y, Chen K, Shi X, Ohnishi K, Zhang Y (2017) Involvement of NpdA, a putative 2-nitropropane dioxygenase, in the T3SS expression and full virulence in Ralstonia solanacearum OE1-1. Front Microbiol 8:1990. https://doi.org/10.3389/fmicb.2017.01990
Funding
This work was funded by the Consejo Nacional de Ciencia y Tecnología, CONACYT (grant nos. 220780 and 103173), and Universidad de Guanajuato (grant nos. 000014/11 and 511/2015). CQKY, VMBG, and VFA received a fellowship from CONACYT.
Ethics declarations
This article does not contain any studies with human participants or vertebrates, performed by any of the authors.
Conflict of interest
All authors declare that they have no conflict of interest.
Additional information
Publisher's note
Springer Nature remains neutral with regard to jurisdictional claims in published maps and institutional affiliations.
Electronic supplementary material
About this article
Cite this article
Cervantes Quintero, K.Y., Padilla Guerrero, I.E., Torres Guzmán, J.C. et al. Members of the nitronate monooxygenase gene family from Metarhizium brunneum are induced during the process of infection to Plutella xylostella. Appl Microbiol Biotechnol (2020). https://doi.org/10.1007/s00253-020-10450-0
Received:

Revised:

Accepted:

Published:
Keywords
Biopesticide

Metarhizium

Nitroalkanes

Nitronate monooxygenase