Abstract
The anodized titanium nanotubes (TiO2-NTs) are considered to be a potential material in clinical therapy. To enhance the antibacterial property of TiO2-NTs, cefuroxime is introduced into TiO2-NTs, and then, different chitosan layers are coated to control the release of cefuroxime. SEM and FTIR are adapted for the characterization of prepared TiO2-NTs. The effects of chitosan coating thickness on release of cefuroxime are also investigated, followed with the antibacterial property evaluation. The results show TiO2-NTs are fabricated by anodization method and cefuroxime is also successfully loaded into the nanotubes. The thickness of chitosan coating is an important factor to the release rate of cefuroxime. Antimicrobial detection and morphology observation of S. aureus show a sustained 7-day drug release and strong negative effect on bacteria. The approach in this study provides a broadly applicable method to fabricate titanium-based orthopedic implants with enhanced antibacterial properties.
This is a preview of subscription content, log in to check access.
Access options
Buy single article
Instant access to the full article PDF.
US$ 39.95
Price includes VAT for USA
Subscribe to journal
Immediate online access to all issues from 2019. Subscription will auto renew annually.
US$ 199
This is the net price. Taxes to be calculated in checkout.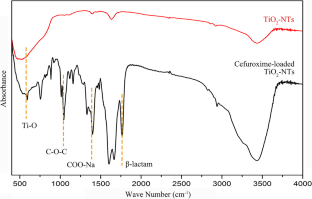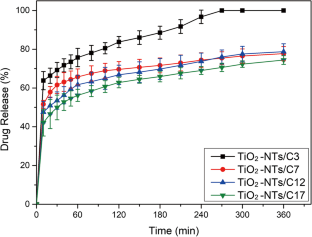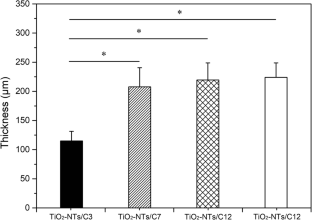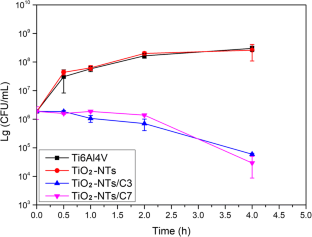 Funding
This study was funded by the National Natural Science Foundation of China (Nos. 11872097, 11421202, and 11827803), Beijing Natural Science Foundation (No. L182017), Shenzhen Science and Technology Project (No. JCYJ20170817140537062), the Fundamental Research Funds for the Central Universities (No. YWF-19-BJ-J-234), the 111 Project (No. B13003), and the International Joint Research Center of Aerospace Biotechnology and Medical Engineering, Ministry of Science and Technology of China.
Ethics declarations
Conflict of interest
The authors declare that they have no conflicts of interest.
Ethical approval
This article does not contain any studies with human participants or animals performed by any of the authors.
Additional information
Publisher's note
Springer Nature remains neutral with regard to jurisdictional claims in published maps and institutional affiliations.
About this article
Cite this article
Niu, X., Sun, L., Zhang, X. et al. Fabrication and antibacterial properties of cefuroxime-loaded TiO2 nanotubes. Appl Microbiol Biotechnol (2020). https://doi.org/10.1007/s00253-020-10446-w
Received:

Revised:

Accepted:

Published:
Keywords
Titanium

Nanotube

Controlled release

Antibacterial

Cefuroxime