Abstract
Tuberculosis caused by Mycobacterium tuberculosis remains a major global health concern; M. tuberculosis drug resistance and persistence further fueled the situation. Nutrient supportive therapy was intensively pursued to complement the conventional treatment, as well as their synergy with current antibiotics. To explore whether l-alanine can synergize with fluoroquinolones against M. tuberculosis, M. smegmatis was used as a surrogate in this study. We found that l-alanine can boost the bactericidal efficacy of fluoroquinolones, increasing the production of intracellular reactive oxygen species. This effect is very significant for persisters. Accelerated tricarboxylic acid cycle and/or nucleotide metabolism were observed after the addition of l-alanine. M. smegmatis MSMEG2660 is a homolog of the alanine dehydrogenase (Rv2780, MSMEG2659) negative regulator Rv2779c and involved in the l-alanine potentiation of fluoroquinolone via funneling more alanine into tricarboxylic acid. Deletion mutant of the MSMEG2660 (∆Ms2660) became more susceptible, and more readily revived from persistence. We firstly found that l-alanine can synergize with fluoroquinolones against Mycobacterium, especially the persisters via promoting metabolism. This will inspire new avenue to eliminate Mycobacterium persisters.
This is a preview of subscription content, log in to check access.
Access options
Buy single article
Instant unlimited access to the full article PDF.
US$ 39.95
Price includes VAT for USA
Subscribe to journal
Immediate online access to all issues from 2019. Subscription will auto renew annually.
US$ 199
This is the net price. Taxes to be calculated in checkout.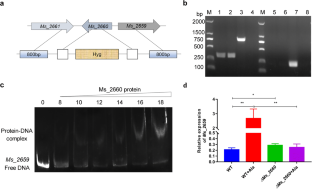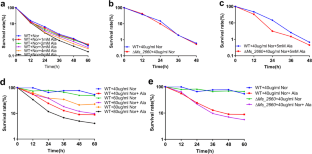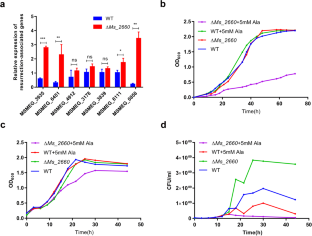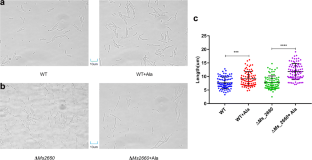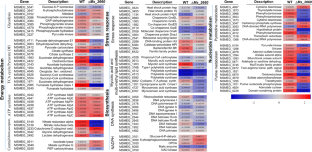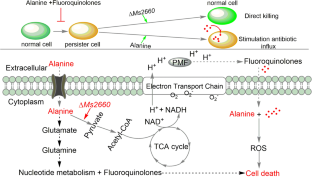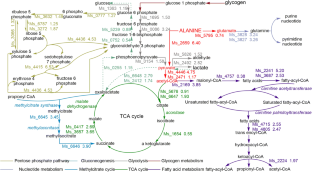 References
Alessandro C, Francesca B, Agnese S, Roberta P, Giorgio P, Riccardo M (2010) Xer site-specific recombination, an efficient tool to introduce unmarked deletions into mycobacteria. Appl Environ Microbiol 76(15):5312–5316

Aliasghar F, Omid S, Masoomeh S, Manijeh K (2015) Arginine adjunctive therapy in active tuberculosis. Tuberc Res Treat:1–5

Balaban NQ, Helaine S, Lewis K, Ackermann M, Aldridge B, Andersson DI, Brynildsen MP, Bumann D, Camilli A, Collins JJ (2019) Definitions and guidelines for research on antibiotic persistence. Nat Rev Microbiol 17(7):441–448

Bernier SP, Lebeaux D, DeFrancesco AS, Valomon A, Soubigou G, Coppée J-Y, Ghigo J-M, Beloin C, Viollier PH (2013) Starvation, together with the SOS response, mediates high biofilm-specific tolerance to the fluoroquinolone ofloxacin. PLoS Genet 9(1):e1003144

Beste DJ, Nöh K, Niedenführ S, Mendum TA, Hawkins ND, Ward JL, Beale MH, Wiechert W, McFadden J (2013) 13C-flux spectral analysis of host-pathogen metabolism reveals a mixed diet for intracellular Mycobacterium tuberculosis. Chem Biol 20(8):1012–1021

Betts JC, Lukey PT, Robb LC, Mcadam RA, Ken D (2010) Evaluation of a nutrient starvation model of Mycobacterium tuberculosis persistence by gene and protein expression profiling. Mol Microbiol 43(3):717–731

Bo P, Yu-Bin S, Hui L, Yi H, Chang G, Yao-Mei T, Xuan-Xian P (2015) Exogenous alanine and/or glucose plus kanamycin kills antibiotic-resistant bacteria. Cell Metab 21(2):249–261

Bujak AL, Crane JD, Lally JS, Ford RJ, Kang SJ, Rebalka IA, Green AE, Kemp BE, Hawke TJ, Schertzer JD (2015) AMPK activation of muscle autophagy prevents fasting-induced hypoglycemia and myopathy during aging. Cell Metab 21(6):883–890

David L, Ashwini C, Sylvie L, Frédéric F, Hilde DR, Christophe B, Jean-Marc G (2014) pH-mediated potentiation of aminoglycosides kills bacterial persisters and eradicates in vivo biofilms. J Infect Dis 210(9):1357–1366

Defraine V, Fauvart M, Michiels J (2018) Fighting bacterial persistence: current and emerging anti-persister strategies and therapeutics. Drug Resist Updat 38:12–26

Duan X, Huang X, Wang X, Yan S, Guo S, Abdalla AE, Huang C, Xie J (2016) l-Serine potentiates fluoroquinolone activity against Escherichia coli by enhancing endogenous reactive oxygen species production. J Antimicrob Chemother 71(8):2192–2199

Galagan JE, Kyle M, Matthew P, Anna L, Elham A, Linsday S, Antonio G, Tige R, Gregory D, Irina G (2013) The Mycobacterium tuberculosis regulatory network and hypoxia. Nature 499(7457):178–183

Ghosh C, Konai MM, Sarkar P, Samaddar S, Haldar J (2016) Designing simple lipidated lysines: bifurcation imparts selective antibacterial activity. Chemmedchem 11(21):2367–2371

Giffin MM, Modesti L, Raab RW, Wayne LG, Sohaskey CD (2012) ald of Mycobacterium tuberculosis encodes both the alanine dehydrogenase and the putative glycine dehydrogenase. J Bacteriol 194(5):1045–1054

Giffin MM, Shi L, Gennaro ML, Sohaskey CD (2016) Role of alanine dehydrogenase of Mycobacterium tuberculosis during recovery from hypoxic nonreplicating persistence. PLoS One 11(5):e0155522

Gorityala BK, Guchhait G, Fernando DM, Deo S, McKenna SA, Zhanel GG, Kumar A, Schweizer F (2016) Adjuvants based on hybrid antibiotics overcome resistance in Pseudomonas aeruginosa and enhance fluoroquinolone efficacy. Angew Chem Int Ed 55(2):555–559

Harms A, Maisonneuve E, Gerdes K (2016) Mechanisms of bacterial persistence during stress and antibiotic exposure. Science 354(6318):aaf4268

He F, Wu C, Li P, Li N, Zhang D, Zhu Q, Ren W, Peng Y (2018) Functions and signaling pathways of amino acids in intestinal inflammation. Biomed Res Int 2018(3):1–13

Huang X, Duan XK, Niu J, Yuan S, Li J, Li X, Nzungize L, Wang X, Xu J, Gong Z (2018) The synergistic effect of exogenous glutamine and rifampicin against Mycobacterium persisters. Front Microbiol 9:1625

Jeong J-A, Hyun J, Oh J-I (2015) Regulation mechanism of the ald gene encoding alanine dehydrogenase in Mycobacterium smegmatis and Mycobacterium tuberculosis by the Lrp/AsnC family regulator AldR. J Bacteriol 197(19):3142–3153

Jeong J-A, Park SW, Yoon D, Kim S, Kang H-Y, Oh J-I (2018) Roles of alanine dehydrogenase and induction of its gene in Mycobacterium smegmatis under respiration-inhibitory conditions. J Bacteriol 200(14):e00152–e00118

Kaldalu N, Mei R, Lewis K (2004) Killing by ampicillin and ofloxacin induces overlapping changes in Escherichia coli transcription profile. Antimicrob Agents Chemother 48(3):890–896

Kim J-S, Heo P, Yang T-J, Lee K-S, Cho D-H, Kim BT, Suh J-H, Lim H-J, Shin D, Kim S-K (2011) Selective killing of bacterial persisters by a single chemical compound without affecting normal antibiotic-sensitive cells. Antimicrob Agents Chemother 55(11):5380–5383

Luan G, Hong Y, Drlica K, Zhao X (2017) Suppression of reactive-oxygen-species accumulation accounts for paradoxical bacterial survival at high quinolone concentration. Antimicrob Agents Chemother 62(3):AAC.01622-17

Mortuza R, Aung HL, Taiaroa G, Opel-Reading HK, Kleffmann T, Cook GM, Krause KL (2018) Overexpression of a newly identified d-amino acid transaminase in Mycobacterium smegmatis complements glutamate racemase deletion. Mol Microbiol 107(2):198–213

Pieren M, Tigges M (2012) Adjuvant strategies for potentiation of antibiotics to overcome antimicrobial resistance. Curr Opin Pharmacol 12(5):551–555

Pu Y, Li Y, Jin X, Tian T, Ma Q, Zhao Z, Lin S-y, Chen Z, Li B, Yao G (2019) ATP-dependent dynamic protein aggregation regulates bacterial dormancy depth critical for antibiotic tolerance. Mol Cell 73(1):143–156. e4

Raghavendra T, Patil S, Mukherjee R (2018) Peptidoglycan in Mycobacteria: chemistry, biology and intervention. Glycoconj J 35(5):421–432

Reshma RS, Saxena S, Bobesh KA, Jeankumar VU, Gunda S, Yogeeswari P, Sriram D (2016) Design and development of new class of Mycobacterium tuberculosisl-alanine dehydrogenase inhibitors. Bioorg Med Chem 24(18):4499–4508

Rienksma RA, Schaap PJ, Martins Dos Santos VAP, Suarez-Diez M (2019) Modeling host-pathogen interaction to elucidate the metabolic drug response of intracellular. Front Cell Infect Microbiol 9:144. https://doi.org/10.3389/fcimb.2019.00144

Romanowski EG, Yates KA, Mah FS, Gordon YJ, Kowalski RP (2012) An antimicrobial peptide can enhance the activity of a fluoroquinolone in reducing colony counts of fluoroquinolone-resistant MRSA in the NZW rabbit keratitis model. Invest Ophthalmol Vis Sci 53(14):6257–6257

Sassetti CM, Rubin EJ (2003) Genetic requirements for mycobacterial survival during infection. Proc Natl Acad Sci U S A 100(22):12989–12994

Shan Y, Lazinski D, Rowe S, Camilli A, Lewis K (2015) Genetic basis of persister tolerance to aminoglycosides in Escherichia coli. MBio 6(2):e00078–e00015

Tripathi SM, Ramachandran R (2010) Crystal structures of the Mycobacterium tuberculosis secretory antigen alanine dehydrogenase (Rv2780) in apo and ternary complex forms captures "open" and "closed" enzyme conformations. Proteins 72(3):1089–1095

Vargas-Blanco DA, Zhou Y, Zamalloa LG, Antonelli T, Shell SS (2019) mRNA Degradation rates are coupled to metabolic status in Mycobacterium smegmatis. mBio 10(4):e00957-19

Wolfson J, Hooper D, McHugh G, Bozza M, Swartz M (1990) Mutants of Escherichia coli K-12 exhibiting reduced killing by both quinolone and beta-lactam antimicrobial agents. Antimicrob Agents Chemother 34(10):1938–1943

Worthington RJ, Christian M (2013) Combination approaches to combat multidrug-resistant bacteria. Trends Biotechnol 31(3):177–184

Xiuhong W, Xilin Z, Muhammad M, Karl D (2010) Contribution of reactive oxygen species to pathways of quinolone-mediated bacterial cell death. J Antimicrob Chemother 65(3):520
Ethics declarations
Conflict of interest
The authors declare that they have no conflict of interest.
Ethical approval
This article does not contain any studies with human participants or animals performed by any other authors.
Additional information
Publisher's note
Springer Nature remains neutral with regard to jurisdictional claims in published maps and institutional affiliations.
Electronic supplementary material
About this article
Cite this article
Zhen, J., Yan, S., Li, Y. et al. l-Alanine specifically potentiates fluoroquinolone efficacy against Mycobacterium persisters via increased intracellular reactive oxygen species. Appl Microbiol Biotechnol (2020). https://doi.org/10.1007/s00253-020-10358-9
Received:

Revised:

Accepted:

Published:
Keywords
Persistence

Alanine

Fluoroquinolone

Mycobacterium

Reactive oxygen species