Biofuel production from straw hydrolysates: current achievements and perspectives
Abstract
Straw is an agricultural residue of the production of e.g. cereals, rapeseed or sunflowers. It includes dried stalks, leaves, and empty ears and corncobs, which are separated from the grains during harvest. Straw is a promising lignocellulosic feedstock with a beneficial greenhouse gas balance for the production of biofuels and chemicals. Like all lignocellulosic materials, straw is recalcitrant and requires thermochemical and enzymatic pretreatment to enable access to the three major biopolymers of straw—the polysaccharides cellulose and hemicellulose and the polyaromatic compound lignin. Straw is used for commercial ethanol and biogas production. Considerable research has also been conducted to produce biobutanol, biodiesel and biochemicals from this raw material, but more research is required to establish them on a commercial scale. The major hindrance for launching industrial biofuel and chemicals' production from straw is the high cost necessitated by pretreatment of the material. Improvements of microbial strains, production and extraction technologies, as well as co-production of high-value compounds represent ways of establishing straw as feedstock for the production of biofuels, chemicals and food.
Keywords
Straw 
Lignocellulose 
Biofuels 
Microbial conversion 
Enzymes 
Introduction
Biofuels, i.e. reduced liquid or gaseous compounds generated from renewable organic biomass, are seen as a means to decrease dependency on fossil resources, reduce greenhouse gas (GHG) emissions especially in the transportation sector and improve security of fuel supply (Passoth 2014; Valentine et al. 2012). However, biofuels are currently mainly produced from so-called first-generation substrates such as sugar cane, wheat grain or vegetable oils, i.e. resources that also can be used as human food. This use of food crops has been criticised due to potential food versus fuel competition and because land-use changes can lead to the loss of natural ecosystems (Kim and Dale 2004; Kluts et al. 2017). Therefore, substantial research has been conducted to establish biofuel production from second-generation biomass, i.e. lignocellulose such as straw or wood residues (Gnansounou 2010). Nevertheless, even lignocellulosic energy crops can compete with food production as areas are needed to produce those plants (Kluts et al. 2017). On marginal i.e. poor yielding land, the yield of dedicated energy crops is usually also poor; hence, production costs are probably high and the revenue low. There are many factors determining whether it is profitable to produce food or biofuels. If biofuel production is profitable, energy crops might be produced instead of food plants (Glithero et al. 2015; Shortall 2013; Sims et al. 2010). In contrast, cereal straw may represent an ideal resource for biofuel production, as it is a co-product of food production, and thus, its production does not compete with food generation (Townsend et al. 2017) and a high level of grain production did not have any negative effect on the utilisation of the straw as raw materials for biofuel production (Jørgensen et al. 2018).
Straw includes dried stalks, ears, cobs and leaves of e.g. cereals, rapeseed or sunflower, which are separated from the grains during harvest (Fig. 
1
). For instance corn stover, i.e. leaves, stalks and bare cobs from maize plants, is the most abundant straw generated in the USA (Panoutsou et al.
2017
). Straw has multiple applications such as animal feed, bedding, substrate for mushroom production or power generation by burning. Nevertheless, there is a substantial surplus of straw. In several areas of the world, this surplus straw is frequently removed from the fields by open field burning. This technique, although quite convenient for the farmer, causes substantial emissions affecting the environmental balance of cereal production and the local air quality. Therefore, there are efforts to ban open field burning (Kadam et al.
2000
). Biofuel production from straw can add value to this residue and reduce the consumption of fossil resources. It is not completely clear how much of the straw can be sustainably removed from fields, as there are a variety of factors impacting the amount of available straw, for instance cultivation conditions, grain cultivar, weather conditions or soil quality (Panoutsou et al.
2017
; Townsend et al.
2017
). For wheat straw, about 400 million tons may be globally available for biofuel production (Talebnia et al.
2010
; Tishler et al.
2015
). New preservation techniques for moist straw material (Passoth et al.
2013
) may in some areas with high precipitation increase the amount of potentially available material (Nilsson
2000
).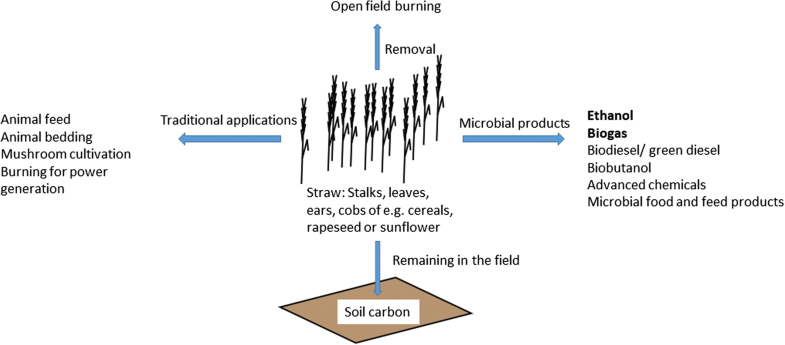 Straw and its conversion to biofuels and chemicals by using either chemical or bioconversion has been discussed previously (Chandel et al. 2018; Isikgor and Becer 2015; Maity 2015). This mini-review aims to provide a survey about bioconversion of straw material.
Conclusion and outlook
Straw is a lignocellulosic agricultural residue with great potential as feedstock in biotechnological production processes (Fig. 1). As it is co-produced with cereal grain and other food raw materials, its production does not compete with food production and will not result in land-use changes. Substantial research towards converting this feedstock to biofuels and other high-value compounds has been conducted during the last years. There is a long and growing list of interesting chemicals that can be generated from straw materials (Chandel et al. 2018; Gupta et al. 2016). Given the high dependency of the global economy on fossil resources, there is an urgent need to find alternative ways of producing fuels, chemicals and food. Moreover, producing high-value compounds from agricultural residues will add value to the agricultural industry, increasing the economic attractiveness of green technologies. Establishing technologies to produce different fuels and chemicals from straw will create opportunities for generating products best adapted to the local conditions and market demands. Frequently, production of more than one biofuel can be combined, such as ethanol and biogas or biodiesel and biogas (Karlsson et al. 2016; Lantz et al. 2018). The whole chemical complexity of the biomass should be used, if possible. Lignin is an underutilised resource, but there are ongoing efforts to identify enzymes to degrade and utilise this biopolymer as well (Gupta et al. 2016). On the other hand, lignin is currently often burned to provide process energy. It can also be transferred back to the soil to maintain the soil organic carbon content and, in the long term, to prevent greenhouse gas emissions (Karlsson et al. 2016; Karlsson et al. 2017; Lantz et al. 2018). For any application, a careful analysis of both environmental and economic consequences has to be performed to obtain a sustainable replacement for fossil resources.
Notes
Acknowledgements
We thank Dr. Su-Lin Leong for language editing of the manuscript. Our recent lignocellulose-related research was supported by The Swedish Research Council for Environment, Agricultural Sciences and Spatial Planning (Formas), grant numbers 213-2013-80 and 2018-01877.
Funding
This study was funded by The Swedish Research Council for Environment, Agricultural Sciences and Spatial Planning (Formas), grant numbers 213-2013-80 and 2018-01877.
Compliance with ethical standards
This article does not contain any studies with human participants or animals performed by any of the authors.
Conflict of interest
The authors declare that they have no conflict of interest.
Copyright information
© The Author(s) 2019
Open Access This article is distributed under the terms of the Creative Commons Attribution 4.0 International License (http://creativecommons.org/licenses/by/4.0/), which permits unrestricted use, distribution, and reproduction in any medium, provided you give appropriate credit to the original author(s) and the source, provide a link to the Creative Commons license, and indicate if changes were made.