Abstract
Escherichia coli normally cannot utilize the β-glucoside sugar cellobiose as a carbon and energy source unless a stringent selection pressure for survival is present. The cellobiose-utilization phenotype can be conferred by mutations in the two cryptic operons, chb and asc. In this study, the cellobiose-utilization phenotype was conferred to E. coli by replacing the cryptic promoters of these endogenous operons with a constitutive promoter. Evolutionary adaptation of the engineered strain CP12CHBASC by repeated subculture in cellobiose-containing minimal medium led to an increase in the rate of cellobiose uptake and cell growth on cellobiose. An efficient cellobiose-metabolizing E. coli strain would be of great importance over glucose-metabolizing E. coli for a simultaneous saccharification and fermentation process, as the cost of the process would be reduced by eliminating one of the three enzymes needed to hydrolyze cellulose into simple sugars.
This is a preview of subscription content, log in to check access.
Access options
Buy single article
Instant access to the full article PDF.
US$ 39.95
Price includes VAT for USA
Subscribe to journal
Immediate online access to all issues from 2019. Subscription will auto renew annually.
US$ 199
This is the net price. Taxes to be calculated in checkout.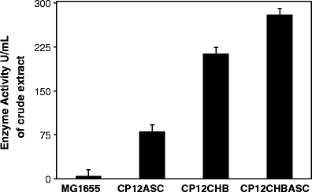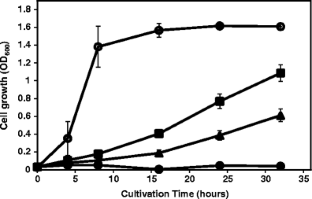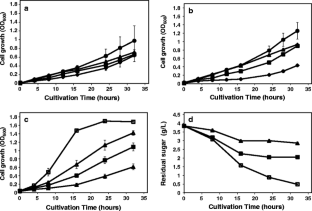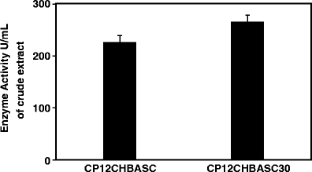 References
Adin DM, Visick KL, Stabb EV (2008) Identification of a cellobiose utilization gene cluster with cryptic beta-galactosidase activity in Vibrio fischeri. Appl Environ Microbiol 74:4059–4069. doi:https://doi.org/10.1128/aem.00190-08

Atsumi S, Cann AF, Connor MR, Shen CR, Smith KM, Brynildsen MP, Chou KJY, Hanai T, Liao JC (2008) Metabolic engineering of Escherichia coli for 1-butanol production. Metab Engin 10:305–311. doi:https://doi.org/10.1016/j.ymben.2007.08.003

Blattner FR, Plunkett G, Bloch CA, Perna NT, Burland V, Riley M, Collado-Vides J, Glasner JD, Rode CK, Mayhew GF, Gregor J, Davis NW, Kirkpatrick HA, Goeden MA, Rose DJ, Mau B, Shao Y (1997) The complete genome sequence of Escherichia coli K-12. Science 277:1453–1462. doi:https://doi.org/10.1126/science.277.5331.1453

Cherepanov PP, Wackernagel W (1995) Gene disruption in Escherichia coli: TcR and KmR cassettes with the option of FLP-catalyzed excision of the antibiotic-resistance determinant. Gene 158:9–14. doi:https://doi.org/10.1016/0378-1119(95)00193-a

Clomburg JM, Gonzalez R (2010) Biofuel production in Escherichia coli: the role of metabolic engineering and synthetic biology. Appl Microbiol Biotechnol 86:419–434. doi:https://doi.org/10.1007/s00253-010-2446-1

Datsenko KA, Wanner BL (2000) One-step inactivation of chromosomal genes in Escherichia coli K-12 using PCR products. Proc Natl Acad Sci USA 97:6640–6645

Ghim CM, Kim T, Mitchell RJ, Lee SK (2010) Synthetic biology for biofuels: building designer microbes from the scratch. Biotechnol Bioproce Eng 15:11–21. doi:https://doi.org/10.1007/s12257-009-3065-5

Ha S-J, Galazka JM, Rin Kim S, Choi J-H, Yang X, Seo J-H, Louise Glass N, Cate JHD, Jin Y-S (2011) Engineered Saccharomyces cerevisiae capable of simultaneous cellobiose and xylose fermentation. Proc Natl Acad Sci USA 108:504–509. doi:https://doi.org/10.1073/pnas.1010456108

Hall BG (1999) Transposable elements as activators of cryptic genes in E. coli. Genetica 107:181–187

Hall BG, Betts PW (1987) Cryptic genes for cellobiose utilization in natural isolates of Escherichia coli. Genetics 115:431–439

Hall BG, Xu L (1992) Nucleotide- sequence, function, activation and evolution of the cryptic asc operon of Escherichia coli K- 12. Mol Biol Evol 9:688–706

Hall BG, Betts PW, Kricker M (1986) Maintenance of the cellobiose utilization genes of Escherichia coli in a cryptic state. Mol Biol Evol 3:389–402

Jarboe LR, Zhang XL, Wang X, Moore JC, Shanmugam KT, Ingram LO (2010) Metabolic engineering for production of biorenewable fuels and chemicals: contributions of synthetic biology. J Biomed Biotechnol. doi: 76104210.1155/2010/761042

Jensen PR, Hammer K (1998) The sequence of spacers between the consensus sequences modulates the strength of prokaryotic promoters. Appl Environ Microbiol 64:82–87

Kachroo AH, Kancherla AK, Singh NS, Varshney U, Mahadevan S (2007) Mutations that alter the regulation of the chb operon of Escherichia coli allow utilization of cellobiose. Mol Microbiol 66:1382–1395. doi:https://doi.org/10.1111/j.1365-2958.2007.05999.x

La Grange D, den Haan R, van Zyl W (2010) Engineering cellulolytic ability into bioprocessing organisms. Appl Microbiol Biotechnol 87:1195–1208. doi:https://doi.org/10.1007/s00253-010-2660-x

Lee SK, Chou H, Ham TS, Lee TS, Keasling JD (2008) Metabolic engineering of microorganisms for biofuels production: from bugs to synthetic biology to fuels. Curr Opin Biotechnol 19:556–563. doi:https://doi.org/10.1016/j.copbio.2008.10.014

Lee SM, Jin LH, Kim JH, Han SO, Na HB, Hyeon T, Koo YM, Kim J, Lee JH (2010) Beta-glucosidase coating on polymer nanofibers for improved cellulosic ethanol production. Bioprocess Biosyst Eng 33:141–147. doi:https://doi.org/10.1007/s00449-009-0386-x

Lynd LR, van Zyl WH, McBride JE, Laser M (2005) Consolidated bioprocessing of cellulosic biomass: an update. Curr Opin Biotechnol 16:577–583. doi:https://doi.org/10.1016/j.copbio.2005.08.009

Moniruzzaman M, Lai X, York S, Ingram L (1997) Isolation and molecular characterization of high-performance cellobiose-fermenting spontaneous mutants of ethanologenic Escherichia coli KO11 containing the Klebsiella oxytoca casAB operon. App Environ Microbiol 63:4633–4637

Mukerji M, Mahadevan S (1997) Cryptic genes: evolutionary puzzles. J Genet 76:147–159

Negrete A, Ng W-I, Shiloach J (2010) Glucose uptake regulation in E. coli by the small RNA SgrS: comparative analysis of E. coli K-12 (JM109 and MG1655) and E. coli B (BL21). Microb Cell Fact 9:75

Panesar PS, Marwaha SS, Kennedy JF (2006) Zymomonas mobilis: an alternative ethanol producer. J Chem Technol Biotechnol 81:623–635. doi:https://doi.org/10.1002/jctb.1448

Peralta-Yahya PP, Keasling JD (2010) Advanced biofuel production in microbes. Biotechnol J 5:147–162. doi:https://doi.org/10.1002/biot.200900220

Plumbridge J, Pellegrini O (2004) Expression of the chitobiose operon of Escherichia coli is regulated by three transcription factors: NagC, ChbR and CAP. Mol Microbiol 52:437–449. doi:https://doi.org/10.1111/j.1365-2958.2004.03986.x

Steen EJ, Kang Y, Bokinsky G, Hu Z, Schirmer A, McClure A, del Cardayre SB, Keasling JD (2010) Microbial production of fatty-acid-derived fuels and chemicals from plant biomass. Nature 463:559–562, http://www.nature.com/nature/journal/v463/n7280/suppinfo/nature08721_S1.html

Stephanopoulos G (2007) Challenges in engineering microbes for biofuels production. Science 315:801–804. doi:https://doi.org/10.1126/science.1139612

van Rooyen R, Hahn-Hägerdal B, La Grange DC, van Zyl WH (2005) Construction of cellobiose-growing and fermenting Saccharomyces cerevisiae strains. J Biotechnol 120:284–295. doi:https://doi.org/10.1016/j.jbiotec.2005.06.013

Weber C, Farwick A, Benisch F, Brat D, Dietz H, Subtil T, Boles E (2010) Trends and challenges in the microbial production of lignocellulosic bioalcohol fuels. Appl Microbiol Biotechnol 87:1303–1315. doi:https://doi.org/10.1007/s00253-010-2707-z

Wen F, Nair NU, Zhao H (2009) Protein engineering in designing tailored enzymes and microorganisms for biofuels production. Curr Opin Biotechnol 20:412–419

Xu Q, Singh A, Himmel ME (2009) Perspectives and new directions for the production of bioethanol using consolidated bioprocessing of lignocellulose. Curr Opin Biotechnol 20:364–371. doi:https://doi.org/10.1016/j.copbio.2009.05.006
Acknowledgments
This work was supported by the National Research Foundation of Korea (NRF) Grant funded by the Ministry of Education, Science, and Technology (MEST) of the Korean Government (NRF-2009-C1AAA001-2009-0093479); by the Basic Science Research Program, through the NRF, funded by the MEST (NRF-2009-0076912); and by the World Class University (WCU) program, through the Korea Science and Engineering Foundation, funded by the MEST (R31-2008-000-20012-0).
About this article
Cite this article
Vinuselvi, P., Lee, S.K. Engineering Escherichia coli for efficient cellobiose utilization. Appl Microbiol Biotechnol 92, 125–132 (2011). https://doi.org/10.1007/s00253-011-3434-9
Received:

Revised:

Accepted:

Published:

Issue Date:
Keywords
chb operon

Cellobiose metabolism

asc operon

Cryptic genes

Escherichia coli