Abstract
A phytase-encoding gene (phyA115) was cloned from Janthinobacterium sp. TN115, a symbiotic bacterial strain isolated from the gut contents of Batocera horsfieldi larvae (Coleoptera: Cerambycidae), and expressed in Escherichia coli. The 1,884-bp full-length gene encodes a 28-residue putative signal peptide and a 599-residue mature protein with a calculated mass of 64 kDa. The deduced PhyA115 shares low identity with known sequences (47% at most) and contains an N-terminal incomplete domain (residues 29–297; domain N) and a typical β-propeller phytase domain at the C terminus (residues 298–627; domain C). Distinct from other β-propeller phytases that have neutral pH optima (pH 6.0–7.5), purified recombinant PhyA115 exhibits maximal activity at pH 8.5 and 45°C in the presence of 1 mM Ca2+ and is highly active over a wider pH range (pH 6.0–9.0). These results indicate that PhyA115 is a β-propeller phytase that has application potential in aquaculture feed. To our knowledge, this is the first report of cloning of a phytase gene from the symbiotic microbes of an insect digestive tract and from the genus Janthinobacterium. The N-terminal incomplete domain is found to have no phytase activity but can influence the pH property of PhyA115.
This is a preview of subscription content, log in to check access.
Access options
Buy single article
Instant access to the full article PDF.
US$ 39.95
Price includes VAT for USA
Subscribe to journal
Immediate online access to all issues from 2019. Subscription will auto renew annually.
US$ 199
This is the net price. Taxes to be calculated in checkout.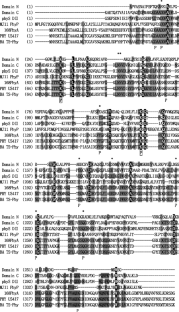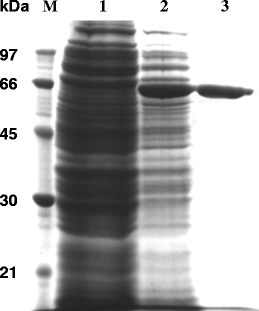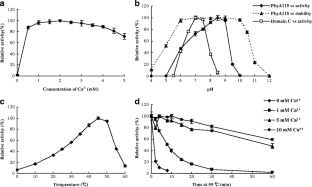 References
Arnold K, Bordoli L, Kopp J, Schwede T (2006) The SWISS-MODEL workspace: a web-based environment for protein structure homology modelling. Bioinformatics 22:195–201

Bradford MM (1976) A rapid and sensitive method for the quantitation of microgram quantities of protein utilizing the principle of protein-dye binding. Anal Biochem 72:248–254

Brennan Y, Callen WN, Christoffersen L, Dupree P, Goubet F, Healey S, Hernandez M, Keller M, Li K, Palackal N (2004) Unusual microbial xylanases from insect guts. Appl Environ Microbiol 70:3609–3617

Cao L, Wang W, Yang C, Yang Y, Diana J, Yakupitiyage A, Luo Z, Li D (2007) Application of microbial phytase in fish feed. Enzyme Microb Tech 40:497–507

Cheng C, Lim B (2006) Beta-propeller phytases in the aquatic environment. Arch Microbiol 185:1–13

Choi YM, Suh HJ, Kim JM (2001) Purification and properties of extracellular phytase from Bacillus sp. KHU-10. J Protein Chem 20:287–292

Dillon RJ, Dillon VM (2004) The gut bacteria of insects: nonpathogenic interactions. Ann Rev Entomol 49:71–92

Fang TY, Ford C (1998) Protein engineering of Aspergillus awamori glucoamylase to increase its pH optimum. Protein Eng Des Sel 11:383–388

Farhat A, Chouayekh H, Ben Farhat M, Bouchaala K, Bejar S (2008) Gene cloning and characterization of a thermostable phytase from Bacillus subtilis US417 and assessment of its potential as a feed additive in comparison with a commercial enzyme. Mol Biotechnol 40:127–135

Fu S, Sun J, Qian L (2008) Effect of Ca2+ on β-propeller phytases. Protein Pept Lett 15:39–42

Guex N, Peitsch MC (1997) SWISS-MODEL and the Swiss-Pdb Viewer: an environment for comparative protein modeling. Electrophoresis 18:2714–2723

Ha N, Oh B, Shin S, Kim H, Oh T, Kim Y, Choi K, Oh B (2000) Crystal structures of a novel, thermostable phytase in partially and fully calcium-loaded states. Nat Struct Mol Biol 7:147–153

Huang H, Luo H, Yang P, Meng K, Wang Y, Yuan T, Bai Y, Yao B (2006) A novel phytase with preferable characteristics from Yersinia intermedia. Biochem Biophys Res Commun 350:884–889

Huang H, Shao N, Wang Y, Luo H, Yang P, Zhou Z, Zhan Z, Yao B (2009a) A novel beta-propeller phytase from Pedobacter nyackensis MJ11 CGMCC 2503 with potential as an aquatic feed additive. Appl Microbiol Biotechnol 83:249–259

Huang H, Shi P, Wang Y, Luo H, Shao N, Wang G, Yang P, Yao B (2009b) Diversity of beta-propeller phytase genes in the intestinal contents of grass carp provides insight into the release of major phosphorus from phytate in nature. Appl Environ Microbiol 75:1508–1516

Kemme PA, Jongbloed AW, Mroz Z, Beynen AC (1997) The efficacy of Aspergillus niger phytase in rendering phytate phosphorus available for absorption in pigs is influenced by pig physiological status. J Anim Sci 75:2129–2138

Kerovuo J, Lauraeus M, Nurminen P, Kalkkinen N, Apajalahti J (1998) Isolation, characterization, molecular gene cloning, and sequencing of a novel phytase from Bacillus subtilis. Appl Environ Microbiol 64:2079–2085

Kim Y, Lee J, Kim H, Yu J, Oh T (1998) Cloning of the thermostable phytase gene (phy) from Bacillus sp. DS11 and its overexpression in Escherichia coli. FEMS Microbiol Lett 162:185–191

Lei X, Porres J, Mullaney E, Brinch-Pedersen H (2007) Phytase: source, structure and application. In: Polaina J, MacCabe AP (eds) Industrial enzymes: structure, function and applications. Springer, Dordrecht, pp 505–529

Lim B, Yeung P, Cheng C, Hill J (2007) Distribution and diversity of phytate-mineralizing bacteria. ISME J 1:321–330

Lineweaver H, Burk D (1934) The determination of enzyme dissociation constants. J Am Chem Soc 56:658–666

Liu YG, Whittier RF (1995) Thermal asymmetric interlaced PCR: automatable amplification and sequencing of insert end fragments from P1 and YAC clones for chromosome walking. Genomics 25:674–681

Liu J, Bollinger DW, Ledoux DR, Ellersieck MR, Veum TL (1997) Soaking increases the efficacy of supplemental microbial phytase in a low-phosphorus corn-soybean meal diet for growing pigs. J Anim Sci 75:1292–1298

Mantafounis D, Pitts J (1990) Protein engineering of chymosin; modification of the optimum pH of enzyme catalysis. Protein Eng Des Sel 3:605–609

Mullaney EJ, Ullah AHJ (2003) The term phytase comprises several different classes of enzymes. Biochem Biophys Res Commun 312:179–184

Myers MA, Healy MJ, Oakeshott JG (1993) Effects of the residue adjacent to the reactive serine on the substrate interactions of Drosophila esterase 6. Biochem Genet 31:259–278

Naylor RL, Goldburg RJ, Primavera JH, Kautsky N, Beveridge MCM, Clay J, Folke C, Lubchenco J, Mooney H, Troell M (2000) Effect of aquaculture on world fish supplies. Nature 405:1017–1024

Oh B, Chang B, Park K, Ha N, Kim H, Oh B, Oh T (2001) Calcium-dependent catalytic activity of a novel phytase from Bacillus amyloliquefaciens DS11. Biochemistry 40:9669–9676

Paulsen IT, Press CM, Ravel J, Kobayashi DY, Myers GSA, Mavrodi DV, DeBoy RT, Seshadri R, Ren Q, Madupu R, Dodson RJ, Durkin AS, Brinkac LM, Daugherty SC, Sullivan SA, Rosovitz MJ, Gwinn ML, Zhou L, Schneider DJ, Cartinhour SW, Nelson WC, Weidman J, Watkins K, Tran K, Khouri H, Pierson EA, Pierson LS, Thomashow LS, Loper JE (2005) Complete genome sequence of the plant commensal Pseudomonas fluorescens Pf-5. Nature Biotech 23:873–878

Reddy NR, Sathe SK, Salunkhe DK (1982) Phytates in legumes and cereals. Adv Food Res 28:1–92

Reddy NR, Pierson MD, Sathe SK, Salunkhe DK (1989) Phytates in cereals and legumes. CRC Press, Boca Raton

Sambrook J, Fritsch E, Maniatis T (1989) Molecular cloning. Cold Spring Harbor Laboratory Press, NY

Schloss PD, Delalibera I Jr, Handelsman J, Raffa KF (2006) Bacteria associated with the guts of two wood-boring beetles: Anoplophora glabripennis and Saperda vestita (Cerambycidae). Environ Entomol 35:625–629

Shin S, Ha N, Oh B, Oh T, Oh B (2001) Enzyme mechanism and catalytic property of β-propeller phytase. Structure 9:851–858

Studholme DJ, Ibanez SG, Maclean D, Dangl JL, Chang JH, Rathjen JP (2009) A draft genome sequence and functional screen reveals the repertoire of type III secreted proteins of Pseudomonas syringae pathovar tabaci 11528. BMC Genomics 10:395

Tomschy A, Brugger R, Lehmann M, Svendsen A, Vogel K, Kostrewa D, Lassen S, Burger D, Kronenberger A, van Loon A (2002) Engineering of phytase for improved activity at low pH. Appl Environ Microbiol 68:1907–1913

Turner BL, Papházy MJ, Haygarth PM, Mckelvie ID (2002) Inositol phosphates in the environment. Philos Trans R Soc Lond B Biol Sci 357:449

Tye A, Siu F, Leung T, Lim BL (2002) Molecular cloning and the biochemical characterization of two novel phytases from B. subtilis 168 and B. licheniformis. Appl Microbiol Biotechnol 59:190–197

Wodzinski R, Ullah A (1996) Phytase. Adv Appl Microbiol 42:263–302

Yi Z, Kornegay ET, Ravindran V, Denbow DM (1996) Improving phytate phosphorus availability in corn and soybean meal for broilers using microbial phytase and calculation of phosphorus equivalency values for phytase. Poult Sci 75:240–249

Yoshiyama M, Kimura K (2009) Bacteria in the gut of Japanese honeybee, Apis cerana japonica, and their antagonistic effect against Paenibacillus larvae, the causal agent of American foulbrood. J Invert Pathol 102:91–96

Zhou J, Huang H, Meng K, Shi P, Wang Y, Luo H, Yang P, Bai Y, Zhou Z, Yao B (2009) Molecular and biochemical characterization of a novel xylanase from the symbiotic Sphingobacterium sp. TN19. Appl Microbiol Biotechnol 85:323–333

Zhou J, Huang H, Meng K, Shi P, Wang Y, Luo H, Yang P, Bai Y, Yao B (2010) Cloning of a new xylanase gene from Streptomyces sp. TN119 using a modified thermal asymmetric interlaced-PCR specific for GC-rich genes and biochemical characterization. Appl Biochem Biotechnol 160:1277–1292
Acknowledgments
This work was supported by the National Natural Science Foundation of China (31001025), the Key Program of Transgenic Plant Breeding (2008ZX08011-005), and the Earmarked Fund for Modern Agro-industry Technology Research System (NYCYTX-42-G2-05).
About this article
Cite this article
Zhang, R., Yang, P., Huang, H. et al. Molecular and biochemical characterization of a new alkaline β-propeller phytase from the insect symbiotic bacterium Janthinobacterium sp. TN115. Appl Microbiol Biotechnol 92, 317–325 (2011). https://doi.org/10.1007/s00253-011-3309-0
Received:

Revised:

Accepted:

Published:

Issue Date:
Keywords
β-Propeller phytase

Janthinobacterium sp. TN115

Alkaline phytase

Batocera horsfieldi (Coleoptera: Cerambycidae)