Abstract
Microcystin (MC)-producing Microcystis strains from environmental samples were assessed by the simultaneous amplification of up to five DNA sequences, corresponding to specific regions of six mcy genes (mcyA, mcyB, mcyC, mcyD, mcyE and mcyG), codifying for key motifs of the non-ribosomal peptide synthetase and polyketide synthase of the microcystin synthetase complex. Six primer pairs with the same melting temperature, one of them of new design, were used. A crucial point for the good performance of the new multiplex PCR test was the concentration of each primer pair. In the test, cell suspensions from laboratory cultures, field colonies and blooms were directly used as DNA source. The results of the multiplex PCR were consistent with the toxinogenic character of the samples, as checked by high performance liquid chromatography and/or matrix-assisted laser desorption ionisation time-of-flight mass spectrometry. As a whole, the newly developed test could be used for a reliable, rapid and low-cost screening of potential MC-producing Microcystis in field samples, even scattered colonies.
This is a preview of subscription content, log in to check access.
Access options
Buy single article
Instant access to the full article PDF.
US$ 39.95
Price includes VAT for USA
Subscribe to journal
Immediate online access to all issues from 2019. Subscription will auto renew annually.
US$ 199
This is the net price. Taxes to be calculated in checkout.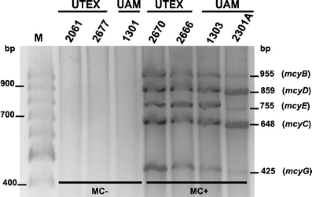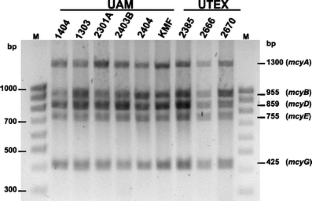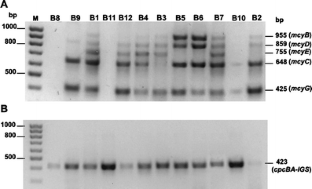 References
Ansari MZ, Yadav G, Gokhale RS, Mohanty D (2004) NRPS-PKS: a knowledge-based resource for analysis of NRPS/PKS megasynthases. Nucleic Acids Res 32:W405–W413

Baker JA, Neilan BA, Entsch B, McKay DB (2001) Identification of cyanobacteria and their toxigenicity in environmental samples by rapid molecular analysis. Environ Toxicol 16:472–482

Bittencourt-Oliveira MC (2003) Detection of potential microcystin-producing cyanobacteria in Brazilian reservoirs with a mcyB molecular marker. Harmful Algae 2:51–60

Corbett LL, Parker DL (1976) Viability of lyophilized cyanobacteria (blue-green algae). Appl Environ Microbiol 32:777–780

Christiansen G, Fastner J, Erhard M, Borner T, Dittmann E (2003) Microcystin biosynthesis in Planktothrix: genes, evolution, and manipulation. J Bacteriol 185:564–572

Dyble J, Fahnenstiel GL, Litaker RW, Millie DF, Tester PA (2008) Microcystin concentrations and genetic diversity of Microcystis in the lower Great Lakes. Environ Toxicol 23:507–516

El Herry S, Fathalli A, Rejeb AJ, Bouaicha N (2008) Seasonal occurrence and toxicity of Microcystis spp. and Oscillatoria tenuis in the Lebna Dam, Tunisia. Water Res 42:1263–1273

Fastner J, Erhard M, von Dohren H (2001) Determination of oligopeptide diversity within a natural population of Microcystis spp. (cyanobacteria) by typing single colonies by matrix-assisted laser desorption ionization-time of flight mass spectrometry. Appl Environ Microbiol 67:5069–5076

Hisbergues M, Christiansen G, Rouhiainen L, Sivonen K, Borner T (2003) PCR-based identification of microcystin-producing genotypes of different cyanobacterial genera. Arch Microbiol 180:402–410

Hotto A, Satchwell M, Boyer G (2005) Seasonal production and molecular characterization of microcystins in Oneida Lake, New York, USA. Environ Toxicol 20:243–248

Hotto AM, Satchwell MF, Boyer GL (2007) Molecular characterization of potential microcystin-producing cyanobacteria in Lake Ontario embayments and nearshore waters. Appl Environ Microbiol 73:4570–4578

Komárek J, Anagnostidis K (1999) Cyanoprokaryota. 1. Teil: Chroococcales, 19/1. In: Ettl H, Gärtner G, Heynig H, Mollenhauer D (eds) Süβwasserflora von Mitteleuropa. Gustav Fischer, Stuttgart, pp 224–236

Kurmayer R, Dittmann E, Fastner J, Chorus I (2002) Diversity of microcystin genes within a population of the toxic cyanobacterium Microcystis spp. in Lake Wannsee (Berlin, Germany). Microb Ecol 43:107–118

Kurmayer R, Christiansen G, Fastner J, Borner T (2004) Abundance of active and inactive microcystin genotypes in populations of the toxic cyanobacterium Planktothrix spp. Environ Microbiol 6:831–841

Mankiewicz-Boczek J, Izydorczyk K, Romanowska-Duda Z, Jurczak T, Stefaniak K, Kokocinski M (2006) Detection and monitoring toxigenicity of cyanobacteria by application of molecular methods. Environ Toxicol 21:380–387

Mikalsen B, Boison G, Skulberg OM, Fastner J, Davies W, Gabrielsen TM, Rudi K, Jakobsen KS (2003) Natural variation in the microcystin synthetase operon mcyABC and impact on microcystin production in Microcystis strains. J Bacteriol 185:2774–2785

Neilan BA, Dittmann E, Rouhiainen L, Bass RA, Schaub V, Sivonen K, Borner T (1999) Nonribosomal peptide synthesis and toxigenicity of cyanobacteria. J Bacteriol 181:4089–4097

Nishizawa T, Ueda A, Asayama M, Fujii K, Harada K, Ochi K, Shirai M (2000) Polyketide synthase gene coupled to the peptide synthetase module involved in the biosynthesis of the cyclic heptapeptide microcystin. J Biochem 127:779–789

Oberholster PJ, Botha AM (2007) Use of PCR based technologies for risk assessment of a winter cyanobacterial bloom in Lake Midmar, South Africa. Afr J Biotechnol 6:1794–1805

Ouahid Y, Perez-Silva G, del Campo FF (2005) Identification of potentially toxic environmental Microcystis by individual and multiple PCR amplification of specific microcystin synthetase gene regions. Environ Toxicol 20:235–242

Ouahid Y, Zaccaro MC, Zulpa G, Storni M, Stella AM, Bossio JC, Tanuz M, del Campo FF. A toxic Microcystis bloom from Río de La Plata, Argentina with an unsual major microcystin. Int J Environ Anal Chem (in press)

Ouellette AJ, Handy SM, Wilhelm SW (2006) Toxic Microcystis is widespread in Lake Erie: PCR detection of toxin genes and molecular characterization of associated cyanobacterial communities. Microb Ecol 51:154–165

Pearson LA, Hisbergues M, Borner T, Dittmann E, Neilan BA (2004) Inactivation of an ABC transporter gene, mcyH, results in loss of microcystin production in the cyanobacterium Microcystis aeruginosa PCC 7806. Appl Environ Microbiol 70:6370–6378

Pearson LA, Barrow KD, Neilan BA (2007) Characterization of the 2-hydroxy-acid dehydrogenase McyI, encoded within the microcystin biosynthesis gene cluster of Microcystis aeruginosa PCC7806. J Biol Chem 282:4681–4692

Rinta-Kanto JM, Ouellette AJ, Boyer GL, Twiss MR, Bridgeman TB, Wilhelm SW (2005) Quantification of toxic Microcystis spp. during the 2003 and 2004 blooms in western Lake Erie using quantitative real-time PCR. Environ Sci Technol 39:4198–4205

Saker ML, Welker M, Vasconcelos VM (2007) Multiplex PCR for the detection of toxigenic cyanobacteria in dietary supplements produced for human consumption. Appl Microbiol Biotechnol 73:1136–1142

Sielaff H, Dittmann E, Tandeau De Marsac N, Bouchier C, Von Dohren H, Borner T, Schwecke T (2003) The mcyF gene of the microcystin biosynthetic gene cluster from Microcystis aeruginosa encodes an aspartate racemase. Biochem J 373:909–916

Tillett D, Dittmann E, Erhard M, von Dohren H, Borner T, Neilan BA (2000) Structural organization of microcystin biosynthesis in Microcystis aeruginosa PCC7806: an integrated peptide-polyketide synthetase system. Chem Biol 7:753–764

Tillett D, Parker DL, Neilan BA (2001) Detection of toxigenicity by a probe for the microcystin synthetase A gene (mcyA) of the cyanobacterial genus Microcystis: comparison of toxicities with 16 S rRNA and phycocyanin operon (Phycocyanin Intergenic Spacer) phylogenies. Appl Environ Microbiol 67:2810–2818

Via-Ordorika L, Fastner J, Kurmayer R, Hisbergues M, Dittmann E, Komarek J, Erhard M, Chorus I (2004) Distribution of microcystin-producing and non-microcystin-producing Microcystis sp. in European freshwater bodies: detection of microcystins and microcystin genes in individual colonies. Syst Appl Microbiol 27:592–602

Xu Y, Wu Z, Yu B, Peng X, Yu G, Wei Z, Wang G, Li R (2008) Non-microcystin producing Microcystis wesenbergii (Komarek) Komarek (Cyanobacteria) representing a main waterbloom-forming species in Chinese waters. Environ Pollut 156:162–167

Yoshida M, Yoshida T, Takashima Y, Kondo R, Hiroishi S (2005) Genetic diversity of the toxic cyanobacterium Microcystis in Lake Mikata. Environ Toxicol 20:229–234
Acknowledgments
We wish to thank the CEDEX for providing the environmental samples from Cazalegas, Vega de Jabalón and Vicario, Dr. Susana Romo for the Albufera lake sample, and Lars Wörmer and Samuel Cires for the Cogotas sample. Thanks also to Dr. María Verdugo for the cyanobacteria identification from Vega de Jabalón and Vicario. This research was funded by the Spanish AECID (project A/017389/08) and the Community of Madrid (CCG07-UAM/AMB-1883/07).
About this article
Cite this article
Ouahid, Y., del Campo, F.F. Typing of toxinogenic Microcystis from environmental samples by multiplex PCR. Appl Microbiol Biotechnol 85, 405–412 (2009). https://doi.org/10.1007/s00253-009-2249-4
Received:

Revised:

Accepted:

Published:

Issue Date:
Keywords
mcy genes

NRPS

PKS

Microcystis

Multiplex PCR

Bloom biomass