Abstract
Recent reports on high-speed affinity screening systems for yeast cells using flow cytometry have not been adapted to screening yeast cells that display hydrolyzing enzymes, since the fluorescent molecules which are released from fluoresceinated substrate diffuse into solution after enzymatic reaction. In this research, yeast cells displaying β-glycosidase were individually captured in micro-sized calcium alginate beads by using the newly developed reverse micelle method to prevent diffusion of hydrolyzed fluorescent substrates. By adopting flow sorting to these captured cells, active cells were successfully enriched about 82-fold from a mixed suspension with negative controls. This system should be a useful method for high-speed screening of yeast cells that display various hydrolyzing enzymes and has potential application to screening randomized libraries of enzyme-displayed yeast cells with higher activities.
This is a preview of subscription content, log in to check access.
Access options
Buy single article
Instant access to the full article PDF.
US$ 39.95
Price includes VAT for USA
Subscribe to journal
Immediate online access to all issues from 2019. Subscription will auto renew annually.
US$ 199
This is the net price. Taxes to be calculated in checkout.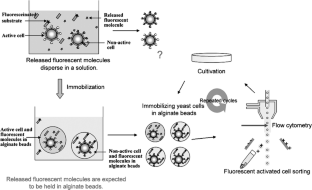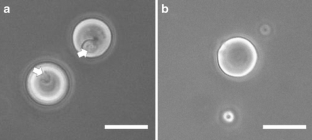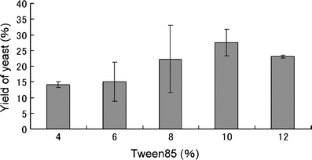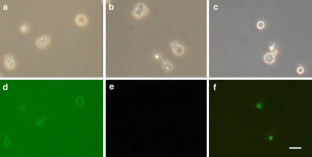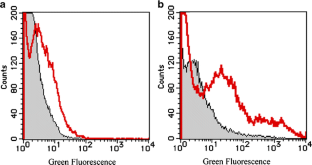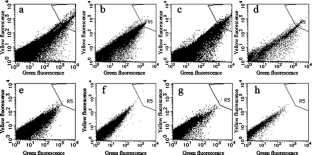 References
Boder ET, Wittrup KD (2007) Yeast surface display for screening combinatorial polypeptide libraries. Nat Biotechnol 15:553–557. doi:https://doi.org/10.1038/nbt0697-553

Ciofani G, Raffa V, Menciassi A, Micera S, Dario P (2007) A drug delivery system based on alginate microspheres: mass-transport test and in vitro validation. Biomed Microdevices 9:395–403. doi:https://doi.org/10.1007/s10544-006-9044-0

Forrer P, Jung S, Plückthun A (1999) Beyond binding: using phage display to select for structure, folding and enzymatic activity in proteins. Curr Opin Struct Biol 9(4):514–520. doi:https://doi.org/10.1016/S0959-440X(99)80073-6

Georgiou G, Poetschke HL, Stathopoulos C, Francisco JA (1993) Practical applications of engineering gram-negative bacterial cell surfaces. Trends Biotechnol 11:6–10. doi:https://doi.org/10.1016/0167-7799(93)90068-K

Georgiou G, Stathopoulos C, Daugherty PS, Nayak AR, Iverson BL, Curtiss R 3rd (1997) Display of heterologous proteins on the surface of microorganisms: from the screening of combinatorial libraries to live recombinant vaccines. Nat Biotechnol 15:29–34. doi:https://doi.org/10.1038/nbt0197-29

Kondo A, Ueda M (2004) Yeast cell-surface display—applications of molecular display. Appl Microbiol Biotechnol 64:28–40. doi:https://doi.org/10.1007/s00253-003-1492-3

Kwon YJ, Peng CA (2002) Calcium-alginate gel bead cross-linked with gelatin as microcarrier for anchorage-dependent cell culture. Biotechniques 33:212–214 216, 218

Liu H, Kawabe A, Matsunaga S, Murakawa T, Mizukami A, Yanagisawa M, Nagamori E, Harashima S, Kobayashi A, Fukui K (2004) Obtaining transgenic plants using the bio-active beads method. J Plant Res 117:95–99. doi:https://doi.org/10.1007/s10265-003-0141-3

Mizukami A, Nagamori E, Takakura Y, Matsunaga S, Kaneko Y, Kajiyama S, Harashima S, Kobayashi A, Fukui K (2003) Transformation of yeast using calcium alginate microbeads with surface-immobilized chromosomal DNA. Biotechniques 35(734–736):738–740

Murai T, Ueda M, Kawaguchi T, Arai M, Tanaka A (1998) Assimilation of cellooligosaccharides by a cell surface-engineered yeast expressing beta-glucosidase and carboxymethylcellulase from Aspergillus aculeatus. Appl Environ Microbiol 64:4857–4861

Olsen MJ, Stephens D, Griffiths D, Daugherty P, Georgiou G, Iverson BL (2000) Function-based isolation of novel enzymes from a large library. Nat Biotechnol 18:1071–1074. doi:https://doi.org/10.1038/80267

Smith GP (1985) Filamentous fusion phage: novel expression vectors that display cloned antigens on the virion surface. Sciencen 228:1315–1317

Sone T, Nagamori E, Ikeuchi T, Mizukami A, Takakura Y, Kajiyama S, Fukusaki E, Harashima S, Kobayashi A, Fukui K (2002) A novel gene delivery system in plants with calcium alginate micro-beads. J Biosci Bioeng 94:87–91. doi:https://doi.org/10.1016/S1389-1723(02)80123-2

Ståhl S, Uhlén M (1997) Bacterial surface display: trends and progress. Trends Biotechnol 15:185–192. doi:https://doi.org/10.1016/S0167-7799(97)01034-2

Stevens MM, Qanadilo HF, Langer R, Prasad Shastri V (2004) A rapid-curing alginate gel system: utility in periosteum-derived cartilage tissue engineering. Biomaterials 25:887–894. doi:https://doi.org/10.1016/j.biomaterials.2003.07.002

Ueda M, Tanaka A (2000) Cell surface engineering of yeast: construction of arming yeast with biocatalyst. J Biosci Bioeng 90:125–136. doi:https://doi.org/10.1016/S1389-1723(00)80099-7

Urano Y, Kamiya M, Kanda K, Ueno T, Hirose K, Nagano T (2005) Evolution of fluorescein as a platform for finely tunable fluorescence probes. J Am Chem Soc 127:4888–4894. doi:https://doi.org/10.1021/ja043919h

Wang L, Shelton RM, Cooper PR, Lawson M, Triffitt JT, Barralet JE (2003) Evaluation of sodium alginate for bone marrow cell tissue engineering. Biomaterials 24:3475–3481. doi:https://doi.org/10.1016/S0142-9612(03)00167-4
About this article
Cite this article
Zhou, Y., Kajiyama, S., Itoh, K. et al. Development of an enzyme activity screening system for β-glucosidase-displaying yeasts using calcium alginate micro-beads and flow sorting. Appl Microbiol Biotechnol 84, 375–382 (2009). https://doi.org/10.1007/s00253-009-2091-8
Received:

Revised:

Accepted:

Published:

Issue Date:
Keywords
Yeast cell surface display

β-glucosidase

Screening system

Calcium alginate beads