Abstract
In order to enhance the removal efficiency of chemical oxygen demand (COD) in the high-salinity landfill leachate, the dominant strains were isolated from high-salinity landfill leachate. The dominant strains and bacteria consortium were screened for COD treatment potential using an aerobic COD concentration decrease test. Ten strains, TJ01–TJ10, were isolated, of which six strains TJ02, TJ03, TJ05, TJ06, TJ07, and TJ09 were found to have higher COD removal when the single bacteria were added, all more than 20%. The most effective combination was TJ06 + TJ09; the COD removal efficiency reached 45.57%. 16S rDNA gene sequence analysis revealed that TJ06 and TJ09 belonged to the genus Bacillus. The effects of the dominant bacteria consortium on the high-salinity landfill leachate varied with pH value and the volume fraction of leachate. The COD removal efficiencies maintained higher when the pH value was 6–8 and the volume fractions of leachate were less than 80%. The result also suggested that there is little effect on the growth of TJ06 and TJ09 when the range of Cl− concentration is 0–30,000 mg/L.
This is a preview of subscription content, log in to check access.
Access options
Buy single article
Instant access to the full article PDF.
US$ 39.95
Price includes VAT for USA
Subscribe to journal
Immediate online access to all issues from 2019. Subscription will auto renew annually.
US$ 199
This is the net price. Taxes to be calculated in checkout.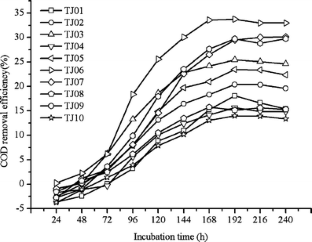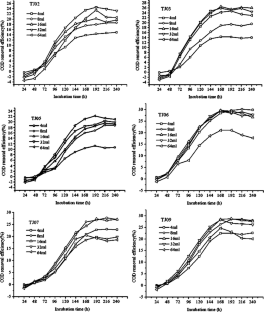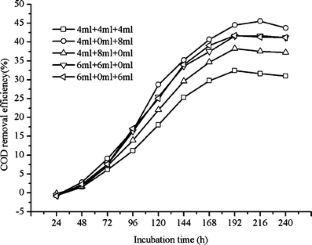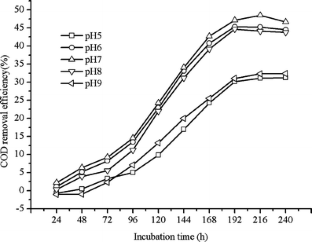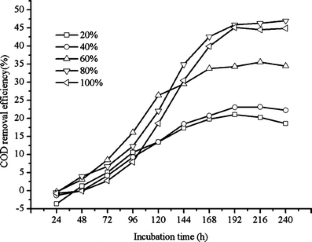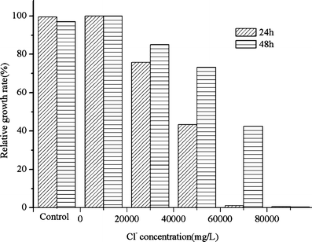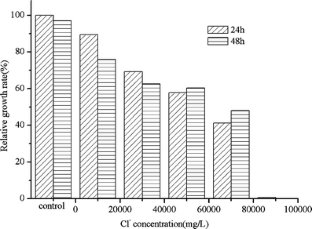 References
Aggelis G, Iconomou D, Chritou M, Bokas D, Kotzailias S, Christou G, Tsagou V, Papanikolaou S (2003) Phenolic removal in model olive oil mill wastewater using Pleyrotus ostreatus in bioreactor cultures and biological evaluation of the process. Water Res 37(16):3897–3904

Beeman RE, Suflita JM (1987) Microbial ecology of a shallow unconfined ground water aquifer polluted by municipal landfill leachate. Microb Ecol 14:39–54

Britt MW, Jeppe LN, Kristian K et al (2000) Influence of microbial activity on the stability of activated sludge flocs. Colloids Surf B Biointerfaces 18(2):145–156

Fountoulakis MS, Dokianakis SN, Kornaros ME, Aggelis GG, Lyberatos G (2002) Removal of phenolics in olive mill wastewaters using the white-rot fungus Pleurotus ostreatus. Water Res 36(16):4735–4744

García García I, Jimenez Pena PR, Bonilla Venceslada JL, Martin Martin A, Martin Santos MA, Ramos Gomez E (2000) Removal of phenol compounds from olive mill wastewater using Phanerochaete chrysosporium, Aspergillus niger, Aspergillus terreus, and Geotrichum candidum. Process Biochem 35(8):751–758

Geng A, Soh AEW, Lim CJ, Loke LCT (2006) Isolation and characterization of a phenol-degrading bacterium from an industrial activated sludge. Appl Microbiol Biotechnol 71:728–735

Guest RK, Smith DW (2007) Isolation and screening of fungi to determine potential for ammonia nitrogen treatment in wastewater. J Environ Eng Sci 6:209–217

Joseph S, David WR (2001) Isolation of high-molecular-weight DNA from mammalian cells using proteinase K and phenol. In: Joseph S, David WR (eds) Molecular cloning: a laboratory manual, 3rd edn. Cold Spring Harbor Laboratory, New York, pp 461–515

Knapp RB, Faison BD (1997) A bioengineering system for in situ bioremediation of contaminated groundwater. J Ind Microbiol Biotech 18:189–197

Li Y, Xie Q, Lei Y, Zhang C, Wang D (2008) Growth character and application of dominant strains treating industrial high-salinity wastewater. Urban Environ Urban Ecol 21(5):5–8 (In Chinese)

Muyzer G, De Waal EC, Uitterlinden AG (1993) Profiling of complex microbial populations by denaturing gradient gel electrophoresis analysis of polymerase chain reaction-amplified genes coding for 16S rRNA. Appl Environ Microbiol 59:695–700

Qiu Z, Yang L, Liu D, Wu M, Wang Y (2007) A preliminary study on the selection of dominant strains and their characteristics in degrading of COD in Leachate. Sichuan Environ 26(1):5–8 13, (In Chinese)

Quan X, Liu Z, Fan G, Han L (1999) Bioaugmentation and its application in wastewater treatment [J]. Res Environ Sci 12(3):22–27 (In Chinese)

Robles A, Lucas R, de Cienfuegos GA, Galvez A (2000) Biomass production and detoxification of wastewaters from the olive oil industry by strains of Penicillium isolated from wastewater disposal ponds. Bioresour Technol 74(3):217–221

Rungrod J, Konstantinos K, Eakalak K (2007) Immobilized-cell-augmented activated sludge process for treating wastewater containing hazardous compounds. Water Environ Res 79(5):461–471

Schrab GE, Brown KW, Donnelly KC (1993) Acute and genetic toxicity of municipal landfill leachate. Water Air Soil Pollut 69:99–112

Su L, Zhang J, Xie Y et al (1998) Biological enhancement technology for toxic organic refractory wastewater. Environ Pollut Control 21(1):36–39 (In Chinese)

Takeno K, Yamaoka Y, Sasaki K (2005) Treatment of oil-containing sewage wastewater using immobilized photosynthetic bacteria. World J Microbiol Biotechnol 21(8–9):1385–1391

Wenderoth DF, Rosenbrock P, Abraham WR, Pieper DH, Höfle MG (2003) Bacterial community dynamics during biostimulation and bioaugmentation experiments aiming at chlorobenzene degradation in groundwater. Microb Ecol 46:161–176

Yang X, Zhang G (2005) The underground water pollution for municipal refuse leachate and the control strategy. Shanxi Hydrotechnics 39(1):40–54 (In Chinese)

Yuan Z, Tan M (2006) Discussion on treatment methods of landfill leachate. China Water Transport (Academic Version) 6(9):111–112 (In Chinese)
Acknowledgment
The authors thanks to the financial supports from the Science and Technology Development Foundation of Tianjin, China.
About this article
Cite this article
Guo, L., Ji, M., Dong, H. et al. Screening and degradation performances of dominant strains in high-salinity landfill leachate. Appl Microbiol Biotechnol 84, 357–364 (2009). https://doi.org/10.1007/s00253-009-2057-x
Received:

Revised:

Accepted:

Published:

Issue Date:
Keywords
Landfill leachate

Dominant strains

Salinity

Chemical oxygen demand (COD)