Abstract
To investigate the functional domains involved in the biological activity of staphylococcal enterotoxin (SEC2), a series of SEC2 mutants were constructed. Deletion of the last 77 amino acids at the C-terminus of SEC2 did not affect its native superantigen and fever activities, and further removal of the C-terminal residues reduced SEC2 activities significantly. On the other hand, the mutants lacking 18 or more N-terminal residues severely impaired superantigen activity. These data indicated that the functional regions for the biological activities of SEC2 were confined to N-terminal domain, further implied that the proper three-dimensional structure of SEC2 is not needed for its biological activities. Our results deliver valuable information that it is possible to design new SEC2 immunotherapeutic agents which have the superantigen activity and low molecular weight for permeability.
This is a preview of subscription content, log in to check access.
Access options
Buy single article
Instant access to the full article PDF.
US$ 39.95
Price includes VAT for USA
Subscribe to journal
Immediate online access to all issues from 2019. Subscription will auto renew annually.
US$ 199
This is the net price. Taxes to be calculated in checkout.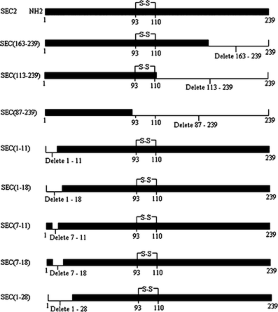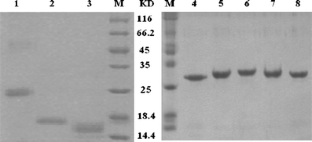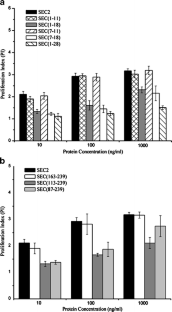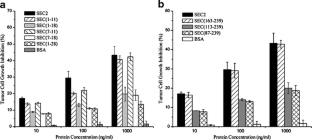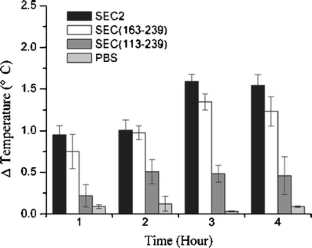 References
Acharya KR, Passalacqua EF, Jones EY, Harlos K, Stuart DI, Brehm RD, Tranter HS (1994) Structural basis of superantigen action inferred from crystal structure of toxic-shock syndrome toxin-1. Nature 367:94–97

Alakhov VY, Klinsky EY, Kolosov MI (1992) Identification of functionally active fragments of staphylococcal enterotoxin B. Eur J Biochem 209:823–828

Alpaugh RK, Schultz J, McAleer C, Giantonio BJ, Persson R, Burnite M, Nielsen SE, Vitek L, Persson B, Weiner LM (1998) Superantigen-targeted therapy: phase I escalating repeat dose trial of the fusion protein PNU-214565 in patients with advanced gastrointestinal malignancies. Clin Cancer Res 4:1903–1914

US Pharmacopeia (2002) The United States Pharmacopeia. US Pharmacopeial Convention, Rockville

Bohach GA, Schlievert PM (1989) Conservation of biologically active portions of staphylococcal enterotoxin C1 and C2. Infect Immun 57:2249–2252

Bohach GA, Handley JP, Schlievert PM (1989) Biological and immunological properties of the carboxyl terminus of staphylococcal enterotoxin C1. Infect Immun 57:23–28

Bohach GA, Fast DJ, Nelson RD, Schlievert PM (1990) Staphylococcal and streptococcal pyrogenic toxins involved in toxic shock syndrome and related illnesses. Crit Rev Microbiol 17:251–272

Bradford MM (1976) A rapid and sensitive method for the quantification of microgram quantities of protein utilizing the principle of protein-dye binding. Anal Biochemistry 72:248–254

Chen TZ (2001) The exploitation of HAS and its application in tumor therapy. Prog Microbiol Immunol 29:63–69

Dinges MM, Orwin PM, Schlievert PM (2000) Exotoxins of Staphylococcus aureus. Clin Microbiol Rev 13:16–34

Fields BA, Malchiodi EL, Li H, Ysern X, Stauffacher CV, Schlievert PM, Karjalainen K, Mariuzza RA (1996) Crystal structure of a T-cell receptor beta-chain complexed with a superantigen. Nature 384:188–192

Hansson J, Ohlsson L, Persson R, Andersson G, Ilbäck NG, Litton MJ, Kalland T, Dohlsten M (1997) Genetically engineered superantigens as tolerable antitumor agents. Proc Natl Acad Sci U S A 94:2489–2494

Hedlund G, Dohlsten M, Herrmann T, Buell G, Lando PA, Segren S, Schrimsher J, MacDonald HR, Sjogren HO, Kalland T (1991) A recombinant C-terminal fragment of staphylococcal enterotoxin A binds to human MHC class II products but does not activate T cells. J Immunol 147:4082–4085

Hedlund G, Dohlsten M, Petersson C, Kalland T (1993) Superantigen-based tumor therapy: in vivo activation of cytotoxic T cells. Cancer Immunol Immunother 36:89–93

Hoffmann ML, Jablonski LM, Crum KK, Hackett SP, Chi YI, Stauffacher CV, Stevens DL, Bohach GA (1994) Predictions of T-cell receptor- and major histocompatibility complex-binding sites on staphylococcal enterotoxin C1. Infect Immun 62:3396–3407

Hovde CJ, Hackett SP, Bohach GA (1990) Nucleotide sequence of the staphylococcal enterotoxin C3 gene: sequence comparison of all three type C staphylococcal enterotoxins. Mol Gen Genet 220:329–333

Hufnagle WO, Tremaine MT, Betley MJ (1991) The carboxyl-terminal region of Staphylococcal enterotoxin type A is required for a fully active molecule. Infect Immun 59:2126–2134

Kalland T, Hedlund G, Dohlsten M, Lando PA (1991) Staphylococcal enterotoxin-dependent cell-mediated cytotoxicity. Immunol Today 12:147–150

Letertre C, Perelle S, Dilasser F, Fach P (2003) Identification of a new putative enterotoxin SEU encoded by the egc cluster of Staphylococcus aureus. J Appl Microbiol 95:38–43

Marrack P, Kappler J (1990) The staphylococcal enterotoxins and their relatives. Science 248:705–717

Mondal TK, Bhatta D, Biswas S, Pal P (2002) Superantigen-induced apoptotic death of tumor cells is mediated by cytotoxic lymphocytes, cytokines, and nitric oxide. Biochem Biophys Res Commun 290:1336–1342

Mosmann T (1983) Rapid colorimetric assay for cellular growth and survival: application to proliferation and cytotoxicity assays. J Immunol Methods 65:55–63

Munson SH, Tremaine MT, Betley MJ, Welch RA (1998) Identification and characterization of staphylococcal enterotoxin types G and I from Staphylococcus aureus. Infect Immun 66:3337–3348

Ochi A, Migita K, Xu J, Siminovitch K (1993) In vivo tumor immunotherapy by a bacterial superantigen. J Immunol 151:3180–3186

Ono HK, Omoe K, Imanishi K, Iwakabe Y, Hu DL, Kato H, Saito N, Nakane A, Uchiyama T, Shinagawa K (2008) Identification and characterization of two novel staphylococcal enterotoxins, types S and T. Infect Immun 76:4999–5005

Papageorgiou AC, Baker MD, McLeod JD, Goda S, Manzotti CN, Sansom DM, Tranter HS, Acharya KR (2004) Identification of a secondary zinc-binding site in Staphylococcal enterotoxin C2: implications for superantigen recognition. J Biol Chem 279:1297–1303

Pontzer CH, Russell JK, Johonson HM (1989) Localization of an immune functional site on staphylococcal enterotoxin A using the synthetic peptide approach. J Immunol 143:280–284

Schad EM, Zaitseva I, Zaitseva VN, Dohlsten M, Kalland T, Schlievert PM, Ohlendorf DH, Svensson LA (1995) Crystal structure of the superantigen staphylococcal enterotoxin type A. EMBO J 14:3292–3301

Schad EM, Papageorgiou AC, Svensson LA, Acharya KR (1997) A structural and functional comparison of staphylococcal enterotoxins A and C2 reveals remarkable similarity and dissimilarity. J Mol Biol 269:270–280

Sharma P, Chawla HPS, Panchagnula R (1999) The role of sorption promoters in increasing the bioavailability of drugs in oral preparations. Drugs Fut 24:1221–1240

Spero L, Morlock BA (1978) Biological activities of the peptides of staphylococcal enterotoxin C formed by limited tryptic hydrolysis. J Biol Chem 253:8787–8791

Su YC, Wong AC (1995) Identification and purification of a new staphylococcal enterotoxin, H. Appl Environ Microbiol 61:1438–1443

Swaminathan S, Furey W, Pletcher J, Sax M (1992) Crystal structure of staphylococcal enterotoxin B, a superantigen. Nature 359:801–806

Wahlsten JL, Ramakrishnan S (1998) Separation of function between the domains of Toxin Shock Syndrome Toxin-1. J Immunol 160:854–859

Wang XG, Xu MK, Zhang HW, Liu J, Li X, Zhang CG (2008) Enhancement of superantigen activity and antitumor response of staphylococcal enterotoxin C2 by site-directed mutagenesis. Cancer Immunol Immunother 58(5):677–686. doi:https://doi.org/10.1007/s00262-008-0590-6
Acknowledgments
This work was supported by grant from the Scientific Innovation Project of the Institute of Applied Ecology of the CAS (06LYQYC001) and the PhD programs initializing foundation of the Institute of Applied Ecology of the CAS (08SBS111S3).
About this article
Cite this article
Wang, X., Zhang, H., Xu, M. et al. Biological analysis of the deletion mutants of Staphylococcal enterotoxin C2. Appl Microbiol Biotechnol 83, 1077–1084 (2009). https://doi.org/10.1007/s00253-009-1938-3
Received:

Revised:

Accepted:

Published:

Issue Date:
Keywords
Staphylococcal enterotoxin C2

Superantigen activity

Fever activity

Immunotherapeutic agent