Abstract
Based on the comparative study of the DNA extracts from two soil samples obtained by three commercial DNA extraction kits, we evaluated the influence of the DNA quantity and purity indices (the absorbance ratios A260/280 and A260/230, as well as the absorbance value A320 indicating the amount of humic substances) on polymerase chain reaction (PCR)-based denaturing gradient gel electrophoresis (DGGE) and a functional gene microarray used in the study of microbial communities. Numbers and intensities of the DGGE bands are more affected by the A260/280 and A320 values than by the ratio A260/230 and conditionally affected by the DNA yield. Moreover, we demonstrated that the DGGE band pattern was also affected by the preferential extraction due to chemical agents applied in the extraction. Unlike DGGE, microarray is more affected by the A260/230 and A320 values. Until now, the successful PCR performance is the mostly used criterion for soil DNA purity. However, since PCR was more influenced by the A260/280 ratio than by A260/230, it is not accurate enough any more for microbial community assessed by non-PCR-based methods such as microarray. This study provides some useful hints on how to choose effective DNA extraction method for the subsequent assessment of microbial community.
This is a preview of subscription content, log in to check access.
Access options
Buy single article
Instant access to the full article PDF.
US$ 39.95
Price includes VAT for USA
Subscribe to journal
Immediate online access to all issues from 2019. Subscription will auto renew annually.
US$ 199
This is the net price. Taxes to be calculated in checkout.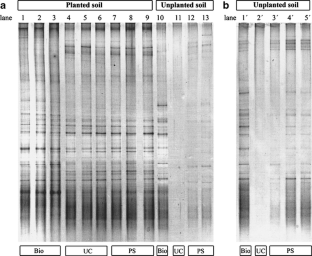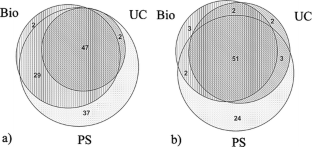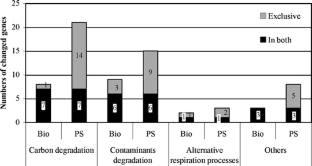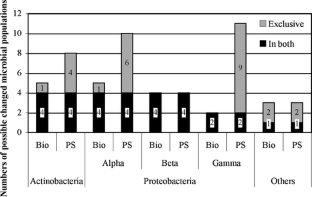 References
Ahn SJ, Costa J, Emanuel JR (1996) PicoGreen quantitation of DNA: effective evaluation of samples pre- or post-PCR. Nucleic Acids Res 24:2623–2625

Al-Soud WA, Rådström P (1998) Capacity of nine thermostable DNA polymerases to mediate DNA amplification in the presence of PCR-inhibiting samples. Appl Environ Microbiol 64:3748–3753

Arbeli Z, Fuentes CL (2007) Improved purification and PCR amplification of DNA from environmental samples. FEMS Microbiol Lett 272:269–275

Bakken LR, Frostegard A (2006) Nucleic acid extraction from soil. In: Nannipiere P, Smalla K (eds) Nucleic acids and proteins in soil. 1st edn. Springer, Berlin, pp 4–76

Bürgmann H, Pesaro M, Widmer F, Zeyer J (2001) A strategy for optimizing quality and quantity of DNA extracted from soil. J Microbiol Methods 45:7–20

Braeckevelt M, Rokadia H, Imfeld G, Stelzer N, Paschke H, Kuschk P, Kästner M, Richnow HH, Weber S (2007) Assessment of in situ biodegradation of monochlorobenzene in contaminated groundwater treated in a constructed wetland. Environ Pollut 148:428–437

Carrigg C, Rice O, Kavanagh S, Collins G, O'Flaherty V (2007) DNA extraction method affects microbial community profiles from soils and sediment. Appl Microbiol Biotechnol 77:955–964

Cho JC, Tiedje JM (2001) Bacterial species determination from DNA–DNA hybridization by using genome fragments and DNA microarray. Appl Environ Microbiol 67:3677–3682

Cullen DW, Hirsch PR (1998) Simple and rapid method for direct extraction of microbial DNA from soil for PCR. Soil Biol Biochem 30:983–993

De Lipthay JR, Enzinger C, Johnsen K, Aamand J, Sorensen SJ (2004) Impact of DNA extraction method on bacterial community composition measured by denaturing gradient gel electrophoresis. Soil Biol Biochem 36:1607–1614

Dorigo U, Volatier L, Humbert JF (2005) Molecular approaches to the assessment of biodiversity in aquatic microbial communities. Water Res 39:2207–2218

Dong D, Yan A, Liu H, Zhang X, Xu Y (2006) Removal of humic substances from soil DNA using aluminium sulfate. J Microbiol Methods 66:217–222

Eads B, Cash A, Bogart K, Costello J, Andrews J (2006) Troubleshooting microarray hybridizations. Methods Enzymol 411:34–49

Fortin N, Beaumier D, Lee K, Greer CW (2004) Soil washing improves the recovery of total community DNA from polluted and high organic content sediments. J Microbiol Methods 56:181–191

Franke-Whittle IH, Klammer SH, Insam H (2005) Design and application of an oligonucleotide microarry for the investigation of compost microbial communities. J Microbiol Methods 62:37–56

Franke-Whittle IH, Klammer SH, Mayrhofer S, Insam H (2006) Comparison of different labelling methods for the production of labelled target DNA for microarray hybridization. J Microbiol Methods 65:117–126

Gabor EM, de Vries EJ, Janssen DB (2003) Efficient recovery of environmental DNA for expression cloning by indirect extraction methods. FEMS Microbiol Ecol 44:153–163

He Z, Gentry TJ, Schadt CW, Wu L, Liebich J, Chong SC, Huang Z, Wu W, Gu B, Jardine P, Criddle C, Zhou J (2007) GeoChip: a comprehensive microarray for investigating biogeochemical, ecological and environmental processes. ISME J 1:67–77

Hurt RA, Qiu X, Wu L, Roh Y, Palumbo AV, Tiedje JM, Zhou J (2001) Simultaneous recovery of RNA and DNA from soils and sediments. Appl Environ Microbiol 67:4495–4503

Kormas KA, Smith DC, Edgcomb V, Teske A (2003) Molecular analysis of deep subsurface microbial communities in Nankai Trough sediments (ODP leg 190, Site 1176). FEMS Microbiol Ecol 45:115–125

Klerks MM, van Bruggen AHC, Zijlstra C, Donnikov M (2006) Comparison of methods of extracting Salmonella enterica serovar enteritidis DNA from environmental substrates and quantification of organisms by using a general internal procedural control. Appl Environ Microbiol 72:3879–3886

Krsek M, Wellington EMH (1999) Comparison of different methods for the isolation and purification of total community DNA from soil. J Microbiol Methods 39:1–16

Kuske CR, Banton KL, Adorada DL, Stark PC, Hill KK, Jackson PJ (1998) Small-scale DNA sample preparation method for field PCR detection of microbial cells and spores in soil. Appl Environ Microbiol 64:2463–2472

LaMontagne MG, Michel FC, Holden PA, Reddy CA (2002) Evaluation of extraction and purification methods for obtaining PCR-amplifiable DNA from compost for microbial community analysis. J Microbiol Methods 49:255–264

Lakay FM, Botha A, Prior BA (2007) Comparative analysis of environmental DNA extraction and purification methods from different humic acid-rich soils. J Appl Microbiol 102:265–273

Lemarchand K, Berthiaume F, Maynard C, Harel J, Payment P, Bayardelle P, Masson L, Brousseau R (2005) Optimization of microbial DNA extraction and purification from raw wastewater samples for downstream pathogen detection by microarrays. J Microbiol Methods 63:115–126

Liebich J, Schäffer A, Burauel P (2003) Structural and functional approach to studying pesticide side-effects on specific soil functions. Environ Toxicol Chem 22:784–790

Liebich J, Chong SC, Schadt CW, He Z, Zhou J (2006) Improvement of oligonucleotide probe design criteria for the development of functional gene microarrays for environmental applications. Appl Environ Microbiol 72:1688–1691

Lloyd-Jones G, Hunter DWF (2001) Comparison of rapid DNA extraction methods applied to contrasting New Zealand soils. Soil Biol Biochem 33:2053–2059

Luna GM, Dell'Anno A, Danovaro R (2006) DNA extraction procedure: a critical issue for bacterial diversity assessment in marine sediments. Environ Microbiol 8:308–320

Martin-Laurent F, Philippot L, Hallet S, Chaussod R, Germon JC, Soulas G, Catroux G (2001) DNA extraction from soils: old bias for new microbial diversity analysis methods. Appl Environ Microbiol 67:2353–2359

Miller DN (2001) Evaluation of gel filtration resins for the removal of PCR-inhibitory substances from soils and sediments. J Microbiol Methods 44:49–58

Miller DN, Bryant JE, Madsen EL, Chiorse WC (1999) Evaluation and optimization of DNA extraction and purification procedures for soil and sediment samples. Appl Environ Microbiol 65:4715–4724

Mitchell KR, Takacs-Vesbach CD (2008) A comparison of methods for total community DNA preservation and extraction from various thermal environments. J Ind Microbiol Biotech 35:1139–1147

Moreira D (1998) Efficient removal of PCR inhibitors using agarose-embedded DNA preparations. Nucleic Acids Res 26:3309–3310

Morris CE, Bardin M, Berge O, Frey-Klett P, Fromin N, Girardin H, Guinebretiére MH, Lebaron P, Thiéry JM, Troussellier M (2002) Microbial biodiversity: approaches to experimental design and hypothesis testing in primary scientific literature from 1975 to 1999. Microbiol Mol Biol Rev 66:592–616

Mumy K, Findlay RH (2004) Covenient determination of DNA extraction efficiency using an external DNA recovery standard and quantitative-competitive PCR. J Microbiol Methods 57:259–268

Niemi RM, Heiskanen I, Wallenius K, Lindström K (2001) Extraction and purification of DNA in rhizosphere soil samples for PCR-DGGE analysis of bacterial consortia. J Microbiol Methods 45:155–165

Nübel U, Engelen B, Felske A, Snaidr J, Wieshuber A, Amann RI, Ludwig W, Backhaus H (1996) Sequence heterogeneities of genes encoding 16S rRNAs in Paenibacillus polymyxa detected by temperature gradient gel electrophoresis. J Bacteriol 178:5636–5643

Ogram A (2000) Soil molecular microbial ecology at age 20: methodological challenges for the future. Soil Biol Biochem 32:1499–1504

Orphan VJ, Hinrichs KU, Usler W 3rd, Paull CK, Taylor LT, Sylva SP (2001) Comparative analysis of methane-oxidizing archaea and sulfate-reducing bacteria in anoxic marine sediments. Appl Environ Microbiol 67:1922–1934

Osborn AM, Moore ERB, Timmis KN (2000) An evaluation of terminal-restriction fragment length polymorphism (T-RFLP) analysis for the study of microbial community structure and dynamics. Environ Microbiol 2:39–50

Rengarajan K, Cristol SM, Mehta M, Nickerson JM (2002) Quantifying DNA concentrations using fluorometry: a comparison of fluorophores. Mol Vis 8:416–421

Reysenbach AL, Giver LJ, Wickham GS, Pace NR (1992) Differential amplification of ribosomal-RNA genes by polymerase chain-reaction. Appl Environ Microbiol 58:3417–3418

Roose-Amsaleg CL, Garnier-Sillam E, Harry M (2001) Extraction and purification of microbial DNA from soil and sediment samples. Agric Ecosyst Environ Appl Soil Ecol 18:47–60

Schadt CW, Liebich J, Chong SC, Gentry TJ, He Z, Pan H, Zhou J (2005) Design and use of functional gene microarrays (FGAs) for the characterization of microbial communities. Methods Microbiol 34:329–365

Sipos R, Szekely AJ, Palatinszky M, Revesz S, Mairaligeti K, Nikolausz M (2007) Effect of primer mismatch, annealing temperature and PCR cycle number on 16S rRNA gene-targeting bacterial community analysis. FEMS Microbiol Ecol 60:341–350

Stach JEM, Bathe S, Clapp JP, Burns RG (2001) PCR-SSCP comparison of 16S rDNA sequence diversity in soil DNA obtained using different isolation and purification method. FEMS Microbiol Ecol 36:139–151

Stahl DA (2004) High-throughput techniques for analyzing complex bacterial communities. Adv Exp Med Biol 547:5–17

Stine OC, Carnahan A, Singh R, Powell J, Furuno JP, Dorsey A, Silbergeld E, Willianms HN, Morris JG (2003) Characterization of microbial communities from coastal waters using microarrays. Environ Monit Asses 81:327–336

Suchodolski JS, Ruaux CG, Steiner JM, Fetz K, Williams DA (2004) Application of molecular fingerprinting for qualitative assessment of small-intestinal bacterial diversity in dogs. J Clin Microbiol 42:4702–4708

Taroncher-Oldenburg G, Griner EM, Francis CA, Ward BB (2003) Oligonucleotide microarray for the study of functional gene diversity in the nitrogen cycle in the environment. Appl Environ Microbiol 69:1159–1171

Tebbe CC, Vahjen W (1993) Interference of humic acids and DNA extracted directly from soil in detection and transformation of recombinant DNA from bacteria and yeast. Appl Environ Microbiol 59:2657–2665

Theron J, Cloete TE (2000) Molecular techniques for determining microbial diversity and community structure in natural environments. Crit Rev Microbiol 26:37–57

Tiquia SM, Lloyd J, Daniel AH, Hoitink HAJ, Michel FC (2002) Effects of mulching and fertilization on soil nutrients, microbial activity and rhizosphere bacterial community structure determined by analysis of T-RFLPs of PCR-amplified 16S rRNA genes. Appl Soil Ecol 599:1–18

Vogt C, Alfreider A, Lorbeer H, Ahlheim J, Feist B, Boehme O, Weiss H, Babel W, Wuensche L (2002) Two pilot plant reactors designed for the in situ bioremediation of chlorobenzene-contaminated ground water: hydrogeological and chemical characteristics and bacterial consotia. Water Air Soil Pollut 2:161–170

Weiss H, Schirmer M, Teutsch G, Merkel P (2001) Sanierungsforschung in regional kontaminierten Aquiferen (SAFIRA)-2. Projektüberblick und Pilotanlage. Grundwasser 3:135–139

Whitehouse CA, Hottel HE (2007) Comparison of five commercial DNA extraction kits for the recovery of Francisella tularensis DNA from spiked soil samples. Mol Cell Probes 21:92–96

Wilson IG (1997) Inhibition and facilitation of nucleic acid amplification. Appl Environ Microbiol 63:3741–3751

Wu LY, Thompson DK, Li GS, Hurt RA, Tiedje JM, Zhou J (2001) Development and evaluation of functional gene arrays for detection of selected genes in the environment. Appl Environ Microbiol 67:5780–5790

Wu L, Thompson DK, Liu XD, Fields MW, Bagwell CE, Tiedje JM, Zhou JZ (2004) Development and evaluation of microarray-based whole-genome hybridization for detection of microorganisms within the context of environmental applications. Environ Sci Technol 38:775–782

Xu D, Li G, Wu L, Zhou JZ, Xu Y (2002) PRIMEGENS: a computer program for robust and efficient design of gene-specific targets on microarrays. Bioinformatics 18:1432–1437

Zhou JZ (2003) Microarrays for bacterial detection and microbial community analysis. Curr Opin Microbiol 6:288–294

Zhou JZ, Thompson DK (2002) Challenges in applying microarrays to environmental studies. Curr Opin Biotechnol 13:204–207

Zhou JZ, Bruns MA, Tiedje JM (1996) DNA recovery from soils of diverse composition. Appl Environ Microbiol 62:461–468
Acknowledgements
The manuscript is a joint approach within the working group "Biodiversity" of the Helmholtz Association, Germany. The authors would like to thank Eva Mareike Seeger, Mareike Braeckevelt, and Heidrun Paschke in the group of the Department of Bioremediation (UFZ, Germany) for the help during the sampling at the SAFIRA plant in Bitterfeld and the group in the Institute for Environmental Genomics (Oklahoma, USA) for providing the microarray chips, as well as Dr. Naixin Li for the valuable discussion. The construction of microarray chips and its functional gene array predecessors is supported by the Environmental Stress Pathway Project (ESPP) of the Virtual Institute for Microbial Stress and Survival (http://vimss.lbl.gov) supported by the U.S. Department of Energy, Office of Science, Office of Biological and Environmental Research, Genomics: GTL Program, through contract DE-AC02-05CH11231 with Lawrence Berkeley National Laboratory.
About this article
Cite this article
Ning, J., Liebich, J., Kästner, M. et al. Different influences of DNA purity indices and quantity on PCR-based DGGE and functional gene microarray in soil microbial community study. Appl Microbiol Biotechnol 82, 983–993 (2009). https://doi.org/10.1007/s00253-009-1912-0
Received:

Revised:

Accepted:

Published:

Issue Date:
Keywords
DNA purity indices

DNA yield

DGGE

Functional gene microarray

Microbial community analyses