Abstract
α-Lipoic acid (LA), a naturally occurring cofactor reported to be present in a diverse group of microorganisms, plants, and animal tissues, has been widely and successfully used as a therapy for a variety of diseases, including diabetes and heart disease. However, to date, recombinant DNA technology has not been applied for higher LA production due mainly to difficulties in the functional expression of key enzymes involved in LA production. Here, we report a study for higher LA production with the aid of chaperone plasmids, DnaKJE and trigger factor (Tf). The lipA and lplA genes encoding lipoate synthase and lipoate protein ligase in Pseudomonas fluorescens, respectively, were cloned and transformed into Escherichia coli K12. When they were overexpressed in E. coli, both LipA and LplA were expressed as inclusion bodies leading to no increase in LA production. However, when chaperone plasmids DnaKJE and Tf were coexpressed with lipA and lplA, the resulting recombinant E. coli strains showed higher LA production than the wild-type E. coli by 32–111%, respectively.
This is a preview of subscription content, log in to check access.
Access options
Buy single article
Instant access to the full article PDF.
US$ 39.95
Price includes VAT for USA
Subscribe to journal
Immediate online access to all issues from 2019. Subscription will auto renew annually.
US$ 199
This is the net price. Taxes to be calculated in checkout.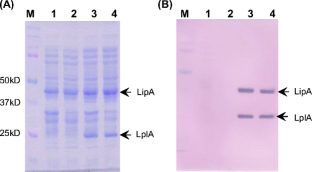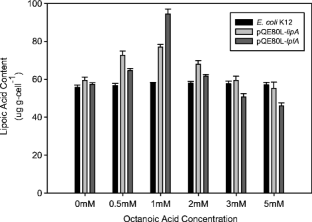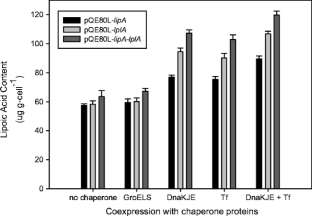 References
Alleva R, Nasole E, Di Donato F, Borghi B, Neuzil J, Tomasetti M (2005) α-Lipoic acid supplementation inhibits oxidative damage, accelerating chronic wound healing in patients undergoing hyperbaric oxygen therapy. Biochem Biophys Res Commun 333:404–410

Booker SJ (2004) Unraveling the pathway of lipoic acid biosynthesis. Chem Biol 11:10–12

Booker SJ, Cicchillo RM, Grove TL (2007) Self-sacrifice in radial S-adenosylmethionine proteins. Cur Opin Biol 11:543–552

Bradford MM (1976) A rapid and sensitive method for the quantitaion of microgram quantities of protein utilizing the principle of protein-dye binding. Anal Biochem 72:248–254

Choi RE, Cronan JE (2005) A nucleosidase required for in vivo function of the S-adenosyl-L-methionine radical enzyme, biotin synthase. Chem Biol 12:589–593

Clarke AR (2006) Cytosolic chaperonins: a Question of promiscuity. Mol Cell 24:165–167

Deuerling E, Bukau B (2004) Chaperone-assisted folding of newly synthesized proteins in the cytosol. Crit Rev Biochem Mol Biol 39:261–277

Deuerling E, Schulze-Specking A, Tomoyasu T, Mogk A, Bukau B (1999) Triffer factor and DnaK cooperate in folding of newly synthesized proteins. Nature 400:693–696

Ferbitz L, Maier T, Patzelt H, Bukau B, Deuerling E, Ban N (2004) Trigger factor in complex with the ribosome forms a molecular cradle for nascent proteins. Nature 431:590–596

Green DE, Morris TW, Green J, Cronan JE Jr, Guest JR (1995) Purification and properties of the lipoate protein ligase of Eshcerichia coli. Biochem J 309:853–862

Herbert AA, Guest JR (1975) Lipoic acid content of Escherichia coli and other microorganisms. Arch Microbiol 106:259–266

Ji JH, Yu IS, Kim HJ, Oh DK (2008) Optimization of octanoic acid and sulfur doner concentrations for lipoic acid production by Pseudomonas reptilivora. Biotechnol Lett 30:1825–1828

Kang SG, Jeong HK, Lee EK, Natarajan S (2007) Characterization of a lipoate ligase A gene of rice (Oryza sativa L.). Gene 393:53–61

Kataoka H, Hirabayashi N, Makita M (1993) Analysis of lipoic acid in biological samples by gas chromatography with flame photometric detection. J Chromatogr 615:197–202

Kedzierska S, Staniszewska M, Wegrzyn A, Taylor A (1999) The role of DnaK/DnaJ and GroEL/GroES systems in the removal of endogenous proteins aggregated by heat-shock form Escherichia coli cells. FEBS Lett 446:331–337

Kim DJ, Kim KH, Lee HH, Ha JY, Yoon HJ, Suh SW (2005) Crystal structure of lipoate-protein ligase A bound with the activated intermediate: insights into interaction with lipoyl domains. J Biol Chem 280:38081–38089

Liverek K, Lewandowska A, Zietkiewicz S (2008) Chaperones in control of protein disaggregation. EMBO J 27:328–335

Mandel M (1996) Deoxyribonuleic acid base composition in the genus Pseudomonas. J Gen Microbiol 43:273–292

Marco A, Deuerling E, Mogk A, Tomoyasu T, Bukau B (2007) Chaperone-based procedure to increase yields of soluble recombinant proteins produced in E. coli. BMC Biotechnol 7:32–40

Miller JR, Busby RW, Jordan SW, Cheek J, Henshaw TF, Ashley GW, Broderick JB, Cronan JE Jr, Marletta MA (2000) Escherichia coli LipA is a lipoyl synthase: in vitro biosynthesis of lipoylated pyruvate dehydrogenase complex from octanoyl-acyl carrier protein. Biochemistry 39(49):15166–15178

Morris TW, Reed KE, Cronan JE Jr (1994) Identification of the gene encoding lipoate-protein ligase A of Escherichia coli. Molecular cloning and characterization of the lplA gene and gene production. J Biol Chem 269:16091–16100

Morris TW, Reed KE, Cronan JE Jr (1995) Lipoic acid metabolism in Escherichia coli: the lplA and lipB gene define redundant pathways for ligation of lipoyl groups to apoprotein. J Bacteriol 177:1–10

Ou P, Tritschler HJ, Wolff SP (1995) Thioctic (lipoic) acid: a therapeutic metal-chelating antioxidant? Biochem Pharmacol 50:123–1236

Packer L, Witt EH, Tritschler HJ (1995) Alpha-lipoic acid prevents buthionine sulfoximine-induced cataract formation in newborn rats. Free Fadical Biol Med 19:227–250

Paulsen IT, Press CM, Ravel J, Kobayashi DY, Myers GSA, Mavrodi DV, DeBoy RT, Seshadri R, Ren OH, Madupu R, Dodson RJ, Durkin AS, Brinkac LM, Daugherty SC, Sullivan SA, Rosovitz MJ, Gwinn ML, Zhou LW, Schneider DJ, Cartinhour SW, Nelson WC, Weidman J, Watkins K, Tran K, Khouri H, Pierson EA, Pierson LS, Thomashow LS, Loper JE (2005) Complete genome sequence of the plant commensal Pseudomonas fluorescens Pf-5. Nat Biotechnol 23:873–878

Reed KE, Cronan JE Jr (1993) Lipoic acid metabolism in Escherichia coli: sequencing and functional characterization of the lipA and lipB genes. J Bacteriol 175:1325–1336

Reed LJ, Hackert ML (1990) Structure-function relationships in dihydrolipoamide acyltransferases. J Biol Chem 265:8971–8974

Rinas U, Hoffmann F, Betiku D, Estape D, Marten S (2007) Inclusion body anatomy and functioning of chaperone-mediated in vivo inclusion body disassembly during high-level recombinant protein production in Escherichia coli. J Biotechnol 127:244–257

Sola S, Mir MQ, Cheema FA, Khan-Merchant N, Menon RG, Parthasarathy S, Khan BV (2005) Irbesartan and lipoic acid improve endothelial function and reduce markers of inflammation in the metabolic syndrome: results of the Irbesartan and Lipoic Acid in Endothelial Dysfunction (ISLAND) study. Circulation 111:343–348

Spencer ME, Darlison MG, Stephens PE, Duckenfield IK, Guest JR (1984) Nucleotide sequence of the sucB gene encoding the dihydrolipoamide succinyl transferase of Escherichia coli K12 and homology with the corresponding acetyl transferase. Eur J Biochem 141:361–374

Stephens PE, Darlison MG, Lewis HM, Guest JR (1983) The pyruvate dehydrogenase complex of Escherichia coli K12. Nucleotide sequence encoding the dihydrolipoyl acetyl-transferase component. Eur J Biochem 133:481–489

Tang YC, Chang HC, Roeven A, Wischnewsi D, Wischnewsk N, Kerner MJ, Kartl RU, Hayer-Hartl M (2006) Structural features of the GroEL-GroES nano-cage required or rapid folding of encapsulated protein. Cell 125:903–914

Thomas JG, Ayling A, Baneyx F (1997) Molecular chaperones, folding catalysts, and the recovery of active recombinant proteins form E. coli. Appl Biochem Biotech 66:197–238

Vanden Boom TJ, Reed KE, Cronan JE Jr (1991) Lipoic acid metabolism in Escherichia coli: isolation of null mutant defective in lipoic acid biosynthesis, molecular cloning and characterization of the E. coli lip locus, and identification of the lipoylated protein of the glycine cleavage system. J Bateriol 173:6411–6420

Ventura S, Vilaverde A (2006) Protein quality in bacterial inclusion bodies. Trends Biotechnol 24:179–185

Walter S, Buchner J (2002) Molecular chaperones-Cellular machines for protein folding. Angew Chem Int Ed 41:1098–1113

White RH (1981) A method for the measurement of sulfur-34 abundance in bound cysteine and methionine. Anal Biochem 114:349–354

Zhao X, Miller JR, Jiang Y, Marletta MA, Cronan JE (2003) Assembly of the covalent linkage between lipoic acid and its cognate enzymes. Chem Biol 10:1293–1302
Acknowledgment
This work was supported by a grant (2006-11077) from Seoul R&BD program. This research was also supported by the 2008 KU Brain Pool of Konkuk University.
About this article
Cite this article
Moon, H., Jeya, M., Yu, I. et al. Chaperone-aided expression of LipA and LplA followed by the increase in α-lipoic acid production. Appl Microbiol Biotechnol 83, 329–337 (2009). https://doi.org/10.1007/s00253-009-1899-6
Received:

Revised:

Accepted:

Published:

Issue Date:
Keywords
Chaperone

Expression

Lipoate synthase

Lipoic acid

Pseudomonas fluorescens