Abstract
The biochemical oxygen demand (BOD) determination was studied using a novel flow injection analysis (FIA) system with encapsulated Saccharomyces cerevisiae cells and an oxygen electrode and was compared with conventional 5-day BOD tests. S. cerevisiae cells were packed in a calcium alginate capsule at a dry cell weight of 250 g/l of capsule core. The level of dissolved oxygen (DO) was reduced due to the enhanced respiratory activity of the microbial cells when the injected nutrient passed through the bioreactor. The decrease in DO (ΔDO) was intensified with the amount of microbial cells packed in the bioreactor. However, the specific ΔDO decreased as the amount of cells loaded in the bioreactor increased. The ΔDO value was dependent on the pH and temperature of the mobile phase and reached its maximum value at 35°C and pH 7–8. Also, ΔDO became larger at longer response times as the flow rate of the mobile phase decreased. The measurement of ΔDO was repeated more than six times consecutively using a 20-ppm standard glucose and glutamic acid solution, which confirmed the reproducibility with a standard deviation of 0.95%. A strong linear correlation between ΔDO and BOD was also observed. The 5-day BOD values of actual water and wastewater samples were in accordance with the BOD values obtained by this FIA method using encapsulated S. cerevisiae cells. Unlike the cell-immobilized bead system, there was no contamination of the bioreactor resulting from any leak of yeast cells from the sensor capsules during BOD measurements.
This is a preview of subscription content, log in to check access.
Access options
Buy single article
Instant access to the full article PDF.
US$ 39.95
Price includes VAT for USA
Subscribe to journal
Immediate online access to all issues from 2019. Subscription will auto renew annually.
US$ 199
This is the net price. Taxes to be calculated in checkout.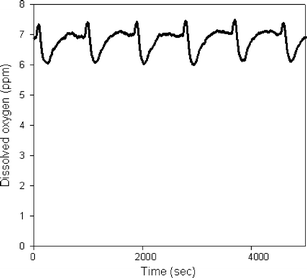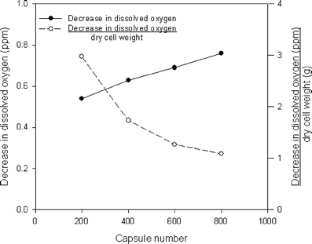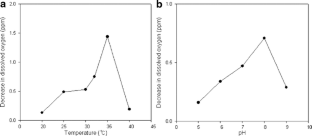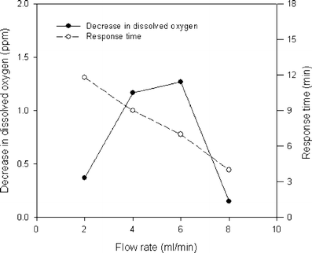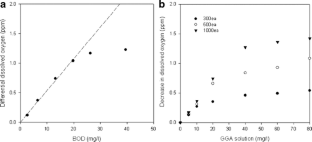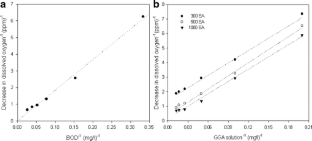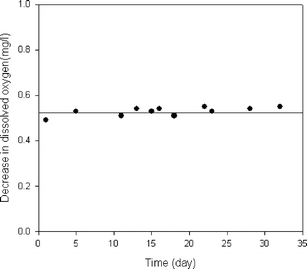 References
APHA, AWWA, WPCE (1995) Standard Method for the Examination of Water and Wastewater. American Public Health Association Inc. 19th New York

Buchholz K (1979) Characterization of immobilized biocatalysts. In: Dechema monographs, Weinheim. Verlag Chemie 84

Chang HN, Seong GH, Yoo IK, Park JK, Seo JH (1996) Microencapsulation of recombinant Saccharomyces cerevisiae cells with invertase activity in liquid-core alginate capsules. Biotechnol Bioeng 51:157–162

Chang HN, Seong GH, Yoo IK, Park JK, Seo JH (1998) Method for immobilization of whole microbial cells in calcium alginate capsules. US patent 5 766 907

Cheong SH, Park JK, Kim BS, Chang HN (1993) Microencapsulation of yeast cells in the calcium alginate membrane. Biotechnol Tech 7:879–884

Collins YE, Stotzky G (1989) Factors affecting the toxicity of heavy metals to microbes. In: Beveridge TJ (ed) Metal ions and bacteria. 1st edn. Wiley, New York, p 31–90

Karube I, Matsunaga T, Mitsuda S, Suzuki S (1977) Microbial electrode BOD sensors. Biotechnol Bioeng 19:1535–1547

Karube I, Suzuki H (1990) Microbial biosensors a practical approach. Oxford University Press, Oxford, pp 155–170

Katrlik J, Svorc J, Rosenberg M, Miertus S (1996) Whole cell amperometric biosensor based on Aspergillus niger for determination of glucose with enhanced upper linearity limit. Anal Chim Acta 331:225–232

Kim M (1995) Yeast loading BOD biosensor. Kor J Mycol 23:354–358

Konig A, Reul T, Harmeling C, Spener F, Knoll M, Zaborosch C (2000) Multi microbial sensor using micro structured three-dimension electrodes based on silicon technology. Anal Chem 72:2022–2028

Liu BH, Cui YM, Deng JQ (1996) Studies on microbial biosensor for DL-phenylalanine and its dynamic response process. Anal Lett 29:1497–1515

Liu J, Bjornsson L, Mattiasson B (2000) Immobilized activated sludge based biosensor for biochemical oxygen demand measurement. Biosens Bioelectron 14:883–893

Nakamura H, Kobayashi S, Hirata Y, Suzuki K, Mogi Y, Karube I (2007a) A spectro-photometric biochemical oxygen demand determination method using 2,6-dichlorophenolindophenol as the redox color indicator and the eukaryote Saccharomyces cerevisiae. Anal Biochem 369:168–174

Nakamura H, Suzuki K, Ishikuro H, Kinoshita S, Koizumi R, Okuma S, Gotoh M, Karube I (2007b) A new BOD estimation method employing a double-mediator system by ferricyanide and menadione using the eukaryote Saccharomyces cerevisiae. Talanta 72:210–216

Palmisano F, Desantis A, Tantillo G, Volpicella T, Zambonin PG (1997) Microbial detection by a glucose biosensor coupled to a microdialysis fibre. Analyst 122:1125–1128

Park JK, Jeong GS (2001) Effect of capsule circulation velocity on production of l-lysine by encapsulated Corynebacterium glutamicum in an airlift bioreactor. J Biosci Bioeng 91:49–52

Peter J, Hutter W, Stollnberger W, Hampel W (1996) Detection of chlorinated and brominated hydrocarbons by an ion sensitive whole cell biosensor. Biosens Bioelectron 11:1215–1219

Reiss M, Heibges A, Metzger J, Hartmeier W (2000) Determination of BOD-values of starch-containing waste water by a BOD-biosensor. Biosens Bioelectron 13:1083–1090

Riedel K, Renneberg R, Liebs P (1985) An electrochemical method for determination of cell respiration. J Basic Microbiol 25:51–56

Riedel K, Renneberg R, Kuehn M, Scheller F (1988) a fast estimation of biochemical oxygen demand using microbial sensors. Appl Microbiol Biotechnol 28:316–318

Sohn MJ, Lee JW, Chung C, Ihn GS, Hong D (1995) Rapid estimation of biochemical oxygen demand using a microbial multi-staged bioreactor. Anal Chim Acta 313:221–227

Tan TC, Lim EWC (2005) Thermally killed cells of complex microbial culture for biosensor measurement of BOD of wastewater. Sens Actuators B Chem 107:546–551

Yang Z, Suzuki H, Sasaki S, McNiven S, Karube I (1997) Comparison of the dynamic transient- and steady-state measuring methods in a batch type BOD sensing system. Sens Actuators B Chem 45:217–222

Zhang X, Claude EB (2005) Measurement of 5-day biochemical oxygen demand without sample dilution or bacterial and nutrient enhancement. Aqua Cult Eng 33:250–257
About this article
Cite this article
Seo, K.S., Choo, K.H., Chang, H.N. et al. A flow injection analysis system with encapsulated high-density Saccharomyces cerevisiae cells for rapid determination of biochemical oxygen demand. Appl Microbiol Biotechnol 83, 217–223 (2009). https://doi.org/10.1007/s00253-008-1852-0
Received:

Revised:

Accepted:

Published:

Issue Date:
Keywords
BOD sensor

FIA

Biochemical oxygen demand

Encapsulation

High cell density

Saccharomyces cerevisiae