Abstract
A phytase with high activity at neutral pH and typical water temperatures (∼25°C) could effectively hydrolyze phytate in aquaculture. In this study, a phytase-producing strain, Pedobacter nyackensis MJ11 CGMCC 2503, was isolated from glacier soil, and the relevant gene, PhyP, was cloned using degenerate PCR and thermal asymmetric interlaced PCR. To our knowledge, this is the first report of detection of phytase activity and cloning of phytase gene from Pedobacter. PhyP belongs to beta-propeller phytase family and shares very low identity (∼28.5%) with Bacillus subtilis phytase. The purified recombinant enzyme (r-PhyP) from Escherichia coli displayed high specific activity for sodium phytate of 24.4 U mg−1. The optimum pH was 7.0, and the optimum temperature was 45°C. The K m, V max, and k cat values were 1.28 mM, 71.9 μmol min−1 mg−1, and 45.1 s−1, respectively. Compared with Bacillus phytases, r-PhyP had higher relative activity at 25°C (r-PhyP (>50%), B. subtilis phytase (<8%)) and hydrolyzed phytate from soybean with greater efficacy at neutral pH. These characteristics suggest that r-PhyP might be a good candidate for an aquatic feed additive in the aquaculture industry.
This is a preview of subscription content, log in to check access.
Access options
Buy single article
Instant access to the full article PDF.
US$ 39.95
Price includes VAT for USA
Subscribe to journal
Immediate online access to all issues from 2019. Subscription will auto renew annually.
US$ 199
This is the net price. Taxes to be calculated in checkout.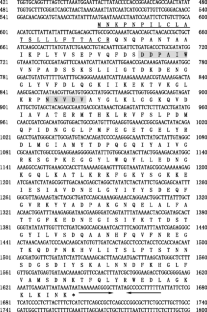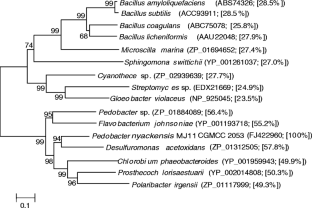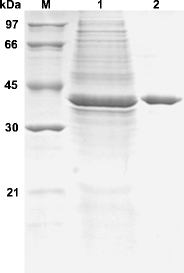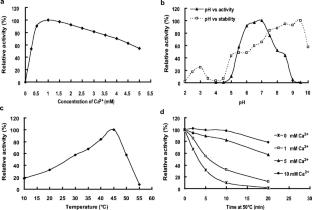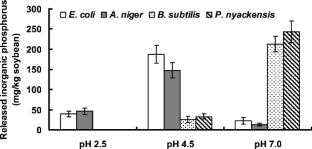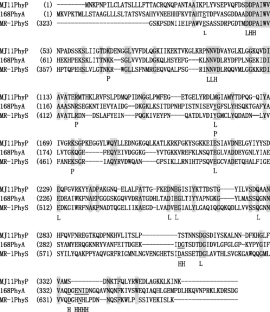 References
Arnold K, Bordoli L, Kopp J, Schwede T (2006) The SWISS-MODEL workspace: a web-based environment for protein structure homology modeling. Bioinformatics 22:195–201

Asryants RA, Duszenkova IV, Nagradova NK (1985) Determination of sepharose-bound protein with Coomassie brilliant blue G-250. Anal Biochem 151:571–574

Baruah K, Pal AK, Sahu NP, Jain KK, Mukherjee SC, Debnath D (2005) Dietary protein level, microbial phytase, citric acid and their interactions on bone mineralization of Labeo rohita (Hamilton) juveniles. Aquacult Res 36:803–812

Cao L, Wang W, Yang C, Yang Y, Diana J, Yakupitiyage A, Luo Z, Li D (2007) Application of microbial phytase in fish feed. Enzyme Microb Technol 40:497–507

Cheng C, Lim BL (2006) Beta-propeller phytases in the aquatic environment. Arch Microbiol 185:1–13

Fu S, Sun J, Qian L (2008a) Effect of Ca2+ on beta-propeller phytases. Protein Pept Lett 15:39–42

Fu S, Sun J, Qian L, Li Z (2008b) Bacillus phytases: present scenario and future perspectives. Appl Biochem Biotechnol 151:1–8

Guex N, Peitsch MC (1997) SWISS-MODEL and the Swiss-PdbViewer: an environment for comparative protein modeling. Electrophoresis 18:2714–2723

Ha NC, Oh BC, Shin S, Kim HJ, Oh TK, Kim YO, Choi KY, Oh BH (2000) Crystal structures of a novel, thermostable phytase in partially and fully calcium-loaded states. Nat Struct Biol 7:147–153

Haefner S, Knietsch A, Scholten E, Braun J, Lohscheidt M, Zelder O (2005) Biotechnological production and applications of phytases. Appl Microbiol Biotechnol 68:588–597

Han Y, Wilson DB, Lei X (1999) Expression of an Aspergillus niger phytase gene (phyA) in Saccharomyces cerevisiae. Appl Environ Microbiol 65:1915–1918

Howson SG, Davis RP (1983) Production of phytate hydrolyzing enzyme by some fungi. Enzyme Microb Technol 5:377–382

Huang H, Luo H, Yang P, Meng K, Wang Y, Yuan T, Bai Y, Yao B (2006) A novel phytase with preferable characteristics from Yersinia intermedia. Biochem Biophys Res Commun 350:884–889

Huang H, Luo H, Wang Y, Fu D, Shao N, Wang G, Yang P, Yao B (2008) A novel phytase from Yersinia rohdei with high phytate hydrolysis activity under low pH and strong pepsin conditions. Appl Microbiol Biotechnol 80:417–426

Jeanmougin F, Thompson JD, Gouy M, Higgins DG, Gibson TJ (1998) Multiple sequence alignment with Clustal X. Trends Biochem Sci 23:403–405

Kemme PA, Jongbloed AW, Mroz Z, Beynen AC (1997) The efficacy of Aspergillus niger phytase in rendering phytate phosphorus available for absorption in pigs is influenced by pig physiological status. J Anim Sci 75:2129–2138

Kerovuo J, Tynkkynen S (2000) Expression of Bacillus subtilis phytase in Lactobacillus plantarum 755. Lett Appl Microbiol 30:325–329

Ketaren PP, Batterham ES, Dettmann EB, Farrell DJ (1993) Phosphorus studies in pigs, 3 Effect of phytase supplementation on the digestibility and availability of phosphorus in soya-bean meal for grower pigs. Br J Nutr 70:289–311

Kim T, Mullaney EJ, Porres JM, Roneker KR, Crowe S, Rice S, Ko T, Ullah AHJ, Daly CB, Welch R, Lei X (2006) Shifting the pH profile of Aspergillus niger PhyA phytase to match the stomach pH enhances its effectiveness as an animal feed additive. Appl Environ Microbiol 72:4397–4403

Kumar S, Tamura K, Nei M (2004) MEGA3: integrated software for molecular evolutionary genetics analysis and sequence alignment. Brief Bioinform 5:150–163

Lei XG, Stahl CH (2001) Biotechnological development of effective phytases for mineral nutrition and environmental protection. Appl Microbiol Biotechnol 57:474–481

Liu J, Bollinger DW, Ledoux DR, Ellersieck MR, Veum TL (1997) Soaking increases the efficacy of supplemental microbial phytase in a low-phosphorus corn-soybean meal diet for growing pigs. J Anim Sci 75:1292–1298

Makarewicz O, Dubrac S, Msadek T, Borriss R (2006) Dual role of the PhoP approximately P response regulator: Bacillus amyloliquefaciens FZB45 phytase gene transcription is directed by positive and negative interactions with the phyC promoter. J Bacteriol 188:6953–6965

Mullaney EJ, Ullah AHJ (2003) The term phytase comprises several different classes of enzymes. Biochem Biophys Res Commun 312:179–184

Mullaney EJ, Daly CB, Ullah AHJ (2000) Advances in phytase research. Adv Appl Microbiol 47:157–199

Oh BC, Chang BS, Park KH, Ha NC, Kim HK, Oh BH, Oh TK (2001) Calcium-dependent catalytic activity of a novel phytase from Bacillus amyloliquefaciens DS11. Biochemistry 40:9669–9676

Reddy NR, Sathe SK, Salunkhe DK (1982) Phytates in legumes and cereals. Adv Food Res 28:1–92

Shin S, Ha NC, Oh BC, Oh TK, Oh BH (2001) Enzyme mechanism and catalytic property of beta propeller phytase. Structure 9:851–858

Tye AJ, Siu FK, Leung TY, Lim BL (2002) Molecular cloning and the biochemical characterization of two novel phytases from B. subtilis 168 and B. licheniformis. Appl Microbiol Biotechnol 59:190–197

Wang Y, Yao B, Zeng H, Shi X, Cao S, Yuan T, Fang Y (2001) Purification and properties of neutral phytase from Bacillus subtilis. Acta Microbiol Sin 40:198–203

Wodzinski RJ, Ullah AHJ (1996) Phytase. Adv Appl Microbiol 42:263–302

Yi Z, Kornegay ET, Ravindran V, Denbow DM (1996) Improving phytate phosphorus availability in corn and soybean meal for broilers using microbial phytase and calculation of phosphorus equivalency values for phytase. Poultry Sci 75:240–249
Acknowledgments
This research was supported by the National High Technology Research and Development Programme of China (863 programme, Grant No. 2007AA100601) and 948 programme of the Ministry of Agriculture of China (Grant No. 2007-Z3).
About this article
Cite this article
Huang, H., Shao, N., Wang, Y. et al. A novel beta-propeller phytase from Pedobacter nyackensis MJ11 CGMCC 2503 with potential as an aquatic feed additive. Appl Microbiol Biotechnol 83, 249–259 (2009). https://doi.org/10.1007/s00253-008-1835-1
Received:

Revised:

Accepted:

Published:

Issue Date:
Keywords
Aquaculture

Phytate

Beta-propeller phytase

Pedobacter nyackensis
Bacillus phytases