Abstract
To develop a microbial treatment of edible oil-contaminated wastewater, microorganisms capable of rapidly degrading edible oil were screened. The screening study yielded a yeast coculture comprising Rhodotorula pacifica strain ST3411 and Cryptococcus laurentii strain ST3412. The coculture was able to degrade efficiently even at low contents of nitrogen ([NH4–N] = 240 mg/L) and phosphorus sources ([PO4–P] = 90 mg/L). The 24-h degradation rate of 3,000 ppm mixed oils (salad oil/lard/beef tallow, 1:1 w/w) at 20°C was 39.8% ± 9.9% (means ± standard deviations of eight replicates). The highest degradation rate was observed at 20°C and pH 8. In a scaled-up experiment, the salad oil was rapidly degraded by the coculture from 671 ± 52.0 to 143 ± 96.7 ppm in 24 h, and the degradation rate was 79.4% ± 13.8% (means ± standard deviations of three replicates). In addition, a repetitive degradation was observed with the cell growth by only pH adjustment without addition of the cells.
This is a preview of subscription content, log in to check access.
Access options
Buy single article
Instant access to the full article PDF.
US$ 39.95
Price includes VAT for USA
Subscribe to journal
Immediate online access to all issues from 2019. Subscription will auto renew annually.
US$ 199
This is the net price. Taxes to be calculated in checkout.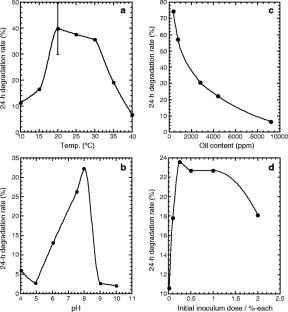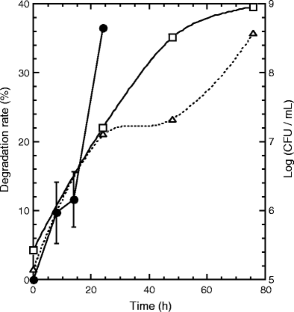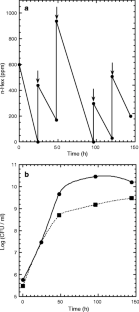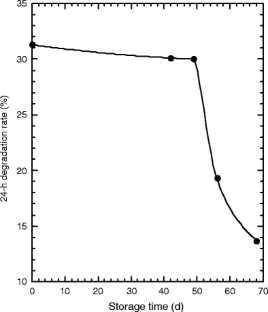 References
Bednarski W, Adamczak M, Kowalewska-Piontas J, Zadernowski R (1994) Biotechnological methods for the up-grading and modification of animal waste fats. Acta Biotechnol 14:387–393

Kurtzman CP, Fell JW (1998) The Yeasts, a taxonomic study. Amsterdam, Netherlands: Elsevier

Matsumiya Y, Wakita D, Kimura A, Sanpa S, Kubo M (2007) Isolation and characterization of a lipid-degrading bacterium and its application to lipid-containing wastewater treatment. J Biosci Bioeng 103:325–330

Okuda S, Ito K, Ozawa H, Izaki K (1991) Treatment of lipid-containing wastewater using bacteria which assimilate lipids. J Ferment Bioeng 71:424–429

Sugimori D, Nakamura M, Mihara Y (2002) Microbial degradation of lipid by Acinetobacter sp. strain SOD-1. Biosci, Biotechnol, Biochem 66:1579–1582

Sugimoto Y, Maruoka T, Seo Y, Fujita M (1994) Microbe capable of degrading edible fatty oil and usage thereof. Japan Patent 06-153922

Suzuki T, Nakayama T, Kurihara T, Nishino T, Esaki N (2001) Cold-active lipolytic activity of psychrotrophic Acinetobacter sp. strain No. 6. J Biosci Bioeng 92:144–148

Taki H, Inoue R (2000) Microorganism having oil and fat-decomposing activity and treatment of waste water. Japan Patent 2000-270845

Wakelin NM, Forster CF (1997) An investigation into microbial removal of fats, oils and greases. Biores Technol 59:37–43
Acknowledgment
A part of this research was supported by the "Research for Promoting Technological Seeds" from Innovation Plaza Miyagi, Japan Science and Technology Agency.
About this article
Cite this article
Sugimori, D. Edible oil degradation by using yeast coculture of Rhodotorula pacifica ST3411 and Cryptococcus laurentii ST3412. Appl Microbiol Biotechnol 82, 351–357 (2009). https://doi.org/10.1007/s00253-008-1834-2
Received:

Revised:

Accepted:

Published:

Issue Date:
Keywords
Oil degradation

Coculture

Rhodotorula

Cryptococcus

Wastewater treatment