Abstract
Vector engineering and gene disruption in host cells were attempted for the enhancement of α-agglutinin-based display of proteins on the cell surface in yeast. To evaluate the display efficiency by flow cytometric analysis, DsRed-monomer fused with FLAG-tag was displayed and immunostained as a model protein. The use of leu2-d in the expression vector resulted in the enhanced efficiency and ratio of the accessible display of proteins. Moreover, the amount of displayed proteins in SED1-disrupted cells increased particularly during the stationary growth phase. The combination of these improvements resulted in the quantitatively enhanced accessible display of DsRed-monomer on the yeast cell surface. The improved yeast display system would be useful in a wider range of its applications in biotechnology.
This is a preview of subscription content, log in to check access.
Access options
Buy single article
Instant access to the full article PDF.
US$ 39.95
Price includes VAT for USA
Subscribe to journal
Immediate online access to all issues from 2019. Subscription will auto renew annually.
US$ 199
This is the net price. Taxes to be calculated in checkout.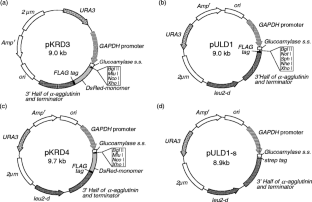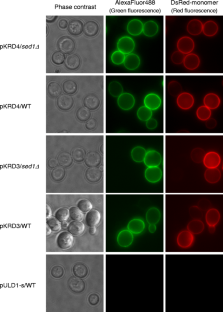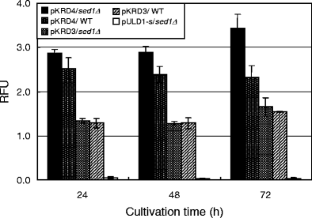 References
Barberis M, De Gioia L, Ruzzene M, Sarno S, Coccetti P, Fantucci P, Vanoni M, Alberghina L (2005) The yeast cyclin-dependent kinase inhibitor Sic1 and mammalian p27Kip1 are functional homologues with a structurally conserved inhibitory domain. Biochem J 387:639–647

Feldhaus MJ, Siegel RW, Opresko LK, Coleman JR, Feldhous JM, Yeung YA, Cochran JR, Heinzelman P, Colby D, Swers J, Graff C, Wiley HS, Wittrup KD (2003) Flow-cytometric isolation of human antibodies from a nonimmune Saccharomyces cerevisiae surface display library. Nat Biotechnol 21:163–170

Hopp TP, Prickett KS, Price VL, Libby RT, March CJ, Cerretti DP, Urdal DL, Conlon PJ (1988) A short polypeptide marker sequence useful for recombinant protein identification and purification. Bio/Technology 6:1204–1210

Kapteyn JC, Montijn RC, Vink E, de la Cruz J, Llobell A, Douwes JE, Lipke PN, Klis FM (1996) Retention of Saccharomyces cerevisiae cell wall proteins through a phosphodiester-linked β-1,3-/β-1,6-glucan heteropolymer. Glycobiology 6:337–345

Kondo A, Ueda M (2004) Yeast cell-surface display—applications of molecular display. Appl Micobiol Biotechnol 64:28–40

Kuroda K, Shibasaki S, Ueda M, Tanaka A (2001) Cell surface-engineered yeast displaying a histidine oligopeptide (hexa-His) has enhanced adsorption of and tolerance to heavy metal ions. Appl Microbiol Biotechnol 57:697–701

Lee SY, Choi JH, Xu A (2003) Microbial cell-surface display. Trends Biotechnol 21:45–52

Lin Y, Tsumuraya T, Wakabayashi T, Shiraga S, Fujii I, Kondo A, Ueda M (2003) Display of a functional hetero-oligomeric catalytic antibody on the yeast cell surface. Appl Microbiol Biotechnol 62:226–232

Macreadie IG, Horaitis O, Verkuylen AJ, Savin KW (1991) Improved shuttle vectors for cloning and high-level Cu2+-mediated expression of foreign genes in yeast. Gene 104:107–111

Shimoi H, Kitagaki H, Ohmori H, Imura Y, Ito K (1998) Sed1p is a major cell wall protein of Saccharomyces cerevisiae in the stationary phase and is involved in lytic enzyme resistance. J Bacteriol 180:3381–3387

Sikorski RS, Hieter P (1989) A system of shuttle vectors and yeast host strains designed for efficient manipulation of DNA in Saccharomyces cerevisiae. Genetics 122:19–27

Takahashi S, Ueda M, Tanaka A (2001) Function of the prosequence for in vivo folding and secretion of active Rhizopus oryzae lipase in Saccharomyces cerevisiae. Appl Microbiol Biotechnol 55:454–462

Takayama K, Suye S, Kuroda K, Ueda M, Kitaguchi T, Tsuchiyama K, Fukuda T, Chen W, Mulchandani A (2006) Surface display of organophosphorus hydrolase on Saccharomyces cerevisiae. Biotechnol Prog 22:939–943

Ueda M (2004) Future direction of molecular display by yeast-cell surface engineering. J Mol Catal B Enzym 28:139–143

Voss S, Skerra A (1997) Mutagenesis of a flexible loop in streptavidin leads to higher affinity for the Strap-tag II peptide and improved performance in recombinant protein purification. Protein Eng 10:975–982

Washida M, Takahashi S, Ueda M, Tanaka A (2001) Spacer-mediated display of active lipase on the yeast cell surface. Appl Microbiol Biotechnol 56:681–686

Ye K, Shibasaki S, Ueda M, Murai T, Kamasawa N, Osumi M, Shimizu K, Tanaka A (2000) Construction of an engineered yeast with glucose-inducible emission of green fluorescence from the cell surface. Appl Microbiol Biotechnol 54:90–96

Zlotnik H, Fernandez MP, Bowers B, Cabib E (1984) Saccharomyces cerevisiae mannoproteins form an external cell wall layer that determines wall porosity. J Bacteriol 159:1018–1026
About this article
Cite this article
Kuroda, K., Matsui, K., Higuchi, S. et al. Enhancement of display efficiency in yeast display system by vector engineering and gene disruption. Appl Microbiol Biotechnol 82, 713–719 (2009). https://doi.org/10.1007/s00253-008-1808-4
Received:

Revised:

Accepted:

Published:

Issue Date:
Keywords
Cell surface engineering

SED1
leu2-d

DsRed-monomer

Display efficiency