Abstract
Unsaturated medium-chain-length polyhydroxyalkanoates (MCL-PHA) were produced at a productivity of 0.63–1.09 g PHA l−1 h−1 with final PHA content ranging from 42.6 to 55.8% in single-stage, carbon-limited, fed-batch fermentations of Pseudomonas putida KT2440. A mixture of nonanoic acid (NA) and 10-undecenoic acid (UDA=) was fed exponentially to control growth rate. Varying the specific growth rate (0.14 h−1 vs. 0.23 h−1) at similar substrate feed ratios (NA:UDA= = 5:1) had little effect on the final PHA content and relative composition. However, decreasing the NA:UDA= ratio decreased the final amount of PHA produced from 56% with NA:UDA= = 5.07:1 to only 42% at NA:UDA= = 2.47:1. The molar fraction of all 3-hydroxyalkanoate monomers in the PHA product was relatively constant throughout each fermentation, indicating that the final product was homogeneous rather than a mixture of different copolymers. A linear relationship between unsaturation of the PHA produced and unsaturation of the carbon feed was found, which demonstrates the feasibility of producing unsaturated MCL-PHAs with controlled polymeric composition in a fed-batch process.
This is a preview of subscription content, log in to check access.
Access options
Buy single article
Instant access to the full article PDF.
US$ 39.95
Price includes VAT for USA
Subscribe to journal
Immediate online access to all issues from 2019. Subscription will auto renew annually.
US$ 199
This is the net price. Taxes to be calculated in checkout.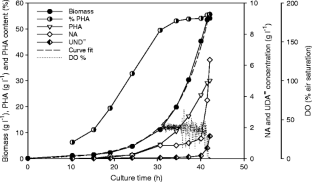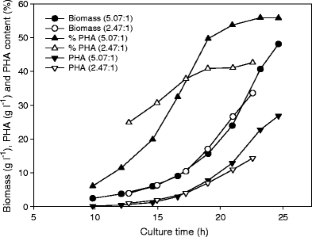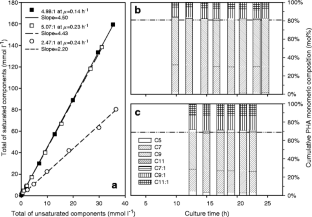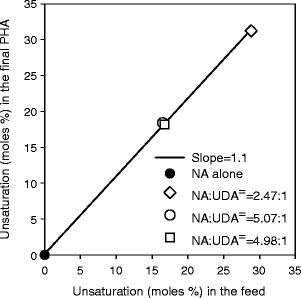 References
Arkin AH, Hazer B, Borcakli M (2000) Chlorination of poly(3-hydroxyalkanoates) containing unsaturated side chains. Macromolecules 33:3219–3223

Ashby RD, Foglia TA (1998) Poly(hydroxyalkanoate) biosynthesis from triglyceride substrates. Appl Microbiol Biotechnol 49:431–437

Chen GQ, Wu Q (2005) The application of polyhydroxyalkanoates as tissue engineering materials. Biomaterials 26:6565–6578

Dufresne A, Reche L, Marchessault RH, Lacroix M (2001) Gamma-ray crosslinking of poly (3-hydroxyoctanoate-co-undecenoate). Int J Biol Macromol 29:73–82

Fritzsche K, Lenz RW, Fuller RC (1990) Production of unsaturated polyesters by Pseudomonas oleovorans. Int J Biol Macromol 12:85–91

Hartmann R, Hany R, Pletscher E, Ritter A, Witholt B, Zinn M (2006) Tailor-made olefinic medium-chain-length poly[(R)-3-hydroxyalkanoates] by Pseudomonas putida GPo1: batch versus chemostat production. Biotechnol Bioeng 93:737–746

Hazer B, Steinbüchel A (2007) Increased diversification of polyhydroxyalkanoates by modification reactions for industrial and medical applications. Appl Microbiol Biotechnol 74:1–12

Hazer B, Lenz RW, Fuller RC (1996) Bacterial production of poly-3-hydroxyalkanoates containing arylalkyl substituent groups. Polymer 37:5951–5957

Jiang X, Ramsay JA, Ramsay BA (2006) Acetone extraction of mcl-PHA from Pseudomonas putida KT2440. J Microbiol Methods 67:212–219

Kellerhals MB, Kessler B, Witholt B (1999) Closed-loop control of bacterial high-cell-density fed-batch cultures: production of mcl-PHAs by Pseudomonas putida KT2442 under single-substrate and cofeeding conditions. Biotechnol Bioeng 65:306–315

Kim YB, Lenz RW, Fuller RC (1995) Poly-3-hydroxyalkanoates containing unsaturated repeating units produced by Pseudomonas oleovorans. J Polym Sci Pol Chem 33:1367–1374

Kim O, Gross RA, Hammar WJ, Newmark RA (1996) Microbial synthesis of poly(beta-hydroxyalkanoates) containing fluorinated side-chain substituents. Macromolecules 29:4572–4581

Kim DY, Kim YB, Rhee YH (1998) Bacterial poly(3-hydroxyalkanoates) bearing carbon–carbon triple bonds. Macromolecules 31:4760–4763

Kurth N, Renard E, Brachet F, Robic D, Guerin P, Bourbouze R (2002) Poly(3-hydroxyoctanoate) containing pendant carboxylic groups for the preparation of nanoparticles aimed at drug transport and release. Polymer 43:1095–1101

Park WH, Lenz RW, Goodwin S (1998) Epoxidation of bacterial polyesters with unsaturated side chains. I. Production and epoxidation of polyesters from 10-undecenoic acid. Macromolecules 31:1480–1486

Pouton CW, Akhtar S (1996) Biosynthetic polyhydroxyalkanoates and their potential in drug delivery. Adv Drug Deliv Rev 18:133–162

Ramsay BA, Saracovan I, Ramsay JA, Marchessault RH (1991) Continuous production of long-side-chain poly-beta-hydroxyalkanoates by Pseudomonas oleovorans. Appl Environ Microbiol 57:625–629

Sanchez RJ, Schripsema J, da Silva LF, Taciro MK, Pradella JGC, Gomez JGC (2003) Medium-chain-length polyhydroxyalkanoic acids (PHA(mcl)) produced by Pseudomonas putida IPT 046 from renewable sources. Eur Polym J 39:1385–1394

Sun Z, Ramsay JA, Guay M, Ramsay BA (2006) Automated feeding strategies for high-cell-density fed-batch cultivation of Pseudomonas putida KT2440. Appl Microbiol Biotechnol 71:423–431

Sun Z, Ramsay JA, Guay M, Ramsay BA (2007a) Carbon-limited fed-batch production of medium-chain-length polyhydroxyalkanoates from nonanoic acid by Pseudomonas putida KT2440. Appl Microbiol Biotechnol 74:69–77

Sun Z, Ramsay JA, Guay M, Ramsay BA (2007b) Fermentation process development for the production of medium-chain-length poly-3-hydroxyalkanoates. Appl Microbiol Biotechnol 75:475–485
Acknowledgment
This project was supported by the Natural Science and Engineering Research Council of Canada (NSERC).
About this article
Cite this article
Sun, Z., Ramsay, J.A., Guay, M. et al. Fed-batch production of unsaturated medium-chain-length polyhydroxyalkanoates with controlled composition by Pseudomonas putida KT2440. Appl Microbiol Biotechnol 82, 657–662 (2009). https://doi.org/10.1007/s00253-008-1785-7
Received:

Revised:

Accepted:

Published:

Issue Date:
Keywords
MCL-PHA

Unsaturated

Fed-batch

Fermentation

Pseudomonas putida