Abstract
Human (pro)renin receptor (hPRR), a construct with native transmembrane and cytoplasmic domains (hPRR-wTM), and hPRR lacking both (hPRR-w/oTM) were expressed using insect cells. The hPRR-wTM was expressed in the peripheral domains of the nucleus in infected Sf-9 cells, and its localization was observed in endoplasmic reticulum (ER). However, it could not be extracted from recombinant Autographa californica multiple nucleopolyhedrovirus (AcMNPV) by Triton X-100 treatment at 4°C. In contrast, hPRR-w/oTM was observed in punctate domains in the cytoplasm of infected Sf-9 cells, but intracellular hPRR-w/oTM did not co-localize in the Golgi apparatus and lysosomes. This indicates that hPRR-wTM and hPRR-w/oTM is localized in the ER and cytoplasmic organelles of Sf-9 cell, respectively. Moreover, the localization of hPRR-w/oTM in budded baculovirus of recombinant AcMNPV was confirmed by Western blotting. This is the first finding of the association of a foreign protein lacking a transmembrane domain with a baculovirus. If this finding is available for double displaying system, being capable of expression on the envelope and the capsid of baculovirus, it will lead to new methodology of baculovirus display system for tissue- and cell-specific targeting and intracellular targeting.
This is a preview of subscription content, log in to check access.
Access options
Buy single article
Instant access to the full article PDF.
US$ 39.95
Price includes VAT for USA
Subscribe to journal
Immediate online access to all issues from 2019. Subscription will auto renew annually.
US$ 199
This is the net price. Taxes to be calculated in checkout.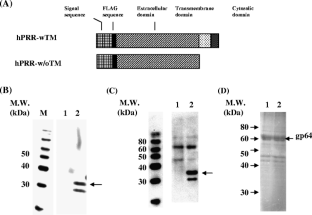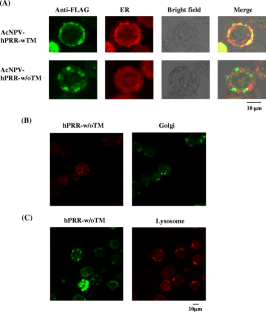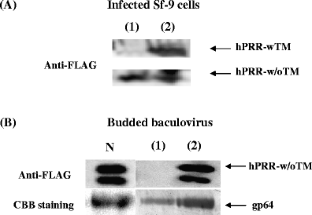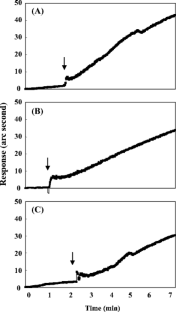 References
Alam M, Ho S, Vance DE, Lehner R (2002) Heterologous expression, purification, and characterization of human triacylglycerol hydrolase. Protein Expr Purif 24:33–42

Bonifacino JS, Traub LM (2003) Signals for sorting of transmembrane proteins to endosomes and lysosomes. Annu Rev Biochem 72:395–447

Burckle C, Bader M (2006) Prorenin and its ancient receptor. Hypertension 48:549–551

Chuang CK, Sung LY, Hwang SM, Lo WH, Chen HC, Hu YC (2007) Baculovirus as a new gene delivery vector for stem cell engineering and bone tissue engineering. Gene Ther 12:1417–1424

Ernst W, Grabherr R, Wegner D, Borth N, Grassauer A, Katinger H (1998) Baculovirus surface display: construction and screening of a eukaryotic epitope library. Nucleic Acids Res 26:1718–1723

Grabherr R, Ernst W, Oker-Blom C, Jones I (2001) Developments in the use of baculoviruses for the surface display of complex eukaryotic proteins. Trends Biotechnol 19:231–236

Hayashi I, Urano Y, Fukuda R, Isoo N, Kodama T, Hamakubo T, Tomita T, Iwatsubo T (2004) Selective reconstitution and recovery of functional g-secretase complex on budded baculovirus particles. J Biol Chem 279:38040–38046

Ichihara A, Hayashi M, Kaneshiro Y, Suzuki F, Nakagawa T, Toda Y, Koura Y, Nishiyama A, Okada H, Uddin MN, Nabi AHMN, Ishida Y, Inagami T, Saruta T (2004) Inhibition of diabetic nephropathy by a decoy peptide corresponding to the "handle" region for nonproteolytic activation of protein. J Clin Invest 114:1128–1135

Ichihara A, Suzuki F, Nakagawa T, Kaneshiro Y, Takemitsu T, Sakoda M, Nabi AHMN, Nishiyama A, Sugaya T, Hayashi M, Inagami T (2006) Prorenin receptor blockage inhibits development of glomerulosclerosis in diabetic angiotensin II type 1a receptor-deficient Mice. J Am Soc Nephrol 17:1950–1961

James DC, Freedman RB, Hoare M, Ogonah OW, Roony BC, Larionov OA, Dobrovolsky VN, Lagutin OV, Jenkins N (1995) N-Glycosylation recombinant human interferon-produced in different animal expression system. Bio/Technology 13:592–596

Kato T, Murata T, Usui T, Park EY (2004) Comparative analysis of GFPuv-β1,3-N-acetylglucosaminyltransferase 2 production in two insect-cell-based expression systems. Protein Expr Purif 35:54–61

Kato T, Kageshima A, Suzuki F, Park EY (2008) Expression and purification of human (pro)rennin receptor in insect cells using baculovirus expression system. Protein Expr Purif 58:242–248

Kukkonen SP, Airenne KJ, Marjomäki V, Laitinen OH, Lehtolainen P, Kankaanpää P, Mähönen AJ, Räty JK, Nordlund HR, Oker-Blom C, Kulomaa MS, Ylä-Herttuala S (2003) Baculovirus capsid display: a novel tool for transduction imaging. Mol Ther 8:853–862

Lindley KM, Su JL, Hodge PK, Wisely GB, Bledsoe RK, Condreay JP, Winegar DA, Hutchins JT, Kost TA (2000) Production of monoclonal antibodies using recombinant baculovirus display gp64-fusion proteins. J Immunol Methods 234:123–135

Loisel TP, Ansanay H, St-Onge S, Gay B, Boulanger P, Strosberg AD, Marullo S, Bouvier M (1997) Recovery of homogeneous and functional β2-adrenergic receptors from extracellular baculovirus particles. Nat Biotechnol 15:1300–1304

Ludwig J, Kerscher S, Brandt U, Pfeiffer K, Getlawi F, Apps DK, Schagger H (1998) Identification and characterization of a novel 9.2-kDa membrane sector-associated protein of vacuolar proton-ATPase from chromaffin granules. J Biol Chem 273:10939–10974

Masuda K, Itoh H, Sakihama T, Akiyama C, Takahashi K, Fukuda R, Yokomizo T, Shimizu T, Kodama T, Hamakubo T (2003) A combinatorial G protein-coupled receptor reconstitution system on budded baculovirus: evidence for Gαi and Gαo coupling to a human leukotriene B4 receptor. J Biol Chem 278:24552–24562

Oker-Blom C, Airenne KJ, Grabherr R (2003) Baculovirus display strategies: emerging tools for eukaryotic libraries and gene delivery. Brief Func Genomic Proteomic 2:244–253

Peralta A, Molinari P, Conte-Grand D, Calamante G, Taboga O (2007) A chimeric baculovirus displaying bovine herpesvirus-1 (BHC-1) glycoprotein D on its surface and their immunological properties. Appl Microbiol Biotechnol 75:407–414

Pieroni L, Maione D, La Monics N (2001) In vivo gene transfer in mouse skeletal muscle mediated by baculovirus vectors. Hum Gene Ther 12:871–881

Saitoh R, Ohtomo T, Yamada Y, Kamada N, Nezu J, Kimura N, Funahashi S, Furugaki K, Yoshino T, Kawase Y, Kato A, Ueda O, Jishage K, Suzuki M, Fukuda R, Arai M, Iwanari H, Takahashi K, Sakihama T, Ohizumi I, Kodama T, Tsuchiya M, Hamakubo T (2007) Viral envelope protein gp64 transgenic mouse facilitates the generation of monoclonal antibodies against exogenous membrane proteins displayed on baculovirus. J Immunol Methods 322:104–117

Saris JJ, 'tHoen PAC, Garrelds IM, Dekkers DH, den Dunnen JT, Lamers JM, Jan Danser AH (2006) Prorenin induces intracellular signaling in cardiomyocytes independently of angiotensin II. Hypertension 48:564–571

Schefe JH, Menk M, Reinemund J, Effertz K, Hobbs RM, Pandolfi PP, Ruiz P, Unger T, Funke-Kaiser H (2006) A novel signal transduction cascade involving direct physical interaction of the renin/prorenin receptor with the transcription factor promyelocytic zinc finger protein. Circ Res 99:1355–1366

Smith CK, Carr D, Mayhood TW, Jin W, Glay K, Windsor WT (2007) Expression and purification of phosphorylated and non-phosphorylated human MEK1. Protein Expr Purif 52:446–456

Trombetta ES, Parodi AJ (2003) Quality control and protein folding in the secretory pathway. Annu Rev Cell Dev Biol 19:649–676

Urano Y, Yamaguchi M, Fukuda R, Masuda K, Takahashi K, Uchiyama Y, Iwanari H, Jiang SY, Naito M, Kodama, Hamakubo T (2003) A novel method for viral display of ER membrane proteins on budded baculovirus. Biochem Biophys Res Commun 308:191–196

Zhang SX, Han Y, Blissard GW (2003) Palmitoylation of the Autographa californica multicapsid nucleopolyhedrovirus envelope glycoprotein GP64: mapping, functional studies, and lipid rafts. J Virol 77:6265–6273
Acknowledgments
This study was partly supported by a Grant-in-Aid for Scientific Research (B) No. 19360372 from the Ministry of Education, Culture, Sports, Science and Technology, and the Program of Basic Research Activities for Innovative Biosciences (PROBRAIN), Japan.
About this article
Cite this article
Kato, T., Du, D., Suzuki, F. et al. Localization of human (pro)renin receptor lacking the transmembrane domain on budded baculovirus of Autographa californica multiple nucleopolyhedrovirus. Appl Microbiol Biotechnol 82, 431–437 (2009). https://doi.org/10.1007/s00253-008-1776-8
Received:

Revised:

Accepted:

Published:

Issue Date:
Keywords
Human (pro)renin receptor

AcMNPV

Transmembrane domain

Budded baculovirus

Localization