Abstract
Design and experimental validation of advanced pO2 controllers for fermentation processes operated in the fed-batch mode are described. In most situations, the presented controllers are able to keep the pO2 in fermentations for recombinant protein productions exactly on the desired value. The controllers are based on the gain-scheduling approach to parameter-adaptive proportional-integral controllers. In order to cope with the most often appearing distortions, the basic gain-scheduling feedback controller was complemented with a feedforward control component. This feedforward/feedback controller significantly improved pO2 control. By means of numerical simulations, the controller behavior was tested and its parameters were determined. Validation runs were performed with three Escherichia coli strains producing different recombinant proteins. It is finally shown that the new controller leads to significant improvements in the signal-to-noise ratio of other key process variables and, thus, to a higher process quality.
This is a preview of subscription content, log in to check access.
Access options
Buy single article
Instant access to the full article PDF.
US$ 39.95
Price includes VAT for USA
Subscribe to journal
Immediate online access to all issues from 2019. Subscription will auto renew annually.
US$ 199
This is the net price. Taxes to be calculated in checkout.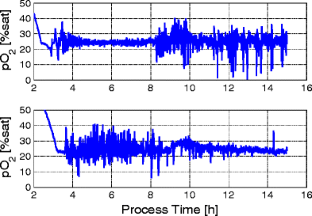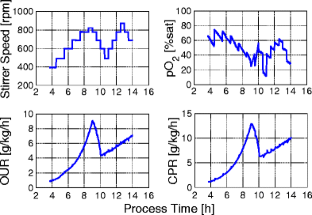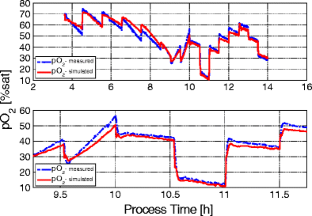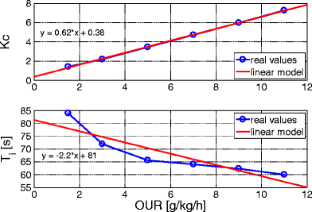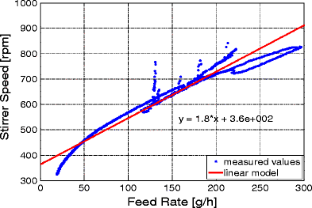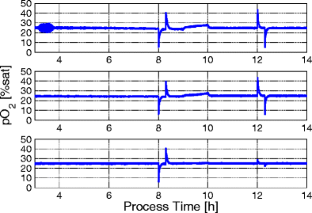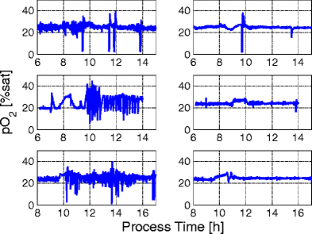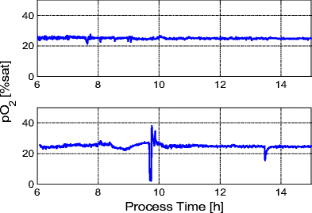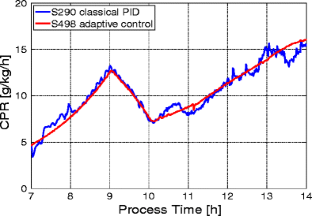 References
Åström KJ, Hägglund T (1988) Automatic tuning of PID controllers. Instrument Society of America, New York

Åström KJ, Hägglund T (2006) Advanced PID control. ISA Instrumentation, Systems and Automation Society, Research Triangle Park

Åström KJ, Wittenmark B (1989) Adaptive control. Addison-Wesley, Massachusetts

Bastin G, Dochain D (1990) On-line estimation and adaptive control of bioreactors. Elsevier, The Netherlands

Cardello RJ, San KY (1988) The design of controllers for batch bioreactors. Biotechnol Bioeng 32(8):519–526

Dang NDP, Karrer DA, Dunn IJ (1977) Oxygen transfer coefficients by dynamic model moment analysis. Biotechnol Bioeng 19(6):853–865

Jenzsch M, Gnoth S, Beck M, Kleinschmidt M, Simtis R, Lübbert A (2006) Open-loop control of the biomass concentration within the growth phase of recombinant protein production processes. J Biotechnol 127:84–94

Jenzsch M, Gnoth S, Kleinschmidt M, Simutis R, Lübbert A (2007) Improving the batch-to-batch reproducibility of microbial cultures during recombinant protein production by regulation of the total carbon dioxide production. J Biotechnol 128(4):858–867

Kuprijanov A, Schaepe S, Gnoth S, Simutis S, Lübbert A (2008) Variability control in fermentations - Meeting the challenges raised by FDA's PAT initiative. Bioforum Europe 12:38–41

Lee SC, Hwang Y, Chang HN, Chang YK (1990) Adaptive control of dissolved oxygen concentration in a bioreactor. Biotechnol Bioeng 37(7):597–607

Levisauskas D (1995) An algorithm for adaptive control of dissolved oxygen concentration in batch culture. Biotechnol Tech 9(2):85–90

Sambrook J, Fritsch EF, Maniatis T (1989) Molecular cloning—a laboratory manual. Cold Spring Habour Laboratory Press, New York

Seborg DE, Edgar TF, Mellichamp DA (2004) Process dynamics and control. Wiley, New York

Shuler M, Kargi F (2001) Bioprocess engineering: basic concepts. Prentice Hall International, New York

Vairavamurthy A, Mopper K (1990) Determination of low-molecular -weight carboxylic acids in aqueous samples by gas chromatography and nitrogen-selective detection of 2-nitrophenylhydrazides. Anal Chim Acta 237:215–221

Ziegler JG, Nichols NB (1942) Optimum settings for automatic controllers. Trans ASME 64:759–768
Acknowledgments
This work was performed within the Excellence Cluster Biotechnology of the State of Sachsen-Anhalt, Germany. We gratefully thank the state's government for the comprehensive support.
About this article
Cite this article
Kuprijanov, A., Gnoth, S., Simutis, R. et al. Advanced control of dissolved oxygen concentration in fed batch cultures during recombinant protein production. Appl Microbiol Biotechnol 82, 221–229 (2009). https://doi.org/10.1007/s00253-008-1765-y
Received:

Revised:

Accepted:

Published:

Issue Date:
Keywords
Fermentation

Dissolved oxygen

Adaptive pO2 control

Gain scheduling approach