Abstract
Bacterial strains capable of converting glycerol to glyceric acid (GA) were screened among the genera Acetobacter and Gluconacetobacter. Most of the tested Acetobacter and Gluconacetobacter strains could produce 1.8 to 9.3 g/l GA from 10% (v/v) glycerol when intact cells were used as the enzyme source. Acetobacter tropicalis NBRC16470 was the best GA producer and was therefore further investigated. Based on the results of high-performance liquid chromatography analysis and specific rotation, the enantiomeric composition of the produced GA was d-glyceric acid (d-GA). The productivity of d-GA was enhanced with the addition of both 15% (v/v) glycerol and 20 g/l yeast extract. Under these optimized conditions, A. tropicalis NBRC16470 produced 22.7 g/l d-GA from 200 g/l glycerol during 4 days of incubation in a jar fermentor.
This is a preview of subscription content, log in to check access.
Access options
Buy single article
Instant access to the full article PDF.
US$ 39.95
Price includes VAT for USA
Subscribe to journal
Immediate online access to all issues from 2019. Subscription will auto renew annually.
US$ 199
This is the net price. Taxes to be calculated in checkout.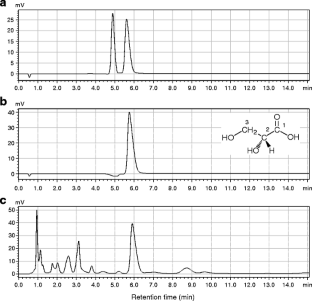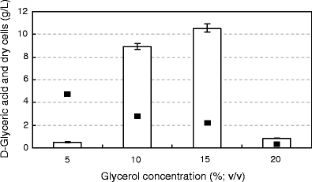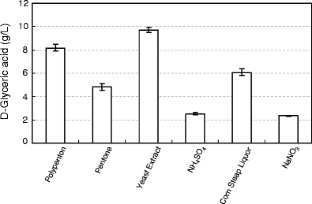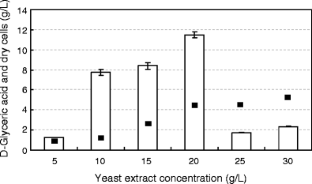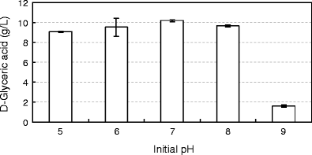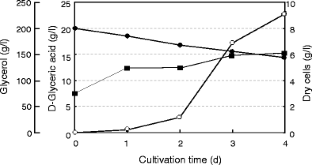 References
Adachi O, Matsushita K, Shinagawa E, Ameyama M (1980) Crystallization and properties of NAD-dependent aldehyde dehydrogenase from Gluconobacter oxydans. Agric Biol Chem 44:155–164

Bianchi CL, Canton P, Dimitratos N, Porta F, Prati L (2005) Selective oxidation of glycerol with oxygen using mono and bimetallic catalysts based on Au, Pd, and Pt metals. Catal Today 102:203–212

Biebl H, Menzel K, Zeng A-P, Deckwer W-D (1999) Microbial production of 1,3-propanediol. Appl Biochem Biotechnol 52:289–297

Claret C, Salmon JM, Romieu C, Bories A (1994) Physiology of Gluconobacter oxydans during dihydroxyacetone production from glycerol. Appl Microbiol Biotechnol 41:359–365

Eriksson CJP, Saarenmaa TPS, Bykov IL, Heino PU (2007) Acceleration of ethanol and acetaldehyde oxidation by d-glycerate in rats. Metabolism 56:895–898

Garcia R, Besson M, Gallezot P (1995) Chemoselective catalytic oxidation of glycerol with air on platinum metals. Appl Catal A 127:165–176

Gätgens C, Degner U, Bringer-Meyer S, Herrmann U (2007) Biotransformation of glycerol to dihydroxyacetone by recombinant Gluconobacter oxydans DSM 2343. Appl Microbiol Biotechnol 76:553–559

Hekmat D, Bauer R, Fricke J (2003) Optimization of the microbial synthesis of dihydroxyacetone from glycerol with Gluconobacter oxydans. Bioprocess Biosyst Eng 26:109–116

Kamm B, Kamm M (2004) Principles of biorefineries. Appl Microbial Biotechnol 64:137–145

Matsushita K, Toyama H, Adachi O (1994) Respiratory chains and bioenergetics of acetic acid bacteria. Adv Microb Physiol 36:247–301

Nakamura CE, Whited GM (2003) Metabolic engineering for the microbial production of 1,3-propane diol. Curr Opin Biotechnol 14:454–459

Ohara O (2003) Biorefinery. Appl Microbial Biotechnol 62:474–477

Pagliaro M, Ciriminna R, Kimura H, Rossi M, Della Pina C (2007) From glycerol to value-added products. Angew Chem Int Ed 46:2–20

Porta F, Prati L (2004) Selective oxidation of glycerol to sodium glycerate with gold-on-carbon catalyst: an insight into reaction selectivity. J Catal 224:397–403

Rosseto R, Tcacenco CM, Ranganathan R, Hajdu J (2008) Synthesis of phosphatidylcholine analogues derived from glyceric acid: a new class of biologically active phospholipid compounds. Tetrahedron Lett 49:3500–3503

Švitel J, Šturdík E (1994) Product yield and by-product formation in glycerol conversion to dihydroxyacetone by Gluconobacter oxydans. J Ferment Bioeng 78:351–355

Švitel J, Šturdík E (1995) n-Propanol conversion to propionic acid by Gluconobacter oxydans. Enzyme Microb Technol 17:546–550

Zhou C-H, Beltramini JN, Fan Y-X, Lu GQ (2008) Chemoselective catalytic conversion of glycerol as a biorenewable source to valuable commodity chemicals. Chem Soc Rev 37:527–549
Acknowledgments
This work was partly supported by the Industrial Technology Research Grant Program in 08A26202c from the New Energy and Industrial Technology Development Organization (NEDO) of Japan.
About this article
Cite this article
Habe, H., Fukuoka, T., Kitamoto, D. et al. Biotransformation of glycerol to d-glyceric acid by Acetobacter tropicalis . Appl Microbiol Biotechnol 81, 1033–1039 (2009). https://doi.org/10.1007/s00253-008-1737-2
Received:

Revised:

Accepted:

Published:

Issue Date:
Keywords
Glycerol use

d

-glyceric acid

Acetic acid bacteria

Acetobacter sp.
Gluconacetobacter sp.