Abstract
To improve the insecticidal efficacy of the entomopathogen Beauveria bassiana, the fungus was genetically modified with an insect-specific scorpion neurotoxin AAIT and an insect cuticle degrading protease PR1A from another insect pathogen (Metarhizium anisopliae). The wild-type and the transformants were bioassayed against the larvae of Masson's pine caterpillar Dendrolimus punctatus and the wax moth Galleria mellonella. In comparison to the wild-type strain, engineered isolates took fewer spores to kill 50% of pine caterpillars, 15-fold less for the aaIT single transformant Bb13T and eightfold less for the double transformant Bb13TPR1A, respectively. The median lethal times for Bb13T and Bb13TPR1A were reduced by 40% and 36.7%, respectively against D. punctatus and 24.4% and 20.9%, respectively against G. mellonella. Our data showed that the cotransformation of these two genes produced no synergistic effects on virulence improvement. It is evident from this study that AAIT could be degraded by the protease PR1A when they are expressed together, emphasizing that protein interactions need to be evaluated when working with multiple genes, particularly if they include proteases.
This is a preview of subscription content, log in to check access.
Access options
Buy single article
Instant access to the full article PDF.
US$ 39.95
Price includes VAT for USA
Subscribe to journal
Immediate online access to all issues from 2019. Subscription will auto renew annually.
US$ 199
This is the net price. Taxes to be calculated in checkout.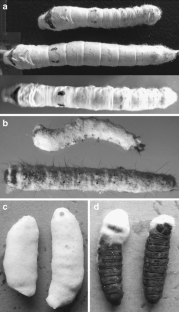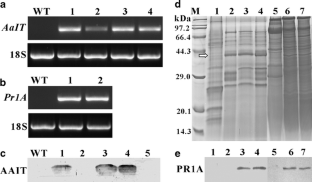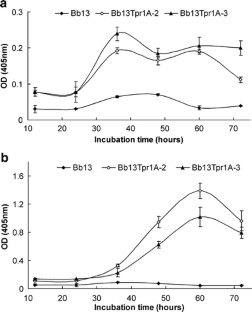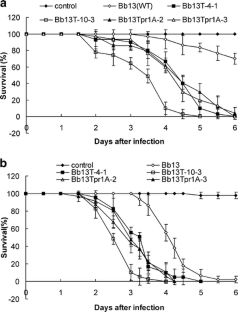 References
Ahman J, Johansson T, Olsson M, Punt PJ, van den Hondel CA, Tunlid A (2002) Improving the pathogenicity of a nematode-trapping fungus by genetic engineering of a subtilisin with nematotoxic activity. Appl Environ Microbiol 68:3408–3415

Bagga S, Hu G, Screen SE, St. Leger RJ (2004) Reconstructing the diversification of subtilisins in the pathogenic fungus Metarhizium anisopliae. Gene 324:59–169

Cho EM, Liu L, Farmerie W, Keyhani NO (2006a) EST analysis of cDNA libraries from the entomopathogenic fungus Beauveria (Cordyceps) bassiana. I. Evidence for stage-specific gene expression in aerial conidia, in vitro blastospores and submerged conidia. Microbiology 152:2843–2854

Cho EM, Boucias D, Keyhani NO (2006b) EST analysis of cDNA libraries from the entomopathogenic fungus Beauveria (Cordyceps) bassiana. II. Fungal cells sporulating on chitin and producing oosporein. Microbiology 152:2855–2864

Cho EM, Kirkland BH, Holder DJ, Keyhani NO (2007) Phage display cDNA cloning and expression analysis of hydrophobins from the entomopathogenic fungus Beauveria (Cordyceps) bassiana. Microbiology 153:3438–3447

de Faria MR, Wraight SP (2007) Mycoinsecticides and Mycoacaricides: a comprehensive list with worldwide coverage and international classification of formulation types. Biol Control 43:237–256

Fan Y, Fang W, Guo S, Pei X, Zhang Y, Xiao Y, Li D, Jin K, Bidochka MJ, Pei Y (2007) Increased insect virulence in Beauveria bassiana strains overexpressing an engineered chitinase. Appl Environ Microbiol 73:295–302

Fang WG, Leng B, Xiao YH, Jin K, Ma JC, Fan YH, Feng J, Yang XY, Zhang YJ, Pei Y (2005) Cloning of Beauveria bassiana chitinase gene Bbchit1 and its application to improve fungal strain virulence. Appl Environ Microbiol 71:363–370

Fang W, Pei Y, Bidochka MJ (2007) A regulator of a G protein signalling (RGS) gene, cag8, from the insect-pathogenic fungus Metarhizium anisopliae is involved in conidiation, virulence and hydrophobin synthesis. Microbiology 153:1017–1025

Fang W, Scully LR, Zhang L, Pei Y, Bidochka MJ (2008) Implication of a regulator of G protein signalling (BbRGS1) in conidiation and conidial thermotolerance of the insect pathogenic fungus Beauveria bassiana. FEMS Microbiol Lett 279:146–156

Freimoser FM, Screen S, Bagga S, Hu G, St. Leger RJ (2003) Expressed sequence tag (EST) analysis of two subspecies of Metarhizium anisopliae reveals a plethora of secreted proteins with potential activity in insect hosts. Microbiology 149:239–247

Hajek AE, St. Leger RJ (1994) Interactions between fungal athogenesis and insect hosts. Ann Rev Entomol 39:293–322

Joshi L, St. Leger RJ, Bidochka MJ (1995) Cloning of a cuticle-degrading protease from the entomopathogenic fungus, Beauveria bassiana. FEMS Microbiol Lett 125:211–217

Pava-Ripoll M, Posada F, Momen B, Wang C, St. Leger RJ (2008) Increased pathogenicity against coffee berry borer, Hypothenemus hampei (Coleoptera: Curculionidae) by Metarhizium anisopliae expressing the scorpion toxin (AaIT) gene. J Invertebr Pathol. doi:https://doi.org/10.1016/j.jip.2008.05.004

Roberts DW, St. Leger RJ (2004) Metarhizium spp., cosmopolitan insect-pathogenic fungi: mycological aspects. Adv Appl Microbiol 54:1–70

Screen SE, Hu G, St. Leger RJ (2001) Transformants of Metarhizium anisopliae sf. anisopliae overexpressing chitinase from Metarhizium anisopliae sf. acridum show early induction of native chitinase but are not altered in pathogenicity to Manduca sexta. J Invertebr Pathol 78:260–266

St. Leger RJ, Charnley AK, Cooper RM (1987) Characterization of cuticle-degrading proteases produced by the entomopathogen Metarhizium anisopliae. Arch Biochem Biophys 253:221–232

St. Leger RJ, Frank DC, Roberts DW, Staples RC (1992) Molecular cloning and regulatory analysis of the cuticle-degrading-protease structural gene from the entomopathogenic fungus Metarhizium anisopliae. Eur J Biochem 204:991–1001

St. Leger RJ, Joshi L, Bidochka MJ, Roberts DW (1996) Construction of an improved mycoinsecticide overexpressing a toxic protease. Proc Natl Acad Sci U S A 93:6349–6354

Stewart LMD, Hirst M, Ferber ML, Merryweather AT, Cayley PJ, Possee RD (1991) Construction of an improved baculovirus insecticide containing an insect-specific toxin gene. Nature 352:85–88

Thomas MB, Read AF (2007) Can fungal biopesticides control malaria? Nat Rev Microbiol 5:377–383

Wang C, St. Leger RJ (2006) A collagenous protective coat enables Metarhizium anisopliae to evade insect immune responses. Proc Natl Acad Sci U S A 103:6647–6652

Wang C, St. Leger RJ (2007a) The MAD1 adhesin of Metarhizium anisopliae links adhesion with blastospore production and virulence to insects, and the MAD2 adhesin enables attachment to plants. Eukaryot Cell 6:808–816

Wang C, St. Leger RJ (2007b) The Metarhizium anisopliae perilipin homolog MPL1 regulates lipid metabolism, appressorial turgor pressure, and virulence. J Biol Chem 282:21110–21115

Wang C, St. Leger RJ (2007c) A scorpion neurotoxin increases the potency of a fungal insecticide. Nat Biotechnol 25:1455–1456

Wang C, Skrobek A, Butt TM (2003) Concurrence of losing a chromosome and the ability to produce destruxins in a mutant of Metarhizium anisopliae. FEMS Microbiol Lett 226:373–378

Wang C, Fan M, Li Z, Butt TM (2004) Molecular monitoring and evaluation of the application of the insect-pathogenic fungus Beauveria bassiana in southeast China. J Appl Microbiol 96:861–870

Wang C, Hu G, St. Leger RJ (2005) Differential gene expression by Metarhizium anisopliae growing in root exudate and host (Manduca sexta) cuticle or hemolymph reveals mechanisms of physiological adaptation. Fungal Genet Biol 42:704–718

Ying SH, Feng MG (2006) Novel blastospore-based transformation system for integration of phosphinothricin resistance and green fluorescence protein genes into Beauveria bassiana. Appl Microbiol Biotechnol 72:206–210

Zlotkin E, Fishman Y, Elazar M (2000) AaIT: from neurotoxin to insecticide. Biochimie 82:869–881
Acknowledgments
This work was supported by the National Hi-Tech Research and Development Program of China (2006AA10A119, 2006AA10A212) and the program from Science and Technology Commission of Shanghai Municipality (07PJ14101). Monica Pava_Ripoll was supported by a grant from CENICAFE. The authors also highly appreciate Dr. Yuxian Xia for the antibodies and Prof. Raymond J. St. Leger for critical reading of this paper.
About this article
Cite this article
Lu, D., Pava-Ripoll, M., Li, Z. et al. Insecticidal evaluation of Beauveria bassiana engineered to express a scorpion neurotoxin and a cuticle degrading protease. Appl Microbiol Biotechnol 81, 515–522 (2008). https://doi.org/10.1007/s00253-008-1695-8
Received:

Revised:

Accepted:

Published:

Issue Date:
Keywords
Beauveria bassiana

Genetic engineering

Scorpion neurotoxin

Protease

Virulence