Abstract
Expression at the mRNA level of six methionine biosynthesis genes in Corynebacterium glutamicum cells under oxygen-deprived conditions was repressed by supplementation of medium with methionine. The repression was not observed in a mutant deficient in the TetR-type transcriptional repressor McbR. Analysis of transcriptional start sites of the methionine biosynthesis genes confirmed that McbR binding motifs exist in the promoter regions of all genes repressed by methionine supplementation. Furthermore, electrophoretic mobility shift assays revealed that not only S-adenosylhomocysteine but also S-adenosylmethionine affects binding of McbR to the promoter region of metY, suggesting that both of these methionine metabolites are involved in the regulation of methionine biosynthesis genes.
This is a preview of subscription content, log in to check access.
Access options
Buy single article
Instant access to the full article PDF.
US$ 39.95
Price includes VAT for USA
Subscribe to journal
Immediate online access to all issues from 2019. Subscription will auto renew annually.
US$ 199
This is the net price. Taxes to be calculated in checkout.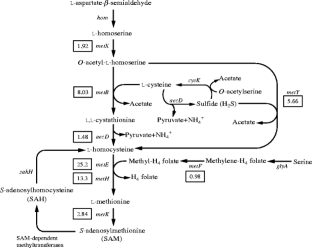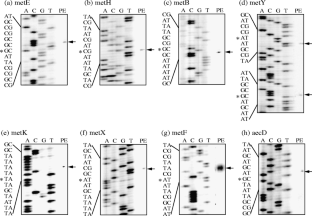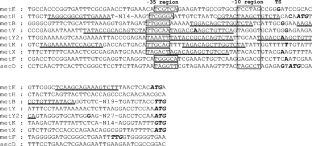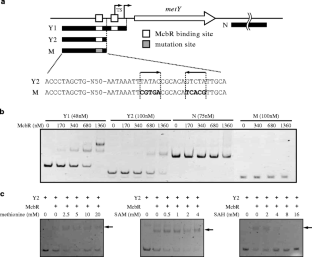 References
Auger S, Danchin A, Martin-Verstraete I (2002) Global expression profile of Bacillus subtilis grown in the presence of sulfate or methionine. J Bacteriol 184:5179–5186

Belfaiza J, Guillou Y, Margarita D, Perrin D, Saint Girons I (1987) Operator-constitutive mutations of the Escherichia coli metF gene. J Bacteriol 169:670–674

Follettie MT, Shin HK, Sinskey AJ (1988) Organization and regulation of the Corynebacterium glutamicum hom-thrB and thrC loci. Mol Microbiol 2:53–62

Hwang BJ, Yeom HJ, Kim Y, Lee HS (2002) Corynebacterium glutamicum utilizes both transsulfuration and direct sulfhydrylation pathways for methionine biosynthesis. J Bacteriol 184:1277–1286

Inui M, Kawaguchi H, Murakami S, Vertès AA, Yukawa H (2004a) Metabolic engineering of Corynebacterium glutamicum for fuel ethanol production under oxygen-deprivation conditions. J Mol Microbiol Biotechnol 8:243–254

Inui M, Murakami S, Okino S, Kawaguchi H, Vertès AA, Yukawa H (2004b) Metabolic analysis of Corynebacterium glutamicum during lactate and succinate productions under oxygen deprivation conditions. J Mol Microbiol Biotechnol 7:182–196

Inui M, Suda M, Okino S, Nonaka H, Puskás LG, Vertès AA, Yukawa H (2007) Transcriptional profiling of Corynebacterium glutamicum metabolism during organic acid production under oxygen deprivation conditions. Microbiology 153:2491–2504

Kramer DL, Sufrin JR, Porter CW (1987) Relative effects of S-adenosylmethionine depletion on nucleic acid methylation and polyamine biosynthesis. Biochem J 247:259–265

Kromer JO, Heinzle E, Schroder H, Wittmann C (2006a) Accumulation of homolanthionine and activation of a novel pathway for isoleucine biosynthesis in Corynebacterium glutamicum McbR deletion strains. J Bacteriol 188:609–618

Kromer JO, Wittmann C, Schroder H, Heinzle E (2006b) Metabolic pathway analysis for rational design of l-methionine production by Escherichia coli and Corynebacterium glutamicum. Metab Eng 8:353–369

Kumagai H (2000) Microbial production of amino acids in Japan. Adv Biochem Eng Biotechnol 69:71–85

Macintyre G, Atwood CV, Cupples CG (2001) Lowering S-adenosylmethionine levels in Escherichia coli modulates C-to-T transition mutations. J Bacteriol 183:921–927

Newman EB, Budman LI, Chan EC, Greene RC, Lin RT, Woldringh CL, D'Ari R (1998) Lack of S-adenosylmethionine results in a cell division defect in Escherichia coli. J Bacteriol 180:3614–3619

Okino S, Inui M, Yukawa H (2005) Production of organic acids by Corynebacterium glutamicum under oxygen deprivation. Appl Microbiol Biotechnol 68:475–480

Okino S, Suda M, Fujikura K, Inui M, Yukawa H (2008) Production of d-lactic acid by Corynebacterium glutamicum under oxygen deprivation. Appl Microbiol Biotechnol 78:449–454

Patek M, Nesvera J, Guyonvarch A, Reyes O, Leblon G (2003) Promoters of Corynebacterium glutamicum. J Biotechnol 104:311–323

Ramos JL, Martinez-Bueno M, Molina-Henares AJ, Teran W, Watanabe K, Zhang X, Gallegos MT, Brennan R, Tobes R (2005) The TetR family of transcriptional repressors. Microbiol Mol Biol Rev 69:326–356

Rey DA, Puhler A, Kalinowski J (2003) The putative transcriptional repressor McbR, member of the TetR-family, is involved in the regulation of the metabolic network directing the synthesis of sulfur containing amino acids in Corynebacterium glutamicum. J Biotechnol 103:51–65

Rey DA, Nentwich SS, Koch DJ, Ruckert C, Puhler A, Tauch A, Kalinowski J (2005) The McbR repressor modulated by the effector substance S-adenosylhomocysteine controls directly the transcription of a regulon involved in sulphur metabolism of Corynebacterium glutamicum ATCC 13032. Mol Microbiol 56:871–887

Rodionov DA, Vitreschak AG, Mironov AA, Gelfand MS (2004) Comparative genomics of the methionine metabolism in Gram-positive bacteria: a variety of regulatory systems. Nucleic Acids Res 32:3340–3353

Saint-Girons I, Belfaiza J, Guillou Y, Perrin D, Guiso N, Barzu O, Cohen GN (1986) Interactions of the Escherichia coli methionine repressor with the metF operator and with its corepressor, S-adenosylmethionine. J Biol Chem 261:10936–10940

Smith AA, Greene RC, Kirby TW, Hindenach BR (1985) Isolation and characterization of the product of the methionine-regulatory gene metJ of Escherichia coli K-12. Proc Natl Acad Sci USA 82:6104–6108

Usuda Y, Kurahashi O (2005) Effects of deregulation of methionine biosynthesis on methionine excretion in Escherichia coli. Appl Environ Microbiol 71:3228–3234

Wang S, Arends SJ, Weiss DS, Newman EB (2005) A deficiency in S-adenosylmethionine synthetase interrupts assembly of the septal ring in Escherichia coli K-12. Mol Microbiol 58:791–799

Wei Y, Newman EB (2002) Studies on the role of the metK gene product of Escherichia coli K-12. Mol Microbiol 43:1651–1656

Yukawa H, Omumasaba CA, Nonaka H, Kos P, Okai N, Suzuki N, Suda M, Tsuge Y, Watanabe J, Ikeda Y, Vertès AA, Inui M (2007) Comparative analysis of the Corynebacterium glutamicum group and complete genome sequence of strain R. Microbiology 153:1042–1058
Acknowledgements
We thank Crispinus A. Omumasaba (RITE) for critical reading of the manuscript. This work was financially supported in part by the New Energy and Industrial Technology Development Organization, Japan.
About this article
Cite this article
Suda, M., Teramoto, H., Imamiya, T. et al. Transcriptional regulation of Corynebacterium glutamicum methionine biosynthesis genes in response to methionine supplementation under oxygen deprivation. Appl Microbiol Biotechnol 81, 505–513 (2008). https://doi.org/10.1007/s00253-008-1694-9
Received:

Revised:

Accepted:

Published:

Issue Date:
Keywords
Corynebacterium glutamicum

Methionine biosynthesis genes

S-adenosylmethionine

McbR