Abstract
A novel cell-surface display system was constructed in Aspergillus oryzae. Each of the five genes encoding the putative cell-wall-localized protein from the A. oryzae genome was cloned and these cell-surface anchor functions were examined by fusion to the C-terminal of the green fluorescent protein (GFP). Using the MP1 and CWP proteins as anchor proteins, GFP signals were strongly observed on the cell surface of recombinant A. oryzae. When these proteins were used as anchor proteins for cell-surface display of β-glucosidase from A. oryzae, enzyme activity was detected on the cell surface. In particular, β-glucosidase activity of recombinant A. oryzae using MP1, a putative glycosylphosphatidylinositol (GPI) anchor protein was higher than CWP. Based on these results, it was concluded that the MP1 protein can act as a GPI-anchor protein in A. oryzae, and the proposed cell-surface display system using MP1 allows for the display of heterogeneous and endogenous proteins.
This is a preview of subscription content, log in to check access.
Access options
Buy single article
Instant access to the full article PDF.
US$ 39.95
Price includes VAT for USA
Subscribe to journal
Immediate online access to all issues from 2019. Subscription will auto renew annually.
US$ 199
This is the net price. Taxes to be calculated in checkout.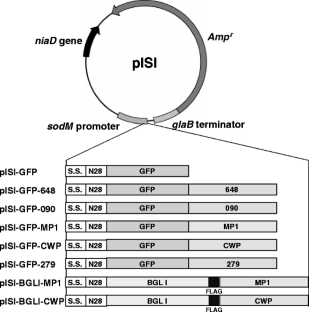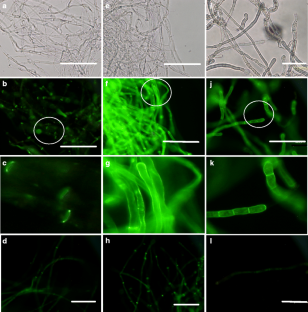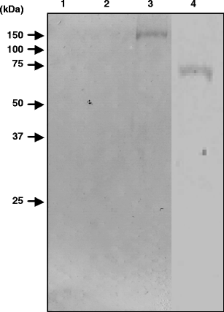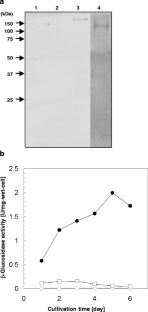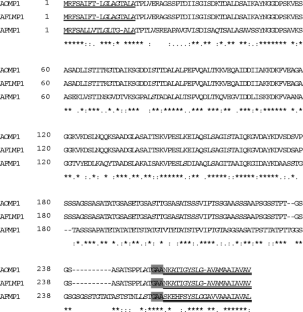 References
Akao T, Sano M, Yamada O, Akeno T, Fujii K, Goto K, Ohashi-Kunihiro S, Takase K, Yasukawa-Watanabe M, Yamaguchi K, Kurihara Y, Maruyama J, Juvvadi PR, Tanaka A, Hata Y, Koyama Y, Yamaguchi S, Kitamoto N, Gomi K, Abe K, Takeuchi M, Kobayashi T, Horiuchi H, Kitamoto K, Kashiwagi Y, Machida M, Akita O (2007) Analysis of expressed sequence tags from the fungus Aspergillus oryzae cultured under different conditions. DNA Res 14:47–57

Boder ET, Wittrup KD (1997) Yeast surface display for screening combinatorial polypeptide libraries. Nat Biotechnol 15:553–557

Christensen T, Woeldike H, Boel E, Mortensne B, Hjortshoej K, Thim L, Keenam MHJ (1988) High level expression of recombinant genes in Aspergillus oryzae. Bio/Technology 6:1419–1422

Damveld RA, Arentshorst M, VanKuyk PA, Klis FM, van den Hondel CA, Ram AF (2005) Characterisation of CwpA, a putative glycosylphosphatidylinositol-anchored cell wall mannoprotein in the filamentous fungus Aspergillus niger. Fungal Genet Biol 42:873–885

Gomi K, Iimura Y, Hara S (1987) Integrative transformation of Aspergillus oryzae with a plasmid containing the Aspergillus nidulans argB gene. Agric Biol Chem 51:2549–2555

Hama S, Tamalampudi S, Fukumizu T, Miura K, Yamaji H, Kondo A, Fukuda H (2006) Lipase localization in Rhizopus oryzae cells immobilized within biomass support particles for use as whole-cell biocatalysts in biodiesel-fuel production. J Biosci Bioeng 101:328–333

Hama S, Tamalampudi S, Shindo N, Numata T, Yamaji H, Fukuda H, Kondo A (2008) Role of N-terminal 28 amino-acid region of Rhizopus oryzae lipase in directing proteins to secretory pathway of Aspergillus oryzae. Appl Microbiol Biotechnol in press (doi:https://doi.org/10.1007/s00253-008-1502-6)

Hisada H, Sano M, Ishida H, Hata Y, Abe Y, Machida M (2006) Deletion analysis of the superoxide dismutase (sodM) promoter from Aspergillus oryzae. Appl Microbiol Biotechnol 72:1048–1053

Ishida H, Hata Y, Kawato A, Abe Y, Suginami K, Imayasu S (2000) Identification of functional elements that regulate the glucoamylase-encoding gene (glaB) expressed in solid-state culture of Aspergillus oryzae. Curr Genet 37:373–379

Ishida H, Hata Y, Kawato A, Abe Y, Kashiwagi Y (2004) Isolation of a novel promoter for efficient protein production in Aspergillus oryzae. Biosci Biotechnol Biochem 68:1849–1857

Kaieda M, Nagayoshi M, Hama S, Kondo A, Fukuda H (2004) Enantioselective transesterification using immobilized Aspergillus oryzae overexpressing lipase. Appl Microbiol Biotechnol 65:301–305

Kim SY, Sohn JH, Pyun YR, Choi ES (2002) A cell surface display system using novel GPI-anchored proteins in Hansenula polymorpha. Yeast 19:1153–1163

Kitamoto K (2002) Molecular biology of Koji molds. Adv Appl Microbiol 51:129–153

Kondo A, Ueda M (2004) Yeast cell-surface display-applications of molecular display. Appl Microbiol Biotechnol 64:28–40

Lee SY, Choi JH, Xu Z (2003) Microbial cell-surface display. Trends Biotech 21:45–52

Machida M, Asai K, Sano M, Tanaka T, Kumagai T, Terai G, Kusumoto K, Arima T, Akita O, Kashiwagi Y, Abe K, Gomi K, Horiuchi H, Kitamoto K, Kobayashi T, Takeuchi M, Denning DW, Galagan JE, Nierman WC, Yu J, Archer DB, Bennett JW, Bhatnagar D, Cleveland TE, Fedorova ND, Gotoh O, Horikawa H, Hosoyama A, Ichinomiya M, Igarashi R, Iwashita K, Juvvadi PR, Kato M, Kato Y, Kin T, Kokubun A, Maeda H, Maeyama N, Maruyama J, Nagasaki H, Nakajima T, Oda K, Okada K, Paulsen I, Sakamoto K, Sawano T, Takahashi M, Takase K, Terabayashi Y, Wortman JR, Yamada O, Yamagata Y, Anazawa H, Hata Y, Koide Y, Komori T, Koyama Y, Minetoki T, Suharnan S, Tanaka A, Isono K, Kuhara S, Ogasawara N, Kikuchi H (2005) Genome sequencing and analysis of Aspergillus oryzae. Nature 438:1157–1161

Matsumoto T, Fukuda H, Ueda M, Tanaka A, Kondo A (2002) Construction of yeast strains with high cell surface lipase activity by novel display systems based on the Flo1p flocculation functional domain. Appl Environ Microbiol 68:4517–4522

Murai T, Ueda M, Yamamura M, Atomi H, Shibasaki Y, Kamasawa N, Osumi M, Amachi T, Tanaka A (1997) Construction of a starch-utilizing yeast by cell surface engineering. Appl Environ Microbiol 63:1362–1366

Murai T, Ueda M, Kawaguchi T, Arai M, Tanaka A (1998) Assimilation of cellooligosaccharides by a cell surface-engineered yeast expressing beta-glucosidase and carboxymethylcellulase from Aspergillus aculeatus. Appl Environ Microbiol 64:4857–4861

Osaki M, Takamatsu D, Shimoji Y, Sekizaki T (2003) Allelic variation in srtAs of Streptococcus suis strains. FEMS Microbiol Lett 219:195–201

Stahl S, Uhlen M (1997) Bacterial surface display: trends and progress. Trends Biotechnol 15:185–192

Tamalampudi S, Rahman MMT, Hama S, Suzuki Y, Kondo A, Fukuda H (2007) Development of recombinant aspergillus oryzae whole-cell biocatalyst expressing lipase-encoding gene from Candida antarctica. Appl Microbiol Biotechnol 75:387–395

Tamalampudi S, Hama S, Tanino T, Rahman MMT, Kondo A, Fukuda H (2008) Immobilized recombinant Aspergillus oryzae expressing heterologous lipase: an efficient whole-cell biocatalyst for enantioselective transesterification in non-aqueous medium. J Mol Catal B 48(1–2):33–37

Tanino T, Matsumoto T, Fukuda H, Kondo A (2004) Construction of system for localization of target protein in yeast periplasm using invertase. J Mol Catal B: Enzym 28:259–264

Toida J, Fukuzawa M, Kobayashi G, Ito K, Sekiguchi J (2000) Cloning and sequencing of the triacylglycerol lipase gene of Aspergillus oryzae and its expression in Escherichia coli. FEMS Microbiol Lett 189:159–164

Ueda M, Tanaka A (2000) Cell surface engineering of yeast: construction of arming yeast with biocatalyst. J Biosci Bioeng 90:125–136

Watari J, Takata Y, Ogawa M, Sahara H, Koshino S, Onnela ML, Airaksinen U, Jaatinen R, Penttila M, Keranen S (1994) Molecular cloning and analysis of the yeast flocculation gene FLO1. Yeast 10:211–225

Woo PCY, Chong KTK, Leung ASP, Wong SSY, Lau SKP, Yuen KY (2003) AFLMP1 Encodes an Antigenic Cell Wall Protein in Aspergillus flavus. J Clin Microbiol 41:845–850

Yasokawa D, Shimizu T, Nakagawa R, Ikeda T, Nagashima K (2003) Cloning, sequencing, and heterologous expression of a cellobiohydrolase cDNA from the basidiomycete Corticium rolfsii. Biosci Biotechnol Biochem 67:1319–1326

Yuen KY, Chan CM, Chan KM, Woo PC, Che XY, Leung AS, Cao L (2001) Characterization of AFMP1: a novel target for serodiagnosis of aspergillosis. J Clin Microbiol 39:3830–3837
Acknowledgements
This work was supported by the 2005 regional innovative consortium project of the Ministry of Economy, Trade and Industry, Japan, and Bio-oriented Technology Research Advancement Institution, Japan.
About this article
Cite this article
Adachi, T., Ito, J., Kawata, K. et al. Construction of an Aspergillus oryzae cell-surface display system using a putative GPI-anchored protein. Appl Microbiol Biotechnol 81, 711–719 (2008). https://doi.org/10.1007/s00253-008-1687-8
Received:

Revised:

Accepted:

Published:

Issue Date:
Keywords
Aspergillus oryzae

Cell-surface display

GPI-anchored protein