Abstract
A new actinomycete strain, isolated from soil in China, strongly inhibited in vitro proliferation of human hepatoma, chronic myelogenous leukemia, and colonic carcinoma cell lines. The strain, designated L033, was identified as a strain of Streptomyces avermitilis based on cultural property, morphology, carbon source utilization, 16s rRNA gene analysis, and DNA–DNA relatedness studies. The anticancer component from L033 was purified to homogeneity by preparative positive-phase high-performance liquid chromatography and crystallization. Nuclear magnetic resonance and mass spectrometric analysis showed that this compound had the same structure as oligomycin A. Different with other reported naturally occurring strains of S. avermitilis, L033 produced high quantity of oligomycin A (maximal 1,461 μg/ml). Therefore, L033 was considered of great potential as an industrial oligomycin-A-producing strain.
This is a preview of subscription content, log in to check access.
Access options
Buy single article
Instant access to the full article PDF.
US$ 39.95
Price includes VAT for USA
Subscribe to journal
Immediate online access to all issues from 2019. Subscription will auto renew annually.
US$ 199
This is the net price. Taxes to be calculated in checkout.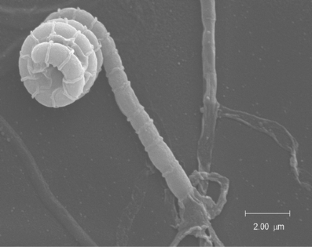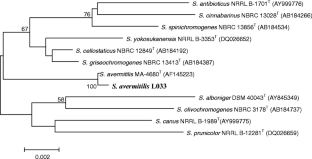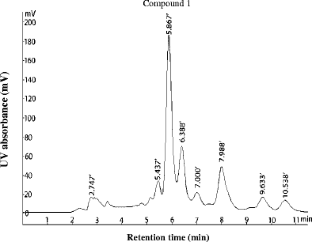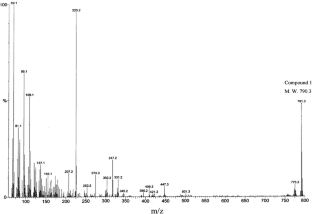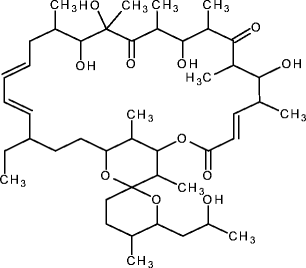 References
Albers-Schönberg G, Wallick H, Ormond RE, Miller TW, Burg RW (1982) Novel substances and process for their production. U S Patent 4,310,519

Carter GT (1986) Structure determination of oligomycin A and C. J Org Chem 51:4264–4271

Currie WD, Gregg CT (1965) Inhibition of the respiration of cultured mammalian cells by oligomycin. Biochem Biophys Res Commun 21:9–15

Daisuke K, Makoto K, Kaoru Y, Kazuyoshi Y, Mayumi K (1997) Oligomycin SC compounds and anticancer medicine. Japan Patent JP9208587

De Ley J, Cattoir H, Reynaerts A (1970) The quantitative measurement of DNA hybridization from renaturation rates. Eur J Biochem 12:133–142

Felsenstein J (1985) Confidence limits on phylogenies: an approach using the bootstrap. Evolution 39:783–791

Hait WN (1996) Drug resistance. Kluwer, Boston

Hansen MB, Nielsen SE, Berg K (1989) Re-examination and further development of a precise and rapid dye methods for measuring cell growth/cell kill. J Immunol Methods 119:203–210

Hopwood DA, Bibb MJ, Chater KF, Kieser T, Bruton CJ, Kieser HM, Lydiate DJ, Smith CP, Ward JM, Schrempf H (1985) Genetic manipulation of Streptomyces: a laboratory manual. The John Innes Foundation, Norwich, UK

Ikeda H, Kotaki H, Tanaka H, Ōmura S (1988) Involvement of glucose catabolism in avermectin production by Streptomyces avermitilis. Antimicrob Agents Chemother 32:282–284

Ikeda H, Takada Y, Pang C-H, Tanaka H, Ōmura S (1993) Transposon mutagenesis by Tn4560 and applications with avermectin-producing Streptomyces avermitilis. J Bacteriol 175:2077–2082

Jiang H, Dong H, Zhang G, Yu B, Chapman LR, Fields MW (2006) Microbial diversity in water and sediment of Lake Chaka, an athalassohaline lake in northwestern China. Appl Environ Microbiol 72:3832–3845

Kämpfer P, Steiof M, Dott W (1991) Microbiological characterization of a fuel-oil contaminated site including numerical identification of heterotrophic water and soil bacteria. Microb Ecol 21:227–251

Kawato M, Shinobu R (1959) On Streptomyces herbaricolor sp. nov., supplement: a single technique for microscopical observation. Mem Osaka Unit Lib Arts Educ B Nat Sci 8:114–119

Kim SB, Goodfellow M (2002) Streptomyces avermitilis sp. nov., nom. rev., a taxonomic home for the avermectin-producing streptomycetes. Int J Syst Evol Microbiol 52:2011–2014

Kim HS, Band HJ, Lee SY, Yoo OJ, Yoo JC, Kim YH, Lee JJ (1997) 44-Homooligomycin E, a new cytotoxic macrolide antibiotic from Streptomyces ostreogriseus. Biosci Biotechnol Biochem 61:378–380

Kobayashi K, Nishino C, Ohya J, Sato S, Mikawa T, Shiobara Y, Kodama M, Nishimoto N (1987) Oligomycin E, a new antitumor antibiotic produced by Streptomyces sp. MCI-2225. J Antibiot (Tokyo) 40:1053–1057

Korystov YN, Kublik LN, Kudryavtsev AA, Levitman M, Shaposhnikova VV, Drinyaev VA, Mosin VA, Kruglyak EB, Sterlina TS, Chailakhyan LM (2003) Opposite effects of low oligomycin concentrations on the apoptosis of normal and tumor cells. Dokl Biol Sci 392:475–477

Kumar S, Tamura K, Nei M (2004) MEGA3: Integrated software for Molecular Evolutionary Genetics Analysis and sequence alignment. Brief Bioinform 5:150–163

Li YC, Fung KP, Kwok TT, Lee CY, Suen YK, Kong SK (2004) Mitochondria-targeting drug oligomycin blocked P-glycoprotein activity and triggered apoptosis in doxorubicin-resistant HepG2 cells. Chemotherapy 50:55–62

Lokich JJ (1980) Clinical cancer medicine: treatment tactics. Hall, Boston, USA, pp 1–15

Miller TW, Chaiet L, Cole DJ, Cole LJ, Flor JE, Goegelman RT, Gullo VP, Joshua H, Kempf AJ, Krellwitz WR, Monaghan RL, Ormond RE, Wilson KE, Albers-Schönberg G, Putter I (1979) Avermectins, new family of potent anthelmintic agents: isolation and chromatographic properties. Antimicrob Agents Chemother 15:368–371

Nishikiori T, Yamazaki M, Saito S, Shimada N, Kurokawa T, Hirose K, Yamshita T, Tsuchiya T, Harada T (1991) Antibiotic NK86–0279, process for production of the same and application of the same. US Patent 5,003,056

Parkin DM (2001) Global cancer statistics in the year 2000. Lancet Oncol 2:533–543

Saitou N, Nei M (1987) The neighbor-joining method: a new method for reconstructing phylogenetic trees. Mol Biol Evol 4:406–425

Thompson JD, Higgins DG, Gibson TJ (1994) CLUSTAL W: improving the sensitivity of progressive multiple sequence alignment through sequence weighting, position-specific gap penalties and weight matrix choice. Nucleic Acids Res 22:4673–4680

Twombly R (2005) Cancer surpasses heart disease as leading cause of death for all but the very elderly. J Natl Cancer Inst 97:330–331

Visser J, Weinauer DE, Davis RC, Peterson WH, Nazarewicz W, Ordway H (1960) Production and isolation of the antibiotic, oligomycin. J Biochem Microbiol Tech Eng 11:31–48

Waksman SA (1966) Antibiotics today. Bull N Y Acad Med 42:623–632

Yamazaki M, Yamashita T, Harada T, Nishikiori T, Saito S, Shimada N, Fujii A (1992) 44-Homooligomycins A and B, new antitumor antibiotics from Streptomyces bottropensis. Producing organism, fermentation, isolation, structure elucidation and biological properties. J Antibiot (Tokyo) 45:171–179

Zhou ZH, Liu ZH, Qian YD, Kim SB, Goodfellow M (1998) Saccharopolyspora spinosporotrichia sp. nov., a novel actinomycete from soil. Int J Syst Bacteriol 48:53–58
Acknowledgments
This study was supported by grants from the National Basic Research Program of China (grant no. 2003CB114205) and the National High Technology Research and Development Program (grant no. 2006AA10A209). Anti-tumor activities of oligomycin A in vitro were determined by the National Center for Pharmaceutical Screening, Institute of Materia Medica, Chinese Academy of Medical Sciences & Peking Union Medical College. We are grateful to Han Bing (Beijing Institute of Biomedicine) for structural elucidation of the compound.
About this article
Cite this article
Lin, X., Wen, Y., Li, M. et al. A new strain of Streptomyces avermitilis produces high yield of oligomycin A with potent anti-tumor activity on human cancer cell lines in vitro. Appl Microbiol Biotechnol 81, 839–845 (2009). https://doi.org/10.1007/s00253-008-1684-y
Received:

Revised:

Accepted:

Published:

Issue Date:
Keywords
Streptomyces avermitilis

Oligomycin A

Anti-tumor activity