Abstract
Microbacterium oxydans strain NJ 6 isolated from soil samples converted puerarin into two novel compounds, puerarin-7-O-glucoside and puerarin-7-O-isomaltoside, via an unreported O-glycosylation of the phenolic hydroxyl group at the 7-position of puerarin. Sucrose, maltotriose, and maltose could be used as glucosyl donors for glycosylation of puerarin, but uridine-diphosphate glucose, glucose, fructose, lactose, cyclodextrin, and starch could not. Regardless of the position of B-ring in the (iso)flavonoids core structure, the glycosylation of the phenolic hydroxyl group at the 7-position of (iso)flavonoids was governed by the presence or absence of a glucosyl residue at 8-C. The apparent solubility of puerarin-7-O-glucoside and puerarin-7-O-isomaltoside was approximately 18 and 100 times that of natural puerarin, respectively. Like parent puerarin, puerarin-7-O-glucoside maintained its physiological ability to relax the contractions of isolated rat thoracic aortic rings in vitro induced by phenylephrine. However, puerarin-7-O-glucoside was able to maintain higher plasma concentrations and have a longer mean residence time in the blood than the parent puerarin.
This is a preview of subscription content, log in to check access.
Access options
Buy single article
Instant access to the full article PDF.
US$ 39.95
Price includes VAT for USA
Subscribe to journal
Immediate online access to all issues from 2019. Subscription will auto renew annually.
US$ 199
This is the net price. Taxes to be calculated in checkout.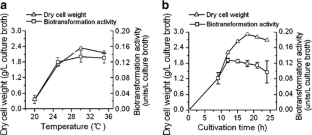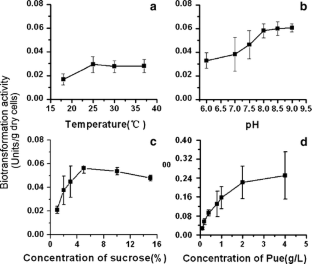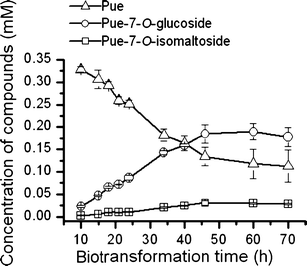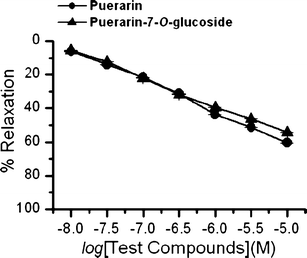 References
Boue SM, Wiese TE, Nehls S, Burow ME, Elliott S, Carter-Wientjes CH, Shih BY, McLachlan JA, Cleveland TE (2003) Evaluation of the estrogenic effects of legume extracts containing phytoestrogens. J Agric Food Chem 51:2193–2199

Buchanna RE, Gibbons NE (1994) Bergey's manual of determinative bacteriology. Williams & Wilkins, Baltimore

Chung MJ, Sung NJ, Park CS, Kweon DK, Mantovani A, Moon TW, Lee SJ, Park KH (2008) Antioxidative and hypocholesterolemic activities of water-soluble puerarin glycosides in HepG2 cells and in C57 BL/6J mice. Eur J Pharmacol 578:159–170

Dong K, Tao QM, Xia Q, Shan QX, Pan GB (2004) Endothelium-independent vasorelaxant effect of puerarin on rat thoracic aorta. China J Chinese Materia Medica 29:981–984

Fan LL, Sun LH, Li J, Yue XH, Yu HX, Wang SY (1992) The protective effect of puerarin against myocardial reperfusion injury. Study on cardiac function. Chin Med J 105:11–17

Han RM, Tian YX, Wang P, Xiang JF, Ai XC, Zhang JP (2006) Synthesis and characterization of puerarin derivatives and the mechanism of derivation reaction. Chem J Chin Univ 27:1716–1720

Hou DJ, Wang JW, Sun JL (2002) Study on the preparation of 7, 4′-di-O-hydroxyethyl puerarin. Chin J Med Chem 12:103–104

Isayenkova J, Wary V, Nimtz M, Strack D, Vogt T (2006) Cloning and functional characterisation of two regioselective flavonoid glucosyltransferases from Beta vulgaris. Phytochemistry 67:1598–1612

Li D, Park SH, Shim JH, Lee HS, Tang SY, Park CS, Park KH (2004) In vitro enzymatic modification of puerarin to puerarin glycoside by maltogenic amylase. Carbohydr Res 339:2789–2797

Nagasawa T, Hurh B, Yamane T (1994) Production of 6-hydroxynicotinic acid from nicotinic acid by resting cells of Pseudomonas fluorescens TN5. Biosci Biotech Biochem 58:665–668

Prasain JK, Jones K, Kirk M, Wilson L, Johnson MS, Weaver C, Barnes S (2003) Profiling and quantification of isoflavonoids in Kudzu dietary supplements by high-performance liquid chromatography and electrospray Ionization tandem mass spectrometry. J. Agric. Food Chem 51:4213–4218

Ren FZ, Jing QF, Shen YJ, Ma HM, Cui JB (2006) Quantitative determination of puerarin in dog plasma by HPLC and study on the relative bioavailability of sustained release tablets. J Pharm Biomed Anal 41:549–553

Woo PC, Lau SK, Fung AM, Chiu SK, Yung RW, Yuen KY (2003) Gemella bacteraemia characterised by 16S ribosomal RNA gene sequencing. J Clin Pathol 56:690–693

Yan B, Wang W, Zhang LJ, Xing DM, Wang DY, Du LJ (2006) Determination of puerarin in rat cortex by high-performance liquid chromatography after intravenous administration of Puerariae flavonoids. Biomed Chromatogr 20:180–184

Yang RL, Li N, Bo X, Chiou CY, Min ZD (1999) Preparation and bioactivity of puerarin derivatives. J China Pharmaceutical University 30:81–85

Ye H, Yuan S, Cong XD (2007) Biotransformation of puerarin into 3′-hydroxypuerarin by Trichoderma harzianum NJ01. Enzyme Microb Technol 40:594–597

Yeung KY, Leung WS, Xu YC, Vanhoutte PM, Man YK (2006) Puerarin, an isoflavonoid derived from Radix puerariae, potentiates endothelium-independent relaxation via the cyclic AMP pathway in porcine coronary artery. Eur J Pharm 552:105–111

Yuan JW, Chen XL, Wang MT, Qu LB, Zhao YF (2005) Synthesis and NMR characterization of diethyl Puerarin-7-yl phosphate. Chinese J Magn Reson 22:409–415
Acknowledgments
This work was supported financially by Key Basic Research Program of the Jiangsu Higher Education Institutions (06KJA21016), Jiangsu Outstanding Talents Program in Six Areas (06-C-014) and Jiangsu Lianchuang Meditech. Xuansheng Ding and Feng Yu in China Pharmaceutical University, and Shuqing Yu in Nanjing Normal University provided helps for experiments of vasorelaxing effect of puerarin-7-O-glucoside.
About this article
Cite this article
Jiang, J., Yuan, S., Ding, J. et al. Conversion of puerarin into its 7-O-glycoside derivatives by Microbacterium oxydans (CGMCC 1788) to improve its water solubility and pharmacokinetic properties. Appl Microbiol Biotechnol 81, 647–657 (2008). https://doi.org/10.1007/s00253-008-1683-z
Received:

Revised:

Accepted:

Published:

Issue Date:
Keywords
Puerarin

Glycosylation

Microbacterium oxydans

Water solubility

Vasorelaxing effect