Abstract
A Corynebacterium glutamicum strain (ΔldhA-pCRA717) that overexpresses the pyc gene encoding pyruvate carboxylase while simultaneously exhibiting a disrupted ldhA gene encoding l-lactate dehydrogenase was investigated in detail for succinic acid production. Succinic acid was shown to be efficiently produced at high-cell density under oxygen deprivation with intermittent addition of sodium bicarbonate and glucose. Succinic acid concentration reached 1.24 M (146 g l−1) within 46 h. The yields of succinic acid and acetic acid from glucose were 1.40 mol mol−1 (0.92 g g−1) and 0.29 mol mol−1 (0.10 g g−1), respectively. The succinic acid production rate and yield depended on medium bicarbonate concentration rather than glucose concentration. Consumption of bicarbonate accompanied with succinic acid production implied that added bicarbonate was used for succinic acid synthesis.
This is a preview of subscription content, log in to check access.
Access options
Buy single article
Instant access to the full article PDF.
US$ 39.95
Price includes VAT for USA
Subscribe to journal
Immediate online access to all issues from 2019. Subscription will auto renew annually.
US$ 199
This is the net price. Taxes to be calculated in checkout.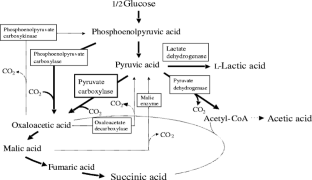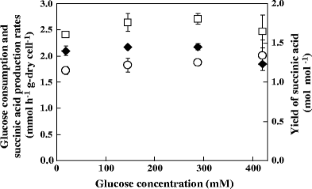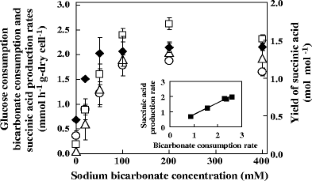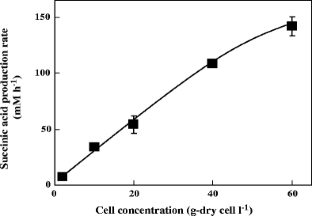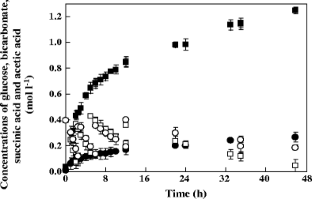 References
Chattrjee R, Millard CS, Champion K, Clark DP, Donnelly MI (2001) Mutation of the ptsG gene results in increased production of succinate in fermentation of glucose by Escherichia coli. Appl Environ Microbiol 67:148–154

Donnelly MI, Millard CS, Stols L (1998) Mutant E. coli strain with increased succinic acid production. United States Patent 5,770,435

Glassner DA, Datta R (1992) Process for the production and purification of succinic acid. United States Patent 5,143,834

Guettler MV, Jain MK, Rumler D (1996) Method for making succinic acid, bacterial variants for use in the process, and methods for obtaining variants. United States Patent 5,573,931

Gutknecht J, Bisson MA, Tosteson FC (1977) Diffusion of carbon dioxide through lipid bilayer membranes: effects of carbonic anhydrase, bicarbonate, and unstirred layers. J Gen Physiol 69:779–794

Ikeda M, Nakagawa S (2003) The Corynebacterium glutamicum genome: features and impacts on biotechnological processes. Appl Microbiol Biotechnol 62:99–109

Inui M, Murakami S, Okino S, Kawaguchi H, Vertès AA, Yukawa H (2004) Metabolic analysis of Corynebacterium glutamicum during lactate and succinate productions under oxygen deprivation conditions. J Mol Microbiol Biotechnol 7:182–196

Kalinowski J, Bathe B, Bartels D, Bischoff N, Bott M, Burkovski A, Dusch N, Eggeling L, Eikmanns BJ, Gaigalat L, Goesmann A, Hartmann M, Huthmacher K, Kramer R, Linke B, McHardy AC, Meyer F, Mockel B, Pfefferle W, Puhler A, Rey DA, Ruckert C, Rupp O, Sahm H, Wendisch VF, Wiegrabe I, Tauch A (2003) The complete Corynebacterium glutamicum ATCC 13032 genome sequence and its impact on the production of L-aspartate-derived amino acids and vitamins. J Biotechnol 104:5–25

Kawaguchi H, Vertès AA, Okino S, Inui M, Yukawa H (2006) Engineering of a xylose metabolic pathway in Corynebacterium glutamicum. Appl Environ Microbiol 72:3418–3428

Kawaguchi H, Sasaki M, Vertès AA, Inui M, Yukawa H (2008) Engineering of an L-arabinose metabolic pathway in Corynebacterium glutamicum. Appl Microbiol Biotechnol 77:1053–1062

Lee PC, Lee WG, Kwon S, Lee SY, Chang HN (2000) Batch and continuous cultivation of Anaerobiospirillum succiniciproducens for the production of succinic acid from whey. Appl Microbiol Biotechnol 54:23–27

Lee PC, Lee SY, Hong SH, Chang HN, Park SC (2003) Biological conversion of wood hydrolysate to succinic acid by Anaerobiospirillum succiniciproducens. Biotechnol Lett 25:111–114

McKinlay JB, Vieille C, Zeikus JG (2007) Prospects for a bio-based succinate industry. Appl Microbiol Biotechnol 76:727–740

Merlin C, Masters M, McAteer S, Coulson A (2003) Why is carbonic anhydrase essential to Escherichia coli? J Bacteriol 185:6415–6424

Meynial-Salles I, Dorotyn S, Soucaille P (2008) A new process for the continuous production of succinic acid from glucose at high yield, titer, and productivity. Biotechnol Bioeng 99:129–135

Okino S, Inui M, Yukawa H (2005) Production of organic acids by Corynebacterium glutamicum under oxygen deprivation. Appl Microbiol Biotechnol 68:475–480

Samuelov NS, Datta R, Jain MK, Zeikus JG (1999) Whey fermentation by Anaerobiospirillum succiniciproducens for production of a succinate-based animal feed additive. Appl Environ Microbiol 65:2260–2263

Sahm H, Eggeling L, de Graaf AA (2000) Pathway analysis and metabolic engineering in Corynebacterium glutamicum. Biol. Chem. 381:899–910

Sauer M, Porro D, Mattanovich D, Branduardi P (2008) Microbial production of organic acids: expanding the markets. Trends Biotechnol 26:100–108

Schreiner ME, Fiur D, Holatko J, Patek M, Eikmanns BJ (2005) E1 enzyme of the pyruvate dehydrogenase complex in Corynebacterium glutamicum: molecular analysis of the gene and phylogenetic aspects. J Bacteriol 187:6005–6018

Vemuri GN, Eiteman MA, Altman E (2002) Succinate production in dual-phase Escherichia coli fermentations depends on the time of transition from aerobic to anaerobic conditions. J Ind Microbiol Biotechnol 28:325–332

Vertès AA, Inui M, Yukawa H (2005) Manipulating corynebacteria, from individual genes to chromosomes. Appl Environ Microbiol 71:7633–7642

Werpy T, Petersen G (2004) Top Value-Added Chemicals from Biomass, Volume I: Results of Screening for Potential Candidates from Sugars and Synthesis Gas, http://www.eere.energy.gov/biomass/pdfs/35523.pdf. Cited August 2004

Wu H, Li ZM, Zhou L, Ye Q (2007) Improved succinic acid production in the anaerobic culture of an Escherichia coli pflB ldhA double mutant as a result of enhanced anaplerotic activities in the preceding aerobic culture. Appl Environ Microbiol 73:7837–7843

Yasuda K, Jojima T, Suda M, Okino S, Inui M, Yukawa H (2007) Analyses of the acetate-producing pathways in Corynebacterium glutamicum under oxygen-deprived conditions. Appl Microbiol Biotechnol 77:853–860

Yukawa H, Omumasaba CA, Nonaka H, Kos P, Okai N, Suzuki N, Suda M, Tsuge Y, Watanabe J, Ikeda Y, Vertès AA, Inui M (2007) Comparative analysis of the Corynebacterium glutamicum group and complete genome sequence of strain R. Microbiology 153:1042–1058

Zeikus JG, Jain MK, Elankovan P (1999) Biotechnology of succinic acid production and markets for derived industrial products. Appl Microbiol Biotechnol 51:542–552
About this article
Cite this article
Okino, S., Noburyu, R., Suda, M. et al. An efficient succinic acid production process in a metabolically engineered Corynebacterium glutamicum strain. Appl Microbiol Biotechnol 81, 459–464 (2008). https://doi.org/10.1007/s00253-008-1668-y
Received:

Revised:

Accepted:

Published:

Issue Date:
Keywords
Succinic acid

Corynebacterium glutamicum

Pyruvate carboxylase