Abstract
To reduce the pungency of Capsicum without the loss of its biological activity, a Capsicum sp. was fermented by Bacillus subtilis with the addition of Rapidase enzyme. At 1 day of fermentation, the capsaicin content of the Capsicum ferment with Rapidase had sharply decreased from an initial content of 11.8 to 2.8 μg/ml. The Rapidase-fermented Capsicum had higher total flavonoid and phenolic contents than the Capsicum ferment without Rapidase. In addition, ABTS radical scavenging activity was enhanced in the Rapidase-fermented Capsicum as compared to that without Rapidase. Overall, fermentation using B. subtilis and Rapidase was an efficient method to produce a non-pungent Capsicum with antioxidant properties.
This is a preview of subscription content, log in to check access.
Access options
Buy single article
Instant access to the full article PDF.
US$ 39.95
Price includes VAT for USA
Subscribe to journal
Immediate online access to all issues from 2019. Subscription will auto renew annually.
US$ 199
This is the net price. Taxes to be calculated in checkout.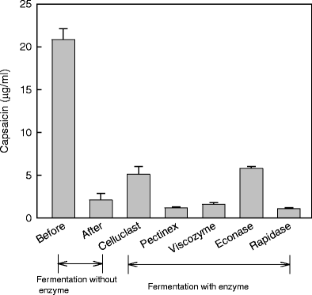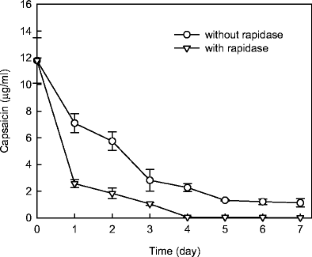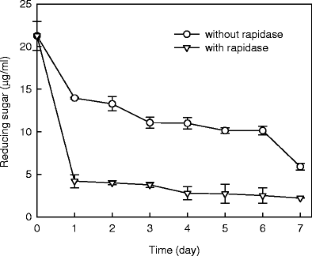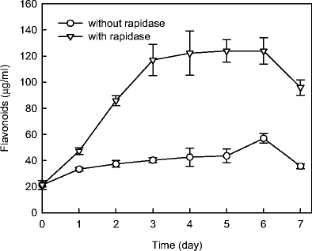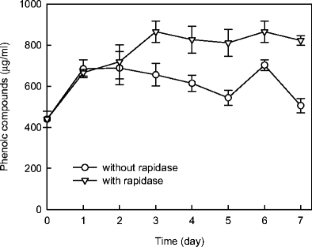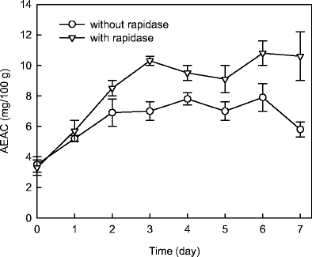 References
Arnous A, Makris DP, Kefalas P (2002) Anthocyanin composition and colour characteristics of selected aged wines produced in Greece. J Wine Res 13:23–34

Brummell DA, Harpster MH (2001) Cell wall metabolism in fruit softening and quality and its manipulation in transgenic plants. Plant Mol Biol 47:311–340

Choi YM, Suh HJ (2004) Pharmacological effects of fermented red pepper. Phytother Res 18:884–888

Cordell GA, Araiyo OE (1993) Capsaicin identification, nomenclature and pharmacotherapy. Ann Pharmacother 27:330–336

DSM (2001) Food specialties, rapidase carrot juice, product sheet. DMS, Delft, The Netherlands

Galati G, Sabzevari O, Wilson JX, O'Brien PJ (2002) Prooxidant activity and cellular effects of the phenoxyl radicals of dietary flavonoids and other polyphenolics. Toxicol 177:91–104

Hanasaki Y, Ogawa S, Fukui S (1994) The correlation between active oxygen scavenging and antioxidative effects of flavonoids. Free Radic Biol Med 16:845–850

Miller GE (1959) Use of DNS a reagent for determination of reducing sugars. Anal Chem 31:426–428

Ohnuki K, Haramizu S, Oki K, Watanabe T, Yazawa S, Fushiki T (2001a) Administration of capsiate, a non-pungent capsaicin analog, promotes energy metabolism and suppress body fat accumulation in mice. Biosci Biotechnol Biochem 65:2735–2740

Ohnuki K, Niwa S, Maeda S, Inoue N, Yazawa S, Fushiki T (2001b) CH-19 Sweet, a non-pungent cultivar of red pepper, increased body temperature and oxygen consumption in humans. Biosci Biotechnol Biochem 65:2200–2204

Re R, Pellegrini N, Proteggente A, Pannala A, Yang M, Rice-Evans C (1999) Antioxidant activity applying an improved ABTS radical cation decolorization assay. Free Radic Biol Med 26:1231–1237

Schweiggert U, Carle R, Schieber A (2006) Characterization of major and minor capsaicinoids and related compounds in chili pods (Capsicum frutescens L.) by high-performance liquid chromatography/atmospheric pressure chemical ionization mass spectrometry. Anal Chim Acta 557:236–244

Surh YJ (2002) Anti-tumor promoting potential of selected spice ingredients with antioxidative and anti-inflammatory activities: a short review. Food Chem Toxicol 40:1091–1097

Topuz A, Ozdemir F (2004) Influences of gamma irradiation and storage on the capsaicinoids of sun-dried and dehydrated paprika. Food Chem 86:509–515

Wakabayashi K, Hoson T, Huber DJ (2003) Methyl de-esterification as a major factor regulating the extent of pectin depolymerization during fruit ripening: a comparison of the action of avocado (Persea americana) and tomato (Lycopersicon esculentum) polygalacturonases. J Plant Physiol 160:667–673

Yazawa S, Suetome N, Okamoto K, Namiki T (1989) Content of capsaicinoids and capsaicinoid-like substances in fruit of pepper (Capsicum annuum L.) hybrids made with "CH-19 Sweet" as a parent. Jpn Soc Hortic Sci 58:601–607
About this article
Cite this article
Lee, S., Kim, S., Lee, J. et al. Nonpungent Capsicum fermentation by Bacillus subtilis and the addition of Rapidase. Appl Microbiol Biotechnol 81, 257–262 (2008). https://doi.org/10.1007/s00253-008-1658-0
Received:

Revised:

Accepted:

Published:

Issue Date:
Keywords
ABTS radical scavenging activity

Bacillus subtilis

Capsaicin

Capsicum fermentation

Rapidase