Abstract
This is the first study of its kind to screen probiotic lactic acid bacteria for the purpose of microencapsulating a highly bile salt hydrolase (BSH)-active strain. A Lactobacillus reuteri strain and a Bifidobacterium longum strain were isolated as the highest BSH producers among the candidates. Microcapsules were prepared with a diameter of 619 ± 31 μm and a cell load of 5 × 109 cfu/ml. Post de Man, Rogosa, and Sharpe broth-acid challenge, L. reuteri microcapsules metabolized glyco- and tauro-conjugated bile salts at rates of 10.16 ± 0.46 and 1.85 ± 0.33 μmol/g microcapsule per hour, respectively, over the first 2 h. Microencapsulated B. longum had minimal BSH activity and were significantly (P < 0.05) more susceptible to acid challenge. Further testing of L. reuteri microcapsules in a simulated human gastrointestinal (GI) model showed an improved rate, with 49.4 ± 6.21% of glyco-conjugates depleted after 60 min and complete deconjugation after 4 h. Microcapsules protected the encased cells in the simulated stomach maintaining L. reuteri viability above 109, 108, and 106 cfu/ml after 2 h at pH 3.0, 2.5, and 2.0, respectively. Results show excellent potential for this highly BSH-active microencapsulation system in vitro, highlighted by improved viability and substrate utilization in simulated GI transit.
This is a preview of subscription content, log in to check access.
Access options
Buy single article
Instant access to the full article PDF.
US$ 39.95
Price includes VAT for USA
Subscribe to journal
Immediate online access to all issues from 2019. Subscription will auto renew annually.
US$ 199
This is the net price. Taxes to be calculated in checkout.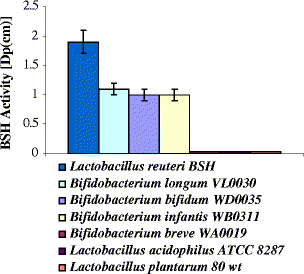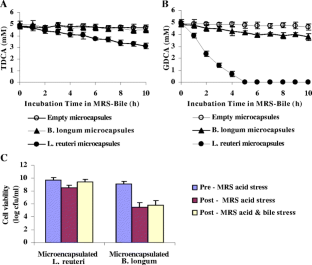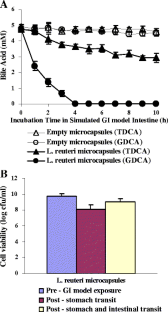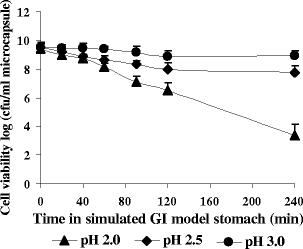 References
Benno Y, Endo K, Mizutani T, Namba Y, Komori T, Mitsuoka T (1989) Comparison of fecal microflora of elderly persons in rural and urban areas of Japan. Appl Environ Microbiol 55:1100–1105

Bullock J, Boyle J, Wang MB (2001) Physiology. Lippincott Williams & Wilkins, Philadelphia

De Rodas BZ, Gilliland SE, Maxwell CV (1996) Hypocholesterolemic action of Lactobacillus acidophilus ATCC 43121 and calcium in swine with hypercholesterolemia induced by diet. J Dairy Sci 79:2121–2128

De Smet I, Van Hoorde L, De Saeyer M, Vande WM, Verstraete W (1994) In vitro study of bile salt hydrolase (bsh) activity of bsh isogenic Lactobacillus plantarum 80 strains and estimation of cholesterol lowering through enhanced bsh activity. Microb Ecol Health Dis 7:315–329

De Smet I, Van Hoorde L, Vande WM, Christiaens H, Verstraete W (1995) Significance of bile salt hydrolytic activities of lactobacilli. J Appl Bacteriol 79:292–301

De Smet I, De Boever P, Verstraete W (1998) Cholesterol lowering in pigs through enhanced bacterial bile salt hydrolase activity. Br J Nutr 79:185–194

du Toit M, Franz CMAP, Dicks LMT, Schillinger U, Haberer P, Warlies B, Ahrens F, Holzapfel WH (1998) Characterisation and selection of probiotic lactobacilli for a preliminary minipig feeding trial and their effect on serum cholesterol levels, faeces pH and faeces moisture content. Int J Food Microbiol 40:93–104

Gilliland SE, Nelson CR, Maxwell C (1985) Assimilation of cholesterol by Lactobacillus-acidophilus. Appl Environ Microbiol 49:377–381

Grill JP, Cayuela C, Antoine JM, Schneider F (2000) Isolation and characterization of a Lactobacillus amylovorus mutant depleted in conjugated bile salt hydrolase activity: relation between activity and bile salt resistance. J Appl Microbiol 89:553–563

Grunewald KK (1982) Serum-cholesterol levels in rats fed skim milk fermented by Lactobacillus-acidophilus. J Food Sci 47:2078–2079

Gruzza M, Fons M, Ouriet MF, Duval-Iflah Y, Ducluzeau R (1994) Study of gene transfer in vitro and in the digestive tract of gnotobiotic mice from Lactococcus lactis strains to various strains belonging to human intestinal flora. Microb Releases 2:183–189

Hardison WGM (1978) Hepatic taurine concentration and dietary taurine as regulators of bile-acid conjugation with taurine. Gastroenterology 75:71–75

Hofmann AF (1989) Enterohepatic circulation of bile acids. American Physiological Society, Bethesda

Hofmann AF (1999) Bile acids: the good, the bad, and the ugly. News Physiol Sci 14:24–29

Holzapfel WH, Haberer P, Snel J, Schillinger U, Huis in't Veld JHJ (1998) Overview of gut flora and probiotics. Int J Food Microbiol 41:85–101

Huang Y, Adams MC (2004) In vitro assessment of the upper gastrointestinal tolerance of potential probiotic dairy propionibacteria. Int J Food Microbiol 91:253–260

Jones ML, Chen HM, Wei OY, Metz T, Prakash S (2004) Microencapsulated genetically engineered Lactobacillus plantarum 80 (pCBH1) for bile acid deconjugation and its implication in lowering cholesterol. J Biomed Biotechnol 1:61–69

Klaver FA, van der MR (1993) The assumed assimilation of cholesterol by Lactobacilli and Bifidobacterium bifidum is due to their bile salt-deconjugating activity. Appl Environ Microbiol 59:1120–1124

Martoni C, Bhathena J, Jones ML, Urbanska AM, Chen H, Prakash S (2007) Investigation of microencapsulated BSH active Lactobacillus in the simulated human GI tract. J Biomed Biotechnol doi:https://doi.org/10.1155/2007/13684

Nagengast FM, Grubben MJAL, Vanmunster IP (1995) Role of bile-acids in colorectal carcinogenesis. Eur J Cancer 31A:1067–1070

Naidu AS, Bidlack WR, Clemens RA (1999) Probiotic spectra of lactic acid bacteria (LAB). CRC Crit Rev Food Sci Nutr 39:13–126

Pereira DI, Gibson GR (2002) Effects of consumption of probiotics and prebiotics on serum lipid levels in humans. Crit Rev Biochem Mol Biol 37:259–281

Robinson R (1989) Special yoghurts—potential health benefits. Dairy Ind Int 54:23–25

Sanders ME, in't Veld JHI (1999) Bringing a probiotic-containing functional food to the market: microbiological, product, regulatory and labeling issues. Antonie Van Leeuwenhoek 76:293–315

Scalia S (1988) Simultaneous determination of free and conjugated bile acids in human gastric juice by high-performance liquid chromatography. J Chromatogr 431:259–269

Shah NP (2000) Probiotic bacteria: selective enumeration and survival in dairy foods. J Dairy Sci 83:894–907

Tahri K, Grill JP, Schneider F (1996) Bifidobacteria strain behavior toward cholesterol: coprecipitation with bile salts and assimilation. Curr Microbiol 33:187–193

Tahri K, Grill JP, Schneider F (1997) Involvement of trihydroxyconjugated bile salts in cholesterol assimilation by bifidobacteria. Curr Microbiol 34:79–84

Tanaka H, Doesburg K, Iwasaki T, Mierau I (1999) Screening of lactic acid bacteria for bile salt hydrolase activity. J Dairy Sci 82:2530–2535

Tanaka H, Hashiba H, Kok J, Mierau I (2000) Bile salt hydrolase of Bifidobacterium longum—biochemical and genetic characterization. Appl Environ Microbiol 66:2502–2512

Taranto MP, Medici M, Perdigon G, Ruiz Holgado AP, Valdez GF (2000) Effect of Lactobacillus reuteri on the prevention of hypercholesterolemia in mice. J Dairy Sci 83:401–403

Usman, Hosono A (1999) Bile tolerance, taurocholate deconjugation, and binding of cholesterol by Lactobacillus gasseri strains. J Dairy Sci 82:243–248

Young J (1998) European market developments in prebiotic- and probiotic-containing foodstuffs. British J Nutr 80:S231–S233
Acknowledgements
This work was supported by research grants from Micropharma Limited (Montreal, Quebec) and the Canadian Institutes of Health Research (CIHR). C.M. gratefully acknowledges a Canada Graduate Scholarship from the Natural Sciences and Engineering Research Council of Canada (NSERC). J.B. gratefully acknowledges Postgraduate Scholarships from CIHR and the Canadian Liver Foundation (CLF). A.M.U. gratefully acknowledges a Postgraduate Scholarship from NSERC.
About this article
Cite this article
Martoni, C., Bhathena, J., Urbanska, A.M. et al. Microencapsulated bile salt hydrolase producing Lactobacillus reuteri for oral targeted delivery in the gastrointestinal tract. Appl Microbiol Biotechnol 81, 225–233 (2008). https://doi.org/10.1007/s00253-008-1642-8
Received:

Revised:

Accepted:

Published:

Issue Date:
Keywords
Microcapsule

Probiotic bacteria

L. reuteri

Bile salt hydrolase

Oral delivery

Gastrointestinal tract